We use affiliate links. If you buy something through the links on this page, we may earn a commission at no cost to you. Learn more.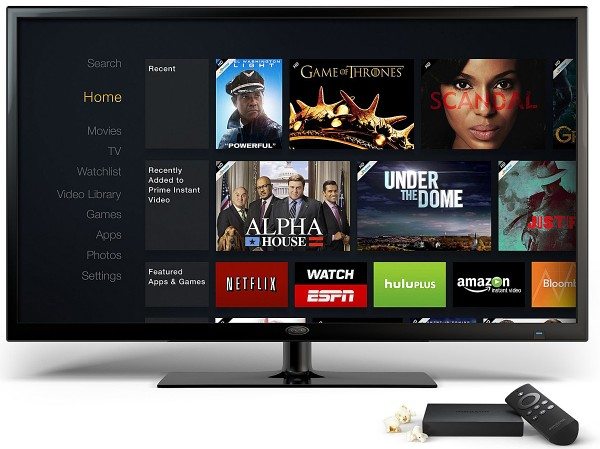 Amazon just introduced their entry in the streaming-media box field.  The Fire TV is a tiny, black box that streams many of the subscription services you expect: Netflix, Crackle, Hulu Plus, WatchESPN, and many others.  Unlike the Apple TV, it also provides access to Amazon's Instant Video, including the free content available to Prime users.  It also easily interacts with Amazon's Kindle Fire tablets, so you can mirror your tablet's screen to your HDTV.  You can also use the Fire tablet as a second screen to learn more about what's playing on the Fire TV with Amazon's X-Ray, with information provided by IMDB.
It has plenty of power under its hood – "powerful quad-core processor, dedicated GPU, 2 GB of memory, and dual-band, dual-antenna Wi-Fi. With a fast, fluid interface, high definition 1080p video, and Dolby Digital Plus surround sound, Fire TV looks—and sounds—amazing."  It also has a predictive feature called ASAP that can predict what movies and TV shows you'll want to watch and have them ready so you don't have to wait through buffering.
Amazon also added games to Fire TV.  They already have more than 100 games ready to go, including Minecraft, The Walking Dead, Monsters University, and Amazon's exclusive Sev Zero, with many more coming soon.  A gaming controller is available for $39.99 as an optional purchase.  The feature that interests me most is their voice search.  I just spent half the night scrolling around my Apple TV's alphanumeric matrix entering my updated Apple ID information, and I was about ready to throw the remote through the TV screen before I got everything in correctly.  Searching on the Apple TV is no better, because you still have to scroll and click your way through all those letters to enter a title.  The Fire TV's remote has a microphone built-in; you speak the title of the show or an actor's name into the remote, and save yourself tendonitis of the thumb from all that scrolling and clicking and of the shoulder from holding the remote pointed at the box long enough to enter all that.
Fire TV is available for purchase at Amazon now.  It's $99.00, and it comes with the Fire TV and remote, power supply, and a set of batteries for the remote.  You'll need an HDTV, HDMI cable, and high-speed internet.  I have those three things already, and my Fire TV should be delivered on Friday.  I'll just need to make sure I have sodas and popcorn for Friday night movie night using the Fire TV.