We use affiliate links. If you buy something through the links on this page, we may earn a commission at no cost to you. Learn more.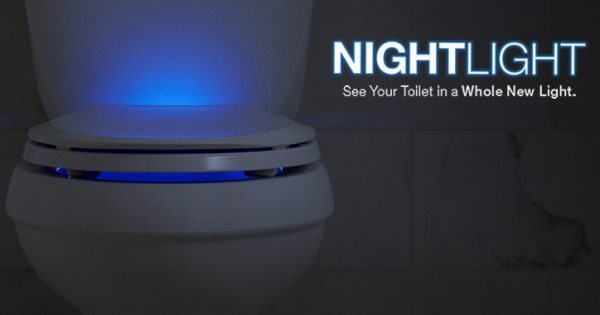 I'll admit that when I first saw this I snickered – potty humor, you know.  But I have to admit the Nightlight toilet seats from Kohler could provide an important function in households with kids or anyone who needs a little extra visual help in a dark bathroom.  I don't like leaving a bathroom light on in the master bath because it leaves the bedroom too bright.  Turning on the bathroom light in the middle of the night wrecks your night vision and makes it hard to find your way back to bed.  And every kid knows that monsters can't hide in the light, so you need some sort of light in there.  Kohler has solved the dark bathroom problem by adding dual night lights to their Cachet Q3 and Reveal Q3 toilet seats.  One blue LED shines up onto the tank when the seat is down to brighten the dark room.  Lifting the seat causes the second LED to light up the bowl, which could help youngsters improve their aim.  It uses four AA batteries, and Kohler says it can run for up to six months per set.  The first night, you'll need to turn the lights on, and this will program the lights.  They'll then turn on at the same time every night and burn for seven hours before turning themselves off.
There's no price listed in Kohler's announcement, which you can read at the Nightlight link above.