We use affiliate links. If you buy something through the links on this page, we may earn a commission at no cost to you. Learn more.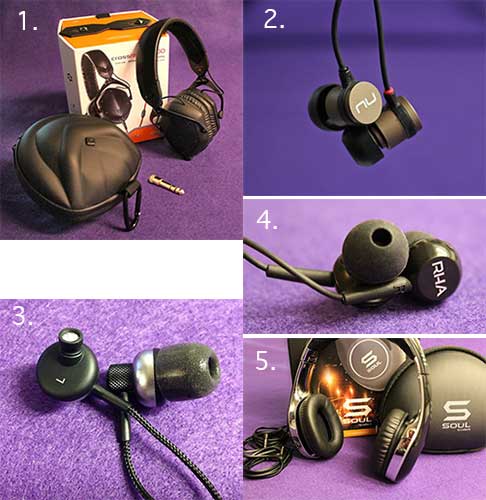 When Julie asked me to choose five headphones/earphones that would make great gift ideas, I knew this could get interesting. 2013 has been a great year for portable listening, and the holiday choices are better than ever. There are many choices to fit any budget, so there is no excuse this year for putting up with sub-standard audio into 2014.
The V-Moda M-100 headphones are the best headphones I've tested this year, regardless of price. Are they the most accurate? Nope. Most comfortable? Nope. Best deal for the money? Nope. What makes the M-100 headphones my pick for best is simply because they do everything so well. Plus, they are about the best built phones I own. The sound signature was crowdsourced to many headphone experts around the world. How could they go wrong? They didn't. They got it perfectly right.
I really like NuForce. Everything they make is interesting, plus their portable gear is affordable. The NE-700M earphones are an update that include better components. They sound remarkably similar  to the original 700M (already great sounding), so kudos to NuForce for not messing with success. If you are on a budget and want the best sound you can get under $100, the 700M earphones are it.
The RBH EP2 earphones are getting some serious attention for one simple reason: they sound great and are made like a tank. These tough earphones are comfortable and have a great soundstage, which is very difficult to achieve with earphones. The sound quality is warm, and they're easy to use for hours with no discomfort. I gifted these to my brother, and he likes them as much as his much more expensive Sennheiser earphones.
RHA makes very affordable and very good earphones. The reason for picking the cheapest model is because – to my ears – they sound as good as their more expensive models. Sure, there's no case, no mic, and a minimal selection of tips, but they are so cheap, you can buy a couple pairs in case you damage or lose one and not panic! How cool is that?
The SL150 headphones were a shocker. I fully expected them to be a clone of the (in)famous Beats headphones. They weren't. They were better – much better. In fact, the SL150 phones are one of the best I have heard at any price. While they can be a bit heavy on the bass (no surprise here), it's not muddy, but controlled and tight; the way bass should always be.
I haven't reviewed the t103z earphones yet (coming soon), but am including them on this list because they are unique. Each earphone comes with what Torque calls "valves", basically audio filters that can fine-tune the sound to different tastes and moods. Valves can easily be replaced in a few seconds. I've been testing them for a couple of months and I like what Torque is doing. Stay tuned (pun intended).