We use affiliate links. If you buy something through the links on this page, we may earn a commission at no cost to you. Learn more.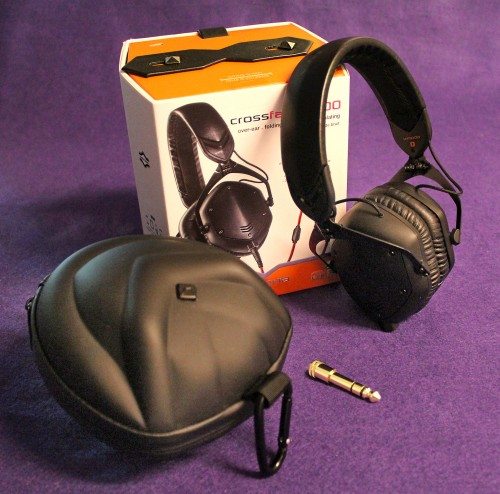 It's always interesting when V-MODA unleashes a new headphone. The original LP Crossfade was V-MODA's ambitious – and successful – entry into the ever-competitive world of headphones. Its sibling, the Crossfade M-80, was a smaller – and better sounding – headphone.  (See the Related Links for reviews of those headphones.)  Their newest model is quite unique. The Crossfade M-100 is a crowd-sourced headphone. Crowd-sourced simply means that different people (mostly audiophiles) had a direct hand in how the M-100's sound was developed. That's unusual for a couple of reasons: It's a lot more work for V-MODA, because they had to make endless variations for testing purposes and then ship them to the testers. Also, it's next to impossible to please every audiophile, because audio is subjective and no two people will ever agree on what sounds best. That's why there are so many good headphones to choose from, but there isn't one model that everyone will agree on.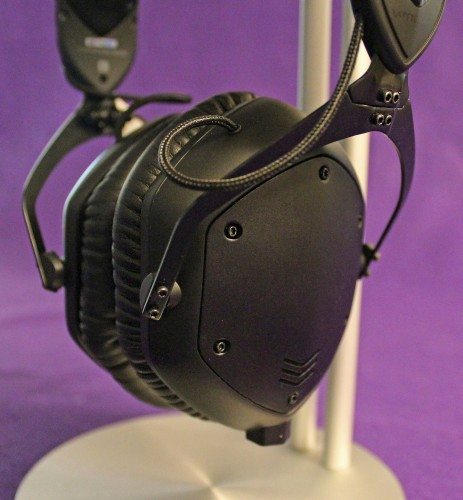 Even though the M-100 is the culmination of many opinions, V-MODA still managed to keep what was unique about their previous headphones and improve on the rest. While each V-MODA headphone may not be identical, they are certainly in the same design family. No other headphone looks remotely like a V-MODA.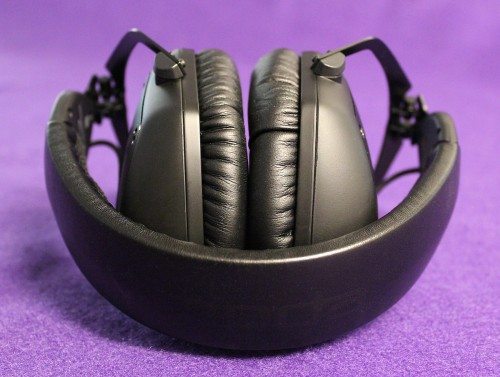 One notable improvement V-MODA made with the M-100 is how it folds for storing. The M-100 is a larger headphone then the M-80, yet its hard-shell case is noticeably smaller. What looks like an impossible Houdini-like fit was achieved by reengineering how the M-100 collapses into itself. V-MODA spent much time and money on a patented solution for storing headphones called the CliqFold Hinge. You have to see it and use it to appreciate it. Two quick movements and the phones are folded and ready for storage.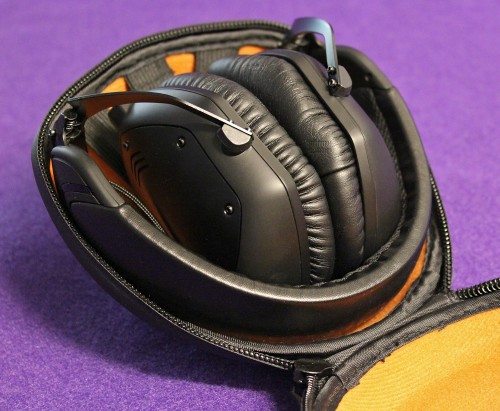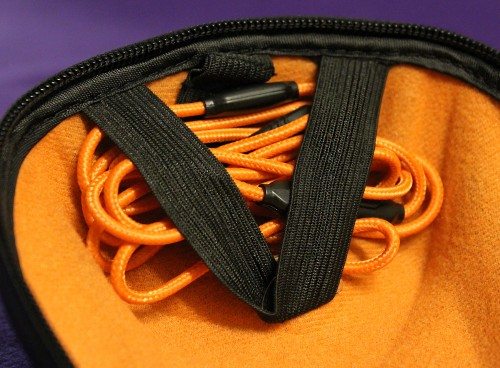 A hard-shell case more than protects the M-100 phones. It's soft-lined with two built-in straps for holding cords and adapter plugs and comes with a handy caribiner. When zipped up, it's water resistant and tough.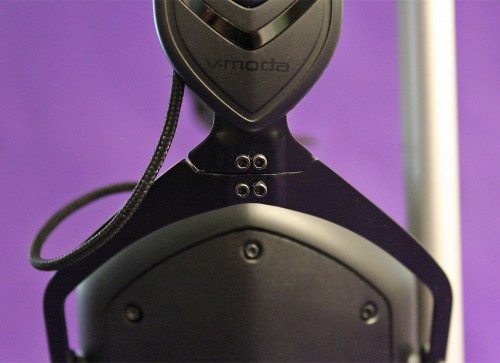 V-MODA has made good use of materials in constructing the M-100. Metal is used at all the important stress points, while plastic exists only to compliment the look. Leather-covered memory foam is added where the headphones touch skin. At first glance, this urban-inspired design may look a bit hi-tech and cold, but its form-follows-function approach gains appreciation over time. All the elements have a reason for existing. There are no wasted or superfluous parts tacked on for the sake of bling.
However, V-MODA has offered a bit of customization for those so inclined. In addition to the stock Matte Black, Shadow (graphite) or White/Silver headphone colors, the protective metal shields on the outside of the ear cups can be replaced as an extra-cost option. There are 16 different color choices, plus you can add a design of your own, making the M-100 truly yours.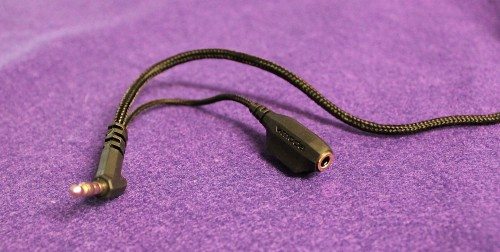 There are two cloth-covered, removable cords supplied with the M-100. Each ear-cup has a connection port which allows either the left or right ear to be wired. This is handy for office use. An orange cord comes with the increasingly required mic for making and receiving calls. The good news is that the mic works with all smartphones including Apple, Android, Windows, Kindle and Blackberry. The bad news is that it is a single button mic only with no music skip function, although the button will pause and restart a song. The black cord comes without a mic. Both cords are Kevlar-reinforced for extra strength and are tangle resistant. They even have a cable extension attached that allows an extra headphone or earphone to be connected for sharing. A gaming boom-mic is also available as an extra-cost option.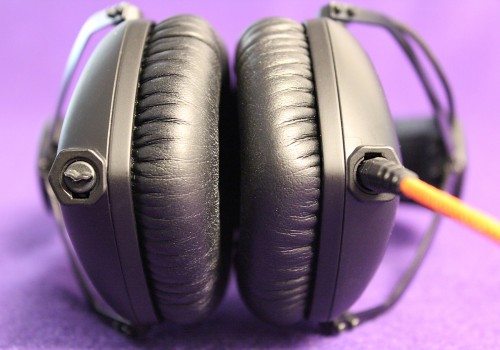 V-MODA developed what they call a 50mm Dual-Diaphragm Driver for the M-100. Theoretically, this reduces bleed-through of the bass into the middle and higher frequencies, which should result in a cleaner sound with optimal separation and clarity. Most people won't notice all that, but they will be able to hear a clean and uncluttered signal making the music sound more inviting and just plain fun to listen to.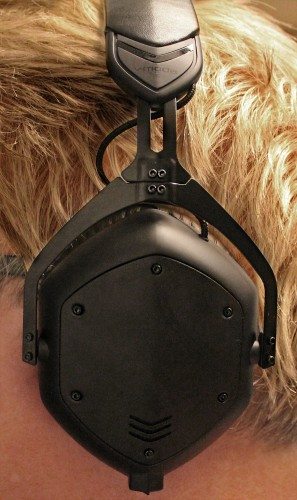 As I said earlier, the sound of the M-100 has largely been determined by a committee of headphone enthusiasts. As it turns out, that group leans towards a warmer, bass-friendly – but not overpowering – sound. That's easy on the ears and easy on the noggin. As an art director, I'm lucky enough to have a desk job that allows me to listen to music all day with few interruptions. Because of the memory foam pads, I can wear the M-100 phones all day without having to give my head or ears a break. Sadly, that's not the norm with many headphones, no matter how good they sound or how expensive they may be.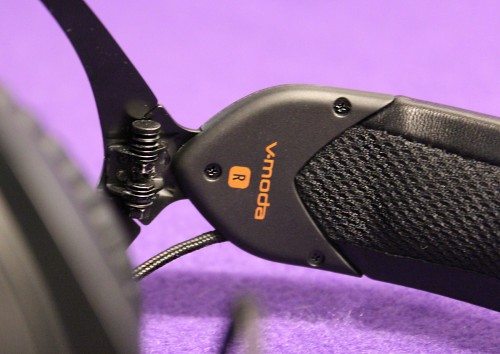 This "sound by committee" works well for  a myriad of musical styles. The early-80s Bauhaus song, "Bela Lagosi's Dead"  has both a strong, mean bass line and piercing guitar that kicks with no distortion – even when pushed to painful volume levels. The M-100's allow lead singer Peter Murphy's baritone growl to jump out at the listener in menacing clarity fully taking advantage of the song's tight production values. There's nothing quite like a well-recorded song paired with good headphones.
Alex Chilton and Chris Bell's excellent acoustic guitar work in the Big Star song, "Thirteen," is displayed in astonishing – dare I say it? – clarity. You can hear the individual strings being played with no hint of muddiness. This song was recorded in 1972, which makes how well it sounds on the M-100s even more impressive.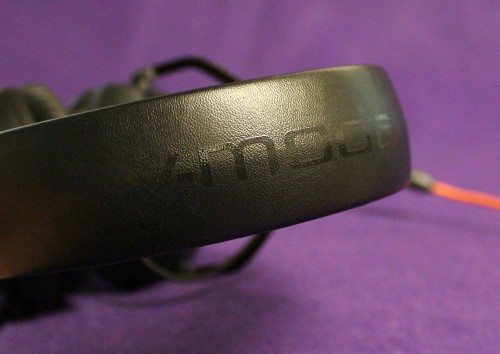 The beginning of Pink Floyd's "Echoes," from the "Meddle" album has a repeating sonar beep that slowly fades out as organ and guitar fade in. However, when listening with the M-100s, you can hear all kinds of subtle sounds and instruments that's usually buried or muddled on lesser headphones. Once again, you can turn up the volume without worrying about distortion hurting your enjoyment – or your eardrums.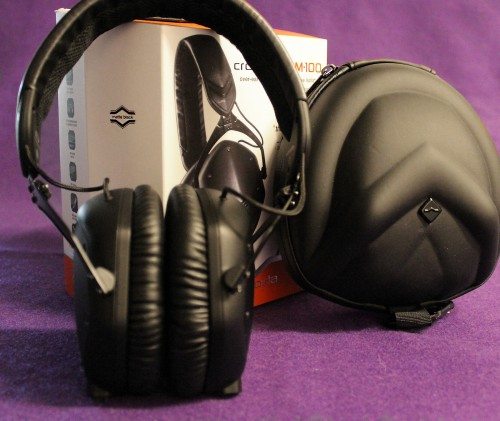 The V-MODA M-100 is a rare audiophile, yet truly mobile, headphone. Its small-when-folded footprint, ease of use and tough construction put it in a class of one. At slightly over $300, the M-100 is not an impulse buy and is probably a bit much for daily commuting use. But for the frequent traveler who demands the best in sound with portability or even that desk-bound office worker, there may not be a better choice.

Product Information
Price:
$310 US
Manufacturer:
V-MODA
Pros:

Tough and well constructed
Folds to extremely small space
Audiophile quality sound
Removable, Kevlar cords
Replaceable shields

Cons: