We use affiliate links. If you buy something through the links on this page, we may earn a commission at no cost to you. Learn more.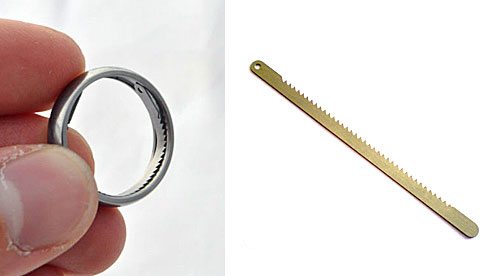 You wake up and find yourself alone in a dark room with only a fuzzy memory of being grabbed and shoved into a White van with no windows. As you wait for your eyes to adjust to the darkness you realize that you are handcuffed and your feet have been zip tied. Do you panic? No… because on your finger is a Titanium Escape Ring. Although it looks like an ordinary polished wedding band, the Titanium Escape Ring conceals a flexible handcuff shim pick with built-in saw teeth. Using the shim, you are able to open the single locked handcuffs around your wrists. Once your hands are free, you then use the hardened 316 stainless steel saw blade to cut through the zip tie around your ankles.
You hear your captor rattling a key in the door, so you quickly scramble to hide behind it. At just the right moment, you slam the door into the bad guy, knocking him to the floor and giving you just enough time to pull the door closed behind you and locking it securely with the key that was left in the lock. You're free, the bad guy goes to jail and you live happily ever after.
Made in the USA, the Titanium Escape Ring is available in five ring sizes: 9, 10, 11, 12, 13 (you may need to order one size larger than your normal ring size). It's available from Shomer-Tec for $69.