We use affiliate links. If you buy something through the links on this page, we may earn a commission at no cost to you. Learn more.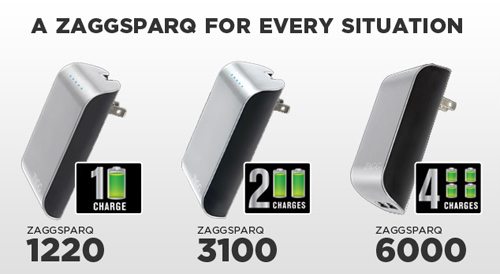 If you're looking for an external battery to keep your smartphone or your tablet charged while you're away from an outlet, take a look at the new line of ZAGGsparq chargers from ZAGG.  All three new models contain Lithium-ion batteries that can keep your smartphones charged, and a couple of them can even power up your tablets.  All three have built-in prongs for charging, so you don't have to keep up with a power supply.  Even better, the ZAGGsparqs can act as passthrough chargers and charge up your device as you charge up the backup battery.  (The device charges first, then the battery.)   The polycarbonate body is tough enough to survive life in your gear bag, and the five LEDs show you how much reserve power you have left.
The ZAGGsparq 1220 ($39.99) is a 1220mAh, 1A power source that can give your smartphone one full charge.  The other two chargers feature Hypercharge Technology, which means they charge at 2.1A and offer "ultra-fast charging, up to four times faster than a standard USB charger".  The ZAGGsparq 3100 ($69.99) is a 3100mAh battery that can recharge a smartphone twice or even charge a tablet, and the ZAGGsparq 6000 ($99.99) has – you guessed it – 6000mAh to recharge a phone four or more times or charge a tablet.  All three of these models are universal chargers that power any USB-chargeable device.