We use affiliate links. If you buy something through the links on this page, we may earn a commission at no cost to you. Learn more.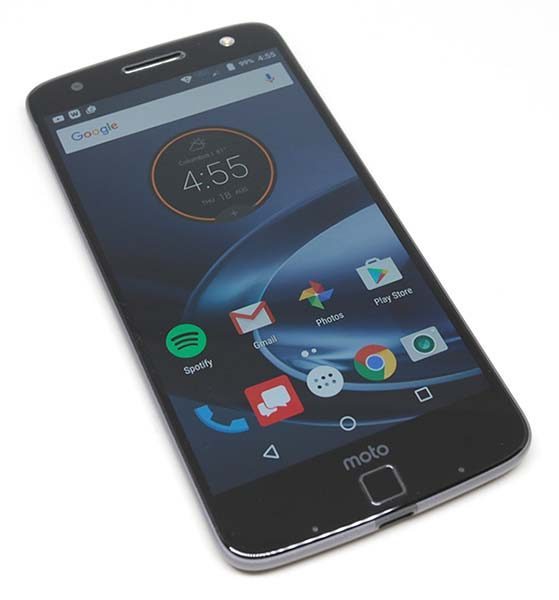 It's been over a year since I posted my review of the Google Nexus 6 (made by Motorola) and two years since I posted the Motorola DROID TURBO review. They sure aren't kidding when they say that time flies when you're having fun. Now it's 2016 and we have two new flagship phones from Motorola that have the latest features that all the cool kids want… Moto Mods. Are modular phones just a fad or is this a feature that is here to stay? I'm not a clairvoyant, so I can only guess. But I can tell you that I'm liking Motorola's take on this new feature way more than LG's. Verizon sent me their version of this phone, so let's take a look at the Motorola Moto Z Droid.
Hardware Specifications
Processor: Qualcomm® Snapdragon™ 820 processor
Operating System: Android 6.0.1, Marshmallow
Memory ROM: 32 GB, 4GB RAM, Supports up to 2TB microSD Card (sold separately)
Network: CDMA 850, 1900 MHz; GSM/GPRS/EDGE (850, 900, 1800, 1900 MHz); UMTS/HSPA+ (850, 900, 1900, 2100 MHz); 4G LTE (B2, 3, 4, 5, 7, 13)
Display: 5.5" AMOLED, 1440p Quad HD (2560 x 1440), 535 ppi; Corning Gorilla Glass
Camera (rear): 13 MP, ƒ/1.8 aperture, Optical Image Stabilization (OIS)
Camera (front): 5 MP, ƒ/2.2 aperture
Bluetooth: 4.1 LE
Wi-Fi: 802.11 a/b/g/n/ac 2.4 GHz + 5 GHz with MIMO
NFC
Battery: 2600 mAh (non-removable), TurboPower for up to 8 hours of power in 15 minutes of charging
Dimensions: 6.11″(H) x 2.96″(W) x 0.20″(D) inches
Weight: 4.8 oz
What's in the box?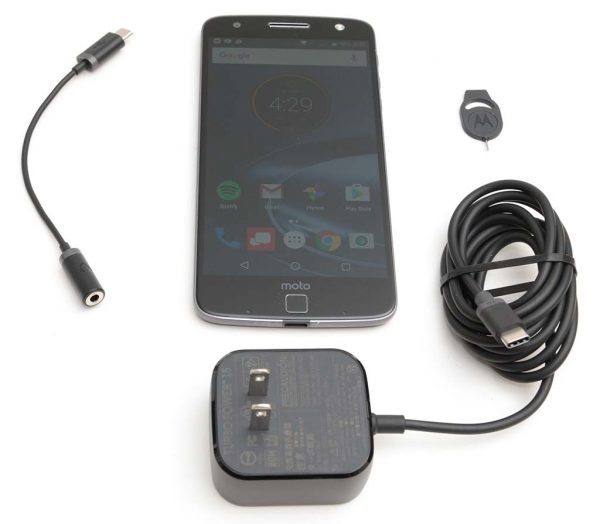 Moto Z Droid smartphone
Wall/USB-C 15W Fast Charger
3.5mm USB-C Headset Adapter
SIM tray / microSD holder tray tool
Wood Style shell
Quick Reference Guide
Physical design and features
Motorola currently has two new Android smartphones. the Moto Z Droid and the Moto Z Force Droid. The differences between the two are that the Moto Force Z is thicker because it has a larger capacity battery, it has a shatter resistant display and a higher resolution camera.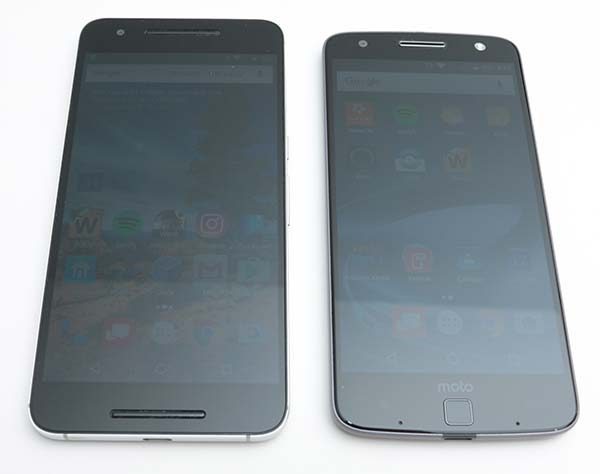 In the image above, I have my Nexus 6P on the left and the Moto Z on the right. The Moto Z's display is .2 inches smaller and it looks and feels less phablety (my new favorite word) than the 6P.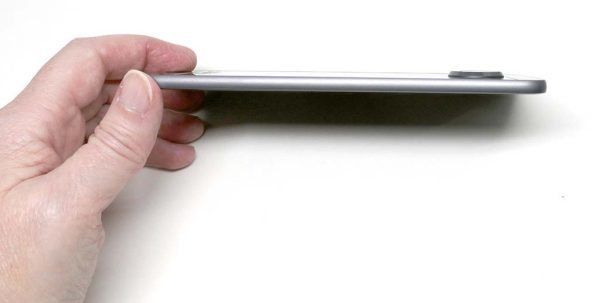 I was given the choice between the Moto Z and the Moto Z Force and decided to review the thinner Moto Z instead of the Moto Z Force just because I had to check out what everyone is calling one of the thinnest smartphones ever. As you can see, it's definitely thin. I mean really thin. The only thing that detracts from the thinness is the camera which protrudes from the back of the phone.
In hand, the Moto Z feels solid like it's been carved out of a solid piece of metal and it handles my ever popular Gadgeteer squeeze test with nary a creak or groan.
Thin is great, but this phone feels almost too thin without a back Style Shell. Most people will probably add a Style Shell to the back of the phone, which then makes the Moto Z just as thick as most other smartphones.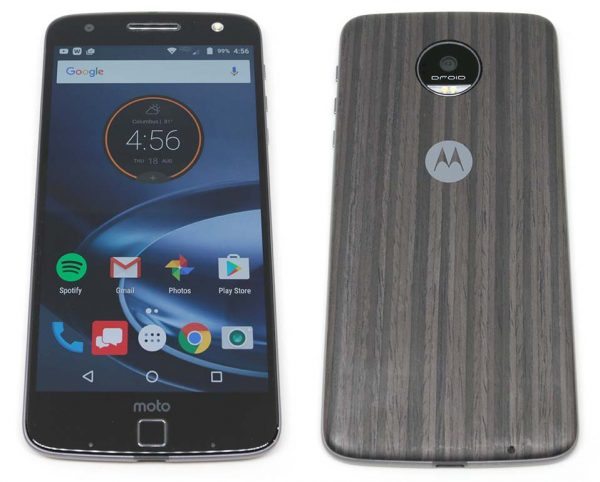 From the front, the Moto Z looks pretty standard with its 5.5″ display and black bezel on the sides, top, and bottom. You'll notice what looks like a square home button at the bottom center. This is not a physical button. It's a fingerprint scanner. Touching the button does wake the phone and touching it again will turn off the display.
The back of the phone is flat with a raised camera lens and a LED flash. Near the bottom is a row of gold electrical contacts. This is the connection point for the Moto Mods.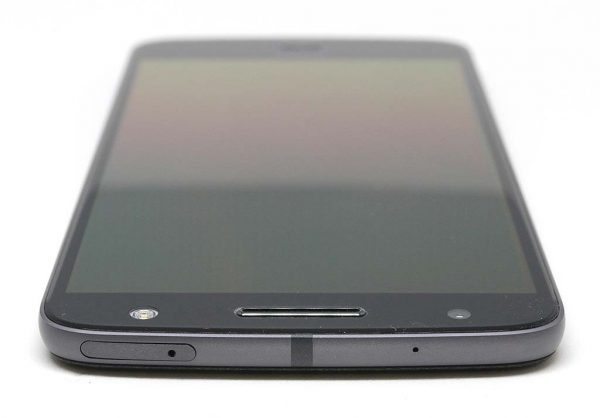 The top edge of the phone is where you'll find the combination SIM card and micro SD card slot.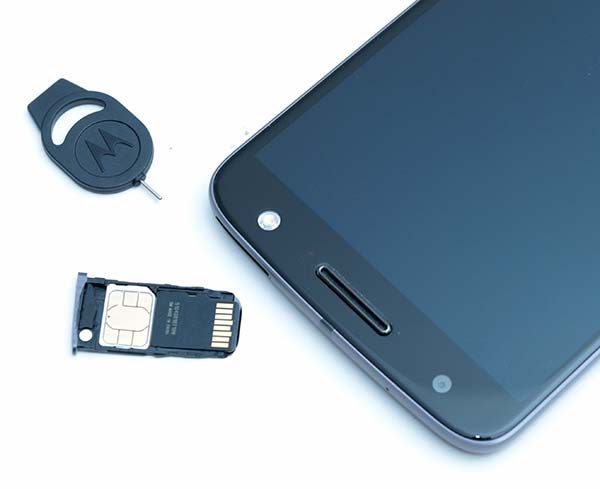 The tray is ejected using a tool that is provided with the phone. I almost never think to use those tools because I usually grab a push pin or a thin paperclip. But the access hole in the Moto Z tray is smaller than normal, making it necessary to use the tool. Yay, just one more thing to make sure I carry with me…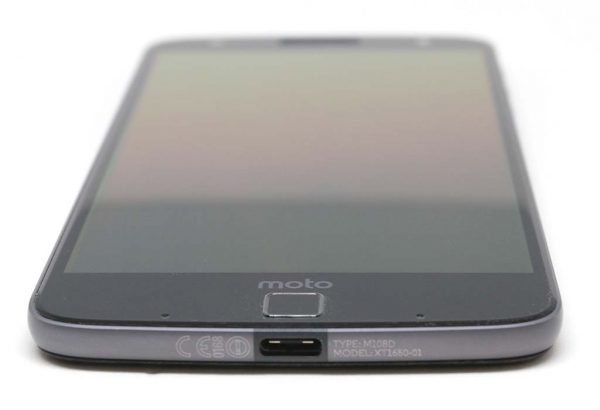 On the bottom edge of the Moto Z, you'll find a USB Type-C charging and syncing port.

And on the right side of the phone are individual volume buttons and a power button that has some knurling (grooves) which helps your finger know which button to press since they are all the same size.
Have you noticed that something is missing? Scroll back through the images above. I'll wait for you to figure it out.
That's right, the Moto Z is the first smartphone without a 3.5mm headphone jack. Don't start freaking out that you'll not be able to use your favorite wired headphones… Motorola includes a USB Type-C to 3.5mm adapter with each phone. Of course, that means that you'll not be able to charge the phone and listen to music at the same time.
I think it's interesting that everyone has been up in arms about Apple not including a headphone jack on the next iPhone, but it turns out that Motorola beat them to the punch.
Display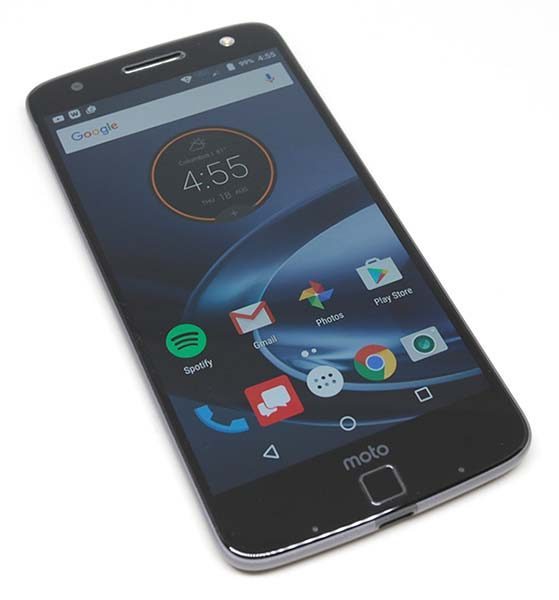 The Moto Z has a nice bright AMOLED display with vivid colors and great viewing angles. I have no complaints about the display except that it doesn't have the same shattershield tech as the Moto Z Force…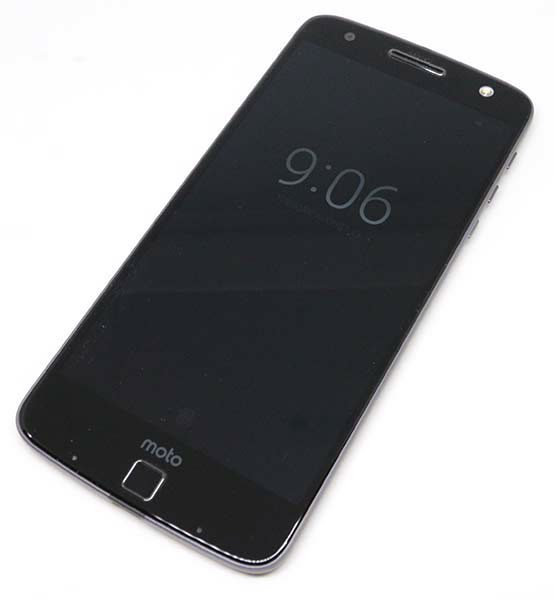 This phone also features the Moto Active Display that will show the time and notification icons for missed calls, SMS messages, events, etc when you wave your hand over the phone's proximity sensors which you can see along the bottom edge on the front of the phone. See those two dots? I love this feature much better than the knock-on feature some phones have (LG) where you have to tap the display or pick it up (Nexus 6P) to wake it up. Although the display is not always on like Samsung's phones, I still like it.
Audio quality
I already mentioned that the Moto Z is the first smartphone to be released without a headphone jack. Other than that, the audio quality is on par with other phones. I didn't notice that it was better or worse in calls or playing videos. So I have no complaints.
Camera
The Moto Z has a 13MP vs. the 21MP camera on the Moto Z Force. Even though the Moto Z's camera has less megapixels, I think it does a pretty darn good job taking pix. Check out a few examples below:
Fingerprint scanner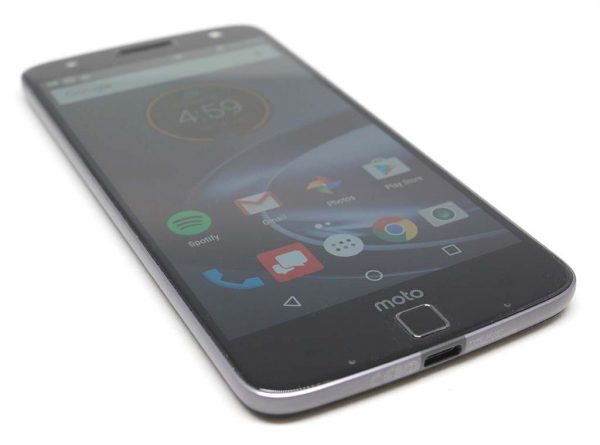 I think the Moto Z has my new favorite fingerprint scanner. I have always had a love / hate relationship with fingerprint scanners. I've talked about this before… They will work great for awhile and then they suddenly start requiring me to scan multiple times before my print is accepted. The Moto Z's fingerprint scanner felt faster and easier to use than my Nexus 6P. It's hard to say how long that would last for me though, so although I'm saying I like the scanner on this phone, I wouldn't hold my breath that I'd continue to like it months down the road. Unfortunately, I can't follow up and let you know how things progress because I have already returned the Moto Z to Verizon.
Moto Mods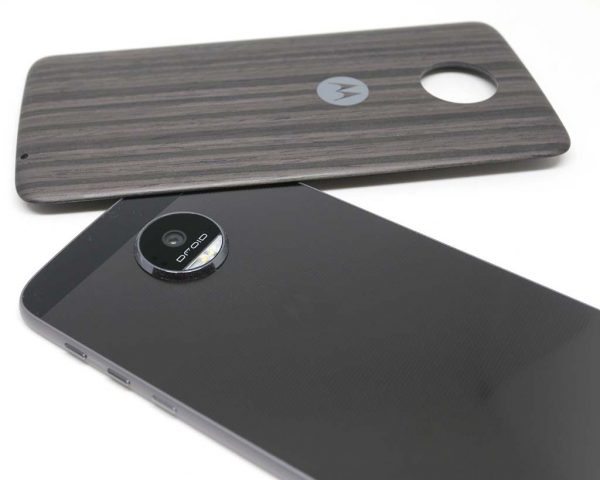 I wasn't impressed with LG's version of phone modules with the LG G5 that I reviewed earlier this year, but I like Motorola's implementation much better. My favorite "module" isn't really a module, it's the Style Shells. These shells snap to the back of the phone and are held in place with magnets.  A wood style shell (can't tell if it's actually real wood) is included with the phone and other style shells will be available from various companies.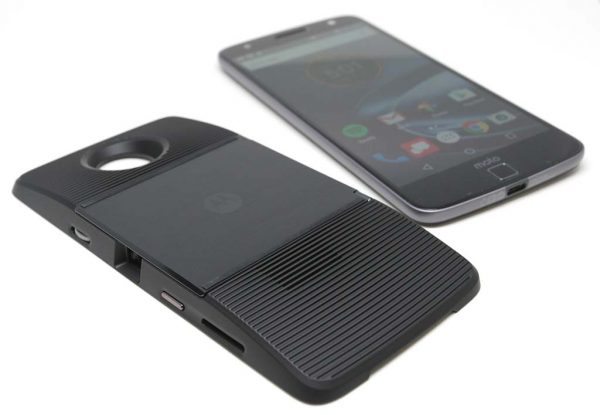 Other mods include a speaker, battery pack, a projector and I'm also hearing rumors of a camera. Verizon sent me the $299.99 Insta-share Projector Moto Mod to try out and while it's not going to win any awards for HD video capability, it's fun to play with and really easy to use because you don't have to power the phone off and back on to use it.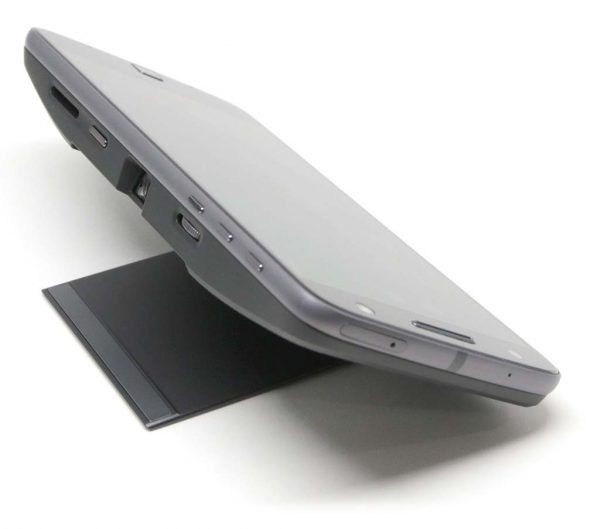 The projector has a fold down stand and its own built-in battery that charges via a USB Type-C port. I didn't test how long it can run per charge, but I read elsewhere that you should be able to get 1 hour of runtime from a full charge. Once the battery drains it will then use the phone's battery.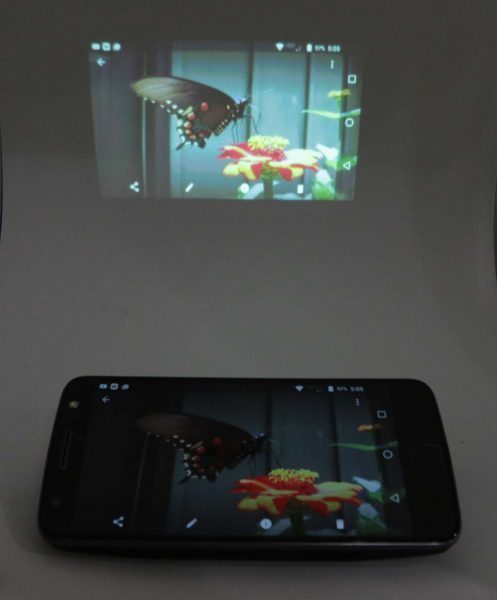 The projector is simple to use. You just snap it on the back, turn it on and it will project up to a 70 inch mirror of what's on the phone's screen. It does have two things going against it though. First of all, it only offers 480p resolution and secondly, it's expensive at $300. But like I said, it's really fun and easy to use.
Software and user interface
Other than Verizon's typical bloatware, the Moto Z feels as close to a stock Android device as my Nexus 6P.
Using the Moto Z for phone calls
I've had no issues with phone calls. I've found call quality to be clear and volume levels to be just fine. Whether I have initiated calls or received calls, I have no complaints about the Moto Z when it comes to its telephony features.
Overall performance and battery life using the Moto Z for day to day tasks
The Moto Z has the same Qualcomm Snapdragon 820 processor that is powering most of the latest smartphones on the market, so there isn't much to say here except that I have no complaints about how fast it loads apps, scrolls through lists, etc. The Moto Z is a snappy phone.
As far as battery life, I had no complaints there either. The phone didn't have any troubles lasting a full day on one charge. And even if I would have had an issue, I could add 8 hours of power with just 15 minutes worth of charging via the included turbo charger AC adapter. Although I continue to miss the lack of Qi wireless charging on the latest phones, it's getting more difficult to really complain about this when it takes so little time to re-juice.
Final thoughts
I really enjoyed using the Motorola Moto Z Droid for the 3 weeks that I had the eval unit. It felt good in my hand and was a snappy performer with good battery life. I really liked the snap on Style Shell feature and could see myself starting a collection of different backs if I owned this phone. I also liked Motorola's Moto Mod implementation and feel like they've beat LG soundly with their version of this feature. When it comes down to it. I was sad to send the Moto Z back to Verizon. It's a phone I have no problem recommending and would be happy to use as my daily driver.
Source: The temporary eval sample for this review was provided by Verizon Wireless. Please visit their site for more info.
Product Information
Price:
Verizon: $624 (Full price), $26/month for 2yrs
Manufacturer:
Motorola
Retailer:
Verizon Wireless
Pros:

Thin!
Good battery life
Moto Mods
Active display

Cons:

Fingerprint scanner isn't a home button too
The lack of a 3.5mm headphone jack may sadden some people