We use affiliate links. If you buy something through the links on this page, we may earn a commission at no cost to you. Learn more.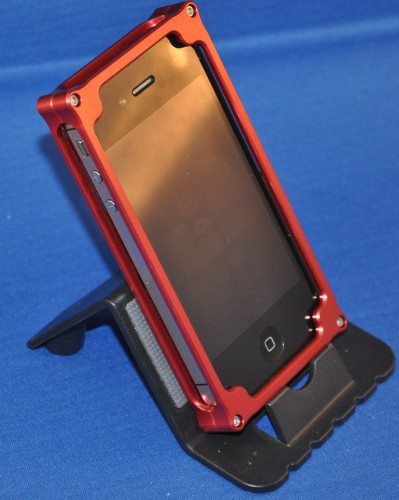 I'm usually not one to go in for flashy or bulky cases for my phones. I've usually used leather or silicone, since they have durability and don't slip out of your hand. Metal cases always looked as though they would add a lot of weight to the slim device, and since I'm not one to go rock climbing or work in a hazardous environment, they look to be overkill. Enter vonCase. These American-designed and -built cases are anodized aircraft-grade aluminum cages that suspend your iPhone 4 or 4s in an open cage of design. They make no claims of protection or waterproofing in any of their marketing materials. I was sent the red Variant 2, which features a honey-comb pattern on the back, perfectly highlighting the silver Apple logo.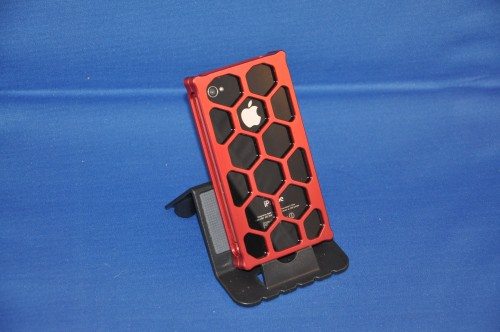 The case is secured around the phone with four screws, which require the included Allen wrench to insert or remove. An extra screw is included for the buttered of finger. Installation is fast and straightforward. There are eight rubber pads, four on each case half, that hold the phone. The tension is just right to prevent the phone from slipping around in the case. The case itself is milled to be perfectly flat on each edge, so that it stands up on any edge, and lays on a table or desk without rocking or sliding. Because the phone itself never touches any flat surface, this would prevent capillary action from, say, condensation on a table where you sat your phone, to seep into the SIM card slot or one of the other ports. And, unless you hit it on a pointed object, the case is going to bear most of the burden of any shocks.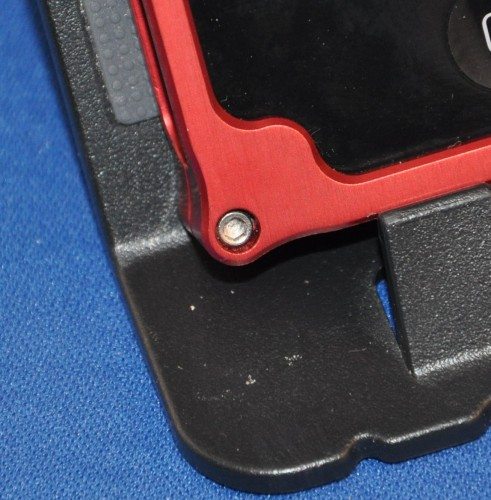 Another feature of the case, and one that the site does mention, is that this is a bold, dramatic-looking case. I have yet to pull it out and not have anyone comment on it. If you're someone who doesn't want to call attention to your technology, this is not the case for you. (Why are you reading this site, if that's the case? But I digress.) As for me, the main reason I like to have a case is to prevent the phone from slipping out of my hand. The little hexagons and the broad, open areas on the sides permit me to hold on to my iPhone 4S without fear. I've even noticed that the back is extra secure when using two hands, like for games or text entry. Cables had no problem being attached – my standard sound and 30-pin connectors fit in and stayed secure, even while monitoring my sleep. The one thing that was a problem is using docking stations.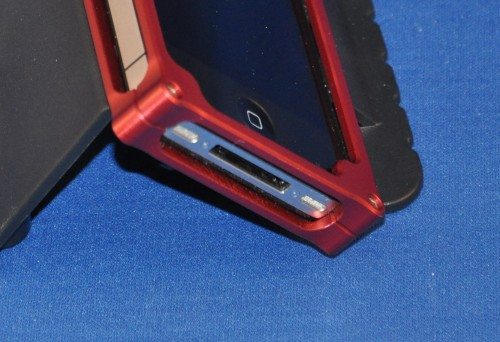 We have a stereo in the kitchen where everyone plugs in whatever needs charging while they're cooking or cleaning. It's sort of an unwritten rule – if you're working in the kitchen, you have dibs on the charger and can play music. If others are in the area, they have to help in order to vote on the music playing. The vonCase, however, put enough distance between the bottom of the case and the phone's port that it would not connect. Same for the charger in the bedroom. We have a dual-port charger there, and it wouldn't connect at all. This is not a huge loss for me, since I only use these chargers occasionally, but if you're one who uses them on a regular basis, this case is not going to be good for you.
The price for all vonCases is $79.00. That's a bit pricey, but it's a heck of a good case. Strong, striking, and durable, it adds a lot of style to your iPhone, making it stand out from the crowd.
Five stars – it does what it says it'll do, with few squabbles.
Product Information
Price:
$80
Manufacturer:
vonCase
Requirements:
Pros:

Striking appearance
Light, yet strong
Helpful for gripping

Cons:

Spendy
Gaudy, some may say
Can't use docks