We use affiliate links. If you buy something through the links on this page, we may earn a commission at no cost to you. Learn more.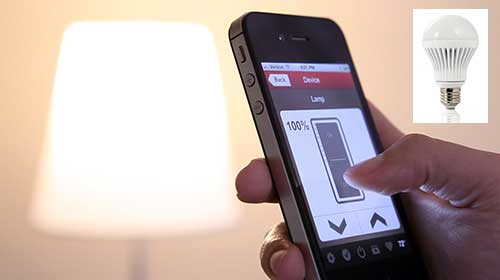 How many WiFi enabled devices other than your computers, laptops, smartphones and tablets do you have in your home? I have more than the average person. In addition to my 5 computing devices (iMac, Macbook Air, MBP, iPad and iPhone), I have a Boxee Box, Roku and 4 WiFi cameras setup. When I saw the press release about the WiFi controllable LED light bulb from INSTEON, my first reaction was "dang it, I wish the 4 LED light bulbs I just ordered from CyberGuys had this feature". The INSTEON LED Bulb glows as brightly as a 60W-100W incandescent bulb, but only uses 8W of electricity and is dimmable, which is not the case with all LED light bulbs including the set I just purchased.
The bulb contains INSTEON's patented dual-band communication technology which allows the bulb to act as a network signal repeater and send signals over both radio frequencies (RF) and a home's existing wires (powerline). You can link the bulb with various controllers like a keypad, motion sensor, door sensor and switches. Each of these controllers is an separate purchase. The real magic happens when you pair the bulb with INSTEON's SmartLink Hub which gives you the ability to control the light bulb and other INSTEON products with your iOS or Android device from anywhere in the world. The INSTEON LED Bulb retails for $29.99 and is available now. If you want the smartphone control capability, that will cost you another $99.99 for the SmartLinc.