We use affiliate links. If you buy something through the links on this page, we may earn a commission at no cost to you. Learn more.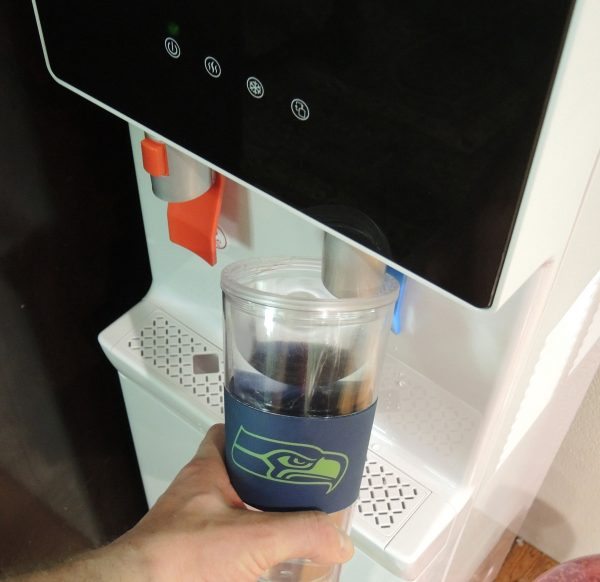 We live pretty far off the beaten path and get our water from a well. For some of you this may seem perfectly normal but in the greater Seattle area it's definitely not the standard. Our water is pretty hard and even with a home treatment system, we drink bottled water that we refill as needed. Our setup includes a porcelain pot with a spigot that a 3 gallon plastic bottle flips over and sits in. So when Julie offered up the NewAir Pure Spring WAT40W, it was my wife who raised my hand to try this fancy water dispenser as an alternative to our 2 decade old gravity fed pot.
Note: Images can be clicked to view a larger size.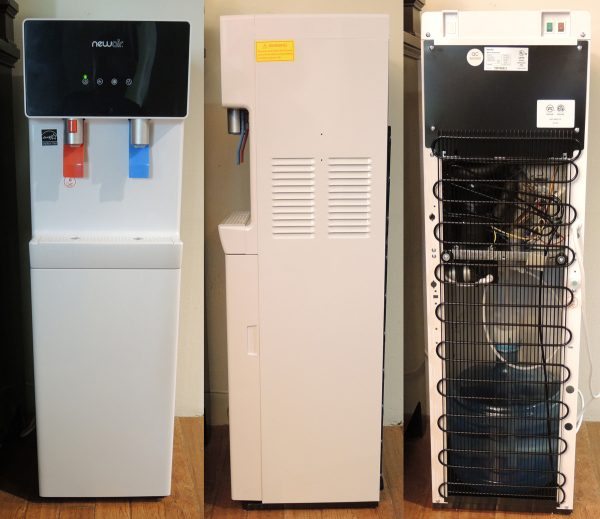 The NewAir Pure Spring WAT40W water dispenser is not small, approximately the size of what most would consider a classic water cooler (minus the bottle on top) found in an office building. The WAT40W is well made with a plastic front, metal side panels and metal making up much of its inner workings.
Key Features
100% BPA Free ensures Clean & Healthy water 24/7.
Bottom Loading Feature Makes it Convenient & Easy to Refill
Child-Safety lock located on hot water faucet.
Energy Star approved. Saves energy without sacrificing quality.
On/off switch on hot water tank lets you control energy consumption.
Stainless steel water tanks guarantee your water tastes fresh & crisp
Specifications
Model: WAT40W
Product Type: NewAir WAT40 BPA Free Bottom Loading Water Dispens
Product Dimensions: 12.20″ x 13.60″ x 41.00″
Product Weight: 35.30 lbs.
Product Color: WHITE
Application: Convenient & easy to use bottom loading water cooler.
Watts: 420 watts
Certifications: NSF , UL , Estar
Type: Bottled Water Dispenser
Water Temperature: Hot & Cold
Compressor: Yes
Thermoelectric: No
Refrigerant Type: R-134A
Product Construction: Stainless Steel , Plastic
Finish: White
Adjustable Thermostat: No
Hot Water Thermostat: Yes
Hot Water Thermostat Temperature Range: 185°F & Up
Cold Water Thermostat: Yes
Cold Water Thermostat Temperature Range: 39-45°F
Faucet Type: Push Tab
Energy Star Rated: Yes
Drip Tray Type: Dishwasher Safe
Built-In Filtration System: No
Power Cord Length: 6 feet
Safety Features: Child Resistant Hot Water Tap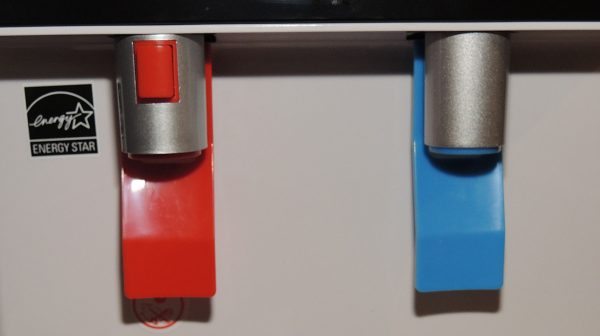 The hot and cold faucets are color coded with paddle actuators that when pushed in dispense the water. The hot water spigot has a well designed child-safety lock to keep anyone from accidentally burning themselves.
The WAT40W has two separate stainless steel water tanks. The cold tank holds 0.92 gallons and cools the water down to approximately 40°F. The hot tank holds 0.26 gallons and heats it to approximately 185°F. The unit does not have adjustable thermostats, so you get what you get in regards to the temperatures it produces.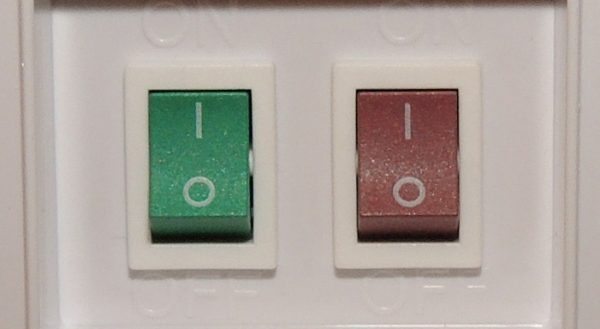 The back of theWAT40W has separate switches to turn on/off both the hot and cold water tanks if one is not needed enabling you to save energy. The unit is also Energy Star rated to further cut down on power usage.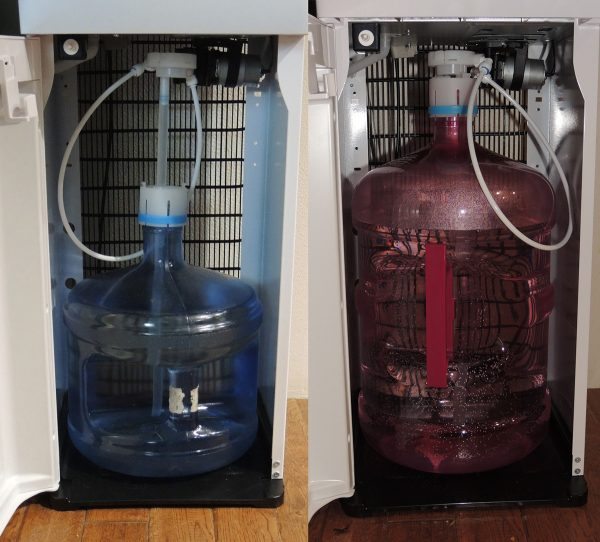 The WAT40W can accommodate up to a standard 5 gallon water bottle. Instead of having to lift a heavy bottle of water, flip it over and insert it onto the top, the NewAir Pure Spring WAT40W bottom loads the water bottles which is quicker and (obviously) much easier. The heavy water bottles simply slide into the base of the unit.
Though before sliding the water bottle in, you must first insert the draw tube into the bottle and slide the cap down over the mouth of the bottle until it clicks into position. A pump pulls the water from the bottle into either of the WAT40W's two holding tanks.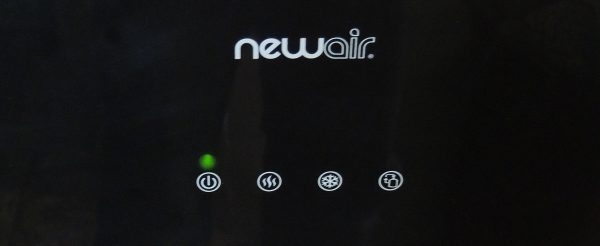 The front panel has four LED indicator lights that let you know when there is power, when the water is being heated or chilled, and when you are running out of water and need to swap out the bottles.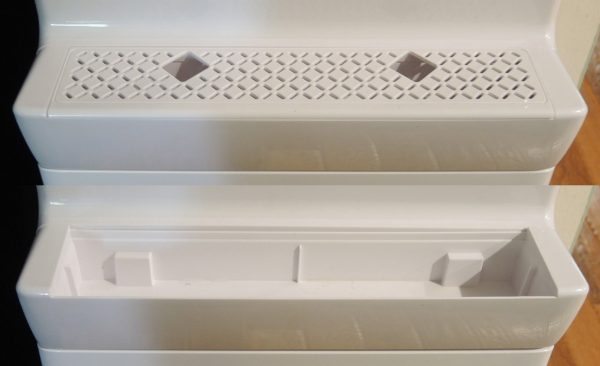 The plastic drip tray is dishwasher safe, well made, and effective at capturing spilled water. The drip tray is located 7 inches below the spigots, giving a large enough gap to accommodate most cups and glasses. Though if you do have one of those really tall cups or water bottles you can pop the tray off the WAT40W giving you more room but you could just tilt the container as well.
The WAT40W needs to be cleaned once every 3 months, to prevent hard water minerals from building up in the water tanks. To clean the reservoir a mixture of water and vinegar or water and lemon juice is run through the dispenser to dissolve any built up minerals.
The only issue (my wife has) with the WAT40W is that can be a little loud when pumping or heating/cooling water. I really don't notice the noise but she does and plans on putting the water dispenser in a side room off our kitchen.
The NewAir Pure Spring WAT40W water dispenser is available in black or while.
I really like the convenience of the NewAir Pure Spring WAT40W water dispenser. It is great having hot and cold bottled water on demand. The unit is well made, BPA free, and bottom loads. Other than it being a bit loud when pumping or heating/cooling water I cannot think of any negatives or suggested improvements. For us, it is a great addition to our kitchen without a doubt.
Updates 08/22/16
The NewAir Pure Spring WAT40W water dispenser is by far the most actively used device I have reviewed in a long time. Yes, someone could argue the Swann SWNVK-873004 Security cameras are monitoring our home 24/7 or the Toast leather skin is protecting my Nexus 6p continuously as well. But this non high-tech review item is the most continuously used item in our house. The WAT40W continues to provide us with hot and/or cold water whenever we want. It does operate a bit on the loud side but once we moved it from the center of the kitchen to a side room we don't even know it is there.
Source: The sample for this review was provided by NewAir. Please visit their site for more info.

Product Information
Price:
$269.95
Manufacturer:
NewAir
Pros:

Well made from quality materials
Made from BPA free plastics
Produces great tasting water
Heats and cools bottled water
Lets you know when you are running low on water
Bottom load design

Cons:

Can be loud when in operation