We use affiliate links. If you buy something through the links on this page, we may earn a commission at no cost to you. Learn more.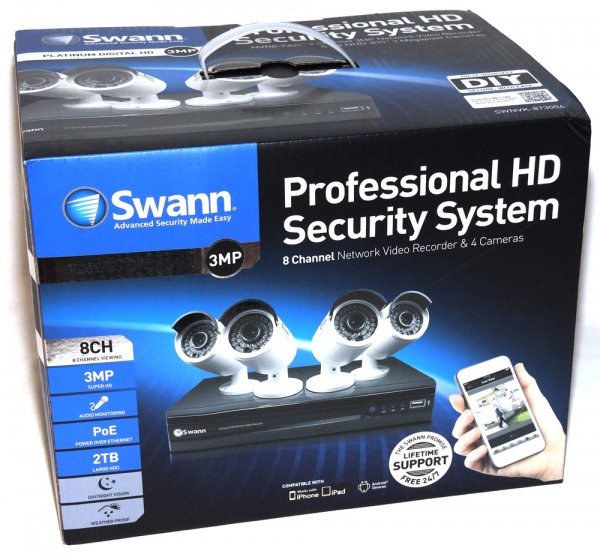 Seems like everyone is making web-enabled surveillance cameras these days. A majority of these consumer-grade cameras are meant for indoor use only, have 1080p HD resolution, and connect to the internet via WiFi. Most with some sort of cloud-based recording service, typically requiring a monthly subscription fee to store and/or view past footage of events. We have reviewed many of these systems over the years. While those systems have gotten better, I have been wanting to raise the bar on my home surveillance for a long time now. So when Swann offered their DIY Professional HD Security System to review, I jumped at the chance.
Note: Images can be clicked on to view a larger size.
The Professional HD Security System (SWNVK-873004) is part of Swann's Platinum series. It is engineered to be a high end do-it-yourself (DIY) surveillance system. According to Swann, this "state-of-the-art digital imaging technology for 9 x the picture sharpness of traditional security systems (including analog D1)". At the core of this system is an 8 channel super HD (3 megapixel) network video recorder with a pre-installed 2TB HDD. This DIY kit includes 4 – PoE (power over ethernet) 3MP weather-proof bullet cameras. Swann also includes ethernet cables, mouse, HDMI cable and mounting hardware, everything you need to install this system yourself.
In the Box: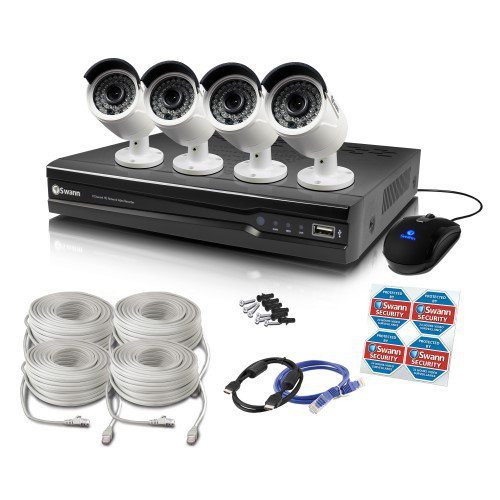 NVR8-7300 8 Channel NVR
2TB Hard Drive (installed)
NHD-815 3MP Cameras x 4
Cat5e Ethernet Cable x 5 (60ft / 18m X 4, 3ft / 1m x 1)
HDMI Cable
Mouse
Power Adapter
Mounting Screws & Plugs
Operating Instructions
Theft Deterrent Stickers
Installation:
The Swann Professional HD Security System is designed to be basically plug and play. Being PoE there is only one cord to run to each camera. Once you pull the Ethernet wires to the locations where you want to install the cameras, you simply connect the two and mount the cameras.  The difficult parts are deciding the best vantage points for each camera and then getting the wire to those locations. For me that involved half a day crawling around our attic, drilling many holes throughout our house, and pulling Ethernet cable through both interior and exterior walls. Admittedly, I am pretty anal-retentive about these things and did my best to get everything dialed in perfectly.

Swann includes four 60 foot Ethernet cables to connect the cameras to the NVR. That is great and all, but I found to put the cameras where I wanted them, I needed longer cables for two of my runs. For the far side of our house, I ordered a 100 foot cable from Amazon that worked well with length to spare. I also wanted to have a camera looking out from our detached garage towards our entry gate, so I dug a trench and ran nearly 200 feet of direct bury Ethernet cable…both the power and video signal came thru just fine.
As you can see in the picture above, the bullet cameras are not overbearing and more or less blend into the white eves of the house. Though now that I have the system up and running, I am considering ordering a few dome cameras to add to/tweak my surveillance coverage.
NHD-815 3MP Cameras: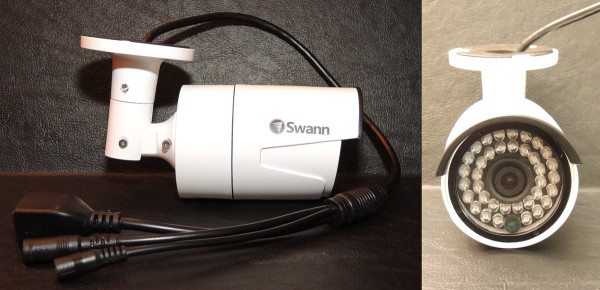 The Swann NHD-815 3MP camera is a bullet-style weatherproof camera with a powder coated aluminum housing and weather-resistant rating of IP66 for indoor or outdoor use. Swann classifies the cameras 3 megapixels video as "super high definition" providing 50% more resolution than standard 1080p. The cameras have a 80° field of view, IR cut filters for powerful night vision to 100ft / 30m and a built-in microphone for recording audio.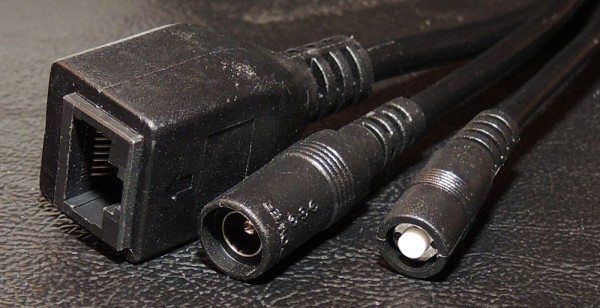 The cameras wiring pigtail includes Ethernet jack, power plug, and reset switch. As mentioned above, the system is designed to power the cameras via the Ethernet cable/connection. But for whatever reason that does not work, the cameras have a separate input cable for power, though the power plugs (DC12V) are not included. The cable you see on the right has the camera's reset button. My system has been operational about a month and I have not needed to reset any of the Swann cameras thus far. Thankfully I have not needed to because that would involve ladders, screwdrivers, and unmounting the camera before having access to that little white button.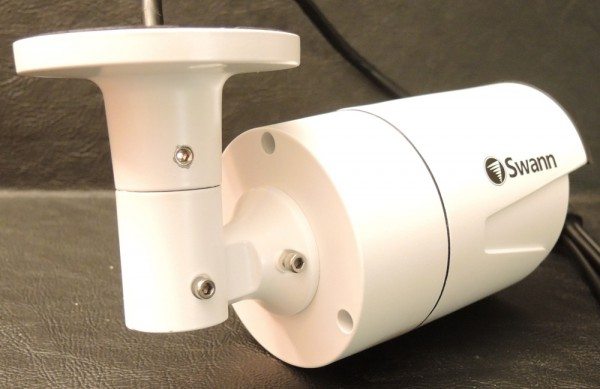 The NHD-815 mounts are able to be adjusted in all three plains: side to side, up and down, and rotationally along the center axis. The camera is held directionally in place by a handful of hex bolts that twist down to securely hold it in space. Compared to installing the wiring, screwing the cameras in place and getting them correctly angled was a breeze.
NVR8-7300 8 Channel NVR Controller:
The NVR controller is a plain looking plastic box (10" x 9.0" x 2.0"), similar to your old cable box from a few years back.

The front of the controller has status LEDs for power, hard drive activity, and LAN connection/activity. There is also a USB port for connecting a thumb drive or USB hard drive for downloading/archiving recorded video.

The back of the controller has the power port, audio out, USB port to connect the included mouse, HDMI & VGA for viewing live or recorded video, LAN port, eSATA to attach an external drive for extra storage, and eight PoE Ethernet ports to connect the cameras. The Swann NVR8-7300 is truly plug and play…if you can setup a computer and router, you can most likely get this NVR system up and running.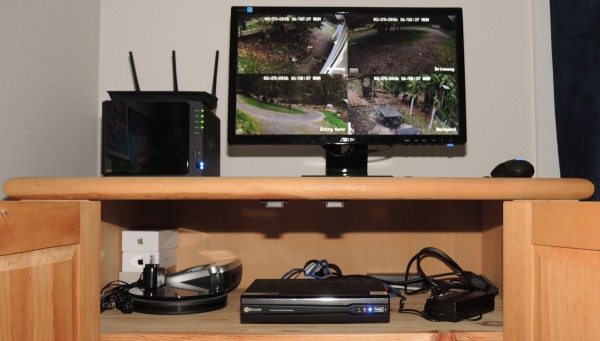 Before I started setting up this system, I envisioned being able to view footage, operate and manage the controller via remote access from my computer or smart device. I found this really not possible and is much easier connecting/dedicating a monitor to the controller to manage the system and view video.
One of the few negatives of the Swann NVR8-7300 NVR system is how loud the control unit's cooling fan is. So much so, I decided to set it up inside my tech-closet where I can keep the doors closed 99% of the time. That has mitigated the issue but something definitely worth mentioning.
Swann DVR/NVR control software:
Once installed, configuring the NVR8-7300 control unit takes a bit of time. It is not the most state-of-the-art management software but it does get the job done. Input is accomplished via the included USB mouse. The process is a bit tedious but once the initial setup done controlling the unit with just the mouse is much less of an issue.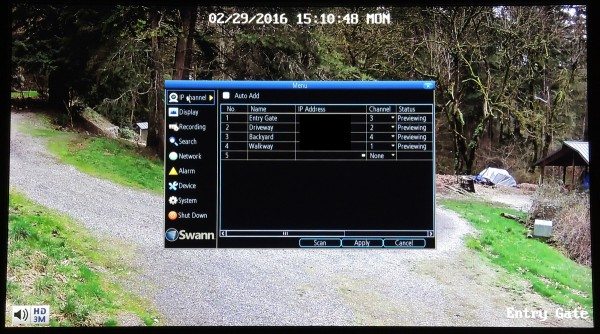 The cameras are auto detected by the controller and as mentioned earlier this system can have up to eight cameras providing video feed.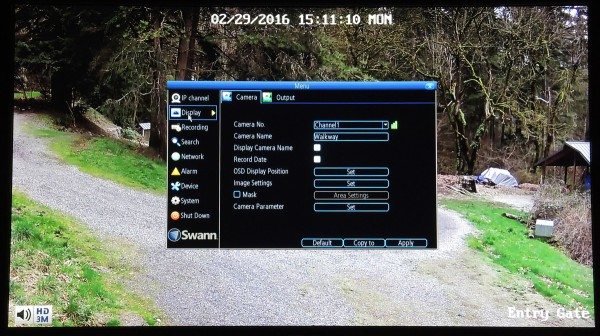 You are able to name each camera and configure them independently. Like many other surveillance cameras, you are able to set areas of regular/unimportant movement, various recording and notification protocols.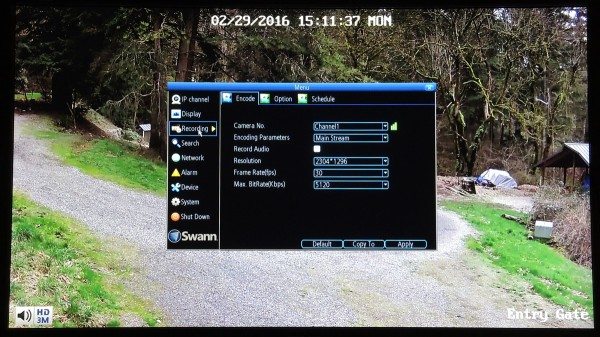 You can independently set each cameras resolution, frame rate, and max bit rate to conserve hard drive space.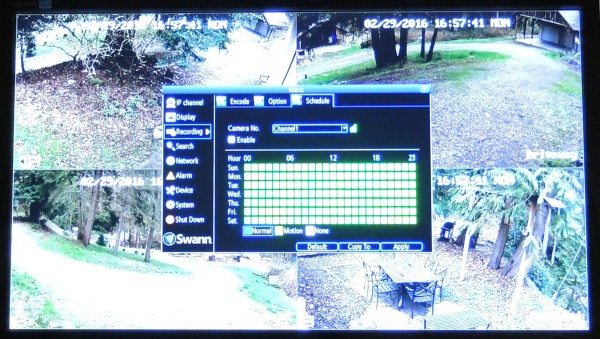 You are also able to set schedules for each camera as to when and how they record. They can be set to continuously record, record only when there is motion, or set to not record depending on location, the time of day or what day of the week it is.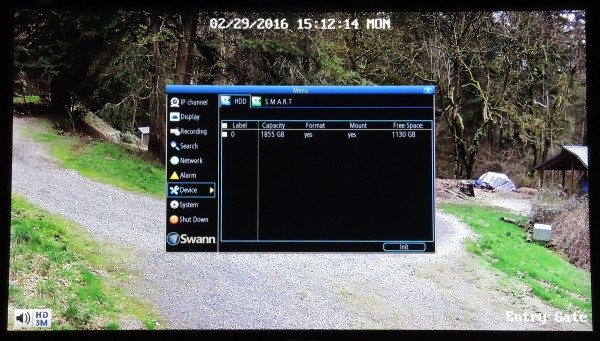 The NVR8-7300 has an internal 2TB hard drive that can record continuously from 8 channels for 24 days+ or even longer with motion detection. You can expand the storage capacity to up to 6TBs. When the hard drive is full, the system will automatically overwrite the oldest video content.
The control unit's software is relatively easy to use. But very tweak-able as well and it did take a few calls to Swann's 24/7 technical support to get everything just the way I wanted it. But the wait time was short and the techs were very knowledgeable and helpful.
SwannView Link smart device app:
You are able to view the Swann video feed via your smartphone or tablet (iOS & Android devices) using the free SwannView Link app. The SwannView Link app is one of the best mobile surveillance interfaces I have ever used. It is well polished and rarely crashes or flakes on me. The HD video feed looks very nice on my Nexus 6p, especially oriented horizontally (aka filling the whole screen).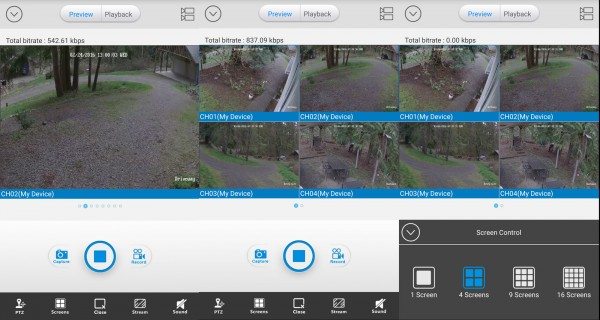 Both orientations enable you to control multiple or single cameras at a time. The SwannView Link app enables you to capture still photos or record videos with a single click.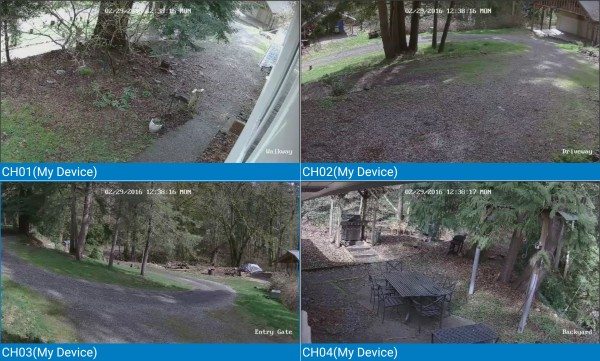 You can easily transition between camera locations and number of cameras you are viewing at one time.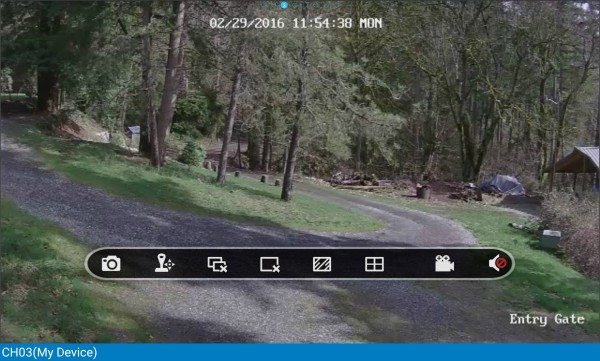 As I stated above, the video feed both day…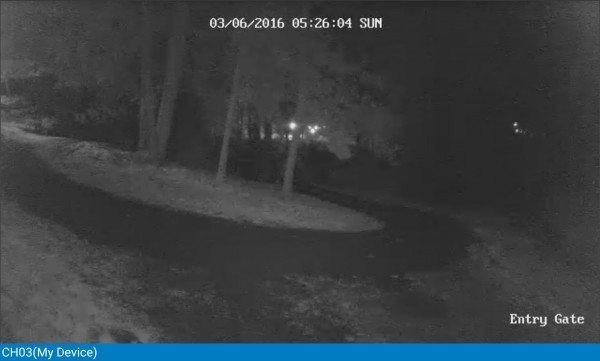 …and night are very clear and crisp on your mobile device.
Computer Application: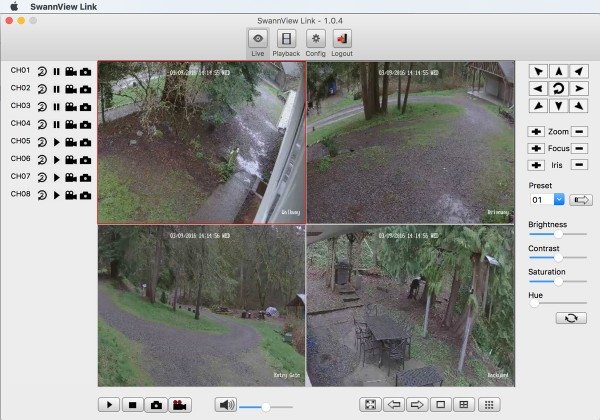 What you see above is the SwannView Link application for the Mac OSX. Its viewing and control features are very similar to the mobile apps. Overall the software is very functional, just not as polished as the mobile app.
Video Quality:
Crawling through the attic pulling the wires, standing on a ladder mounting the cameras, and setting up the software aside, the NVR8-7300 video quality is stellar. Definitely the best I have ever reviewed or even seen and without a doubt worth the effort. The system's 3MP (2048 x 1536 (4:3), 2304 x 1296 (16:9)) resolution better enables you to capture the bad guys vehicle type, license plate and/or face to hopefully help the police bring them to justice.
As mentioned above, one feature of the system is that it can export video to a thumb or hard drive for archiving or evidence purposes. Here is a short clip of the Gadgeteer Kid getting home from school. Getting the system to transfer the video to the external drive did take a bit of fittling but I figured it out myself.
Security:
With all the news articles about Chinese and Russian websites stealing video feed from home surveillance cameras and posting them for the world to see does worry me a bit. In my situation, I am just capturing various views of our yard but I still do not want the video put out on the Net for public consumption. I have changed the user name and password for my system and that is definitely the first step to keep unwanted eyes out of your business. But there is debate on the Web regarding how secure these cameras systems really are. That said, considering what my cameras are viewing and the increased awareness they bring me, I am alright with the theoretical risk.
Bottom Line:
The bottom line is that the many hours (actually days) of effort it took to install and setup the system and then learn the interface software has been well worth the results. The NVR8-7300 video quality is excellent and its ability to continuously record for weeks are two of the systems best features. The simple do-it-yourself design of the NVR8-7300 can definitely save you money in installation costs but depending on your situation may not be for the faint of heart. There is no doubt in my mind that the NVR8-7300 is the best surveillance system I have tested that I will continue to operate 24/7/365.
Source: The sample for this review was provided by Swann. Please visit their site for more info and Amazon to order.