We use affiliate links. If you buy something through the links on this page, we may earn a commission at no cost to you. Learn more.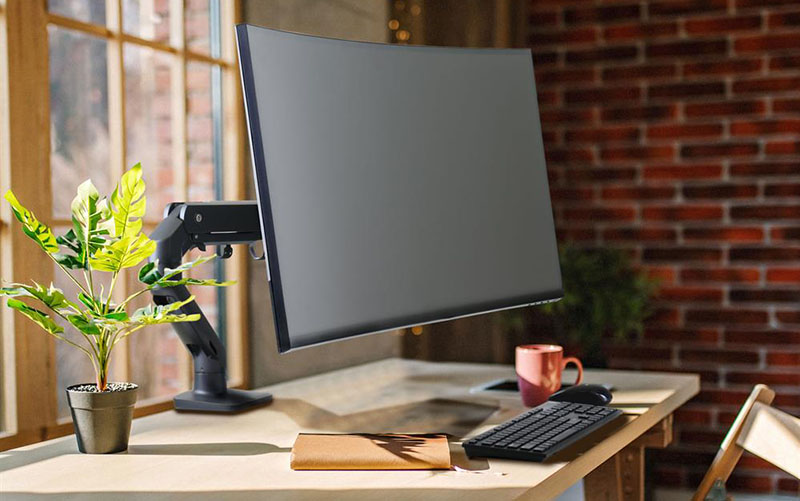 REVIEW – I continue to tweak and improve my WFH space and should have it near perfect by the time everyone has to go back into the office 😉 . Well, in my quest I've discovered Ergotron, a company who creates a multitude of very nice office products designed to improve and optimize your workspace. These products include a wide variety of desk setups, monitor mounts, charging systems, workstations, mobile carts, and a bunch of accessories. In this case, they sent me their HX heavy monitor arm, recently released in a matte black finish for this review…let's check it out.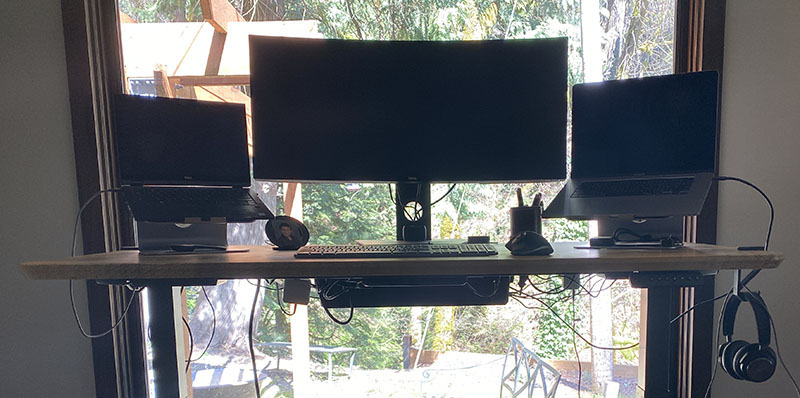 This is my before picture… I am all about increasing the tech-Zen of my workspace, whether at home or in the office. I had been considering a monitor arm for a while to help me declutter my desk, help with my cable management, and improve my view. When I searched for high end monitor arms, Ergotron was on the top of the list.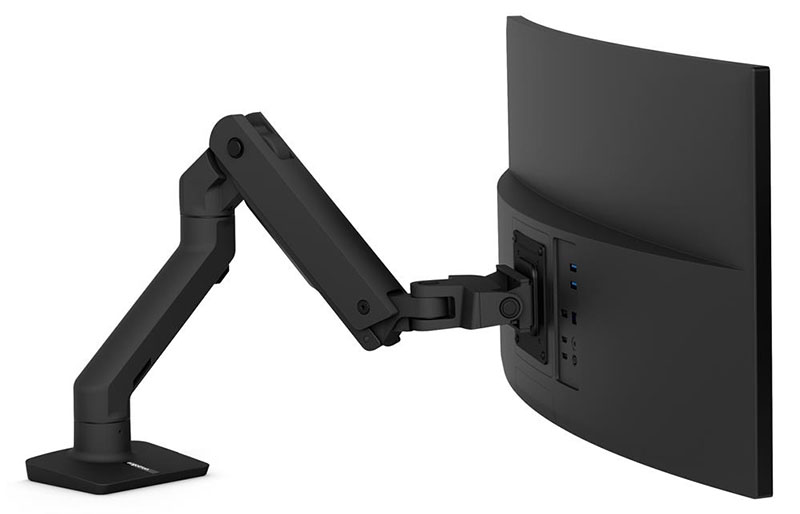 What is it?
The Ergotron HX Desk Monitor Arm is a high-end display stand engineered to support large monitors weighing up to 42 lbs (19.1 kg). In addition to strength, the HX's engineering allows for a wide range of positioning and smooth fluid motion. The HX was originally available in bright white and polished aluminum but Ergotron's new matte black finish works even better with my black Dell monitor, Latitude laptop, space gray MacBook, and my Vari Electric Sit-Stand desk with it's gorgeous reclaimed wood desktop.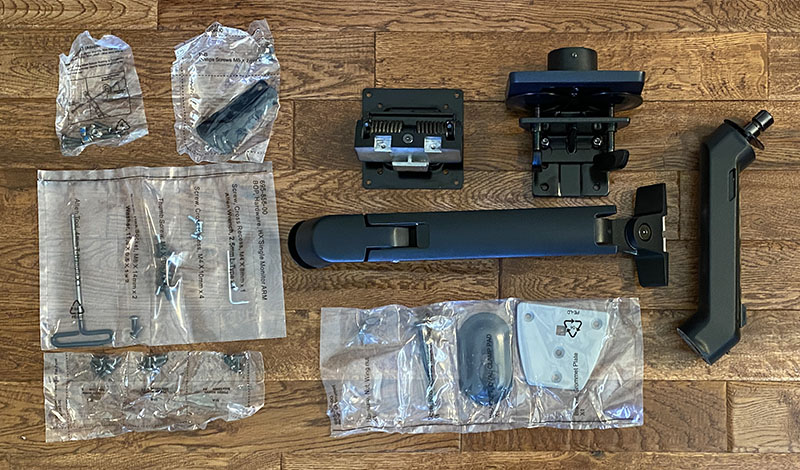 What's in the box?
HX arm
Extension arm
Desk clamp
Grommet mount
Monitor pivot
Monitor mounting hardware
Adjustment tools
Hardware specs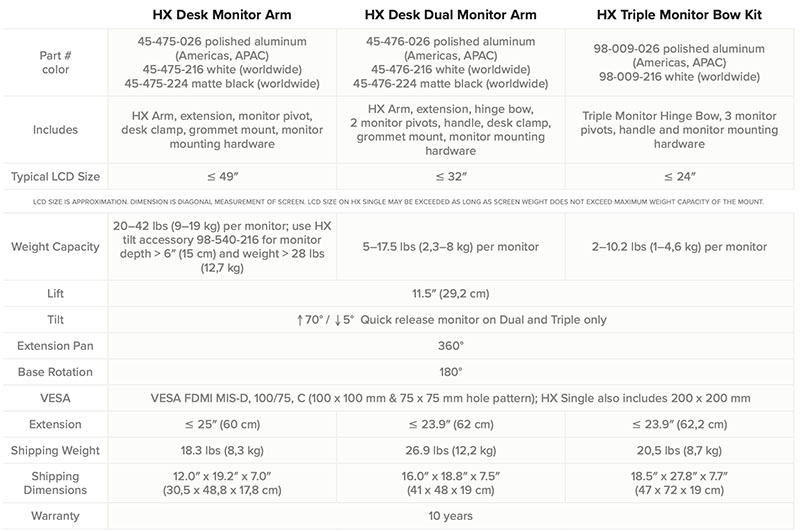 Design and features
I have to say, when I first opened the box I was impressed with the HX's material and build quality. The word that came to mind was "wowza". I typically over engineer pretty much everything I build and the HX is the monitor arm I would create if I could. To say it's really solid would be an understatement.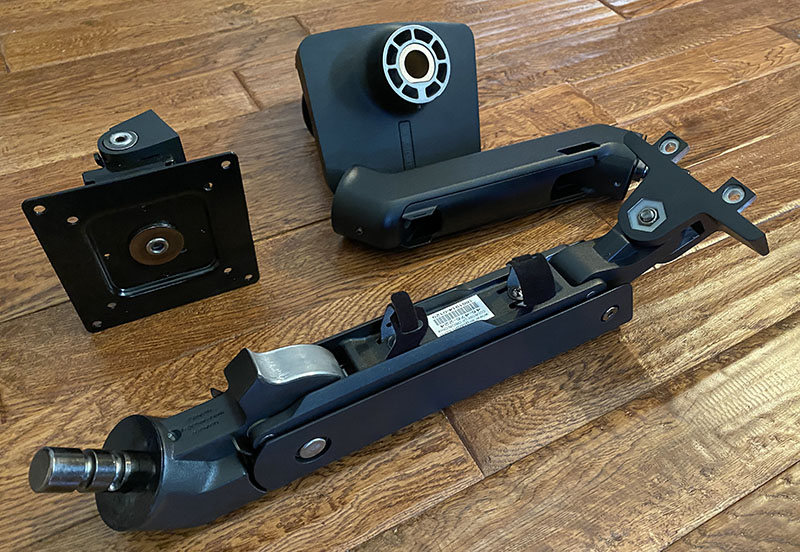 The HX series of monitor stands are extremely well constructed, finished, and engineered to support today's ever growing computer displays. The HX monitor arm is easy and simple to install, adjust, and move around.

The monitor mounting plate is VESA MIS-D compatible (75/100 (hole pattern = 100 x 100 mm & 75 x 75 mm)). Ergotron includes several bolt options to attaching the plate to your monitor. I used the ones that hand tighten/loosened which secured my screen just fine. 

How the mounting bracket connects to the arm itself is crazy over engineered. As you can see here, the mounting plate slides onto the arm and is secured in place by slot, dual supporting hard points, and two screws to lock the pieces together.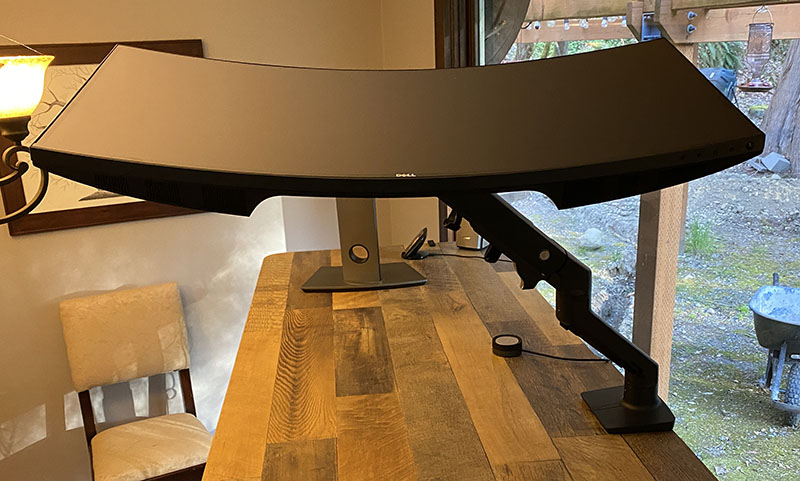 The strength and stability of the HX monitor arm is impressive to say the least. I only have the HX holding up a 20 pound monitor (vs 40+) but still.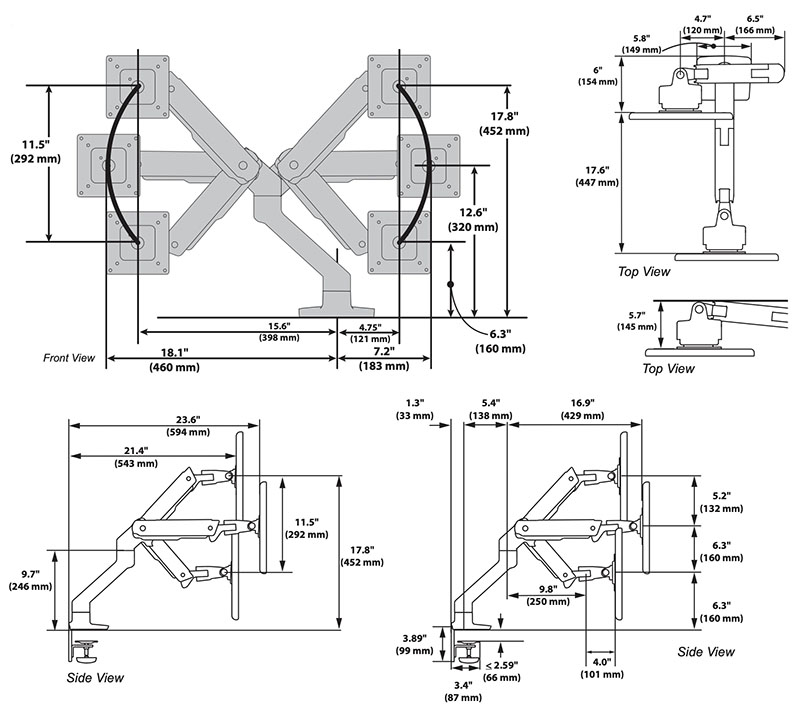 The HX can be positioned pretty much any way you want it. It can swing up, down, left and right. Pulled toward you or spun around to face others, turned 90 degrees into portrait mode, etc. As I stated above, Ergotron's constant Force Technology provides smooth, easy, secure motion.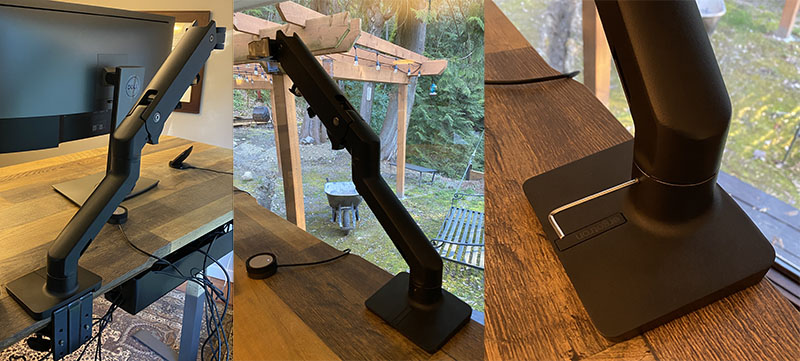 Setup
Installing the HX monitor arm was very easy and straightforward. Ergotron includes everything you will need to attach the arm to your desk and mount your monitor. The entire process took me less than 15 minutes and that includes being pretty AR about upping my wire-management game. 
Here is an Ergotron video of the installation process. I didn't even really have to adjust the tension points. It came perfectly dialed in for my Dell 34″ curved monitor weighing in at around 20 pounds. Though I did set the rotation stop so I didn't accidentally swing the arm through our plate glass window. 
Performance
The HX monitor arm holds my large-ish display very well. The Dell monitor stand did wiggle a little when pressing the power and control buttons, raising or lowering my sit-stand desk, etc. The HX monitor arm is rock solid with almost no detectible movement when doing any of these things. Admittedly I could have used Ergotron's smaller sibling, the LX monitor arm but the HX enables me to someday upgrade my monitor without needing a new arm.
What I like
Very well made from premium materials
Excellent engineering
Can support up to 42 lbs
Smooth, easy motion
Rotation stop
Can mount up to 3 monitors to a single arm (additional hardware required)
Now available in matte black
Built-in cable management
10 year warranty
What needs to be improved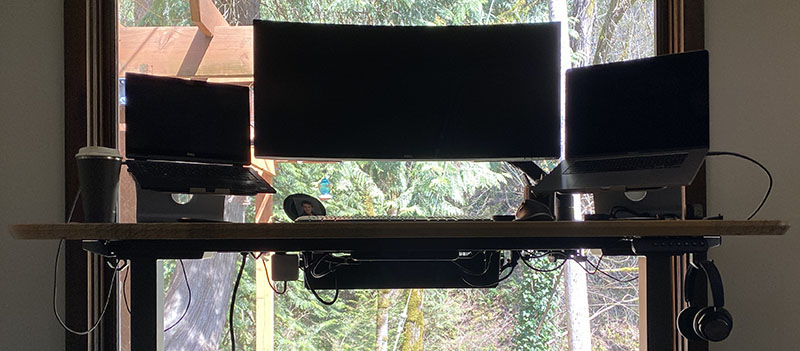 …and this is my after pic. I really like how the HX monitor arm has decluttered my workspace, reducing my desk and cable clutter while increasing my unused real estate. Crazy thing is I'm considering buying a matching matte black LX arm and laptop tray to suspend at least one of my computers above my desk.
Considering the wide range of monitor arm pricing, at nearly $300, the Ergotron monitor arm is definitely expensive compared to a majority of what I would consider similar, yet lesser products. The HX's build and material quality, engineering, and functional use are top notch to say the least.  The HX series of mounting arms includes many options: wall mounts, multiple arms, bow mounting arms, vertical stacking, etc. Ergotron backs the HX heavy duty monitor arm with a 10-year warranty. 
Final thoughts
Bottom line: I really like and recommend the HX (heavy) monitor arm. Without a doubt, it gets the job done. Ergotron has created an excellent, well engineered monitor arm meant to hold the gigantic displays many of us use. The new matte black finish matches a lot of today's tech and the HX's stealthy, minimalistic design looks great almost anywhere. 
Price: $284
Where to buy: Amazon
Source: The sample of this product was provided by Ergotron.com.