We use affiliate links. If you buy something through the links on this page, we may earn a commission at no cost to you. Learn more.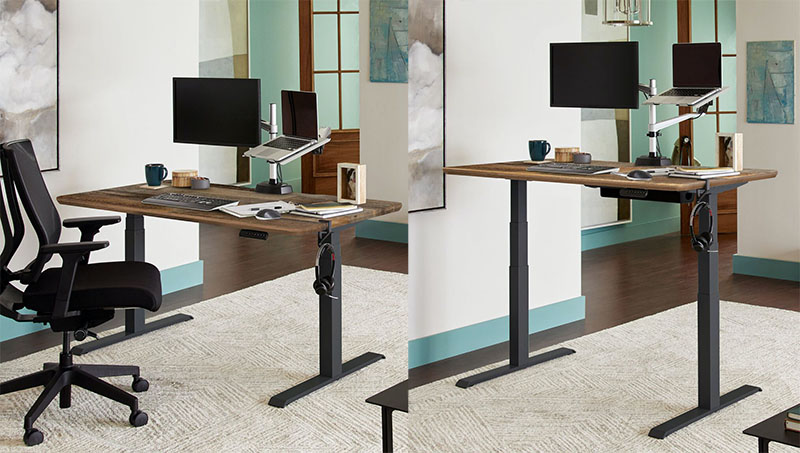 REVIEW – With many of us still working from home, I'm sure there are those out there continuing to upgrade their home office realizing this marathon may go on a while. My office workspace has a sit-stand desk that I rarely used cause when there, I was mostly on the move going from meeting to meeting, not sitting for hours on end in front of my monitor. Well, that situation has definitely flipped since working from home and I'm sitting on calls or staring @my screen most of the day. Long story short, I thought I would try a sit-stand desk for a bunch of reasons. Well, the folks at Vari sent me one of their flagship adjustable desks…let's check it out. 
…and when I say 'flagship' what I really should have said was: aircraft carrier. 
What is it?
The Vari standing desk is a motorized sit-stand workspace engineered to easily go from sitting down to standing up and back again throughout the day. At 60″ x 30″ , this desk is pretty huge and the largest currently offered by Vari.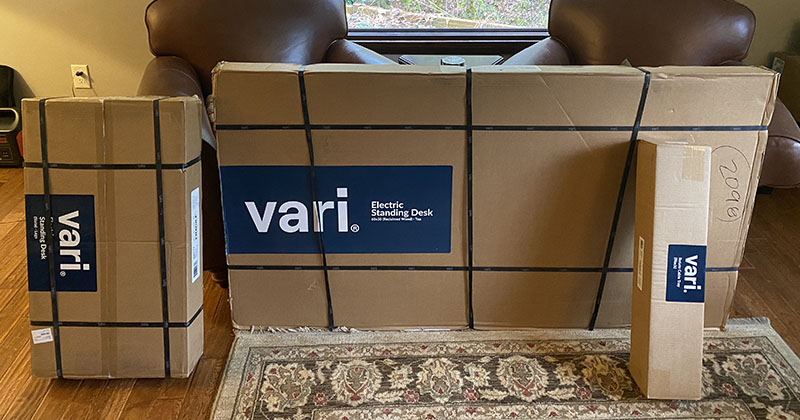 This desk is substantial, coming in three boxes weighing nearly 150 pounds.
What's in the box(es)?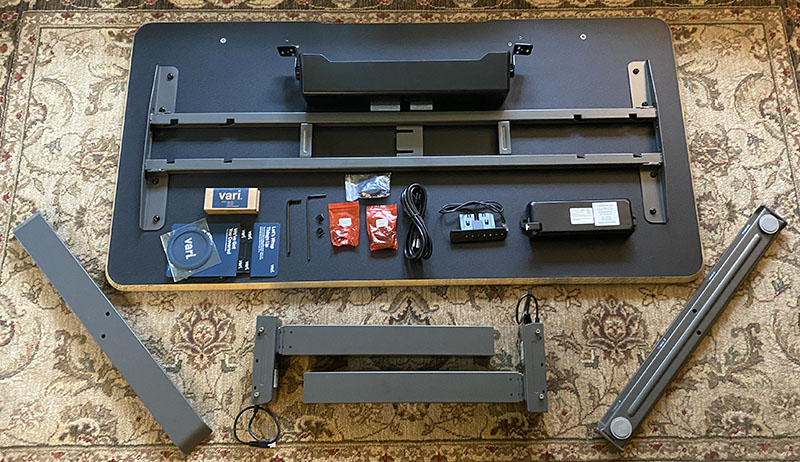 Desktop
Desk legs
Leg feet
Control box
Control panel
Cable storage bin
Large and small hex keys
Various bolts, screws, and washers
Adhesive clips
Clips, ties, and Vari coaster

Hardware specs
Dimensions: 60″ x 30″
Weight: 125 pounds
Adjustability: 25″ to 50.5″
4 programmable height settings
Load capacity: 200 lb (90.7 kg)
Design and features
The Vari standing desk is a dual motor sit-stand workspace engineered to easily adjust heights based on your need/want/ergonomics/etc.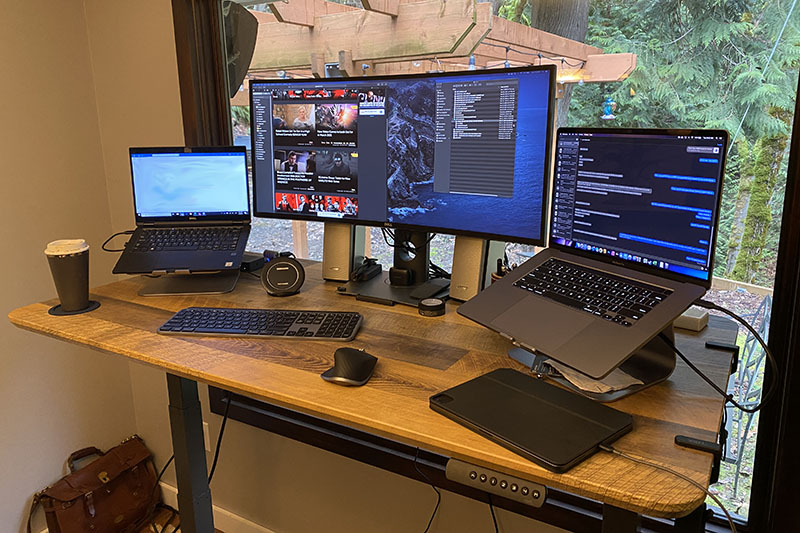 The Vari Electric Standing desk measures 60″ x 30″ with a minimum height of 25″ and a maximum of just over 50″. Once assembled, the Vari Standing desk is simple to configure and easy to use. I love all the real estate being able to nicely hold all my work and home office gear: 34″ curved Dell monitor, 16″ MacBook Pro, 14″ Dell Latitude, Logitech MX keyboard and mouse, iPad Pro, Bose speakers, and many smaller bits of my EDC.  Even with all this gear, the space still feels spacious and non-cluttered.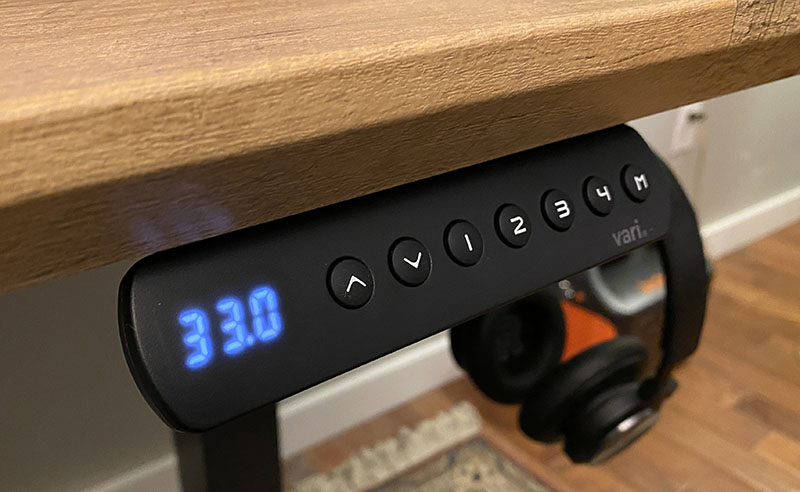 The control panel has a small display that lets you know the desk's current height, up & down buttons, four preset buttons, and a memory set button. The control panel and preset feature work great, easy and simple to adjust the table's height and setup the presets.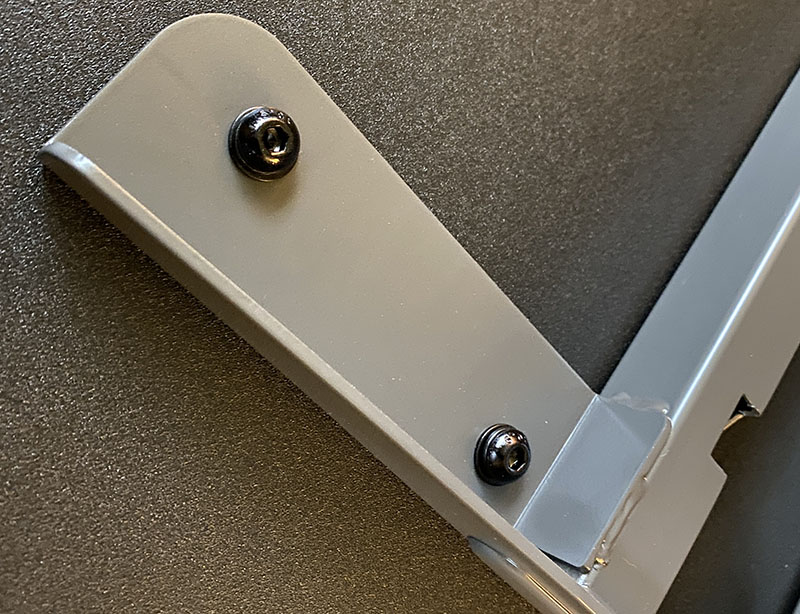 The material and build quality of this desk are excellent. The metal framing, hard-points, and hardware are thick and robust. The frame is not only welded but very well engineered for strength and stability.  

Sadly this desk is not made from real wood, but the main work surface has a smooth, durable laminate that looks and feels great.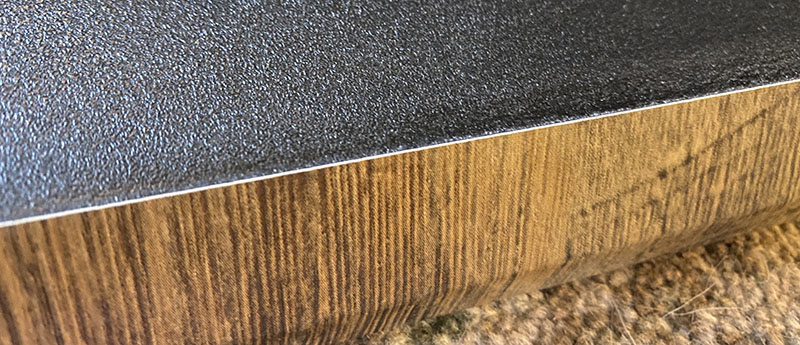 Here you can see the thickness of the desktop laminate and the textured coating they have on the underside of the work surface.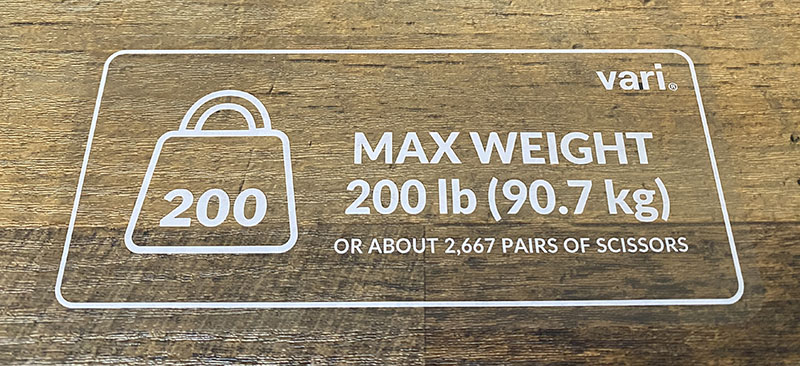 The desk can support 200 pounds of gear though I did the math and all my stuff came in at approximately 30 pounds. 
Setup
According to Vari, this desk can be assembled in 5 minutes and I agree. Here is a video detailing the process.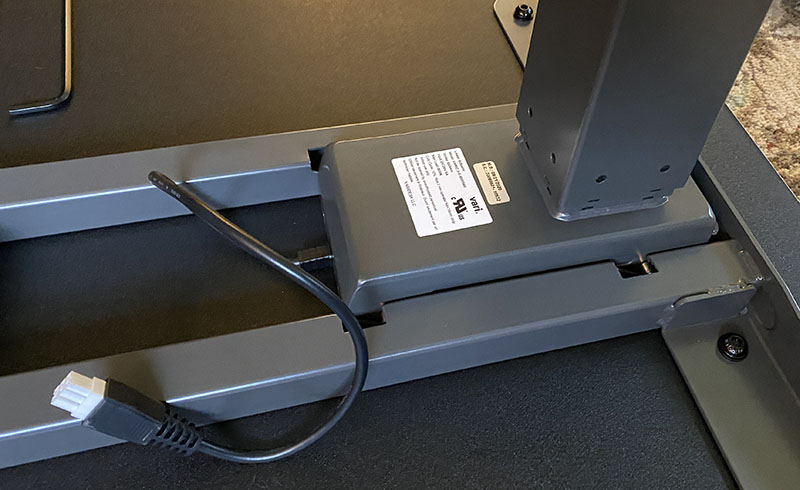 The four leg hard-pins slip into the grooved slots in the metal frame.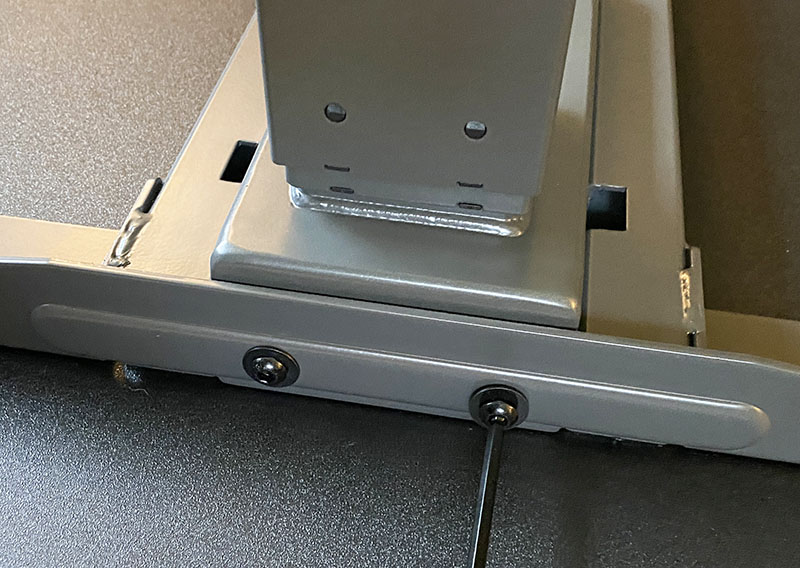 Push the leg all the way to the edge of the frame, then screw in the bolts and washers locking the leg securely in place.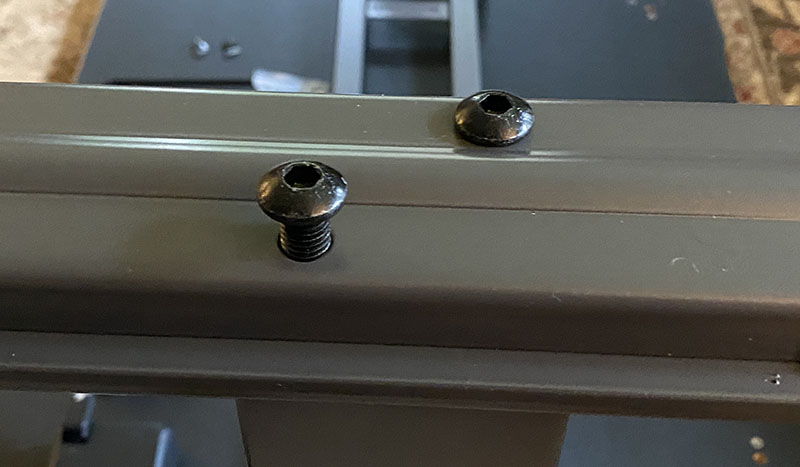 Then place the feet on top of the legs locking them in place with 2 hex bolts. 

The control box slides into the center of the frame with the leg cables connecting to either side of the unit.

The control panel also connects into the right side of the control box as well.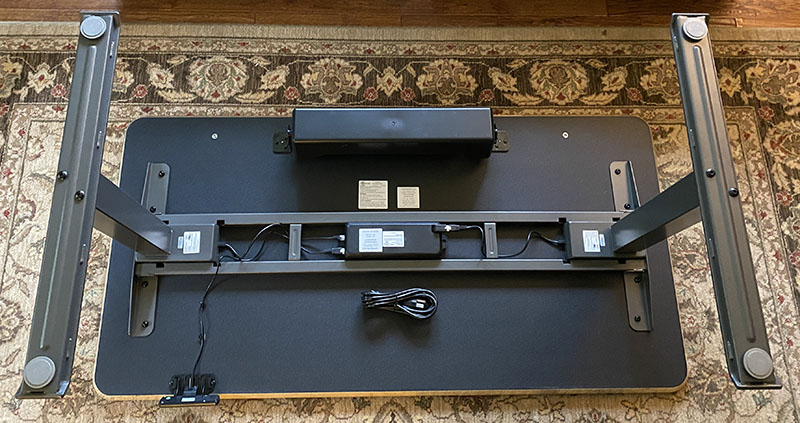 Assembling the Vari Electric Standing desk really is a breeze…tho it does take 2 people to flip it upright and move it around. The round feet on either end of the feet are adjustable to help better level and remove any rocking.

A small modification… I did take the liberty to (IMO) improve the Vari Standing desk by adding a power bar I had laying around our garage. I didn't want to damage or drill screws into the desk so I used double-sided tape on two sides of the power bar. It worked surprisingly well and has created some excellent and stealthy power management.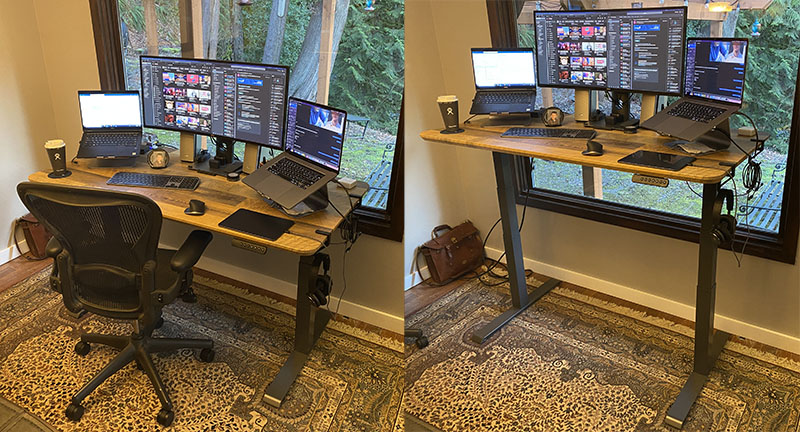 Performance
The Vari Electric Sit-Stand Adjustable desk works just as advertised. The desk itself is very sturdy with little movement during use. Now if you wiggle the desk, the monitor and laptop screen(s) will shake. But during normal use, everything remains rock-solid. Even when changing heights on the desk there is little wobble.
This dual motor system raises and lowers the desk smoothly and easily, taking 5-10 seconds to go from one preset to another depending on the height differential. 
What I like
Very well made
Excellent material/build quality
Large and spacious
Easy assembly
Smooth operations
Four preset heights
Very stable
What needs to be improved
Shame there isn't a real wood option

The Vari Electric Sit-Stand Adjustable Desk is available in 60″ and 48″ widths and the following finishes: Reclaimed Wood, White, Butcher Block, Black, and Darkwood. Vari backs this desk with a 5 year warranty. 
Final thoughts
I am a little surprised how much I like and enjoy the Vari Electric Sit-Stand Adjustable Desk. Its build, material, and hardware quality are excellent. The ability to go from sitting to standing and back again in just a few seconds is easy and convenient thanks to its strong dual electric motors and preset controls. Over the past month, I have been using this desk, my appreciation for being able to stand for part of my workday has definitely grown on me. I find myself standing at least half my day and feeling much better for it. The Vari Electric Standing Desk is a wonderful addition to my WFH world that I can recommend to any who asks without hesitation. 
Price: $650
Where to buy: this electric standing desk is available from Vari directly or Amazon.com
Source: The sample of this product was provided by Vari.