We use affiliate links. If you buy something through the links on this page, we may earn a commission at no cost to you. Learn more.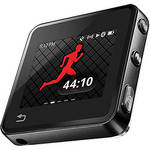 We reported about the Motorola MOTOACTV last Fall when it was first announced, but not yet available. The MOTOACTV GPS Fitness Tracker & SmartMusic Player lets you know which songs make you perform your best. Featuring a 1.6-inch color touch display, the MOTOACTV is embedded with Motorola AccuSense and GPS technology which tracks your walking, running or cycling speed, distance, calories burned and even heart rate (heart rate monitors are sold separately) and then automatically stores your workout results online using WiFi. B&H Photo (affiliate link) is currently offering the MOTOACTV with a $50 discount (expires on 3/31/12) along with a selection of accessories.
Gadgets like this one, Fitbit and the Striiv (which I'm currently reviewing) really do help keep you motivated to work out and stay active on a regular basis.