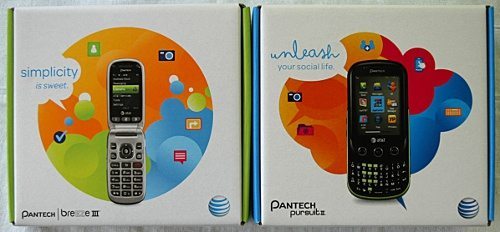 The Pantech Breeze III and Persuit II phones are two low-end GSM phones available on the AT&T network for under $100 (currently and often just under $50 with rebate) for new customers with a 2 year term. While both offer decent (and different)  functionality, they have significant limitations when compared to current and last generation smart phones at similar price points.
Breeze III
The Breeze III is a throwback to the golden age of flip phones, with a decent QVGA display, and a full set of basic phone features.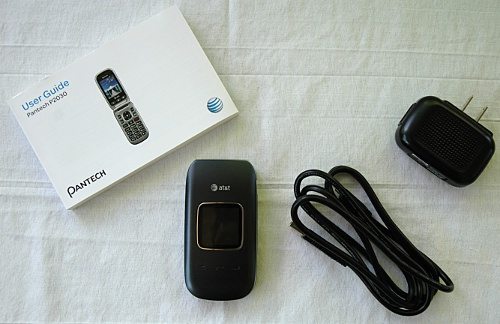 In the box you'll find a thick manual, the phone, a USB charging & PC connection cable, and AC adapter. The phone accepts a full size SIM card.
The hardware
Even with the battery, the Breeze III is light as a feather, coming in at 3.6 ounces. Even though it's essentially all plastic, it feels reasonably solid in the hand, and the textured back allows for decent grip.

Above is the Breeze III atop an iPhone 4. You can see the volume controls on the left side.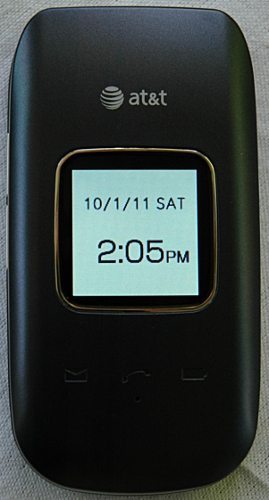 The front display is pretty spartan, giving you just the date and time. Three icons are stamped into the top, for Messages, Phone, and Battery. Oddly enough, those are actually indicators, with LEDs under them that blink if you've got a message, or missed a call, or your battery is low.

Flipped open, you've got three "quick launch" buttons you can assign to apps on the top half of the phone, the bottom has a pair of menu buttons, a d-pad, dedicated voice command and camera buttons, and the basic phone keys you'd find in any flip phone.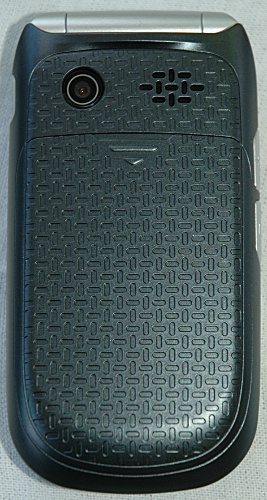 On the back is the speaker (for speakerphone, tones, rings, etc.) and the 1.3MP camera.
The Software
Using the Breeze III reminds me of the flip phone I had in 2003, with a much better screen and slightly more feature rich software. It has two modes – the "Breeze" mode is a simplified menu system: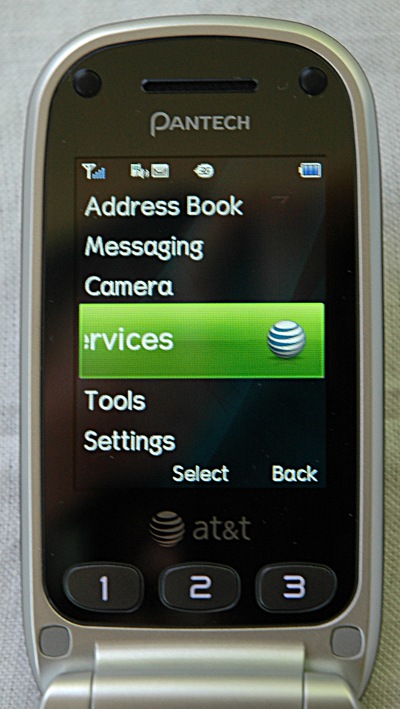 Selecting an option leads to a sub-menu, which has a subset of all the options you'd find in advanced mode. Advance mode gives you the grid of icons look: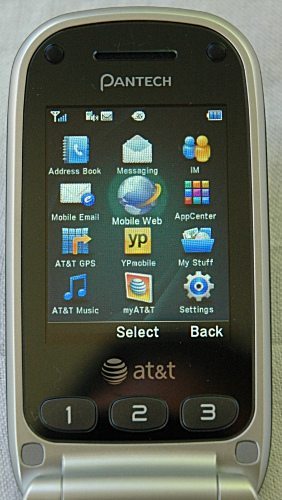 Which has essentially the same applications – the difference being that when you select one of these you get additional sub-menu options. In either case these are pretty basic applications and navigating them (let alone entering anything at all with the dialpad) is fairly cumbersome. No worse than any other flip phone, but I'd really not want to do anything more than basic calling on this thing. Here's the web browser (which is pretty slow, even given Edge speeds:)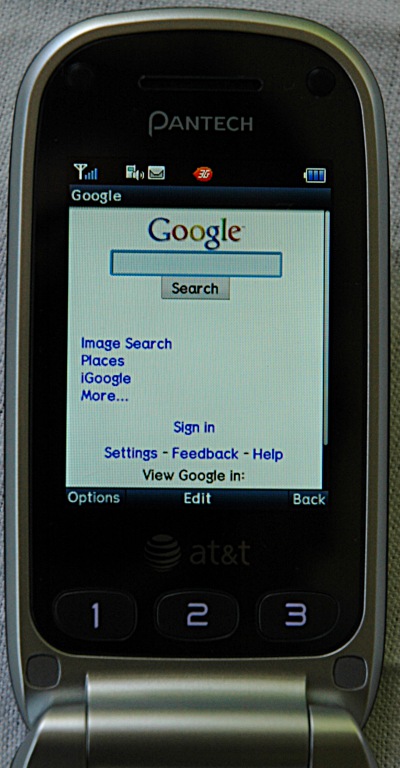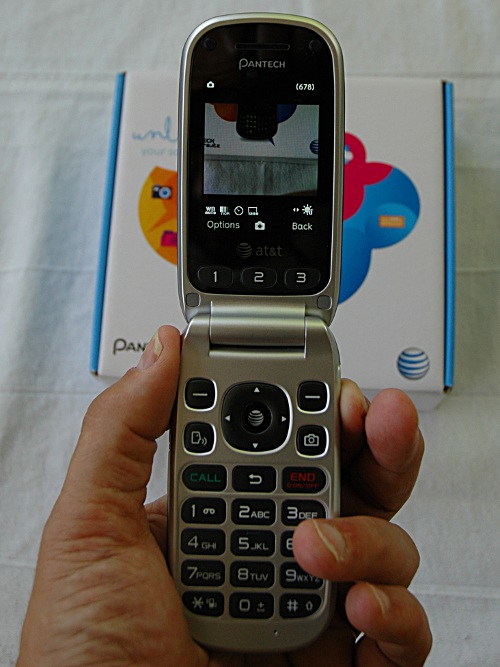 The 1.3MP camera takes decent fixed-focus photos, which can be emailed, or sent via MMS with ease.
The phone includes voice control, which worked fairly well for starting applications, and fair for voice dialing. The included PC-Suite software works with either phone, I'll cover it at the end of the review.
Conclusion
I'd personally never be able to stand the Breeze III as my daily device, but if all you need is basic voice capability, or you want a nice light flip phone, it could work. The voice quality (and speakerphone) are quite good, but choosing this device certainly is not a selection you'd make based on cost – there are full touch smartphones in the $50-$100 range that are more capable (and easier to use) than the Breeze III.
Pursuit II
The Pursuit II is a QVGA touch screen Brew-based phone with a slide-up keyboard. It looks at first blush like it could be a fair "simple" touch screen phone, but the phone software is cumbersome to use, the device is infuriatingly slow to use, and the touch screen's responsiveness is poor. The keyboard does work well for text entry, at least.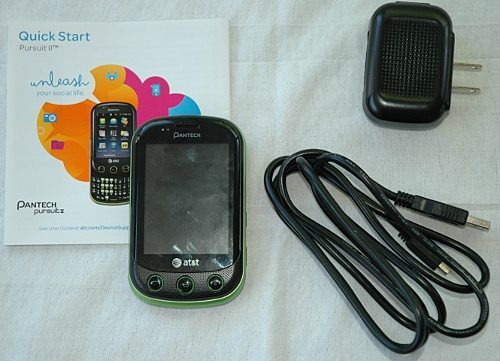 In the box you'll find a thin Quick Start guide, the phone, a USB charging & PC connection cable, and AC adapter. The phone accepts a full size SIM card.
The hardware
With the battery, the Pursuit II is fairly light at 4.9 ounces. Like its flip-sibling, it's all plastic but feels reasonably solid in the hand. The back's "dumbbell" shape gives you something to hang onto when holding it, and it has two rubbery strips that help hold it in place when you set it down to type on it.

You can see above that it's smaller but thicker than an iPhone 4, but overall it's quite pocket-able.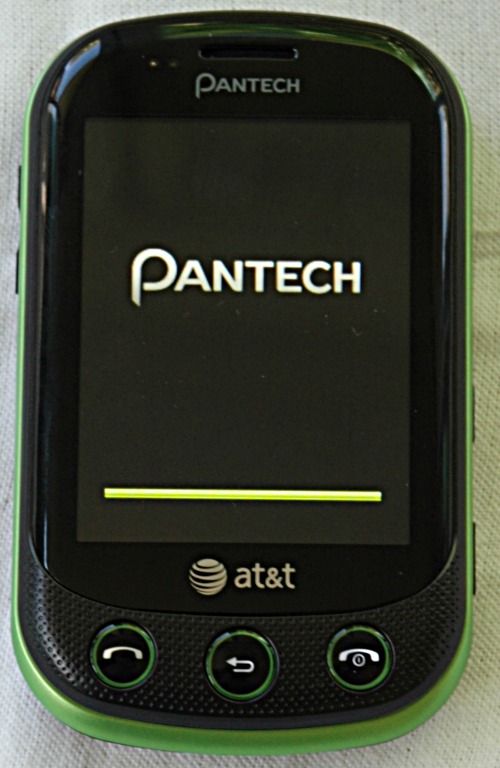 The front has the QVGA touch screen with dial, back, and hangup hard-buttons on the bottom.

The left side has a volume rocker.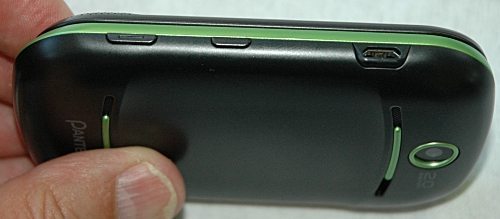 The right side has the USB port, a hold button, and a camera button.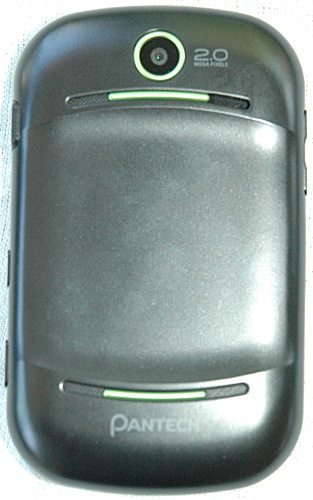 The back is smooth, but has a nice recessed center area and the 2MP camera. The speaker grille is somewhat hidden in the upper grove where the rubber grip lives, on the right side.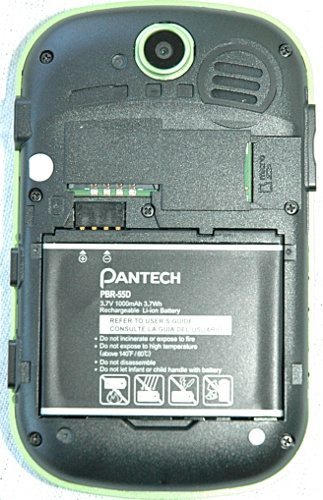 Under the covers, you can see the the SIM slot above the battery, and on the right side is a micro-SD card slot for up to 32GB of external memory.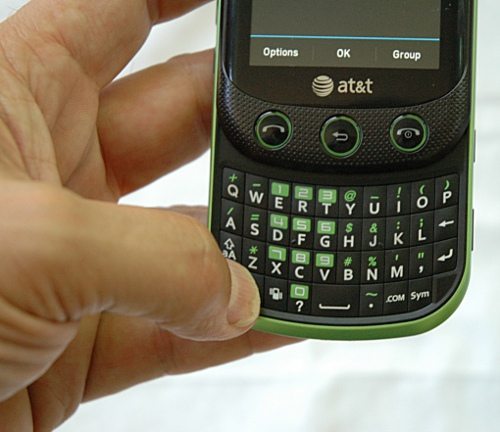 Pushing up the top, it slides nearly halfway up revealing a reasonably usable keyboard.
The Software
The Pursuit's Brew-based OS seemed to be trying to be a mix of Symbian and iOS, with some throwbacks to even older interface behaviors. It looks pretty clean and nice at first blush, but just poking at it for a few minutes, you're greeted with endless lags, spinning wait cursors, and menus that look like they'd be at home on the Breeze.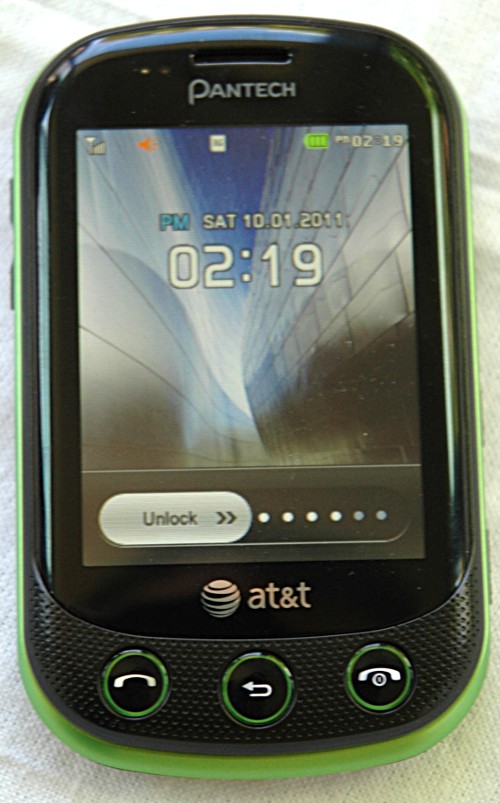 The lock screen looks promising, and sliding it reveals a very nice grid of icons: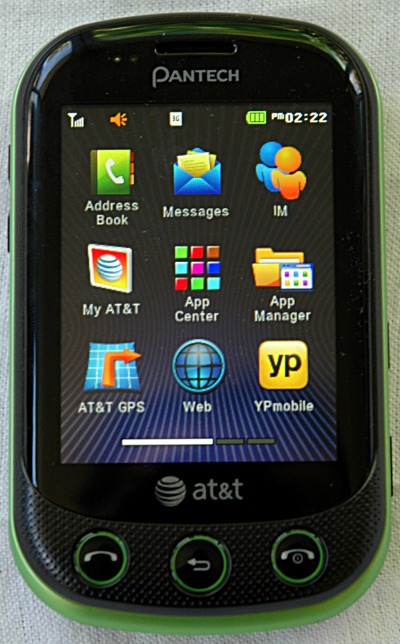 However, let's look at the web browser: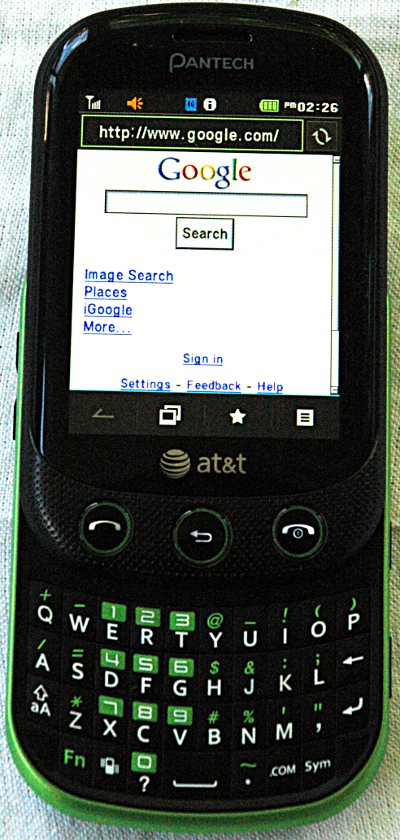 Ok, that's looking very Breezy! However, that keyboard makes all the difference when trying to enter in a URL, or punch in a facebook status, or even take some (brief) notes.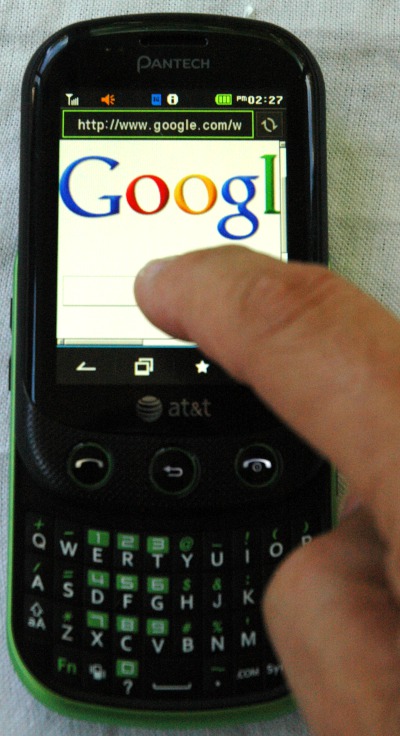 Here you see the problem of a tiny 2.8″ QVGA screen. Trying to do any serious browsing of "full sites" is an exercise in both patience (due to Edge speeds, on top of the pedestrian phone speed) and dexterity (attempting to hit a tiny link with my gigantic finger) which provided some fun and then the realization that this thing isn't for people like me.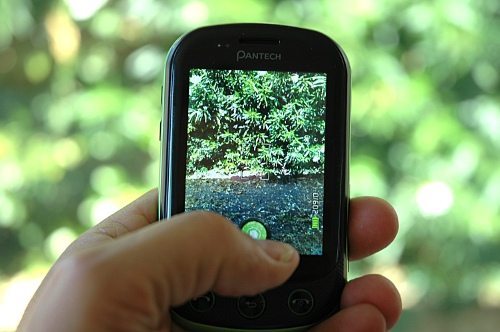 The 2MP camera worked well enough to snap photos and upload/mail/mms them around. Like the Breeze, the voice quality (and speakerphone) are quite good on the Pursuit II.
Conclusion
The Pursuit II is a capable touch/keyboard Brew-phone, but like the Breeze III you'd be picking this phone for some reason other than price, or functionality. With full-blown HVGA or better iOS, Android, or WP7 phones out there at the same price point, I'm at a loss to understand the market for this device. Perhaps you're looking for a limited device specifically to limit what the user can do – perhaps a first phone for a child.
PC Suite
Both phones use a Windows-based app (freely downloaded from Pantech's web site) called PC Suite to do basic phone sync to the PC. Installing the app, and connecting either phone, you'll be able to sync the phone, edit the address book, and copy files (such as music or images) in or out of the phone.
The main screen is: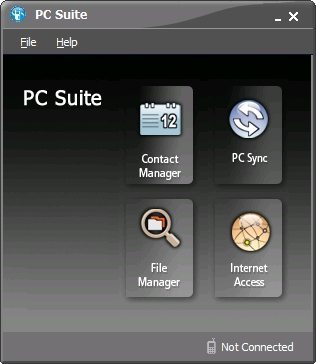 Clink on any of those, with a phone connected, and you'll get the following screens. First up, the contact manager: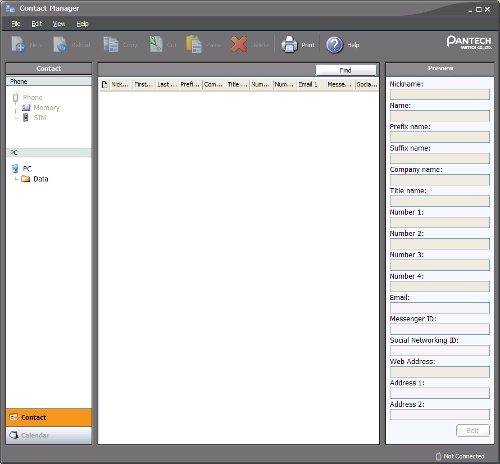 This would be the best way to get contacts in, if you don't have an existing address book. If you do, then the Sync option is far better: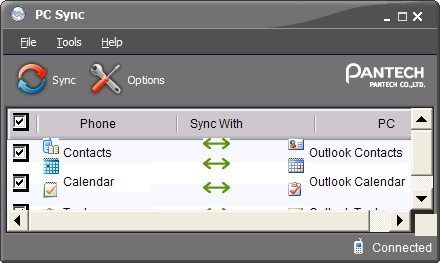 It looks like the sync tool supports Outlook, or Outlook Express. Assuming that's what you've got, you'll have your address book, calendar, and notes synced up in moments.
Lastly is a file browser/mover: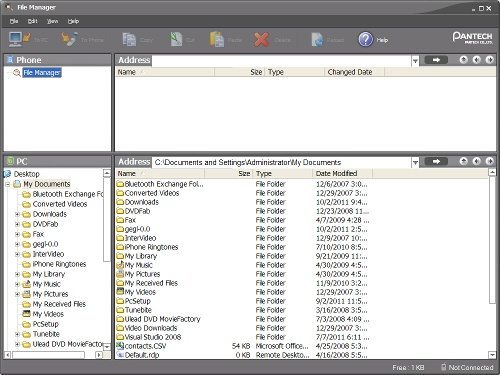 Overall, enough power to get the basic job done.
Uber-conclusion
These two phones, along with the sync software, are capable enough at what they do, but they're definitely trailing edge technology, with a few updates to more modern components and capabilities. With the immense downward pressure of smartphone prices it's hard to see who the target market is for them, but if you're looking for something like this then they sure seem as capable as anything else in the same class.
Support The Gadgeteer
:
We may earn a small affiliate commission from purchases made from buying through links on our site. As an Amazon Associate I earn from qualifying purchases. Learn more.
Product Information
Price:
Breeze III, Pursuit II $99.99 w/2 year contract ($49.99 with $50 rebate)
Manufacturer:
Pantech
Requirements:

GSM sim card (AT&T)
Windows XP or later PC for PC Suite sync software

Pros:

Breeze III: simple flip phone with Edge network access
Pursuit II: very good physical keyboard
Both: good voice clarity.

Cons:

Both: Slow network access speeds
Breeze III: all the downsides of a simple flip phone the most obvious being text entry and simple apps,
Pursuit II: slow speeds, lack of significant third-part application options, poor touch response.