We use affiliate links. If you buy something through the links on this page, we may earn a commission at no cost to you. Learn more.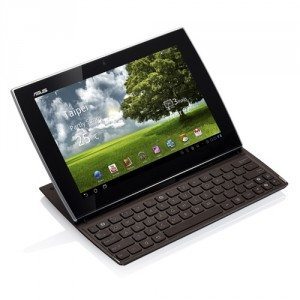 I know there is a lot of debate regarding Android vs iPad tablets (cue comment along the lines of "What debate, x is clearly superior) but one exciting thing about Android tablets is the variety of creative products possible. Asus has already seen some success with their Transformer series of Android Tablets (and you have to like the "Robots in Disguise" implication). With the Transformer, you can put the tablet in a keyboard dock complete with touchpad. With the SL101, they are taking it one step farther, by integrating a keyboard in the design of the tablet. They are not listing price and availability yet, but it looks promising.
Cool design is fine and all, but what about the specs. You can check out the full specs on their product page, but what stuck out to me were:
Android 3.1 (they are confirming 3.2 upgradeable, but offer no timeline)
10.1″ WXGA (1280×800) display
Gorilla Glass with 178° viewing angle
Multi-touch (10-finger)
NVIDIA Tegra 2 1 GHz dual-core CPU
1 GB Memory, 16GB/32GB Storage
MicroSD slot (they call it a Card Reader)
1.2 MPixel Front Camera, 5 MPixel Rear Camera
Rated 8-hour battery life
Mini HDMI port
Audio Jack (can be Headphone/Mic-in)
USB 2.0 port
I could not find it on the Asus site, but
NetbookNews.com
mentioned that the USB port supports USB host functionality, which is a really nice feature. I am not a big fan of them describing the MicroSD slot as a "Card Reader". It is technically correct (it reads MicroDS cards), but most folks would expect more formats from a card reader. You can find some comments about that in reviews of the Transformer at Amazon.
Of course adding a keyboard and a full-size USB port is going to impact the dimensions. It is heavier (960 g vs. 730 g) and thicker (17.3 mm vs. 12.9 mm) than the Xoom, the only tablet I have used for an extended period. And, yes, the current iPad is lighter (601 g) and thinner (8.8 mm) than both.