We use affiliate links. If you buy something through the links on this page, we may earn a commission at no cost to you. Learn more.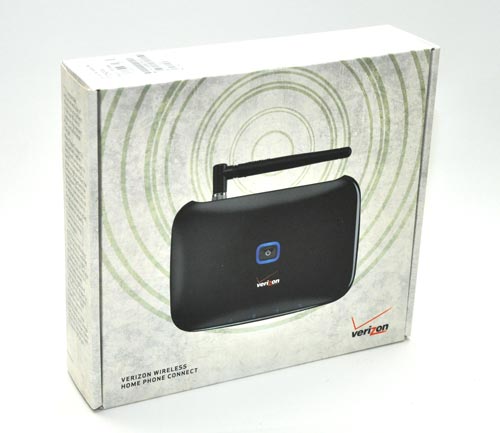 For those long-time readers, you might remember my rant/question about Comcast charging too much for their multimedia services (i.e., HDTV, phone, and internet) last year. Well, I am finally getting around to cutting the cord. We will be keeping Comcast high speed internet but our household is giving up cable TV and switching home phone service from Comcast to Verizon's wireless Home Phone Connect service. So, I thought I would share the process and review the service along the way.
Adding the service to our existing wireless account was quick and easy. I was running behind and in a hurry….the process took less than 5 minutes. I had them port our number from Comcast. The Verizon sales rep informed me that the port could take up to 10 working days to complete the process. It is longer than porting a number from one cellular provider to another because you are going from a land-line to a wireless. While we could call out on the service immediately, it actually took about 5 days to become fully operational and could receive calls.
Contents: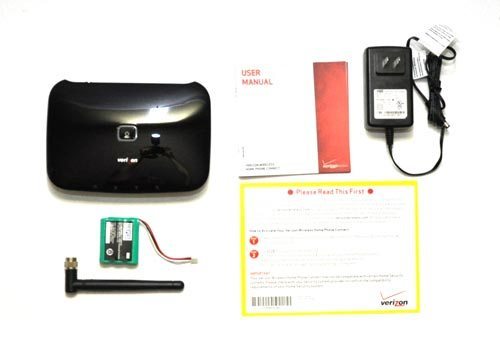 Once I got the Home Phone Connect unpackaged, setting it up and getting it operational was quick and easy. Install the battery, screw on the antenna, plug in the power cord and the device is ready to activate. Finally, plug in your regular home phone and dial *228 (just like your typical cellphone) and you are good to go.
Features:
Call Waiting
Call Forwarding
Caller ID**
3-Way Calling
International Dialing***
Voice Mail (*86)
Account Balance (#BAL)
411, 611 & 911
Technical Specifications:
Manufacturer: Huawei 
Model: Verizon Wireless Home Phone Connect 
Frequency: 1.9 GHz and 800 MHz 
Connectors Two RJ–11 interface jacks for telephone 
GPS Integrated GPS for 911 support
Dimensions: (H) 1.5″ x (W) 7.0″ x (D) 5.0″ 
Weight: 12 oz. 
Battery Backup – 1500 NiMH
Provides up to 3.5 hours talk time and up to 36 hours standby time 
Input: Standard 110V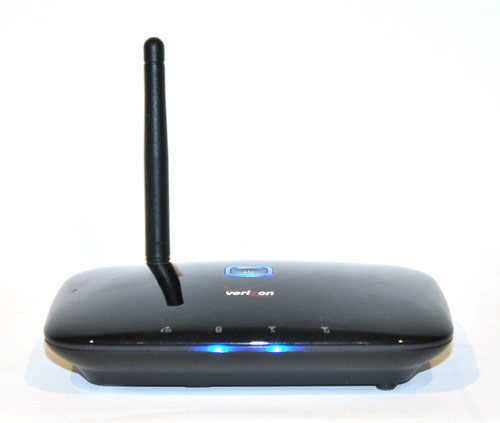 The Home Phone Connect device is simple to use. It is either on or off. A blue LCD indicator lights let you know if it is on/off, signal strength, battery charge, and whether it is in use.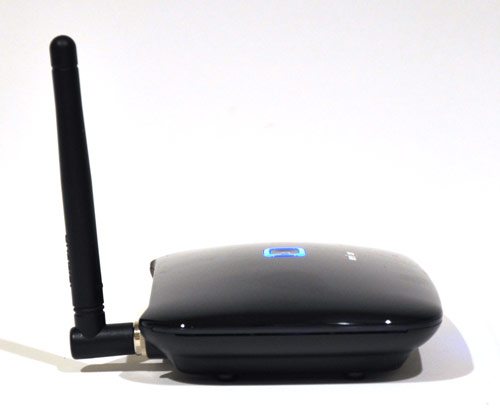 The device is nice enough looking; clean and simple lines. It's small footprint does not take up much room where ever you choose to place it.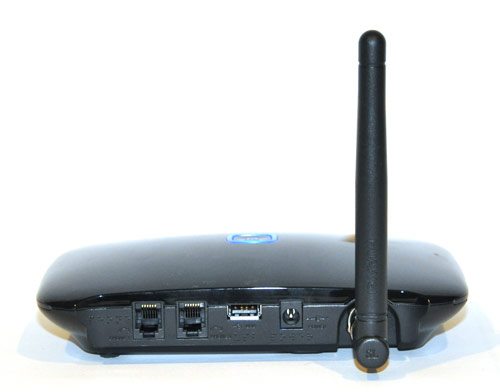 The backside of the device allows for up to two phones to be connected. I connected our home phone base station to the device and we had connectivity throughout the house; the same as any other home phone service.
I assume the usb port is for Verizon to program and update the device.
Performance: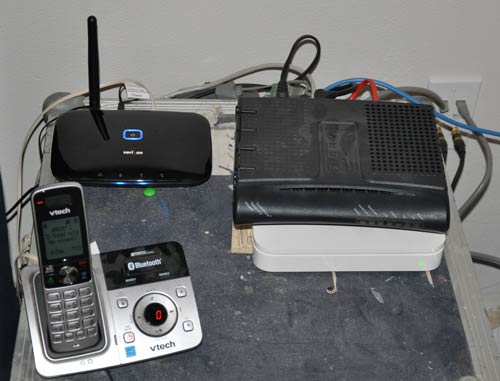 (Scary as this picture looks…this is not a fire hazard). We have good Verizon coverage/signal strength at our house; ranging from 5 bars outside, 4 bars on the upper floor, and 3-4 in our basement. I placed our Home Phone Connect device in our upstairs office where the indicator light(s) tell me the signal is good but not great (100%). That said, the call quality we have experienced has been excellent. It is comparable to the quality of service we received from Comcast voice.
An additional operational perk, is that the unit's battery and cellular connection can be used for (3) hours (and up to 36 hours standby time) while power and other phone/cable lines are down. A definite plus living in a highly treed area where lines are down regularly.
Bang for the Buck:
Verizon's Home Phone Connect is available with two pricing options:
$19.99 gives you unlimited In-Home Calling to any number on any network in the U.S.
If you have a Verizon Family Plan, $9.99 gives you Unlimited Mobile to Mobile Calling with other Verizon Wireless customers and Unlimited Nights & Weekend Anytime Minutes when you add a line to your existing Family SharePlan for  monthly access. This means that during the day, if you make a call outside of Verizon's network that time will be deducted from your monthly limit.
The move from Comcast to Verizon service reduces my basic phone bill from approx. $35 to $20. A pretty good monthly cost savings and enables me to further disassociate our household from Comcast. An additional plus is the fact that since its on the Verizon Wireless network, calling my home phone number no longer counts against my minutes.
Bottom line:
Based on the first two weeks of use, I have zero regret moving from Comcast digital voice to Verizon's Home Phone Connect. From the setup to the service, Verizon has a solid product for a good price that thus far has worked well.

Product Information
Price:
Free (w/2 yr contract) or $129 (w/o contract)
Manufacturer:
Verizon Wireless
Pros:

- When in Verizon service area, excellent call quality
- Easy setup
- Simple to use
- 3 hr use (36 hr standby) with all lines/power out
- Good bang for the buck

Cons:

- When porting number from a land-line, 5-10 day delay before fully functional