We use affiliate links. If you buy something through the links on this page, we may earn a commission at no cost to you. Learn more.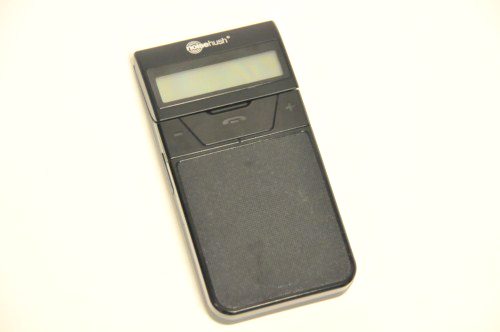 The Noisehush N650 from WirelessGround is a bluetooth carkit that enables hands-free operation of your cellphone while you are driving.  It attaches to the car window, it charges by solar power, and it has control buttons on its face.  So would I replace my bluetooth headset for this baby?  Let's find out.
I have been a long-time bluetooth headset user.  Therefore I have looked like a total dork for many years.  But hey, I look at it like I am saving lives my friend because I can pay more attention while I am driving and I don't run over anyone's toes with the shopping cart in Wal-Mart.  Bluetooth is a beautiful thing and I have embraced my geekness.  So I love testing bluetooth devices that can make my life easier.
I reviewed the Plantronics Voyager Pro UC bluetooth headset back in February 2010 and loved it.  I still use it every day, and I knew the Noisehush had its work cut out if it was going to replace the Voyager Pro.  I use my Voyager Pro with my PC as well as my cellphone, so it gets alot of use.  But the Noisehush was specifically designed for use in the car, so I can't say that they compete with each other.   However, the reality is that I have my Voyager Pro on my head for a large portion of the day, so when I get in my car it is already on my head.  From that perspective the Noisehush has to find a place in my life where the Voyager Pro already has a strong foothold.
Let me start with the features of this device:
Uses Bluetooth 2.1
Talk time of 10 hours
Standby time of 160 hours
Charging time of 2 hours
Solar panel is 5.5V, 50 mA
Stores history of last 20 calls
Comes with a USB cable and cigarette lighter adapter
USB cable can be used to connect to PC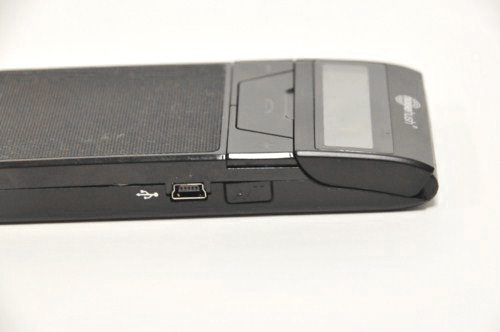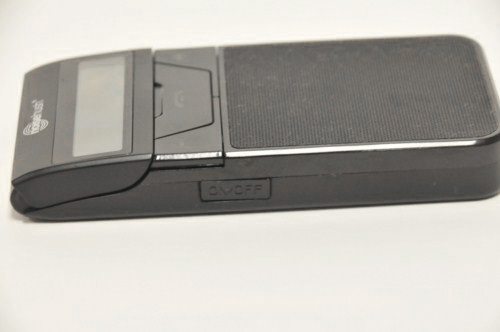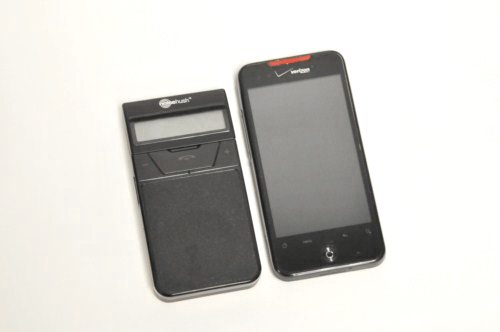 As you can see, it has a USB charging port on the right side, which doubles as the USB connection to your pc if you wanted to connect it.  It has a button above that called the 'A/B' button, which I'll explain in a minute.  On the left side of the device is the on/off button.  There is nothing on the top or bottom of the device.  You can see a comparison of the size compared to my Droid Incredible, so the Noisehush is pretty small.  And I can't explain just how light this thing is…. incredibly light.  The bottom 2/3 of the front of the device is a speaker, which is very loud.  I found myself turning the volume down when in a call because it was just so loud, which is not a complaint by the way.  That is better than not being able to hear.  Below the LCD screen at the top are 3 buttons… the larger call answer/hangup button in the middle and the volume up and down to either side.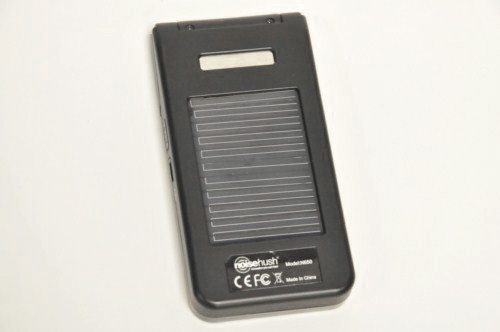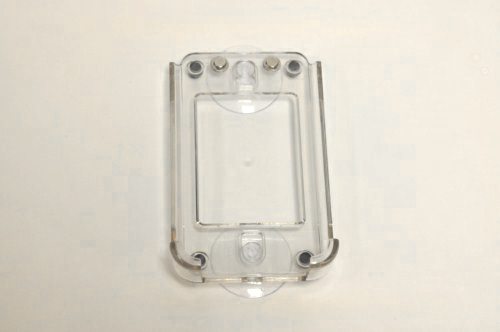 The solar panel takes up about half of the back, and the clear plastic cradle that it snaps into (by way of small magnets at the corners) has a hole so that the solar panel is unobstructed for maximum charging ability.  The plastic cradle also has suction cups that enable you to attach it to the window of your car.  Here are some pictures of the Noisehush in my car window.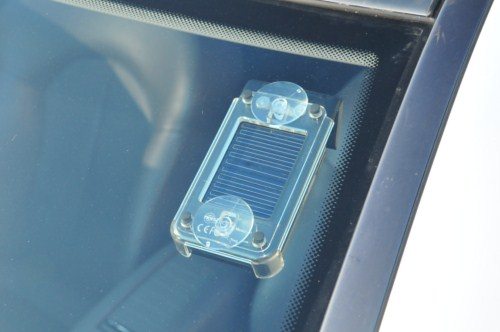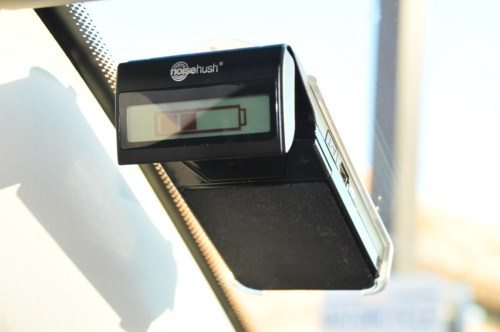 You get a graphic on the LCD panel when it is charging, and as you can see the LCD screen folds out so that you can see it when it is mounted at an angle on the windshield.  My only complaint with the Noisehush is the location of the microphone.  Here is a picture with a red arrow pointing to where the mic is located.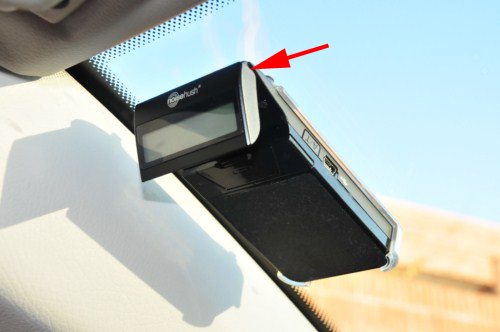 The mic is located right in the middle of that place where the LCD screen bends outward.  In fact, when the LCD screen is folded back into the device the mic hole is almost covered up.  It is good that it is located on the right side of the device, but I wish it had been placed in a different location.  It seems really odd to me that they didn't put the mic hole on the front somewhere, or better yet on the fold out screen itself.  That would have made much more sense from a usability standpoint, but perhaps there is a technical reason why.  The problem with this is that I found that when there was alot of road noise (or in one case heavy rain) I had to lean into the device for the other person to hear me better.  The sound wasn't as clear as expected, and I honestly don't know of any other possible reason except for the location of the mic.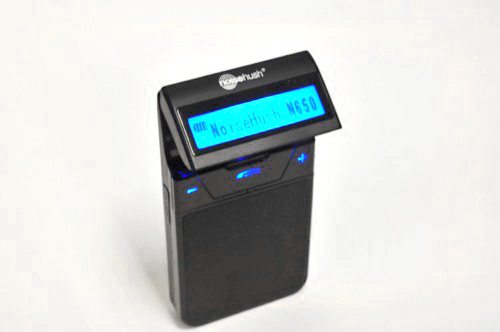 The LCD screen is a very bright blue and was clearly visible to me even during a bright day.  And of course it displays caller ID information so it's easy to see who is calling.  And as you can see the buttons also light up blue for a few seconds when you press one of them.  A nice touch with those buttons is that you can use the buttons on the Noisehush to answer calls, reject calls, hang up, redial last number, voice dial, and switch the call back to the phone.  So the buttons are multi-function and are very responsive.  I could even press the middle button twice quickly and it would allow me to voice dial over bluetooth on my phone.  I use that all the time.
You can also transfer your phone's contacts to the Noisehush without connecting it to your phone or computer.  Simply press and hold the A/T button on the right side and it automatically transfer your phone's contacts into the address book on the unit.  It took about 10 min. to transfer all my contacts (about 300) from my phone.  The on-board address book on the unit can hold up to 400 contacts, but using it wasn't useful to me.  Selecting phone numbers using the address book on the Noisehush wasn't that easy for me because of the vast number of contacts I have, plus the angle of my windshield made it awkward.
It pairs as you would expect.  Hold the power button down and after 6 seconds are so, the unit turns on in pairing mode.  It paired up right away with both cellphones that I tested it with (my Droid Incredible and the Verizon Envy 3).  The manual says it can remember up to 8 devices to pair with, but I didn't test that.  I should also mention that if my Voyager Pro was already paired with my cellphone, the Noisehush wouldn't connect until I turned off the Voyager Pro.  The unit will turn off automatically if it can't connect with any devices for 10 minutes.  It goes into standby mode if it can't connect with any devices, like when I get out of the car and walk into work for example.  So you have to press the on/off button to turn it back on when you get back in the car.
Conclusions
If I had to give the Noisehush a rating out of 10 stars, I would probably give it 8.5, maybe 9 stars.  It isn't perfect, but it is really an excellent device and I can recommend it.  The solar battery holds a charge well and after 2 long trips in the car of over 5 hours each, it never died on me and was able to charge constantly in the sun.  So I didn't need the cigarette lighter charger.  Because it is held into the cradle with small magnets, it easily pops right in and out without having to remove the cradle and suction cups.
Because of my heavy use of the Voyager Pro, I won't be relying on the Noisehush for 100% of my bluetooth needs in the car.  But I will be using it for sure.  It is always charging in my windshield, and occasionally I do forget to bring my headset so it's nice having it there.  It is really nice for letting everyone in the car hear the caller, and because of its ease of use and the fact that it automatically pairs every time with my phone, I will continue to use it.  Also, when my wife drives my car it will automatically pair with her phone and she can use it as well.
Product Information
Price:
$79.95
Manufacturer:
Noisehush
Retailer:
WirelessGround
Pros:

Very light
Fold-down LCD screen
Magnetized contacts to hold in place
Very good volume
Solar charging

Cons:

Microphone in bad location
Car noise sometimes caused problem