We use affiliate links. If you buy something through the links on this page, we may earn a commission at no cost to you. Learn more.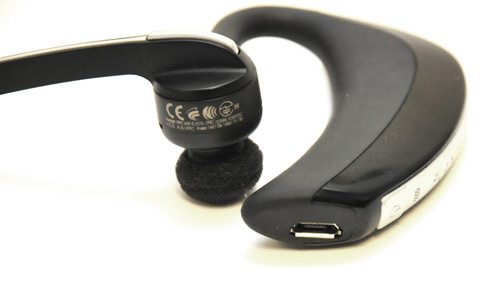 The Plantronics Voyager Pro UC raises the bar for Bluetooth headsets and is well-deserved for all the accolades that it has received.  If you have been a Bluetooth headset user from the dawn of Bluetooth as I have, you'll quickly realize that with the Plantronics Voyager Pro UC, this ain't your daddy's Bluetooth!
I am a long-time Bluetooth headset user, ever since Bluetooth was unleashed on the world.  So for many years I have received strange looks and had complete strangers talk to me because they thought I was talking to them.  I with I had a dollar for every time that I have held my hand to my ear, not to hold the Bluetooth headset still, but to visually tell those around me that I am not talking to them!  If you are a Bluetooth user, you know of which I speak.  I have worn out or given up on a dozen Bluetooth headsets, so I jumped at the chance to try the Plantronics Voyager Pro UC.
Prior to this, my favorite Bluetooth headset was the Jawbone 2.  I was more excited than a tic on a hound dog to get the original Jawbone headset, and even more excited when the Jawbone 2 came out.  The noise cancellation and 'coolness' factor of the Jawbone products was un-paralleled.  I mean, if you wear a Bluetooth headset, you will get looks.  So if you are gonna look like a dork, why not look like a cool dork, right!?
But after my initial giddiness wore off, the reality of wearing the Jawbone for daily use set in.  I wondered why the Jawbone headsets came with so many accessories… earloops, and earbuds, and rubber-thingies, oh my!  I found out.  Maybe it was the shape of my ears, but I could never get the darn thing to sit right on the my ear without falling off.  To be effective, you have to make sure the Jawbone touches the side of your head, and the slightest tilt of my head would cause the thing to move.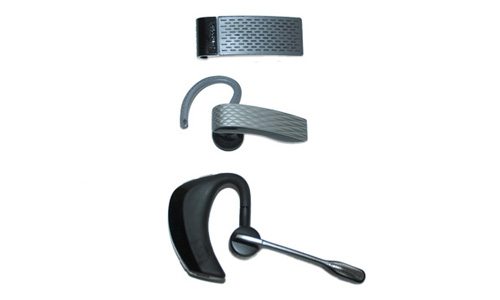 (from top:  Original Jawbone [without earloop], Jawbone 2, and Plantronics Voyager Pro UC)
But before I trash the Jawbone too much (remember, I loved that headset), every other Bluetooth headset I have ever had posed the same problem for me… the darn thing just won't stay where it is supposed to stay.  But I always wanted to have the smallest and coolest looking headset, so I put up with the hassle of having to hold my head still to talk.
But today I am a new man!  I am a new man because I have given up my desire to look cool while wearing a Bluetooth headset.  I am happy to look like a dork, so all I care about now is how the thing works.  And if you can get over looking like an employee at the McDonald's drive-thru, then the Voyager Pro UC is for you!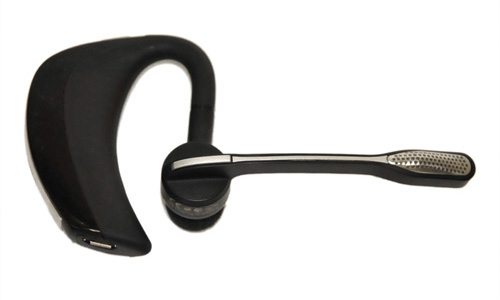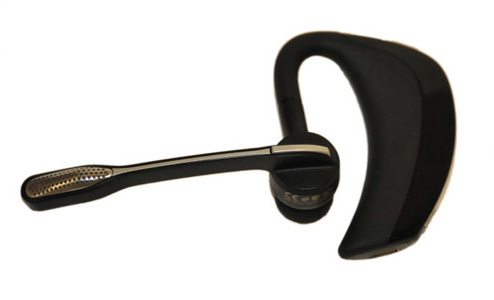 So enough pontificating… let's dig into the nitty gritty of the Voyager Pro UC!
After 3 weeks of use, I experienced a little over 6 hours of talk time.  I can't speak to the standby time because I use this thing every day, all day, so I never let it sit.  It is the most comfortable headset I have ever worn, and I have worn every kind/style you can think of.  It looks big on your head, but it is still so light that I honestly couldn't remember sometimes if I had it on my head.
As you can see from the pictures above, you can wear the Voyager Pro UC on either ear and it takes about 2 seconds to flip the headset around.  I have never had a headset that I didn't have to pull out earloops, swap earbuds, and basically hop on one foot to change it from ear to ear.  The simple design of this product is sheer joy!  Also, the earbuds are extremely soft gel, so I didn't even have to change the earbud that came on the product… it just 'smushes' (technical term there) ever so softly into my ear.  It also comes with some foam covers (seen in the pics) that cover the gel earbud if you want.
The charger is a microUSB charger which fully charged my headset in about an hour and a half.  On top of the device are the volume controls.  The power button is at the bottom of the part that sits behind your ear.  I will admit that turning the device on and off while it sits on your head is a bit tricky, but I got used to it.  The answer/hang-up button is on the outside of the hing that attaches the boom mic to the ear.  The boom mic is about 3 inches long, and it seriously does look like a drive-thru headset!  I just have to keep telling myself that I am cooler than I look.  The boom mic also adjusts up and down on the side of your face so that you can aim it directly at your mouth.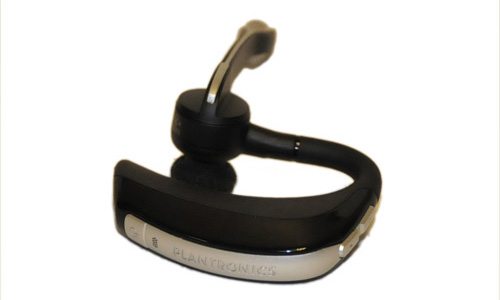 Call quality, which honestly is the most important aspect to me, was outstanding.  I would even venture to say that it is better than the Jawbone products, which is saying a whole lot!  Noise cancellation was excellent, and I tried it in many different surroundings… in the car with the window down, at a basketball game in a gymnasium, etc.  I never once have had to ask the other person to speak up because I couldn't hear, and that was a sweet surprise!
There were many times that the person I was talking to on the other end had to hold the phone away from their ear because the headset was picking up my voice so loudly.  I don't know if you would consider that a plus or a minus, but I often had to adjust the boom away from pointing directly at my mouth so that I wasn't blasting the eardrums of the person I was talking to.  To me, that is a testament to the power of that boom mic.
My cellphone, which is a Windows Mobile 6.1 device, announces phone calls and pop-up screen notifications on my phone, and they all sounded awesome in the earpiece of this headset.  When the headset connects with my phone, I get a beep in my ear so that I know it connected.  A high beep means that it does not see my phone and a low beep means that it connected successfully.  And I can honestly say that the headset connected with the phone every single time.  I have never had that consistency before, and it has been a wonderful thing.  In the past I would have to sometimes go into my Bluetooth settings on the phone to turn it off and then back on to get the headset to connect to the phone.  But this headset just connects to it.
When a call is coming in, it beeps several successive beeps in my ear to let me know.  This is particularly nice when you have the phone on silent and still want to know when phone calls are coming in.  And a nice touch with this headset is that when the battery is getting low, the headset announces in your ear "battery low" with a pleasant sounding female voice.
I also have voice-dialing on my cellphone, so holding down the answer/hang-up button on the headset causes my voice-dialing to be activated, which is so handy when driving or you can't look at the phone to dial.  Also, if I press the answer/hang-up button 3 times fast then my phone will automatically dial the last number I called.  I was able to walk about 25 feet away from the phone before the headset became un-usable, and like every other Bluetooth headset I have ever used, it is better to place the phone on the same side of your body as the headset… I couldn't put the phone in my opposite pocket without serious call degradation.
If I had to pick my biggest disappointment with the Voyager Pro UC it is the lack of wind-cancellation, or whatever you want to call it.  The headset is basically useless if you are standing in any kind of wind.  The Jawbone products are much better in this regard.
Another thing that I'll mention is that on all my previous Bluetooth headsets there was a blinking light of some kind that was a visual indicator to you that the headset was turned on and functioning.  To me, this was always an annoyance to the people NOT wearing the headset because they had to watch the infernal blinking light.  But it was nice for the user because you could simply look at the headset to determine if it was on.  The Voyager Pro UC has a light indicator that lights up blue when turning it on and red when turning it off.  But you can't tell by simply looking at the headset if it is on or not.  I have to actually pick it up, hold it to my ear and press the answer/hangup button once to see if I hear a beep or not.  A small annoyance, but I feel I should mention that.
In conclusion, this is the best Bluetooth headset that I have ever had.  Until this thing wears out, I won't be using any other headset.  I am over my vain attempt to look cool and I am comfortable in my 'geek-ness'.  This is one of those devices that I simply can't live without, and if you try it out I think you'll agree that what really matters is finding a Bluetooth headset that just works.  And this thing works!
UPDATE:

I completely forgot to mention the thing that sets this Plantronics Voyager Pro apart from regular Plantronics Voyager Pro headsets… the UC on the end!
This headset comes with a Bluetooth dongle that allows the headset to work with your computer to make phone calls using various telephone software packages, such as Skype.  I have tried doing this in the past with a few other headsets that promoted this ability, but it has never been as easy as this.  Seriously.
My laptop has built-in Bluetooth, but I turned it off to test this dongle with the Plantronics.  The headset came with a software CD with the PerSono software suite that provides the ability to manage the audio and sounds on the computer that work with the headset.  But I wanted to see what would happen if I just plugged the dongle in and tried it.  And it just worked.  I don't know what to say except that I was talking on a phone call with my cellphone using the Voyager Pro, hung up, then I started up Skype and called my brother, and the headest just switched to Skype and worked.  What more could you ask for?
I also used the headset with ooVoo, another software package to make phone calls, and it worked flawlessly with ooVoo too.  So I unplugged the dongle and tried it using my built-in Bluetooth on my laptop and it worked with that as well.  I have no complaints at all, and I was quite impressed with how seemlessly it worked.  And the voice quality that I experienced using it with my cellphone was there as well when I used it on the computer.  Now, I don't use a Bluetooth headset with my computer on a daily basis, but if I did, this headset would be my choice.  I mean, it just works.  By the way, the UC stands for "Unified Communications", but in my book it stands for "Ultra Cool"!
UPDATE:  April 23, 2010
After a few months of normal use, my Voyager Pro UC headset developed a problem.  It wasn't related to any of the functions, but rather a crack appeared in the curve of the rubber part that sits between the boom mic and the part behind the ear.  It became so big that I was afraid that the rubber would crack all the way around and render the headset useless.
Needless to say, I was greatly dismayed because I have come to rely on this headset for daily use with both my phone and computer.  I don't believe that I was in any way rough with the headset in the process of removing it from my ear and placing it back on my ear numerous times a day.  But I did use it heavily every day.
I contacted Plantronics about the problem.  They didn't give me any hassle whatsoever, and the technician was very friendly and simply gave me the address to mail it to.  I put everything back in the package, mailed it off, and 3 days later a FedEx package arrived with my new headset.
Now, I have dealt with technology companies on issues like this for years, and I must say that I was very surprised, and pleasantly so, at how quickly they responded to me without any hassle.  A+ to Plantronics.  Further evidence to me that they are a class act.  Now let's just hope that a bunch of people don't post Plantronics horror stories on this review!!

Product Information
Price:
$199.99
Manufacturer:
Plantronics
Pros:

Call quality is excellent
Comfortable fit, especially all-day
Build quality is wonderful
Bluetooth dongle enables multi-pairing with multiple devices

Cons:

Looks big and bulky
No visual indicator light
Wind renders it useless
Additional multi-pairing features increase cost signficantly