We use affiliate links. If you buy something through the links on this page, we may earn a commission at no cost to you. Learn more.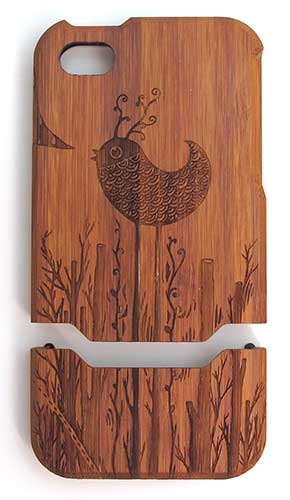 When you have a popular gadget review site like The Gadgeteer, every accessory maker under the sun wants to have us feature their products. That means we get a LOT of offers to review iPhone cases. I bet a day doesn't go by when I don't receive at least 1-2 case review offers. As a result, it doesn't take long to get completely sick of writing case reviews… even for a new gadget like the iPhone 4. That's why I don't do many case reviews these days. If they aren't unique, I'm bored silly. When the offer came in from Grove about their iPhone 4 case made of laser etched bamboo, I didn't have to think twice about accepting it. Bamboo? Lasers? Now that's unique.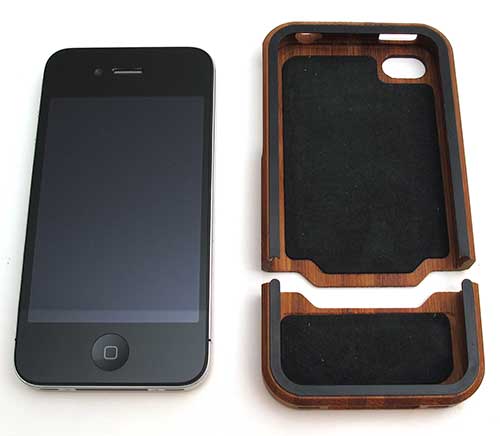 I think the Grove case is the first bamboo case that I've reviewed. I like the fact that it's made with a rapidly renewable material and is 100% designed and made in the USA.
The cases are available in plain, artists series or with your own artwork. I was sent one of the artists series cases.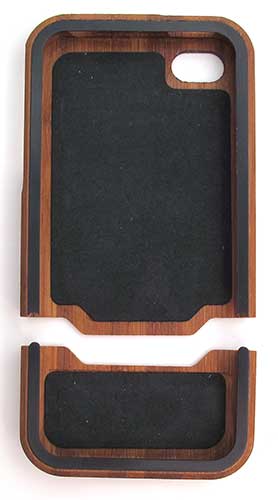 The case is constructed of two halves, with a thin layer of soft ultrasuede that protects the back of the phone.
Like I mentioned before, these cases are made of bamboo. This is a material that feels as hard as wood, but is very light weight.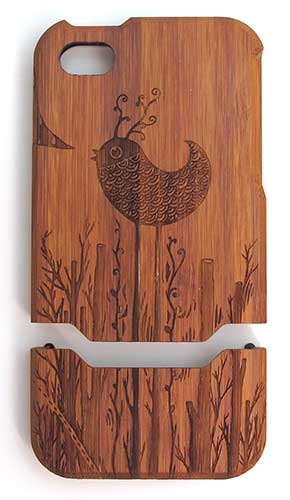 If you choose a plain case, it will have a nice looking natural grain. But if you choose an artists or custom artwork option, it will have a laser etched image on the back that is very cool looking like the Birdland design that was sent to me. The image is perfectly burned into the wood with a cool 3D effect.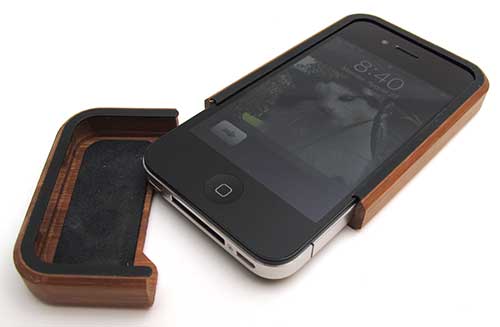 The iPhone slides into the large section of the case and then the smaller section can fit into it like a puzzle piece. Both sides are held in place with friction and there is no worry that either side will slide off accidentally.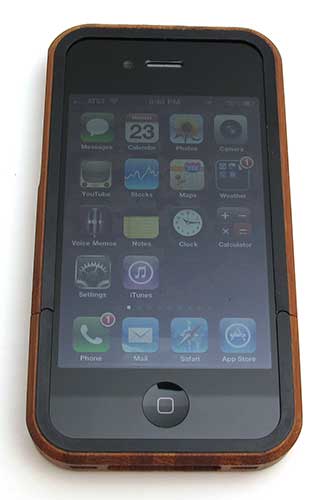 The two halves fit together perfectly. A Black metal bezel around the edges gives it a nice finished look.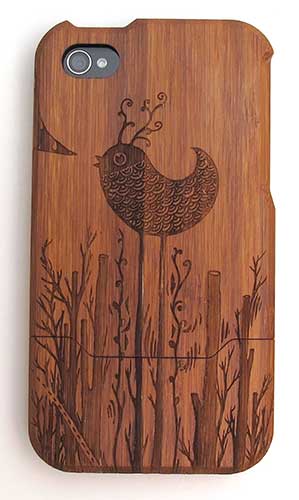 There are cutouts for the camera and LED flash…

Mute and volume buttons…

Power and earphone / microphone…

Speakers and docking connector.
In hand, the case feels comfortable to hold as it adds minimal weight and size to the iPhone 4 and the edges are not rough or sharp.
I've been using the Grove case for a week or so and only have two small issues with it. One problem I noticed is that the cutout for the mute switch makes it slightly harder to activate the switch because it's hard to get your finger in that slot due to the edges of the case. The other issue is that the case smells kinda … funky. I kept trying to figure out what the smelled reminded me of and I finally decided – woodburned gourds. 😉 You're probably thinking I've lost my mind, but I live with someone that grows gourds, harvests them, dries them and then wood burns designs on them. This is called Pyrography and is usually done on wood. But anyway, the Grove case has a similar smell. It's not entirely unpleasant, but some people might not like it. I'm guessing that with time, the smell will go away.
As long as you don't sniff it, the Grove bamboo case protects your iPhone 4 while looking good and feeling good in hand. It's more expensive than a lot of case offerings, but the ability to have your own artwork etched into a cool looking case is worth the premium price.
Product Information
Price:
$69.00 - $89.00
Manufacturer:
Grove
Pros:

Customize with your own artwork
Play-through
Made in the USA

Cons: