We use affiliate links. If you buy something through the links on this page, we may earn a commission at no cost to you. Learn more.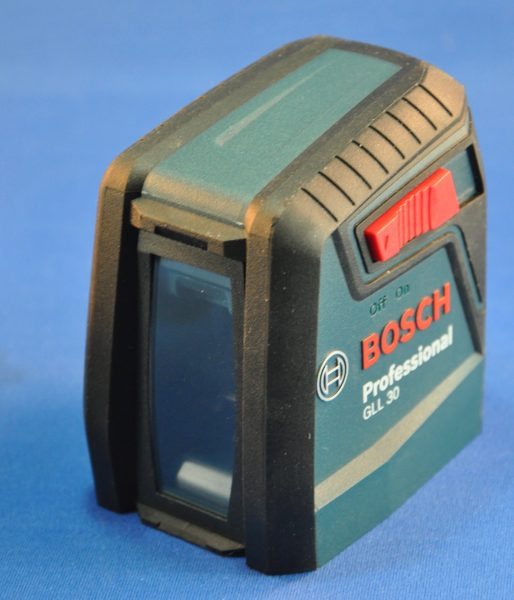 Hanging pictures, wallpaper, and leveling furniture is tough sometimes. For those who live in an older home, it's even worse, because sometimes, there's not really a level or plumb surface to reference and you have to furnish your own. For those jobs, a regular spirit level just doesn't cut it. You need to use a techno-fix: the Laser Level. I was recently sent a newly-remodeled edition of Bosch's Professional GLL 30 level, and have been going around the house getting things true for a few weeks now. Let's look at this gadget and see if it's – um – on the level. (Sorry!)
Note: Photos may be tapped or clicked for a larger image.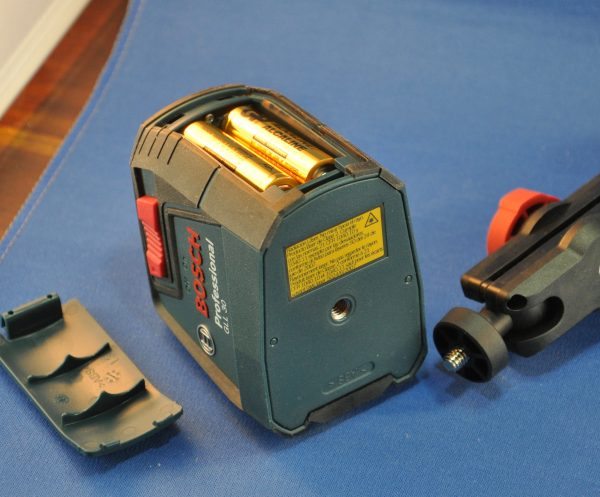 The unit is about the size of a typical construction tape measure – 2.8 x 2.2 x 2 inches. There is a door for 2 AA batteries (included) on one side, a flat glass window for projecting the lasers through on the opposite side, and a standard tripod 1/4-20 socket on the bottom. The bottom is flat, so you can actually sit it down on a surface and project the red laser crosshairs. On one of the larger surfaces is a positive-action sliding on-off switch, which both unlocks the internal level, and turns on the lasers. (This is a real laser. Don't play with it, or let kids look into it!) A red crosshairs is projected that will show level and plumb on any surface up to 30 feet away. It was visible in any light I tried – studio-level floodlights, daylight, and, of course, dim shade. Very easy to see. This is live updating, so any movement of the device, however, will cause shake.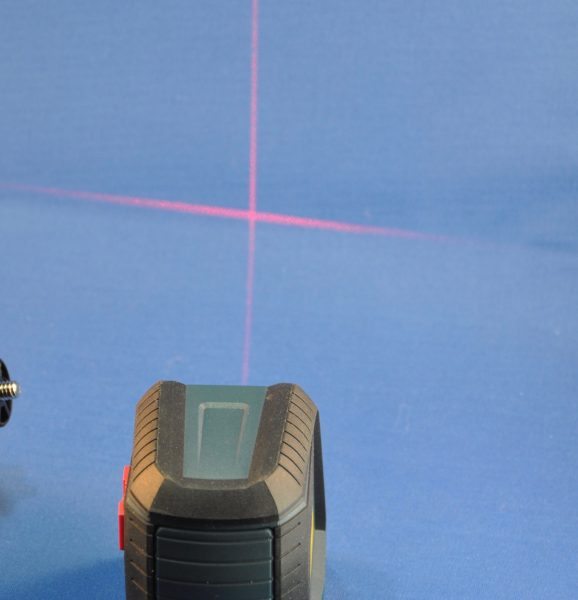 Bosch has kindly included the MM2 mounting kit in with the level. This lets you clamp the level to almost any surface 0.5″ – 2.5″ thick and adjust it to project in almost limitless directions. There is a clamp, and a double-sided connecting socket piece, each with hand-adjustable clamps to set it to infinite positions. With the tripod socket, you can also mount it to – surprise! – a tripod. Pretty much any tripod. (Pro tip: Lamps that have a removable shade and a harp with a screw for a filial use the same threading. Great impromptu way to hold a camera or anything else with the same threading.)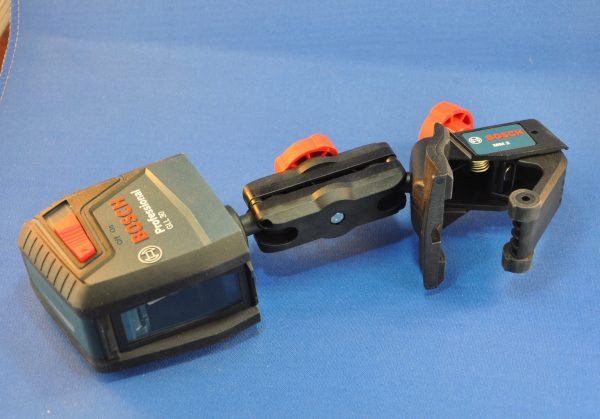 While having perfectly level horizontal and vertical lines is great for some construction projects, occasionally, you'd like to have a line projected for, say, painting an abstract design, putting in a stairway, etc. The GLL 30's projection self-corrects up to about 8º off plumb. Once you tilt it past that, the lasers lock, and you can set a custom line for designs or slopes. There is no way to set the angle, other than securing the level to a stationary object.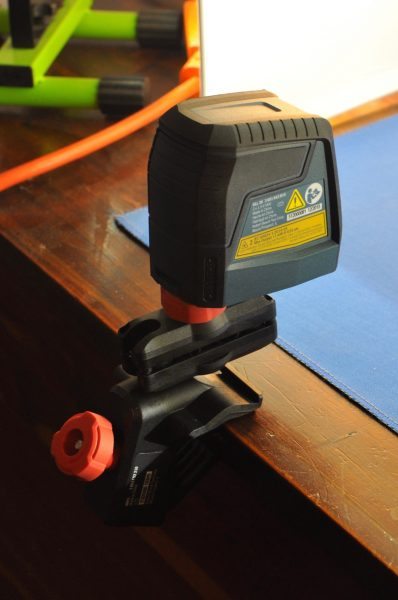 While I liked using the level for quick jobs requiring level/plumb lines, the constant shifting for every bump and hammer stroke was a bit irritating. Not a deal-breaker, but an irritation, nonetheless. It reminded me of older/cheaper compasses I had in Scouts when doing field orienteering . At some point, I graduated to a liquid-filled model, where the needle was less skittish. It made for quicker reckoning and mapping, and a similar dampening of the laser when unlocked would go a long way toward removing this small annoyance.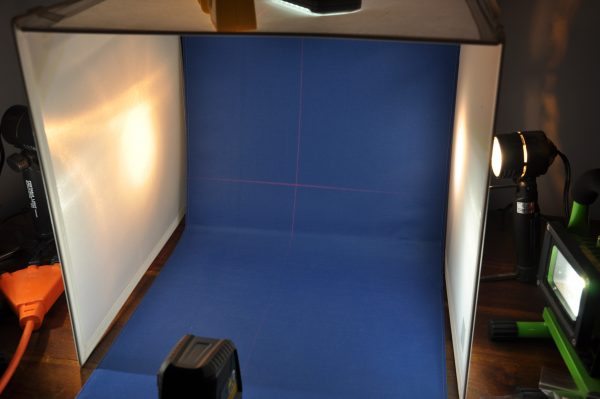 The only other drawback I found was the big glass window where the lasers shine through. While the case design has this inset from the edges so that it won't easily be scratched or broken by flat surfaces, there are many irregular items in a typical toolbox that would mar it. (See first photo for a close-up of the glass surface and the raised protection around it.) Having a snap-on cover or a protective case to prevent damage while not in use would seem prudent.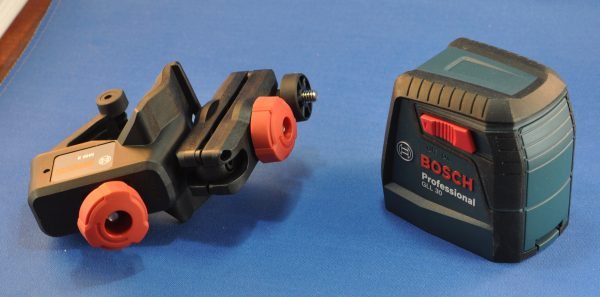 I'm not naturally a DIY person, but I really hate it when things aren't fixed. A loose screw, a tilted hanging picture or mirror, or Venetian blinds askew brings out the urge in me to "make it right." Over the years, The Lovely Bride and I have tackled many full-scale home repair/remodel projects. This is the first home we've had where we've not completely redone the kitchen – floors, countertops, and cabinets. (Yet. She's been talking about it lately.) We've hung and moved pictures in all four houses we've owned, as well as completely updating at least one bathroom per house! As we tackle new projects in our current house, however, we'll now have a new tool to help us along. At $70, it's not an impulse buy, but if you find your cabinets at different levels, or your wallpaper not quite true, a do-over may cost a good bit more.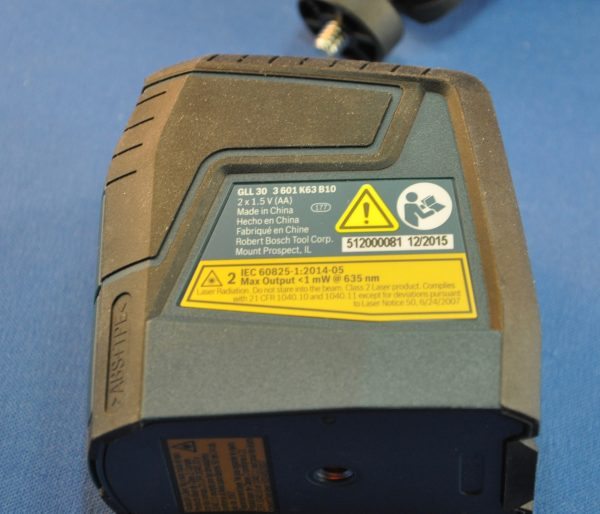 While researching this item for the review, I noticed Bosch (and others) have a huge array of products like this. If you are considering a chalk snap-line for any application, you owe it to your inner gadget geek to wander down the aisle or website of leveling tools at your hardware store of choice. It'll blow your mind.
Source: The sample for this review was provided by Bosch. Please visit for more info and Amazon to order one.
Product Information
Price:
$69.99
Manufacturer:
Bosch
Retailer:
Amazon
Requirements:
Pros:

True level and plumb crosshairs can be projected onto any surface.
Lines lock into place for custom angles easily.
Standard tripod mounting hole.
Everything included: batteries, clamp, adjustable arm, and level itself.

Cons:

Level is not dampened, so jitters constantly, if there is any vibration.
Lens over lasers is not protected from rogue screwdrivers or pliers.