We use affiliate links. If you buy something through the links on this page, we may earn a commission at no cost to you. Learn more.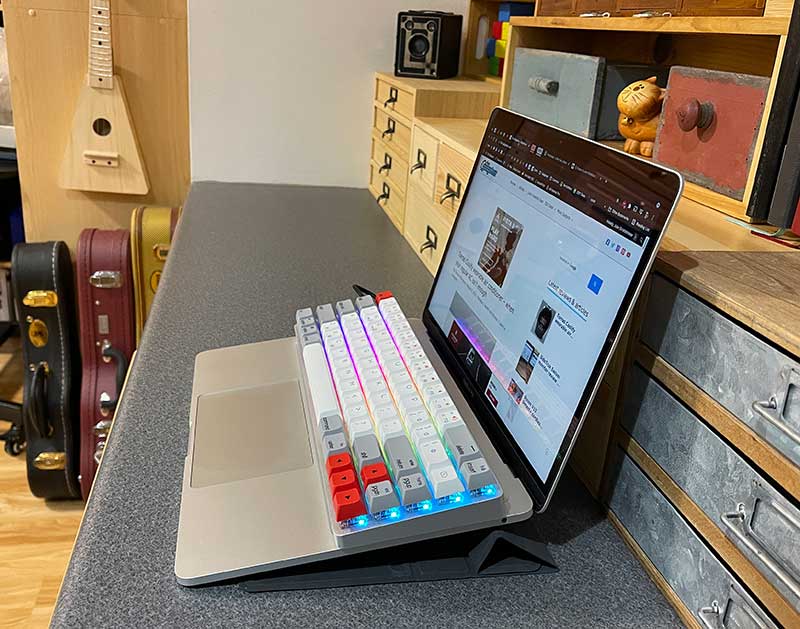 CROWDFUNDING REVIEW – Mechanical keyboards have become very popular in the last few years. Today I want to show you the Epomaker NT68 mechanical keyboard which is currently seeking funding on Kickstarter. As you can see from the image above, this one is poised to replace your laptop's keyboard! Let's take a closer look.
What is it?
The Epomaker NT68 is a compact mechanical keyboard that has lighting effects, key programmability, wired or wireless mode, and has been designed to "replace" your Windows or Mac laptop's keyboard. Wait, what??? You'll see.
What's in the box?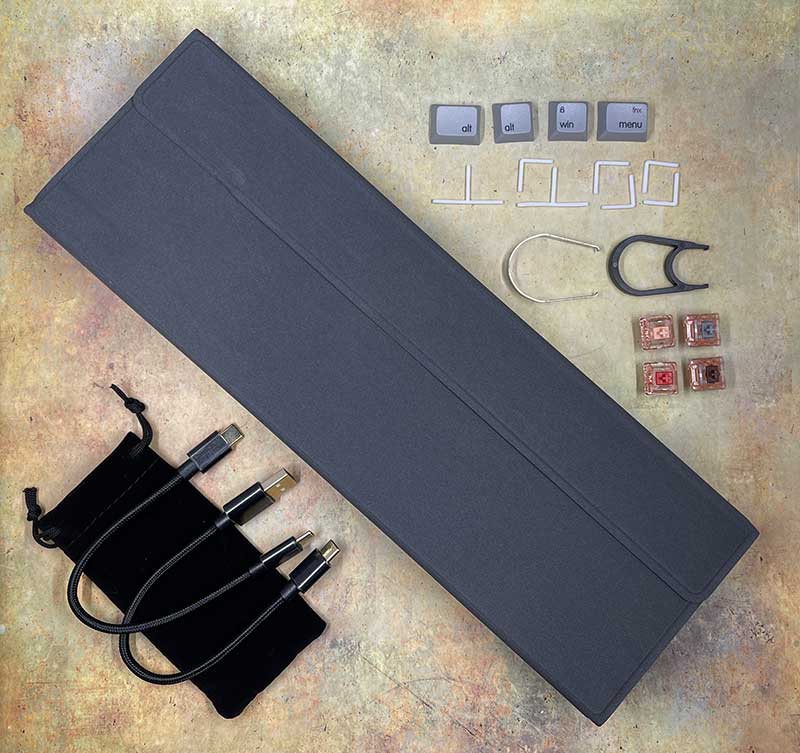 Epomaker NT68 mechanical keyboard
Cover/stand
USB cables
Cable storage pouch
Window / Mac keycaps
Keycap removal tools
User guide
Extra switches (shown above, but are NOT included)
Design and features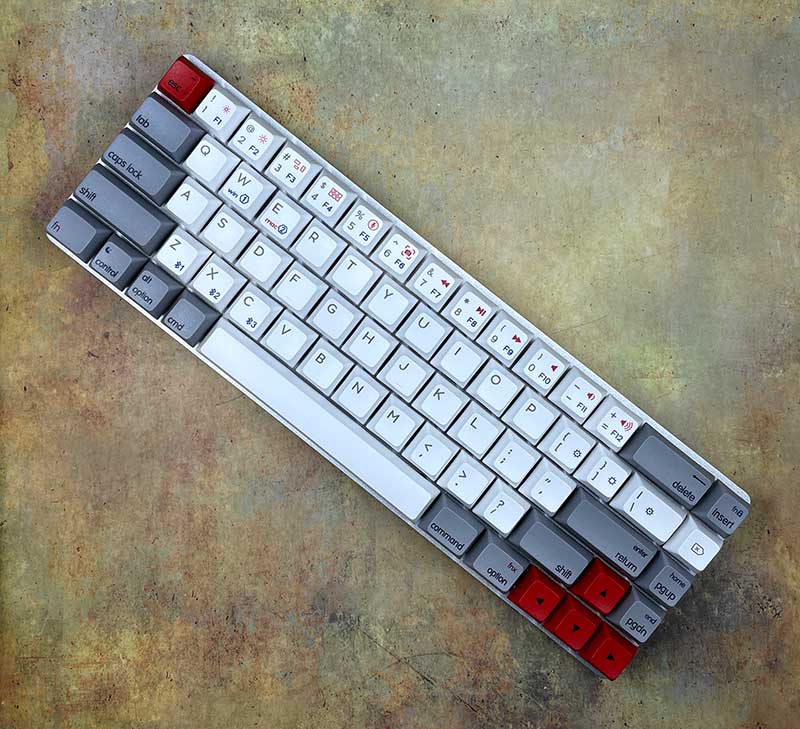 The Epomaker NT68 mechanical keyboard has 68 keys. Big surprise there right? There are two versions of the NT68 keyboard. A regular version with PBT keycaps, GSA profile, Gateron regular switches, and Chocolate switches, and a low profile version with ABS keycaps, OEM profile, and Gateron low profile mechanical switches. Note that you can replace the mechanical switches with any 3 pin or 5 pin MX or low profile  (depending on the keyboard) style switches without any soldering.
The NT68 keyboard is also available in 2 different color schemes. There's the silver case with grey, white, and red keycaps like the one that they sent to me, or there's the black case and carbon, grey, and red keycaps.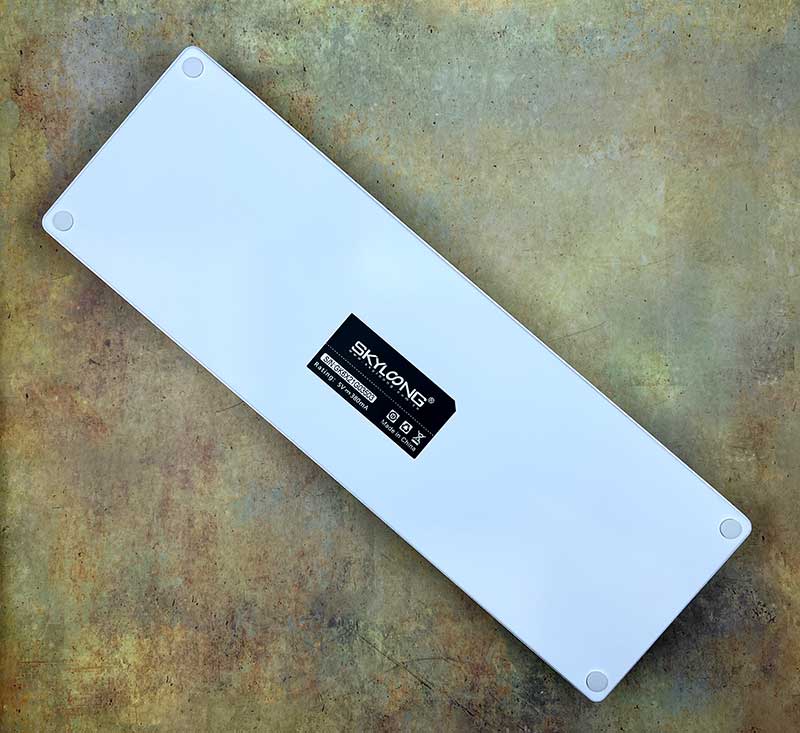 The Epomaker NT68 mechanical keyboard has an aluminum frame and rubber feet.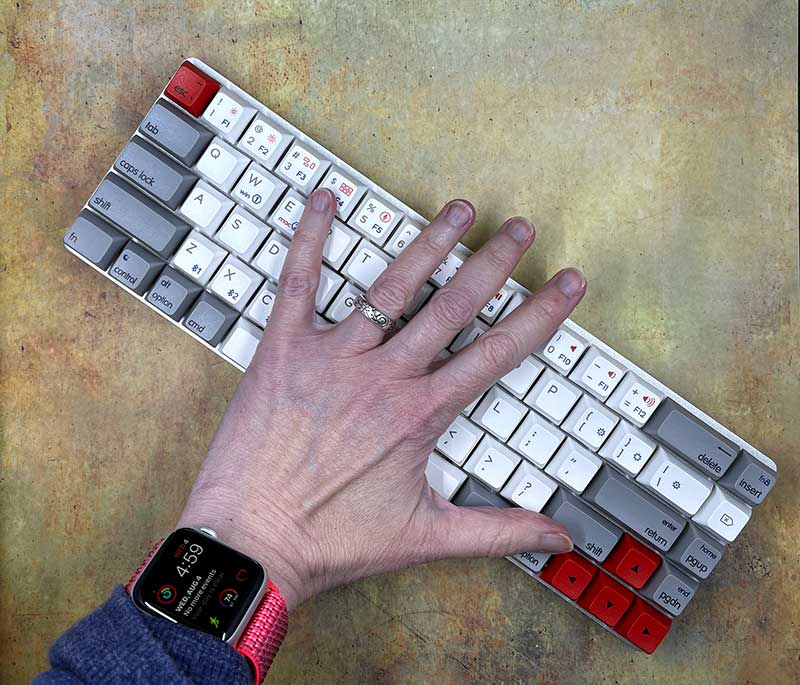 The NT68 mechanical keyboard is 65% the size of a full-sized keyboard. I found it to be nicely compact while still feeling roomy to type on. I didn't feel cramped in the least and this is coming from a touch typist and not from someone that types hunt and peck style.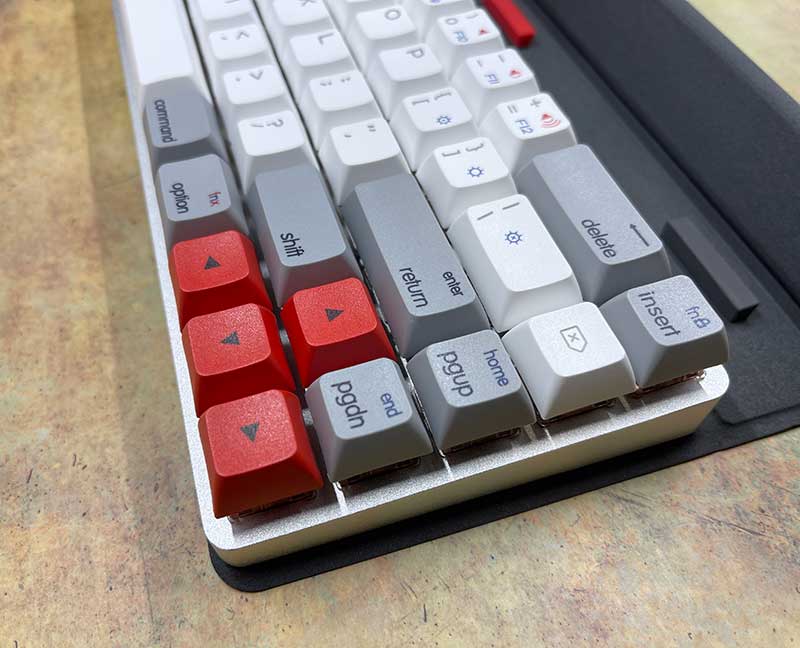 The GSA PBT keycaps for the NT68 mechanical keyboard have a slightly textured feeling and the thermal sublimation graphics printed on the keycaps are resistant to abrasion and will not fade with extended use. The low profile keycaps are made of ABS plastic.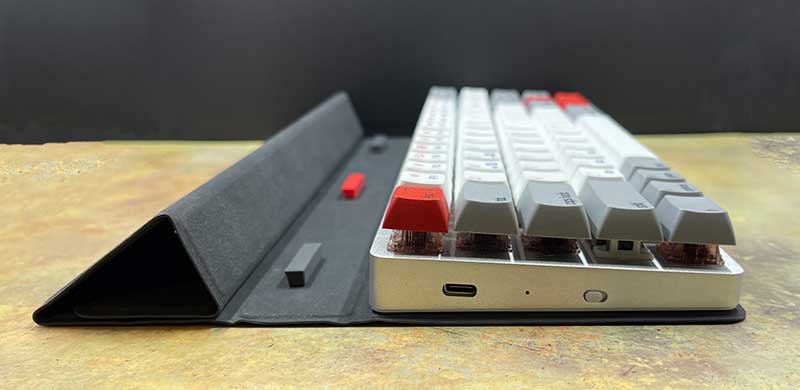 On the left side of the keyboard is a USB-C port for charging and connectivity if you want to physically connect it to your laptop, tablet, or phone. There's a small status LED between the USB-C port and the wired/wireless switch. If you prefer to go wireless, you can connect the keyboard to your device using Bluetooth 5.1.
In wireless mode, the Epomaker NT68 will run for 2-5 weeks depending on usage and 20-80 hrs if the RGB lighting effects are kept on.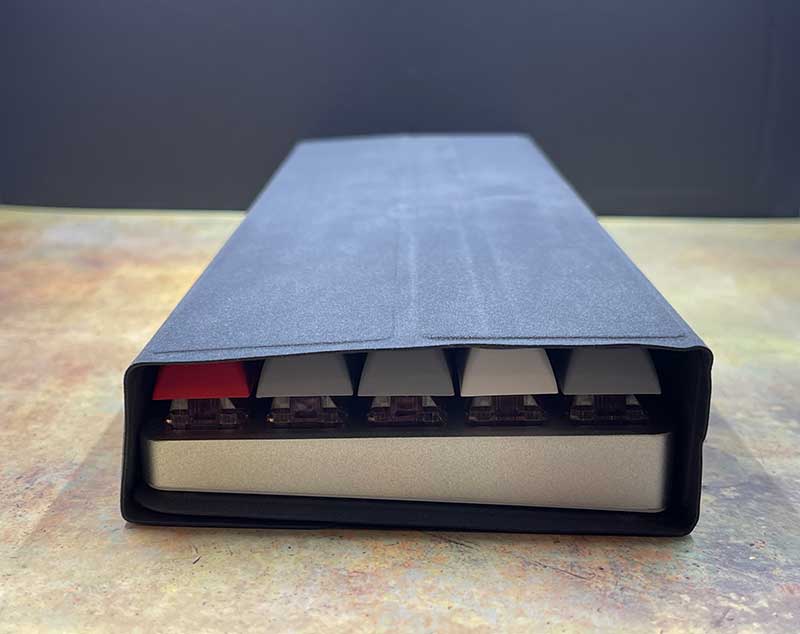 The keyboard comes with a unique cover that doubles as a stand. The keyboard attaches to the cover magnetically so it's easy to position or remove it from the cover.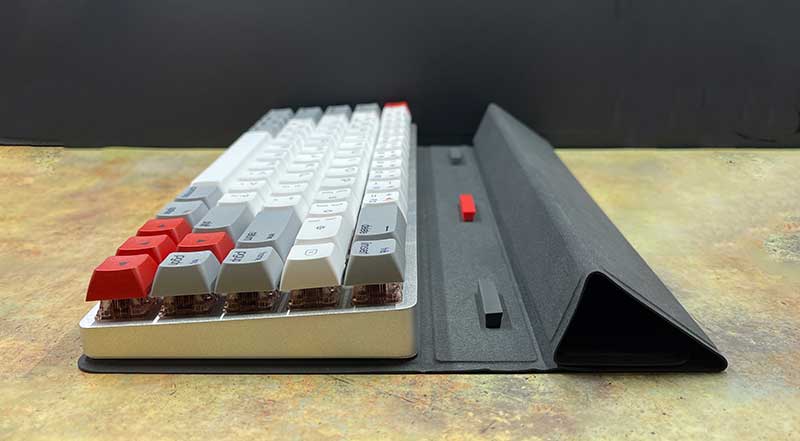 The cover can fold to create a stand for use with one or more mobile devices like a tablet and/or a smartphone.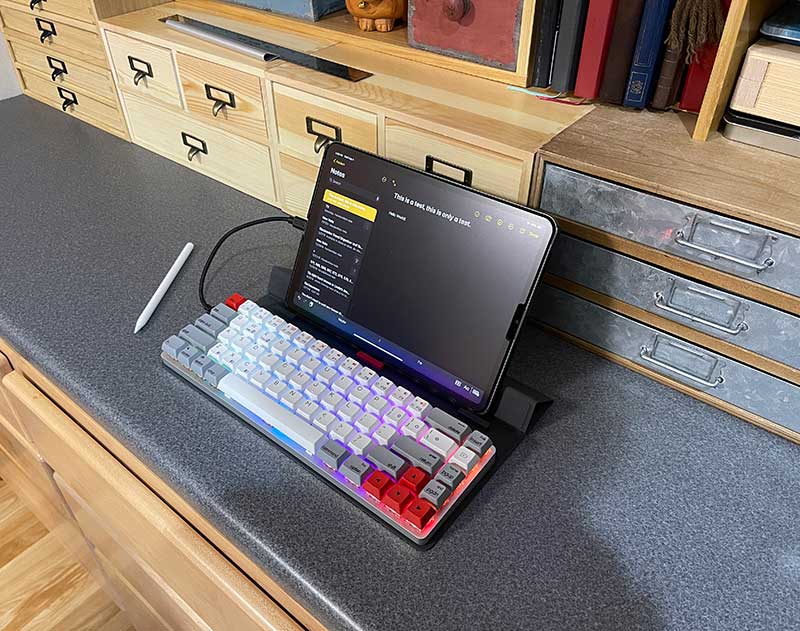 Here I'm showing the Epomaker NT68 mechanical keyboard with my iPad Pro.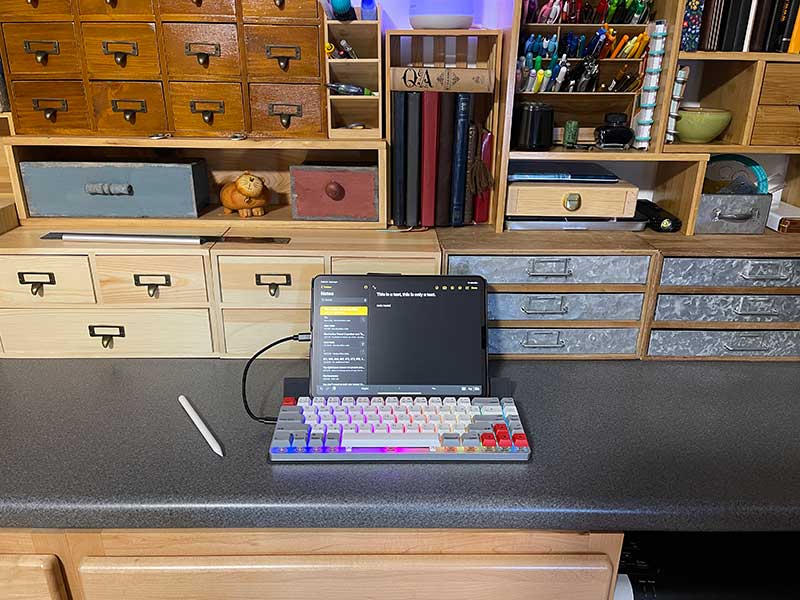 The NT68 makes a great little portable productivity station when used with an iPad or even my iPhone. The keyboard can connect with up to 3 devices via Bluetooth. A function key combo allows for easy switching between the devices.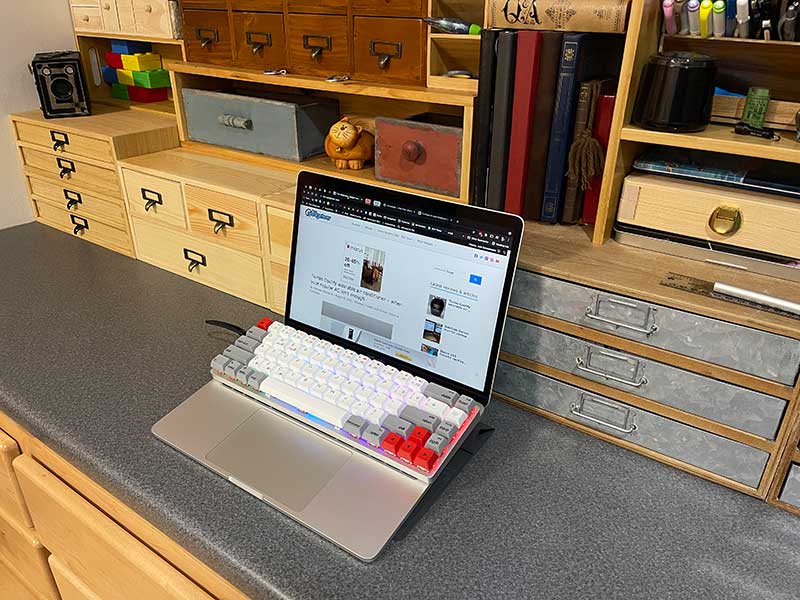 If you want to use the NT68 with your MacBook (or some Windows laptops depending on the size), it can rest right over the MacBook's keyboard without pressing any of the MacBook's keys below it.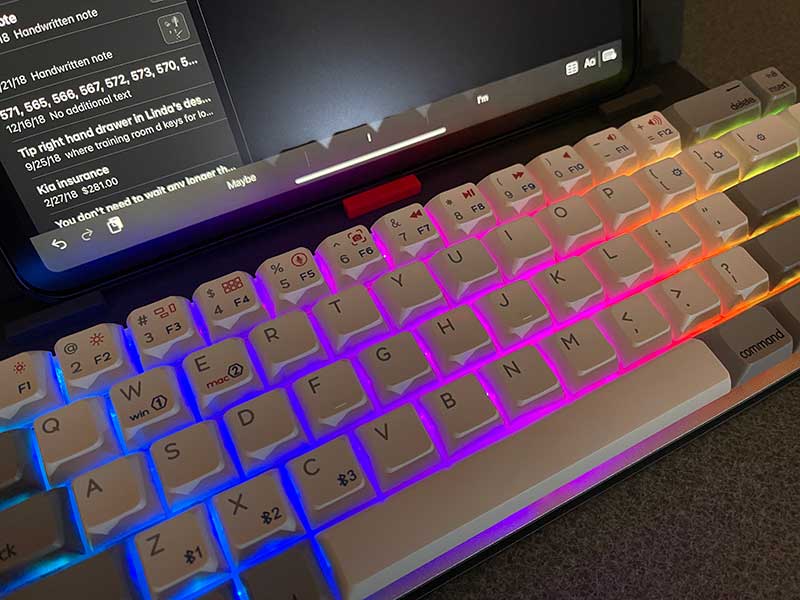 I thought using the NT68 positioned on top of my MacBook's keyboard would be super weird and awkward, but I was wrong, It felt natural, and even better is the fact that the Epomaker NT68 has all of the MacBook keys on the top row right where you would expect them to be like brightness, media keys, Siri, and more. Note that you will have to use a function key combo press to activate them.
The NT68 also features RGB lighting with 16 million LED colors and 9 different types of cycling lighting effects that can be further customized with macOS or Windows software. I'm personally not a huge fan of keyboard lighting effects because they suck the battery life of the keyboard. But I have to admit that they look pretty cool as long as you like working (or playing) in the dark. In a well-lit room, I barely noticed the effects.
Is it clicky?
Clickiness depends on the switches. I was sent an NT68 keyboard with Epomaker's standard Chocolate switches and yes, they are clicky. How clicky? Here's a short video that gives you an idea.
What I like
Customizable with other switches and key programmability
macOS keys on the top row
RGB lighting effects are cool
What I'd change
Final thoughts
I've been using a Logitech MX Keys keyboard with my MacBook for a couple of years now and I really love it. That said, mechanical keyboards like the Epomaker NT68 speak to my geeky wannabe hacker alter ego who likes clicky keys and the ability to switch out keycaps and switches to create the perfect keyboard for my own personal preferences. I think the Epomaker NT68 is definitely a keeper both in function and value.
Where can I find more info?
The Epomaker NT68 campaign ends on 9/14/21 and they have already surpassed their funding goal of $10,000. You can pre-order an NT68 keyboard starting at $89. After the Epomaker NT68 campaign ends, rewards are estimated to start shipping in October 2021. Visit their Kickstarter page for all the details.
Price: $89.00
Where to buy: Kickstarter
Source: The sample for this review was provided by Epomaker.