We use affiliate links. If you buy something through the links on this page, we may earn a commission at no cost to you. Learn more.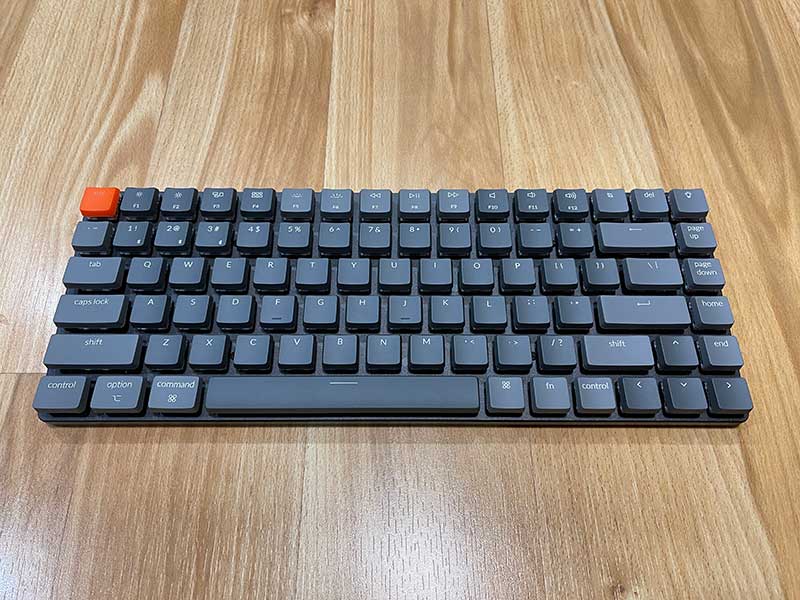 REVIEW – When it comes to computer gear, I am pretty picky about the keyboard that I use. After all, I interact with this peripheral all day long, so it has to match the way I work and my computer set up. During the day, I set behind a desk with my MacBook connected to a 49 inch Dell ultra-wide monitor. Instead of using the MacBook's built-in keyboard and trackpad, I have been using a Logitech MX Keys Bluetooth keyboard and Logitech MX Master 3 mouse. I've not had any complaints with these products but I've long wondered about mechanical keyboards because they seem to have a cult-like following. Just to cure my FOMO, I accepted an offer from Keychron to review their K3 ultra-slim wireless mechanical keyboard. Let's check it out.
What is it?
The Keychron K3 is a compact thin profile mechanical keyboard that can be connected to a laptop or desktop computer, smartphone, or tablet via Bluetooth or a USB cable.
What is in the box?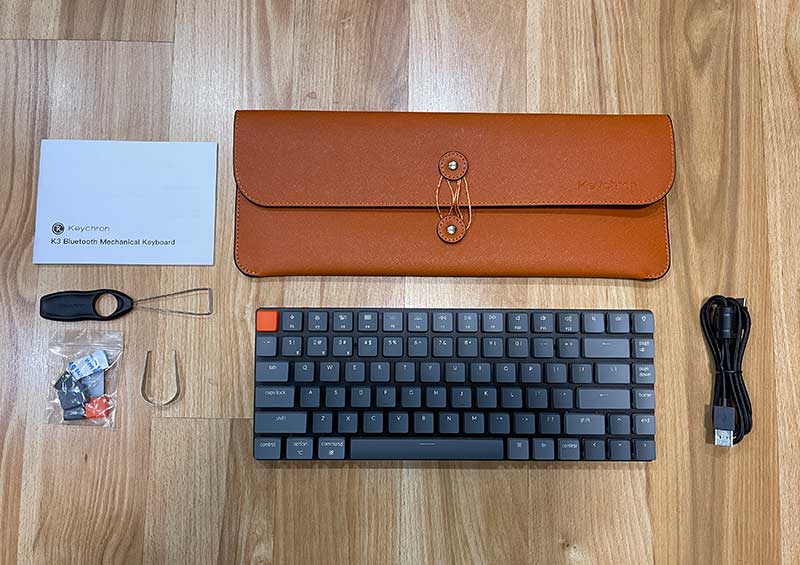 Keychron K3 Bluetooth thin profile mechanical keyboard
USB-C cable
Storage pouch
Keycap removal tool
Switch removal tool
Windows keycaps and Mac keycaps
Hardware specs
Number of Keys: 84 keys
Layout: ANSI
Version: Gateron / Optical / Hot-swappable
Switches: Low profile Gateron mechanical / Low profile Keychron Optical
Number of Multimedia Keys: 12
Frame Material: ABS+Aluminum frame
Keycap Material: ABS
Backlit Types: 18
Backlit: Adjustable 4-level RGB backlit
System: Windows/Android/Mac/iOS
Battery: 1550mAh Rechargeable li-polymer battery
BT Working Time (Single LED): Up to 34 hours (Lab test result may vary by actual use)
BT Working Time (RGB): Up to 34 hours (Lab test result may vary by actual use)
Connection: Bluetooth and Type-C cable
Bluetooth version: 5.1
Bluetooth Device Name: Keychron K3
Compatible System: macOS/Windows
Dimension: 306 x 116mm
Height incl. keycap (front) 22mm
Height incl. keycap (rear) 17mm
Weight: About 396g / 0.87lbs
Design and features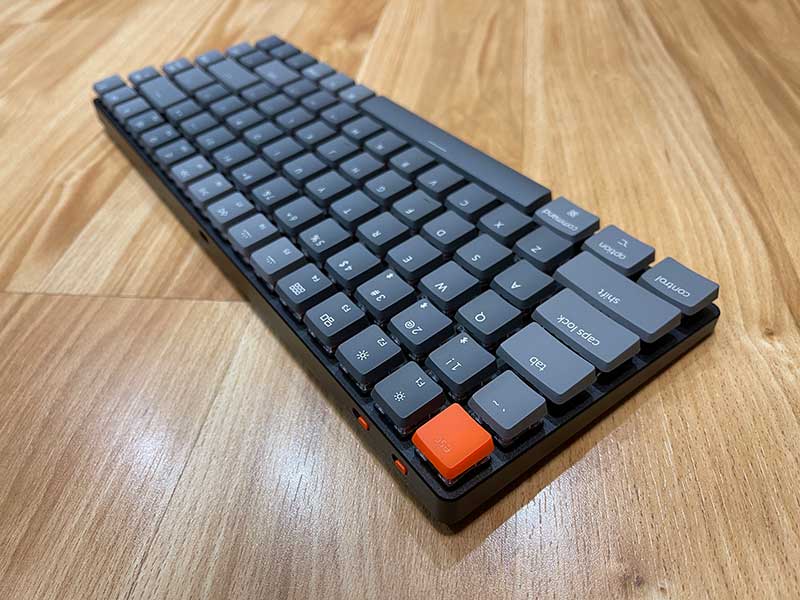 The first thing that strikes me about the Keychron K3 is the 75% size. It's pleasantly compact and it has a cool industrial look with keys that seem to be floating over the base without a frame around them. I just love the look.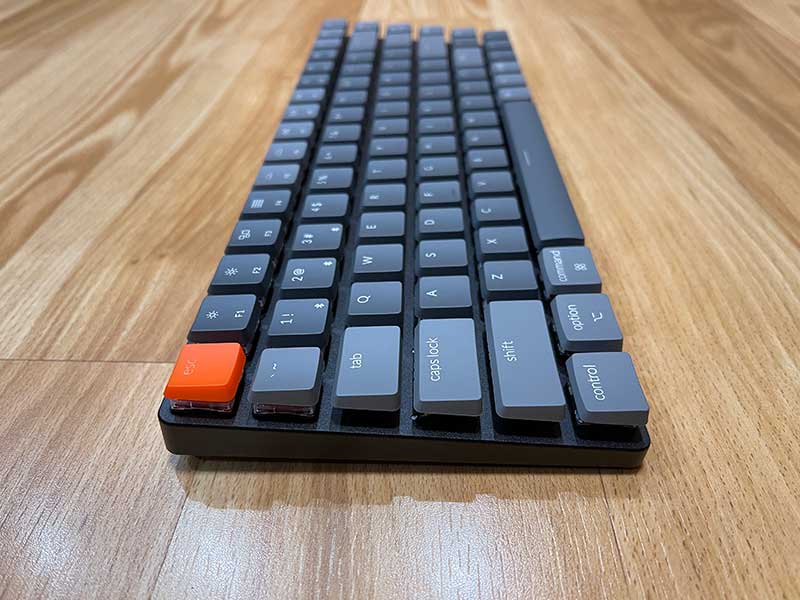 I also like the color of the default keycaps with the light grey, darker grey, and a pop of color with a red ESC key. The keys are thin but have a slightly concave shape. The keyboard itself is flatter than a lot of mechanical keyboards that I've seen.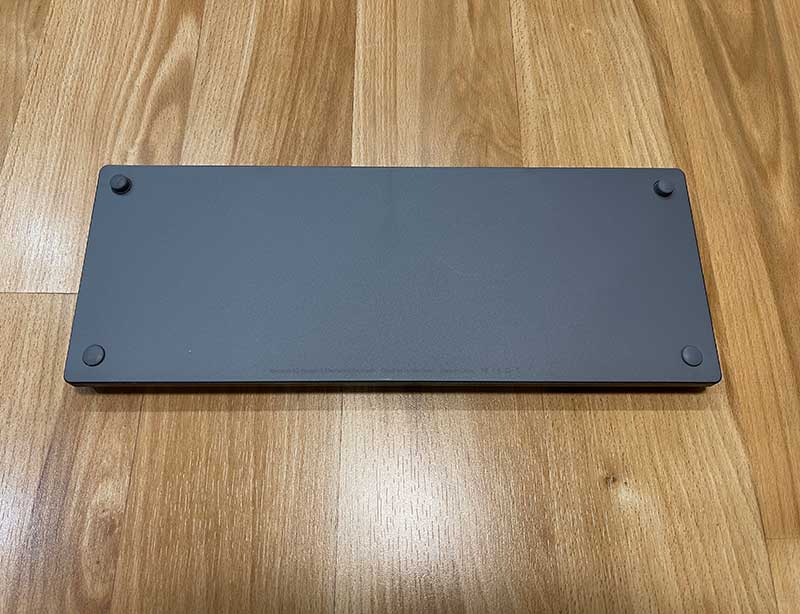 The K3 does not have any kickstands on the bottom to elevate the back of the keyboard. However, the aluminum base does provide a slight angle due to the rubber feet attached to the bottom.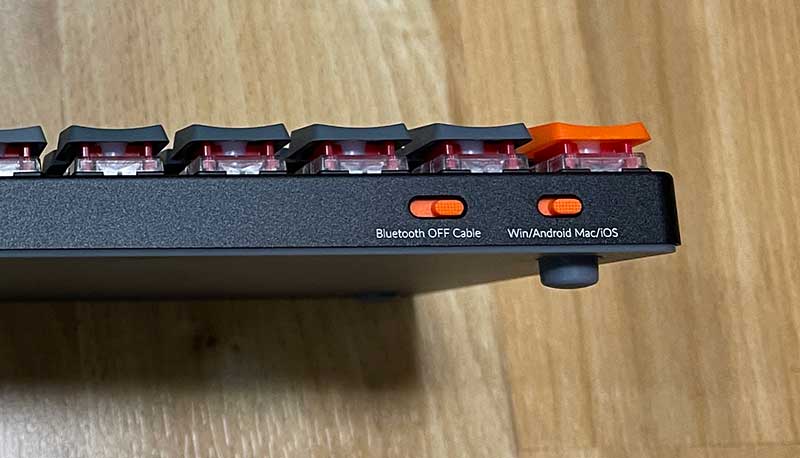 There are two switches on the back edge of the keyboard's base. One switch changes between Bluetooth and USB connectivity and the other switch toggles between the Windows/Android layout and the Mac/iOS layout.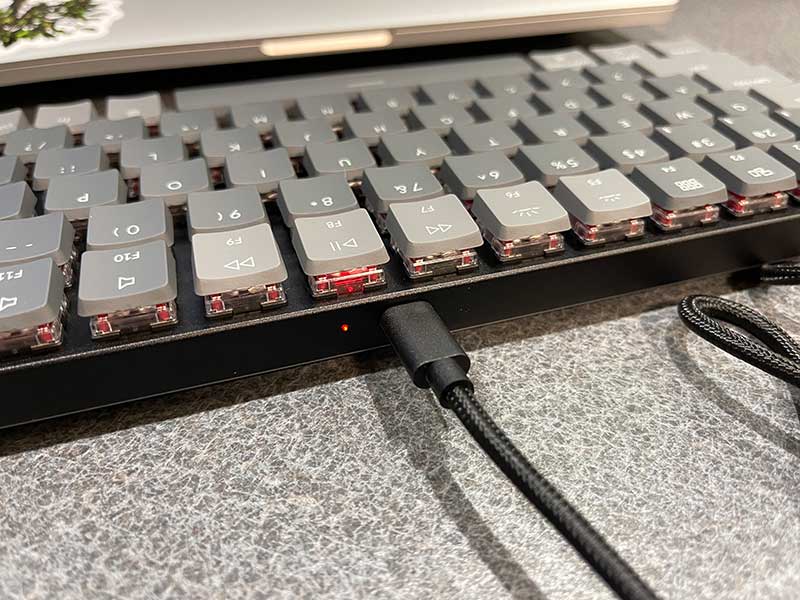 Also on the back of the keyboard is a USB-C port that is used to charge the keyboard's battery or to connect to your computer, tablet, or phone for a direct connection instead of using Bluetooth connectivity. The K3 comes with a nice braided USB-C cable. Note that you can pair the Keychron K3 to as many as 3 devices and switch between them with a combo keypress.
Customization
The number one reason why mechanical keyboards are so popular is the fact that the key switches and caps can be customized for both looks and for feel.
When you're ordering a Keychron K3 keyboard, you have the option of low profile Gatetron mechanical switch type or low profile Keychron optical hot-swappable switch type. You can choose from red, blue, brown, white, black, and orange switches. Each switch color provides a different feel and sound.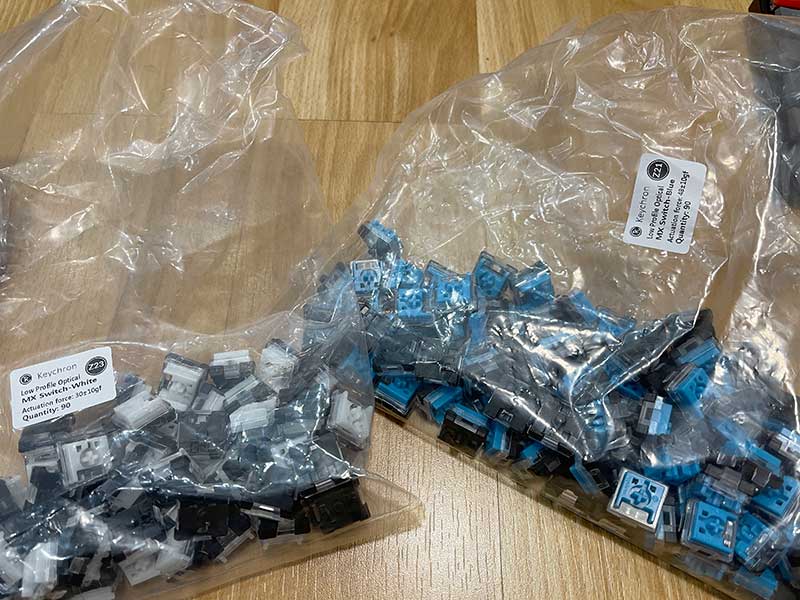 The K3 that was sent to me was the optical version with red switches pre-installed and also included with my sample keyboard was a bag of blue and white switches.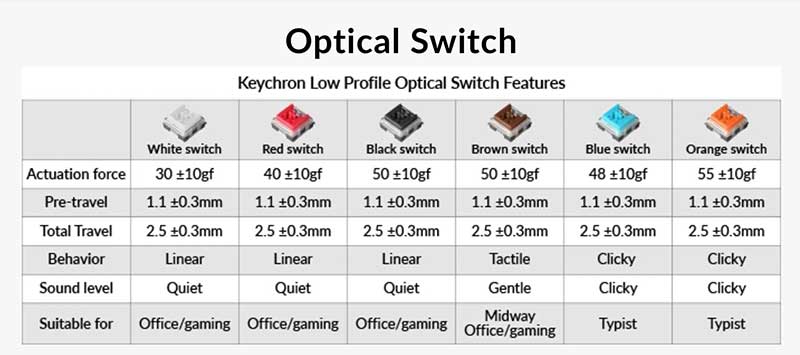 What's the difference between the optical switch colors? See above. As you can see, you have the ability to pick switches that are quiet or clicky, as well as the feel.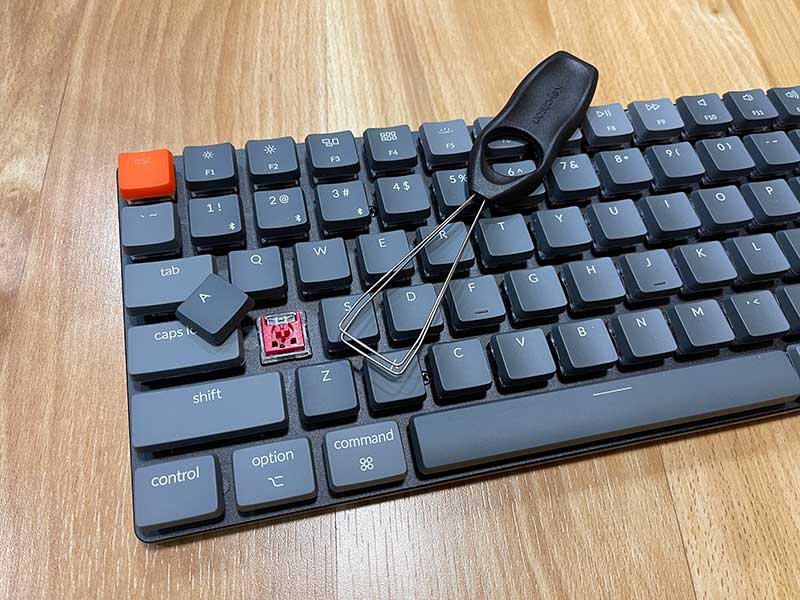 Included with the keyboard are two tools. One for removing the keycaps, which detach easily from the switch with a gentle tug from the tool.
The other tool that is included with the K3 helps you remove the switches from the keyboard. I had a heck of a time getting the switches out even after watching a tutorial. The included removal tool is not comfortable to use and is a little too flexible to work well. At least that was my experience.
The awesome thing is you can actually mix switches. You can have one row of red switches and another row of blue switches. Why you might want to do that is a mystery to me, but it's possible with this customizable mechanical keyboard.
This keyboard gives you a light show!
The Keychrom K3 keyboard is available with a white backlight or an RGB backlight. I was sent the RGB version which has some pretty funky built-in color effects. Check out the video below.
Don't worry though if rave-style backlight effects aren't your thing, you can turn them off. And, that is exactly what I did about 10mins after starting to type on this keyboard.  😉 The light effects are fun for a few minutes and then for me, they just became too distracting.
But what about typing on it?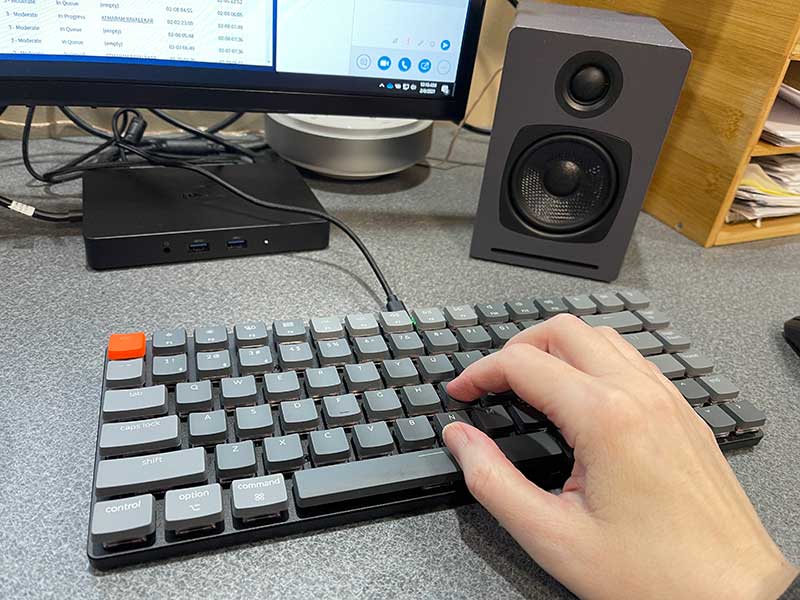 My sample Keychron K3 keyboard was fitted with Red switches which to me felt a little mushy compared to my Logitech MX Keys keyboard which I've been using for the last year. Note that the Logitech keyboard is not mechanical. But right now that's the only keyboard I have to compare to the K3. I think the "mushiness" can be attributed to the fact that the K3 has a much deeper key travel than the Logitech and it does take a little while to get used to that type of change especially if you're a fast touch typist like myself.
The click of the Blue switches reminded me of the IBM keyboard that I had a billion years ago. Is it just me, or does the sound of typing on a clicky keyboard make you feel more important? 😉
I'd also like to point out that I found Bluetooth connectivity to be on the sluggish side. I tested the Keychron K3 mechanical keyboard paired with my 13in MacBook Pro M1 and found that it took several key presses to wake up the keyboard after it had timed out.
There is only one customization setting for the timeout/battery saving feature and that's either the default of 10mins or no timeout at all. I hesitated to try the keyboard with the timeout disabled because battery life for the K3 is pretty bad when connected to your computer using a Bluetooth connection. Even with the backlight disabled and the battery fully charged, the K3 only lasted about 4 days before it died with no warning.
For my second test, I plugged in the keyboard with the USB-C cable to a Dell laptop and used it that way for over a week. Of course, hardwired means you don't have to worry about battery life, but it also means there's a cable that you have to look at. Meh…
Using the K3 with a cable makes for a nicer experience both in battery life and quicker wake times when your computer goes idle.
One thing missing from the K3 is the ability to program the layout or function keys if you really want to customize things to the max.
What I like
Ability to customize with different switches
Bluetooth or cable connectivity
Can switch between 3 devices and 3 operating system
What I'd change
Improve battery life when used wirelessly
Add ability to program keys
Make more low profile keycaps available
Include a better switch removal tool
Final thoughts
As I mentioned in the intro paragraph, I am not a mechanical keyboard aficionado. But I don't think I have to be one to test a keyboard to tell you how well it works when it comes to functionality, type-ability, connectivity, and battery life. The Keychron K3 ultra-slim wireless mechanical keyboard looks great and the ability to customize the switches means that it will also type great depending on your preference of key feel and sound. The only downside in my opinion is that the K3's battery life is terrible if you want to use it wirelessly and that's a big deal for people who like a sleek desktop without wires spoiling the look. But if you don't mind charging the K3 once a week and you like being able to change switches and keycaps, the Keychron K3 is a pretty sweet little keyboard with an equally sweet price.
Price: $74.00
Where to buy: Keychron and Amazon (the K3 isn't on Amazon yet but other models are)
Source: The sample for this review was provided by Keychron.