We use affiliate links. If you buy something through the links on this page, we may earn a commission at no cost to you. Learn more.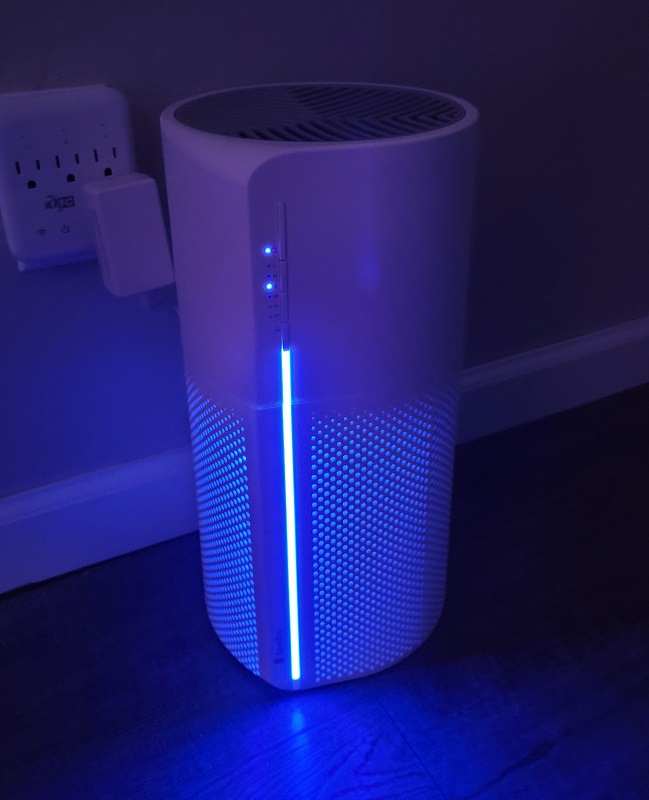 REVIEW – Interest in the contents of the air we breathe has taken a dramatic uptick recently for some reason (cough…COVID…cough), but we residents of Salt Lake City and nearby suburbs are very familiar with dangerous air.  We often set the record for the most harmful particulate pollution in the United States in the winter, caused by a combination of weather "inversions" that trap air in our valleys and the pollution that goes into that inversion like coal-fired power plants and large numbers of combustion engine vehicles.  Many people across the world suffer similar airborne maladies or are affected by illness or allergies as well.  The Sensibo Pure air purifier might be a breath of fresh air to anyone afflicted by bad air.
What is it?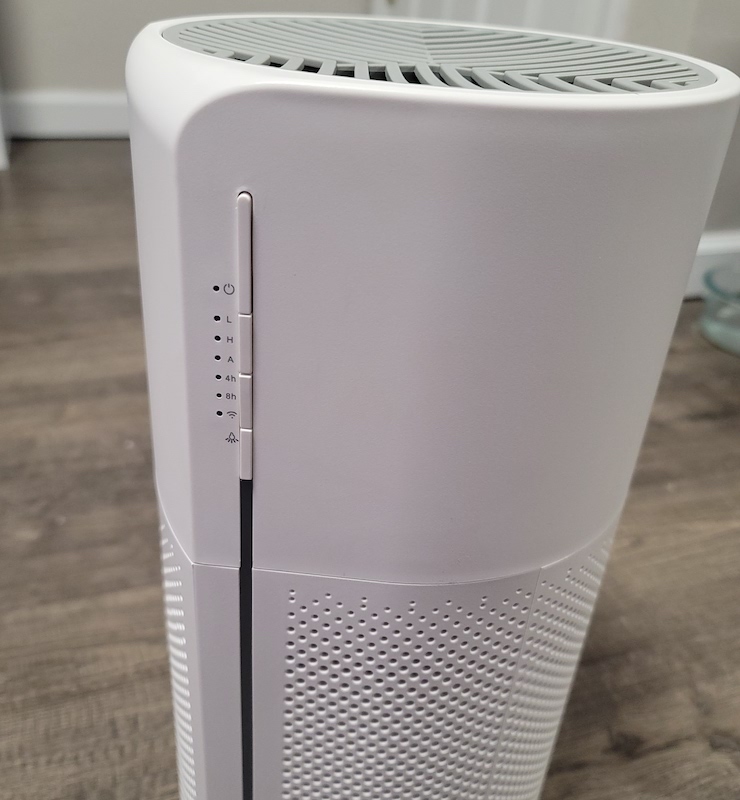 The Sensibo Pure air purifier is an air purifier/filter that is designed to filter out viruses, bacteria, mold, particulate pollution, dust, smoke, odors, and any other airborne particles down to 0.1 um. It's also a smart device, controlled by an app allowing for schedules, voice-assistant control, and customization (and even integration with other smart devices from Sensibo).
What's in the box?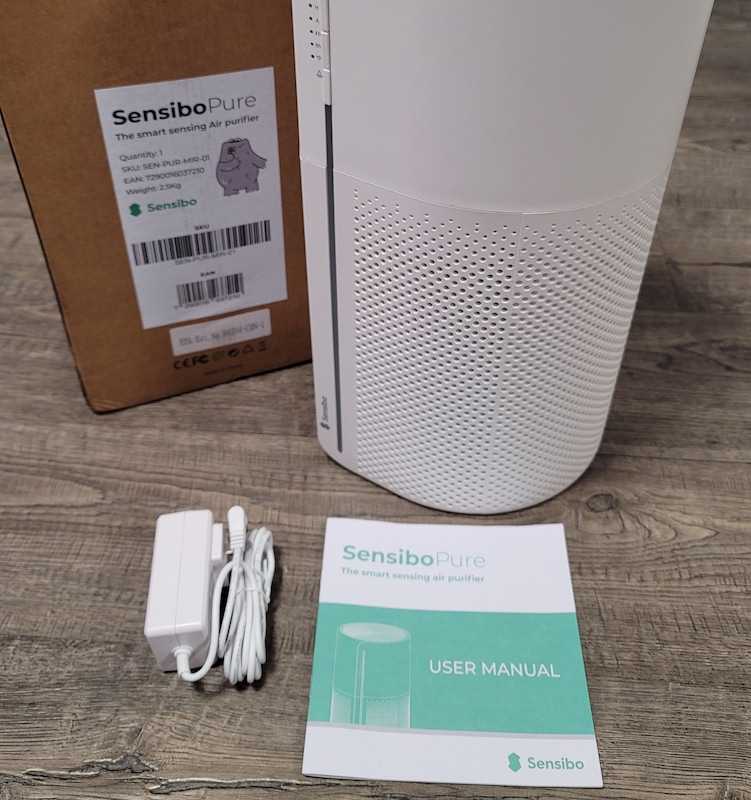 Included in the box is the Sensibo Pure air purifier itself, an AC wall adaptor, and a manual.  Inside the air purifier is a HEPA/carbon filter.
Hardware specs
Particle filtration: all particles larger than 0.1 um (bacteria, viruses, particulate matter including PM1.0, PM2.5, and PM10)
Odor removal: active carbon filter absorbs odors and harmful gases like smoke and VOCs (Volatile Organic Components)
Room size coverage: 173 ft²  (16 m²)
Dimensions: 7.68″W x 7.68″L x 15.28″H (195mm x 195mm x 388mm)
Sound level maximum: 53 dB
Apps: iOS, Android, HTML5 (web)
Communication: WiFi 2.4 GHz and Bluetooth Low Energy 4.0
Weight: 4.28 lbs (1.94 Kg)
Warranty: 1 year limited warranty
Filters: 3 phases filtration: Pre-filter, HEPA filter, and Active Carbon filter
Filter life: 6 months with typical use conditions
Voice assistant integrations: Amazon Echo Alexa, Google Home/Assistant, and Siri Shortcuts
Cord length: 6 feet (1.83 m)
Design and features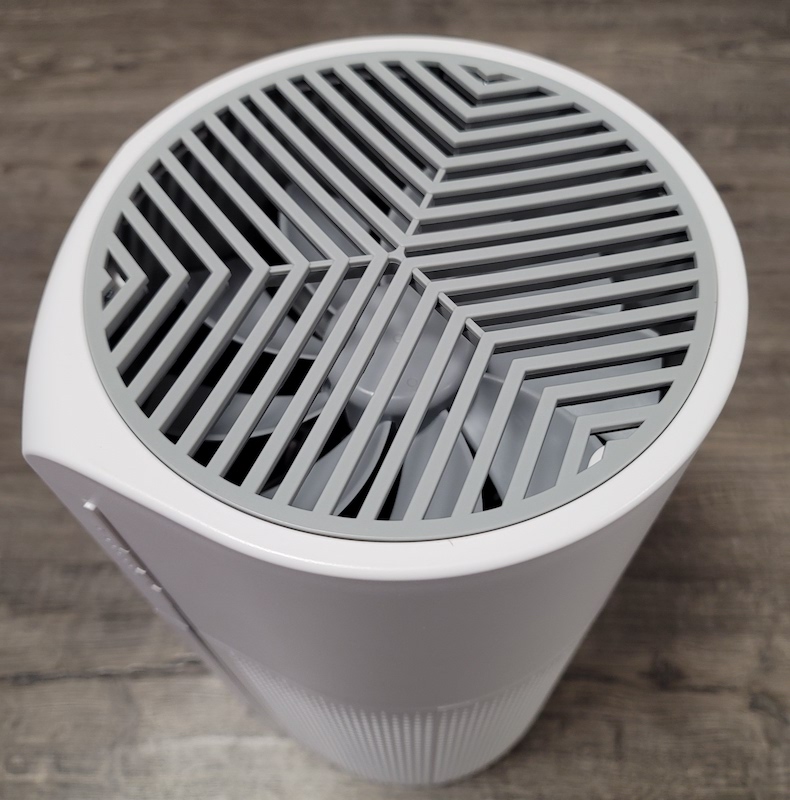 The Sensibo Pure air purifier is a tall white cylinder.  Air is pulled in from all directions in the lower half of the body of the unit, then expelled out the top after going through the filter unit.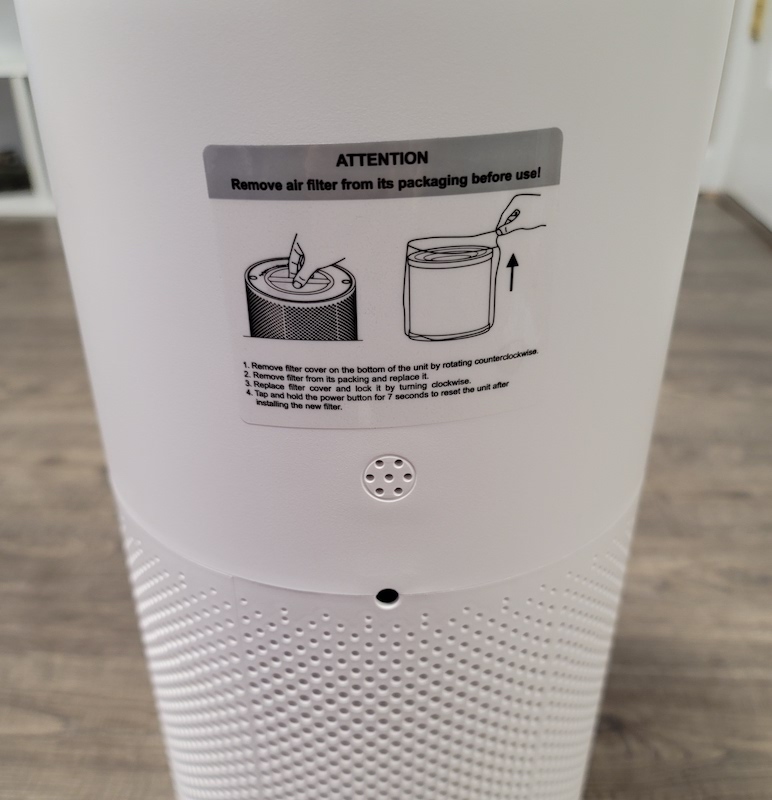 A handy warning guide instructs you to prep the filter (more on that later) before use.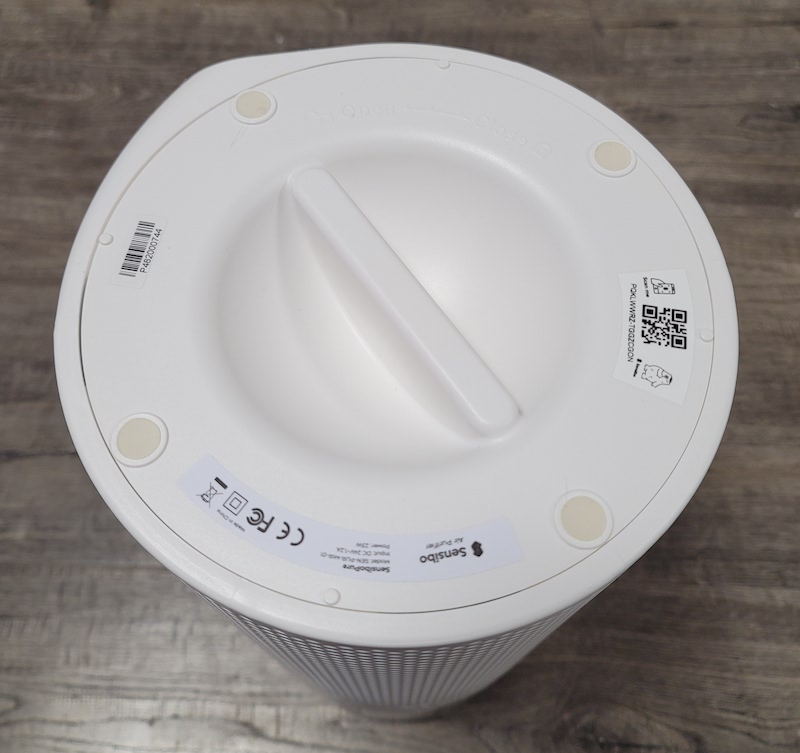 The bottom of the Sensibo Pure air purifier has a QR code for getting the mobile App, and twists off to access the replaceable filter.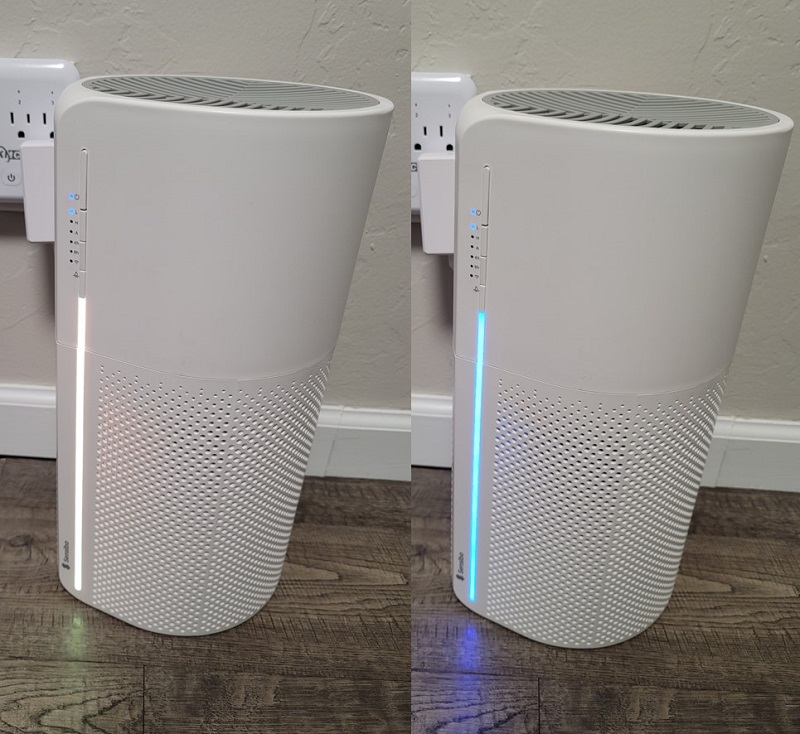 The large light bar changes colors to inform the user of different status states (like setup/connection and air quality).  Physical buttons allow for on/off, Low/Hi/Auto fan settings, a 4/8 hour timer setting, and LED light controls (Low/Hi/Off).  Indicator lights also show connection status and various states.
Installation and setup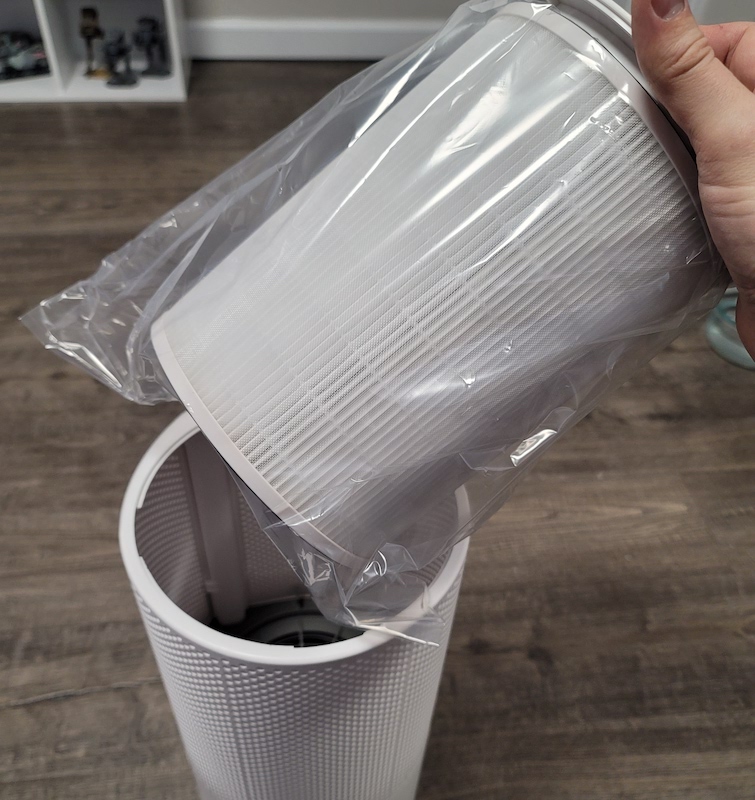 The first step to set up the Sensibo Pure air purifier is to remove the filter (the bottom twists off to access the filter).  It comes wrapped in plastic, which needs to be removed before use.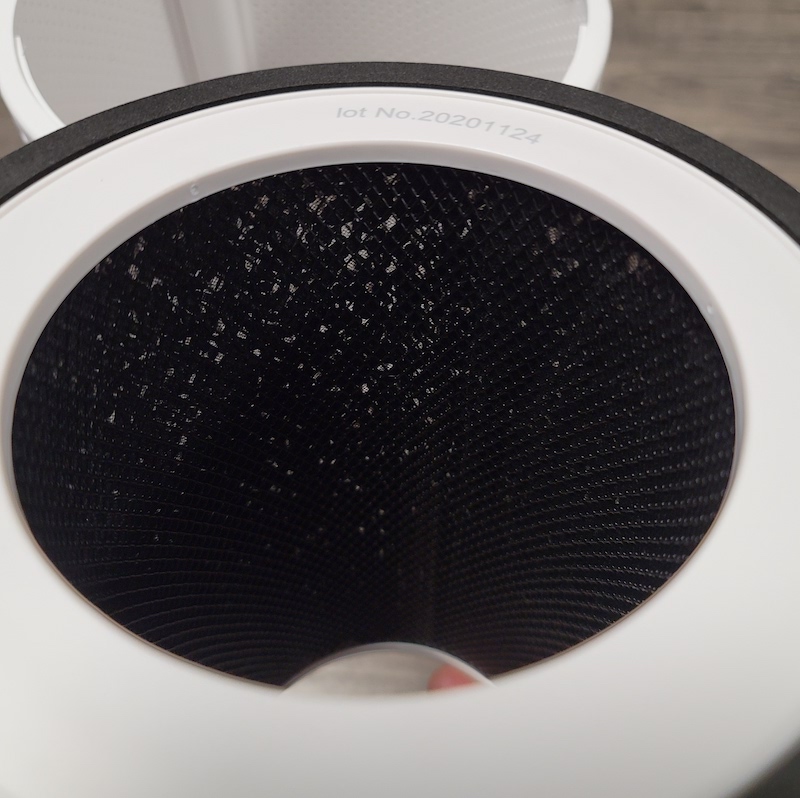 Here's a shot inside the filter itself, showing the carbon/charcoal smoke/odor elements.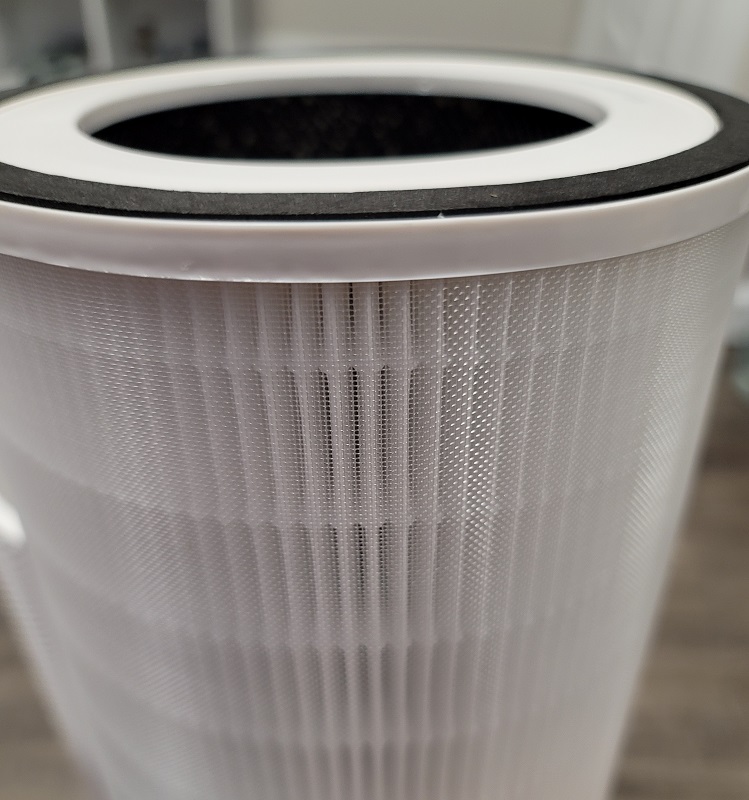 The outside of the filter unit is shown here.  I couldn't find any information on replacement filters (which you'll need, Sensibo advises replacement at 6 month intervals with "typical" use).  I reached out to their customer service and was told that replacement filters are coming soon but the price wasn't finalized at the time this review was submitted.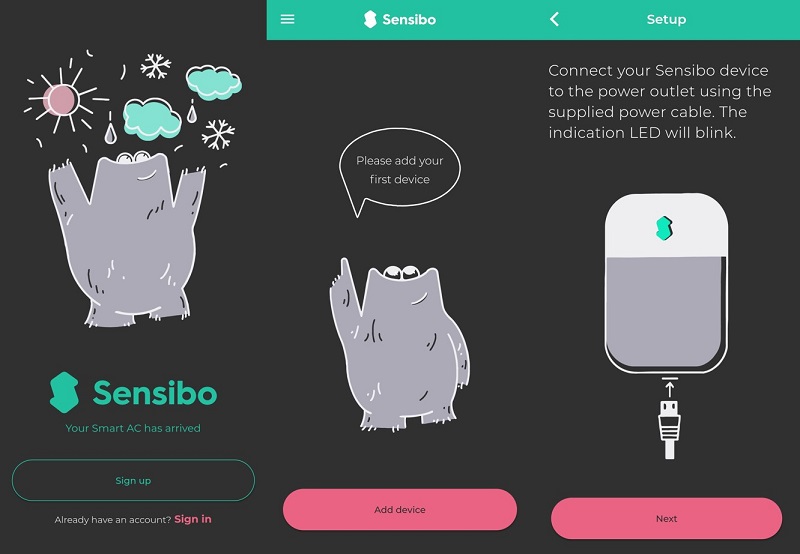 At this point you can simply start using the Sensibo Pure air purifier with the physical buttons, like some 1980's caveman.  If you're living in the 21st century though, you may want the app to set up voice assistant integrations, schedules, integration with other Sensibo products, and even options to throw more money at Sensibo (for nifty features like weather-responsive automatic settings).  The app is available on iOS and Android, I tested on my trusty Samsung Galaxy Note 20 Ultra 5G.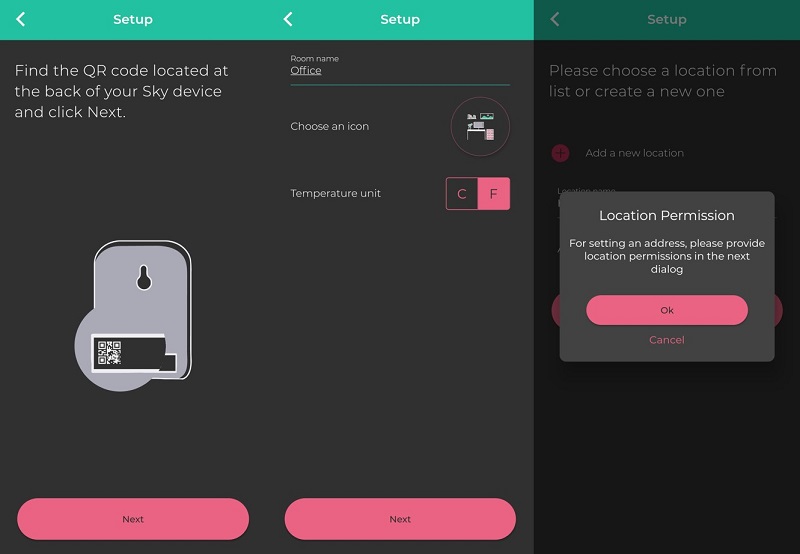 After creating an account and giving all sorts of permissions and personal data away, you then scan the QR code, assign the device to a room, and tell Sensibo where you live (optional – you can abstain from this level of personal data sharing).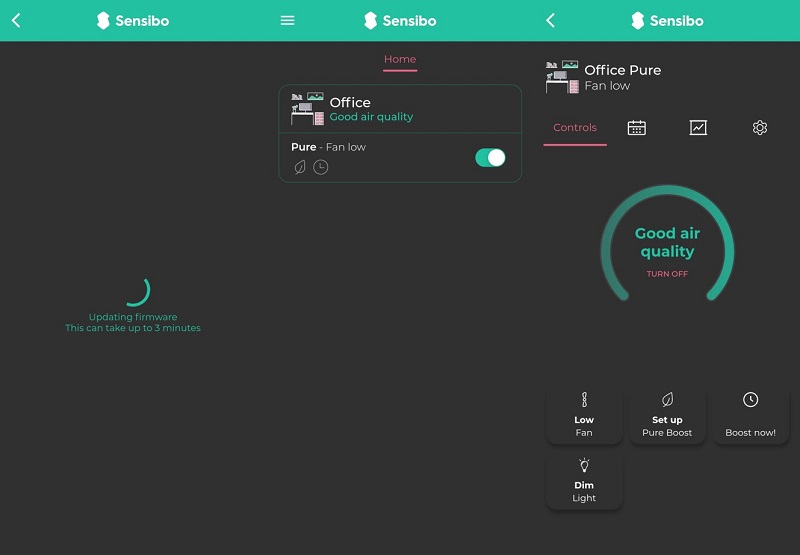 Next up was a firmware update which went pretty quickly, and after that I was up and running.  Basic controls mirror the phsyical buttons from the main screen here.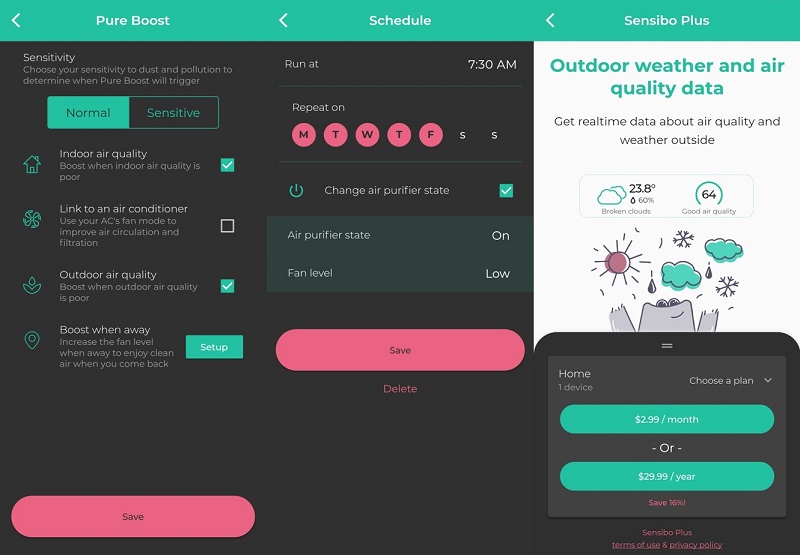 But as you dig into settings, you can set up schedules (I set mine in my office to run from 7:30 am – 5 pm every day to conserve power when I'm not in that room).    If you have a Sensibo air conditioner, you can "link" the Sensibo Pure air purifier to also run the AC's fan to improve air circulation and filtration.  Finally, Sensibo offers a subscription service, which as far as I can tell simply adds weather and air quality data information into the app (I did not subscribe).
I suffer from dry eyes and allergies (including to dust) fairly often, and had no issues during the review period.  I don't have any way to scientifically measure air quality, but it does give me peace of mind to know that the air in my office is at least filtered to HEPA standards when our outside air is the equivalent of smoking a pack of cigarettes or more a day (which happens every winter here).
Integration with voice assistants was easy and similar to any other smart product.  After setting it up, I can tell Google (or Siri or Alexa) to "turn on the office air filter" and it will do so.
I wasn't able to test this out, but I wanted to mention it as a nifty feature:  the Sensibo Pure air purifier will be able to work alongside Sensibo's Room Sensor to detect when you've left the room, and bump the fan to a higher/louder level while you're away to boost filtration, then drop down to whisper-quiet levels when you return.
What I like
Quiet in standard operating mode
App and voice assistant integrations
Scheduling feature
What I'd change
I would like it if these smart device makers would simply allow mobile phones to communicate directly with the devices without the need to create accounts and expose everything to the internet.  However, this is industry-standard practice, so I won't fault Sensibo, it's just something I wish would change.
Final thoughts
The Sensibo Pure air purifier seems like a great air filter, even before considering the smart-device features.  The ability to control and schedule it was icing on the cake for me (we own other air filters as well, but rely on smart-plugs for such features).  I like that the Sensibo Pure air purifier's filter has a charcoal/carbon layer in addition to the HEPA filter, this does seem to reduce odors.  Overall, I think it's a well-priced and full-featured air filter.
Update 6/5/21
The Sensibo Pure air purifier is one of those things that I set up and have forgotten about (in a good way!).  It runs on a daily schedule in my office and turns off by itself every night. Sensibo just added Apple HomeKit support, so if you're in the Apple ecosystem you can now control it too (it already worked with Google Assistant and Alexa).  It also looks like they added replacement filters to their online shop ( https://sensibo.com/products/pure-filters ) with a 2 pack for $120 or a subscription service at $4.99/mo (with that you get one filter auto-delivered every 6 months, so ~$30 each).  I checked my filter recently, and with 4 months of daily use I can only see a bit of dust build up.
Price: $129
Where to buy: Sensibo
Source: The sample for this review was provided by Sensibo