We use affiliate links. If you buy something through the links on this page, we may earn a commission at no cost to you. Learn more.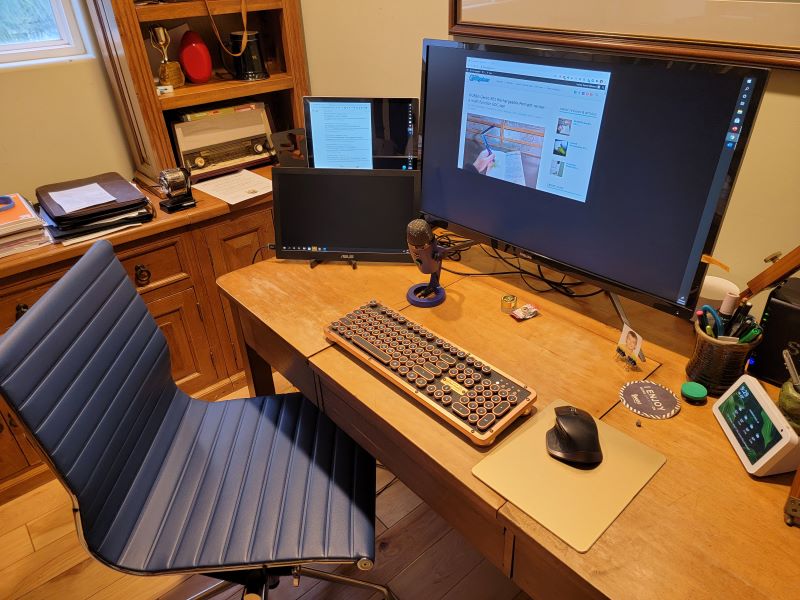 ARTICLE – I'm a teacher.  When the pandemic hit and the campus locked down, we were given three days to take whatever we needed to complete the semester from home and we haven't been allowed back on campus since.  I've always taught a few classes online, so I knew what I needed to make my courses happen, and there were a few peripherals that I knew I didn't want to live without. I looted my office of my Azio Retro Classic keyboard (check out Julie's review of the AZIO RCK Retro Compact Keyboard) that I treated myself to a few years ago.  It looks cool, is mechanical, and makes a satisfying clickety-clack when I type on it.  I also grabbed my Logitech Mx Master mouse that is a must if you work with spreadsheets due to the two wheels that let you scroll both up and down and right to left on the screen.
I was kind of perplexed about where I should set up shop in my house and I wound up moving into the study, which sounds ideal but I soon found had some limitations.  The antique desk looks neat but was built to house a typewriter, so I have to sit with my chair practically on the floor to get my legs under it.  I knew I needed a new chair because the existing one was similarly impractical, so I bought the SOHO Ribbed Management Chair by Laura Davidson direct. The arms interfered with the desk so I removed them, and it's an OK chair but a bit hard.  I plan on using it in another room after we're back to normal.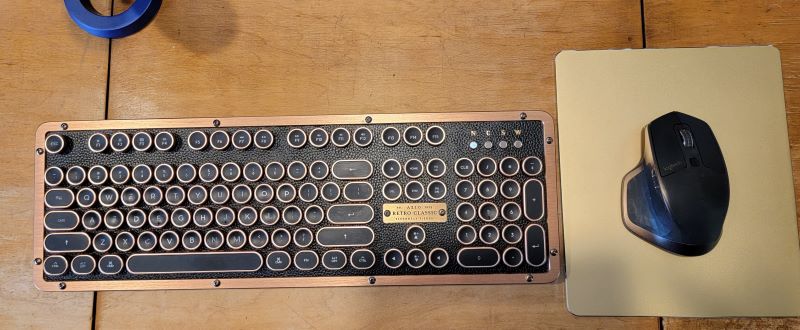 On-campus I prefer to plug in my own laptop rather than use the classroom's networked computers, but my Surface has a dinky screen for full-time use.  I picked up the Philips Momentum 32" monitor to help out my old lady eyes.  It's fine.  It's not the greatest monitor in the world, but at the time I didn't think I was going to be working from home for very long so I didn't want to drop a lot of money.  I also had to buy a rigid mouse pad because the desk has a noticeable ridge where the typewriter housing is and it was slowly driving me COMPLETELY NUTS.  The smaller Asus Monitor on the left was my husband's castoff.  You can never have enough screens, right?  I also nabbed his Blue Yeti microphone for Zoom classes.  I used to have one a few years ago but it was stolen out of my office while I was on study abroad.  It's great to have a nice mic!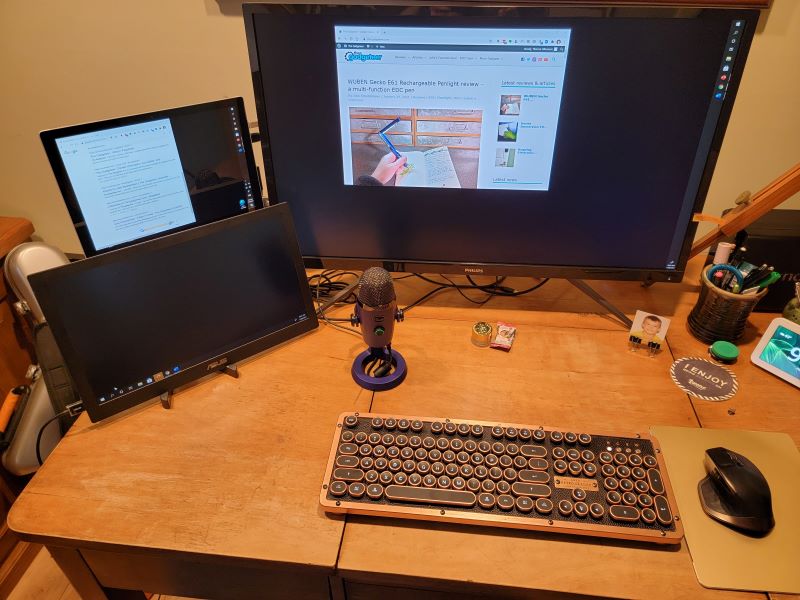 Be sure and check out the other WFH setup articles in this series.