We use affiliate links. If you buy something through the links on this page, we may earn a commission at no cost to you. Learn more.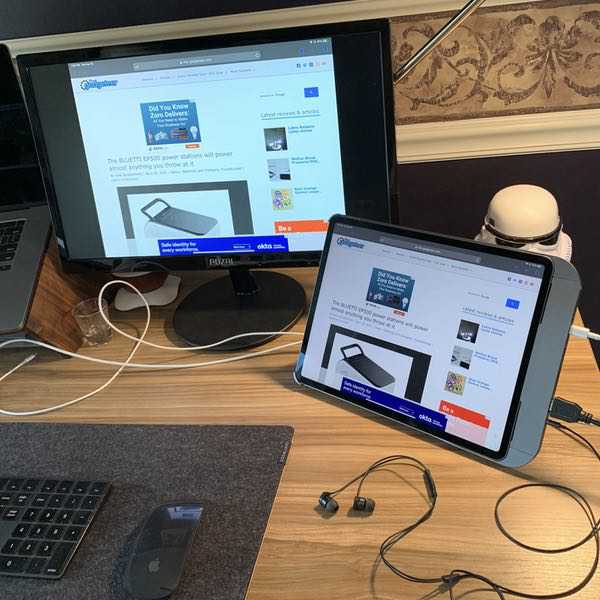 REVIEW – So you love your iPad, but you wish you had that extra connectivity? Fledging's got you covered. The Hubble for iPad Air and iPad Pro is a case for your precious that sports an integrated USB-C hub to hook up all your peripherals. Kinda sweet, right? To the review!
What is it?
It's a combination iPad case and USB-C hub, Models are available for the 2020 iPad Air and 2018-2020 iPad Pro (11″ and 12.9″ versions).
What's in the box?
You'll get all the components for the integrated iPad case and an iPad hub. You'll also get a tool to help with installation.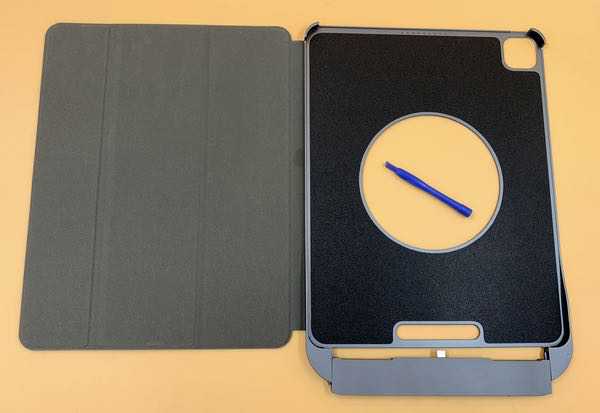 Hardware specs
1 USB-C charging port
1 USB-C data port (5Gb/s)
1 USB-A port
SD and Micro-SD card readers
4K 60Hx HDMI port
3.5 mm audio jack
Design and features
The Hubble for iPad consists of three integrated components. You've got an aluminum frame that serves as the base for the case. A rubberized hard cover protects the front face of your iPad and converts to a stand; this cover is attached with magnets and can be removed when not needed. Last but not least you get the USB-C docking bar that slides and locks into the frame.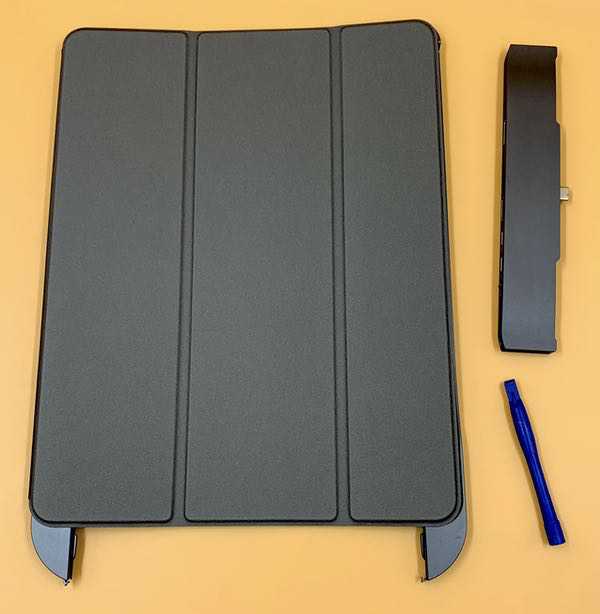 Here's a closeup of the business-side of the USB-C docking bar. From right to left, you'll find the power switch, the USB-C charging port for your device, a second USB-C port for data, a standard USB port, SD and MicroSD slots, an HDMI port, and a 3.5mm audio jack.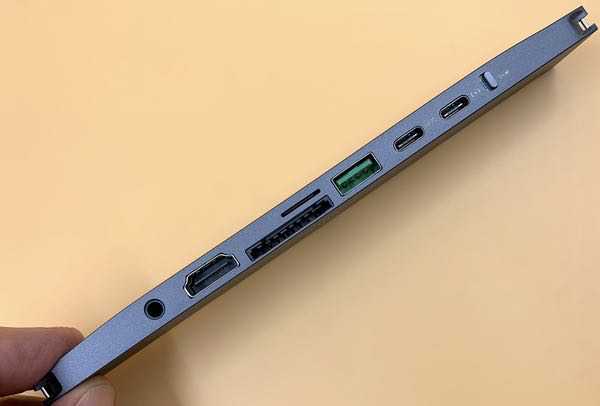 On the flip side is a single USB-C plug that connects to your iPad and makes all the magic happen.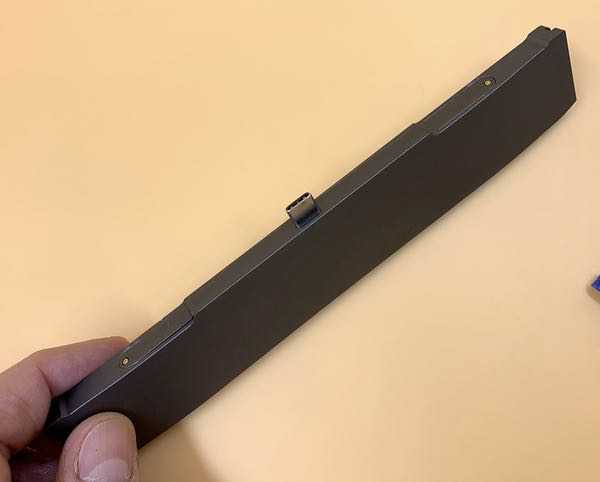 You'll start by snapping your iPad into the aluminum frame. The frame has a layer of rubberized padding to keep your iPad from getting scratched up.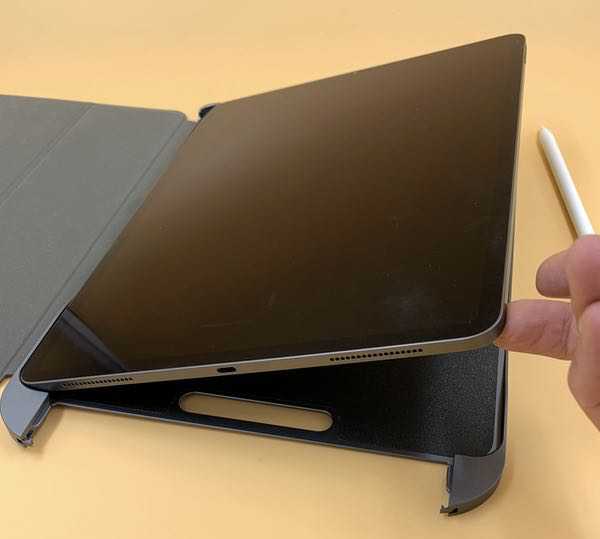 The docking bar then slides into the frame on tracks. You'll push that into place until it is snug against the iPad and the USB-C plug is fully inserted.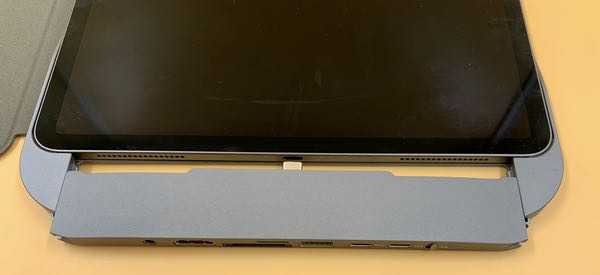 A pair of clips then lock the docking bar in place. This is where that blue stylus tool in your kit comes into play. It's a snug fit, and the tool helps to lock in the clips and to unlock them if you want to get your iPad out of there.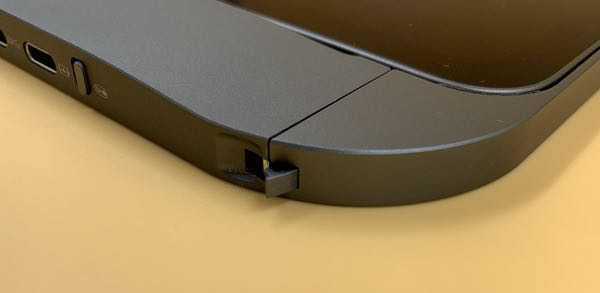 Now you're ready to rumble! The iPad case provides rugged all-around protection for your precious. Light magnets keep the cover in place. The iPad will also turn on when you open the cover.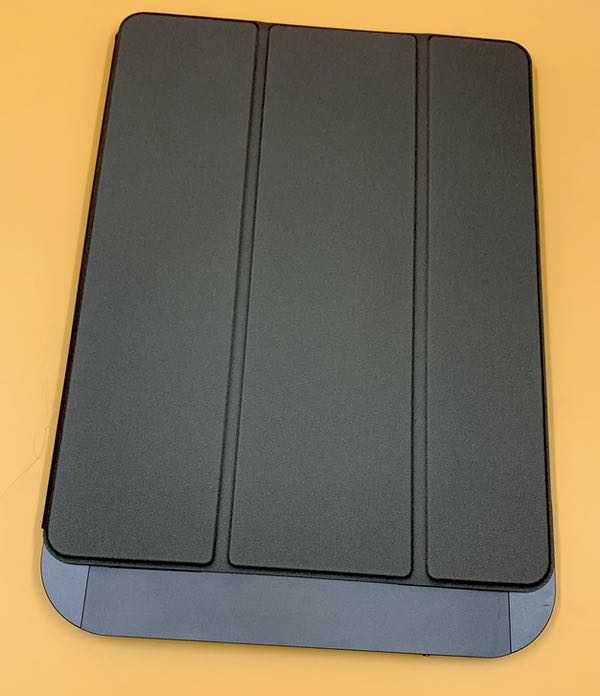 Here's a back view of the case. Note how the rear ports, camera, and contact points are exposed. The case itself is tight, engineered for a precise fit.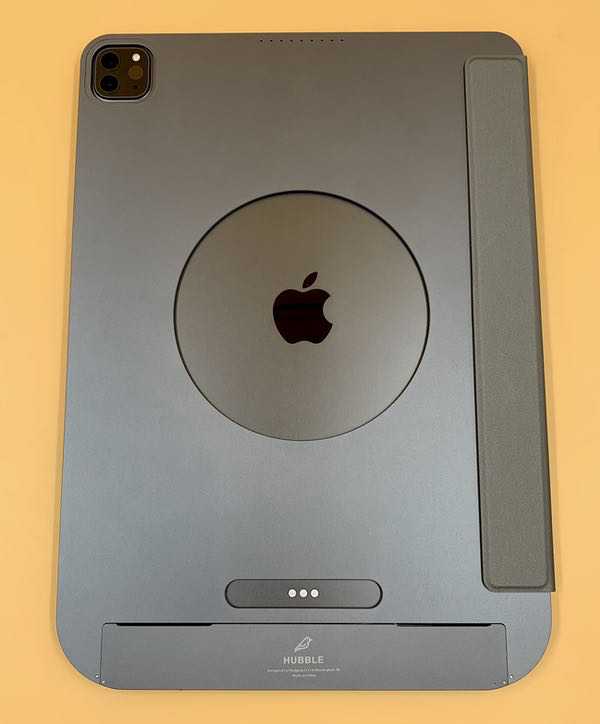 This is a shot of the case set up in standing mode. You can also see in this pic that the aluminum frame covers the corners & edges, but the side is still exposed so you can keep your Apple Pencil connected.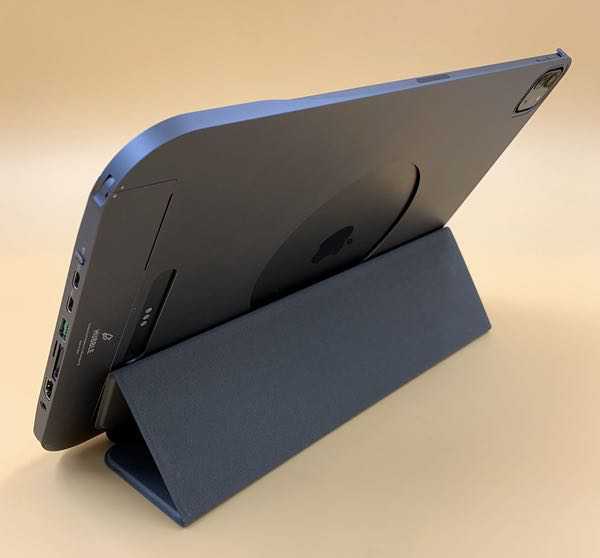 The Hubble has a power on/off switch for power management. If you want to use the iPad without draining the battery on peripherals, flip the iPad hub power switch to the "off" position and it won't draw power for those functions.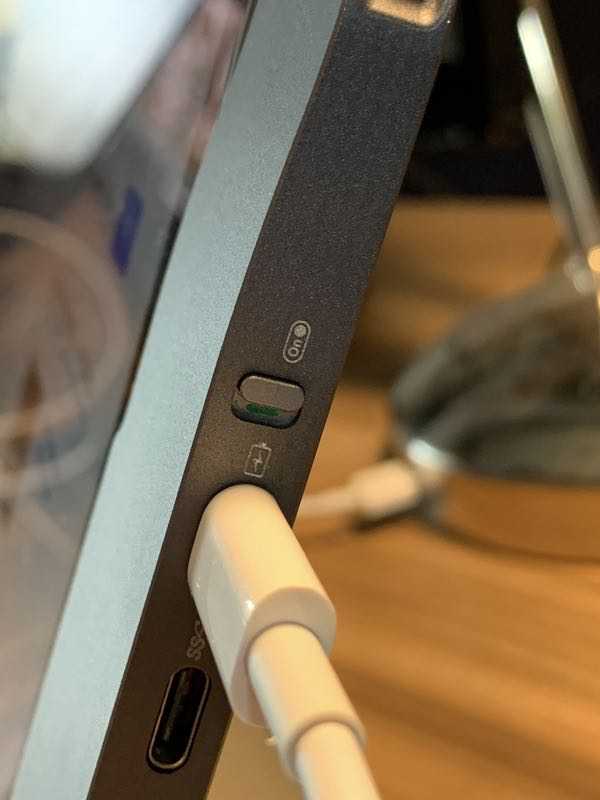 Performance
The Hubble pulls off a nice combination as both a great case to protect your gear and a full-featured USB-C hub to give you that extra connectivity that the iPad lacks out of the box. Here I have it connected to my AUZAI 21.5″ computer monitor with the HDMI cable and my trusty old-school earbuds with the 3.5 mm audio jack.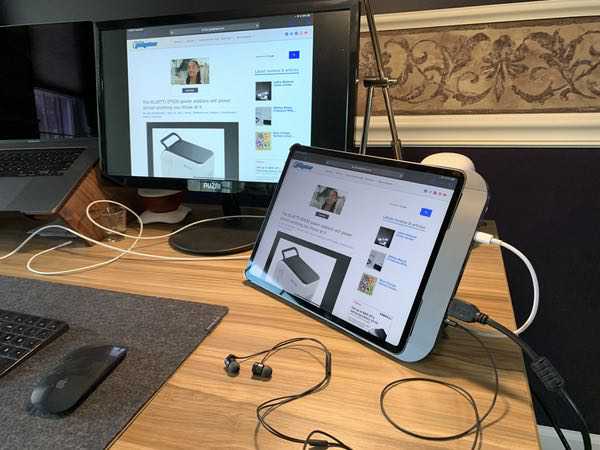 This is where I see the sweet spot for the Hubble's use case. I added my Bluetooth headphones to charge them up with the USB-A port. The combination of ports (SD, MicroSD, USB-A, and second USB-C) are great if you're a road warrior that's trying to minimize your gear. Plug your power brick in and connect to the dedicated USB-C charging port and you can connect all your goodies and still upload/download files at client meetings.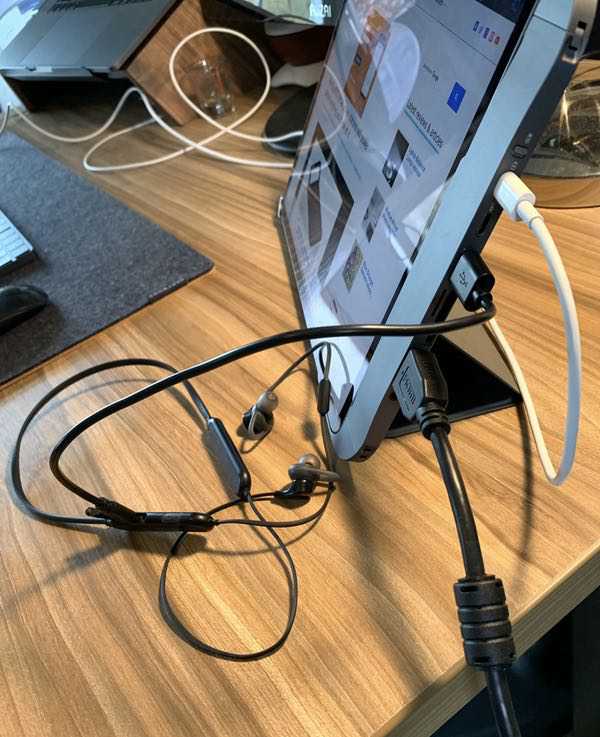 If you're accustomed to using the on-screen keyboard and an Apple pencil to do your thing, this is all great. The case does a fine job as an all-around protector and you get all those ports to work with. If you're doing a lot of typing throughout your day, however,  this means you'll be packing a Bluetooth keyboard with your kit. And you'll need to find a space to set up wherever you find yourself on the road.
There's also the form factor to consider. I love that the cover is magnetic and easily removable if I am doing illustration work. The USB-C port does add an extra inch in length to the iPad which takes some getting used to. It's a tradeoff that I don't mind, but it does mean that your iPad won't fit in smaller bags that are sized for a snug fit for your 12.9″ iPad or 13″ MacBook.
I really like that power feature for conserving energy. Fire up the ports when you need 'em and switch 'em off when you don't. Very clever and surprisingly useful when it comes to conserving battery life.
What I like
Well designed & rugged case design
An excellent addition to add more capabilities & connectivity to your iPad
I'm a big fan of the ability to turn on/off the ports for saving battery life
HDMI, USB-A, and a 3.5 mm audio port add much-needed extensibility
What needs to be improved
It does require an external keyboard if you are doing a lot of typing
The addition of the USB-C dock adds bulk to your rig
Final thoughts
I really like the Fledging Hubble for iPad Air & iPad Pro for general use. The case is great and all those ports seem to come in handy on a regular basis. I do find myself switching between this and my Apple Keyboard with the integrated case when I am doing a lot of heavy writing. But when I am doing illustration work or looking for a solution for general travel the Hubble is going to see a lot of use.
Price: $114.99 – $124.99 depending on which iPad you've got.
Where to buy: Visit the Fledging web site for the Hubble product page!
Source: The sample of this product was provided by Fledging.