We use affiliate links. If you buy something through the links on this page, we may earn a commission at no cost to you. Learn more.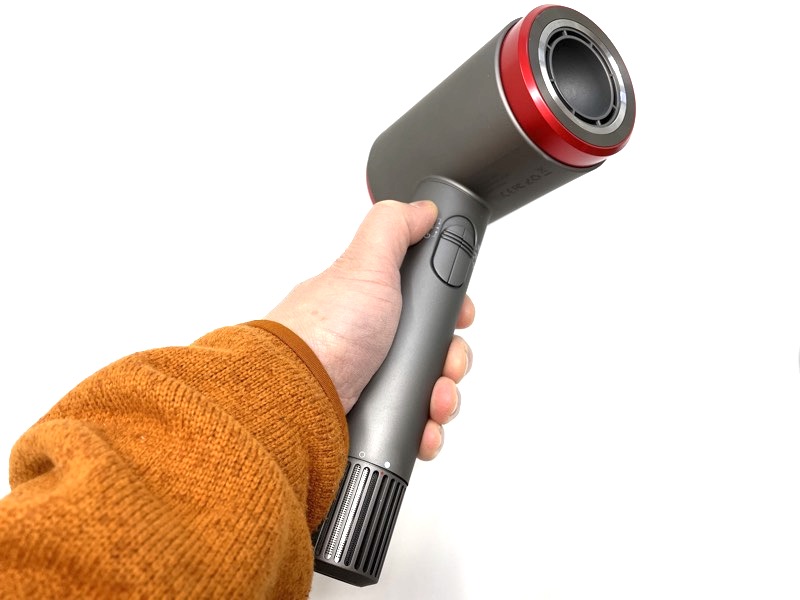 CROWDFUNDING REVIEW – I'm not into styling my hair. For me, I comb it and hope it's not messed up. This is even more true during the pandemic since I'm not going into an office with other people. There are times I need to dry my hair, and the idea of a hair dryer without a pesky cord sounded kind of interesting. Let's see how the Lylux cordless, bladeless hair dryer measures up?
What is it?
The Lylux is a cordless and bladeless hair dryer that comes with an upright tabletop charging station.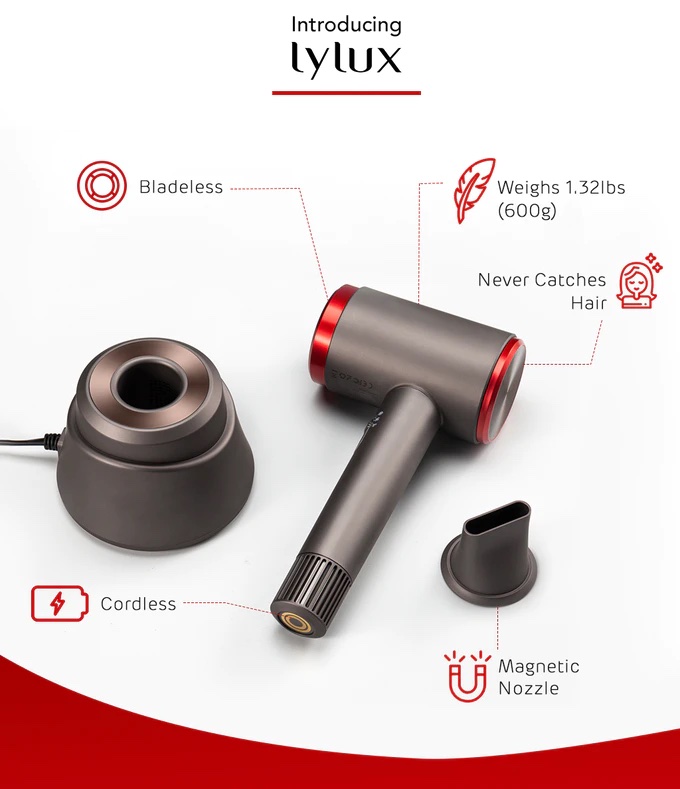 What's in the box?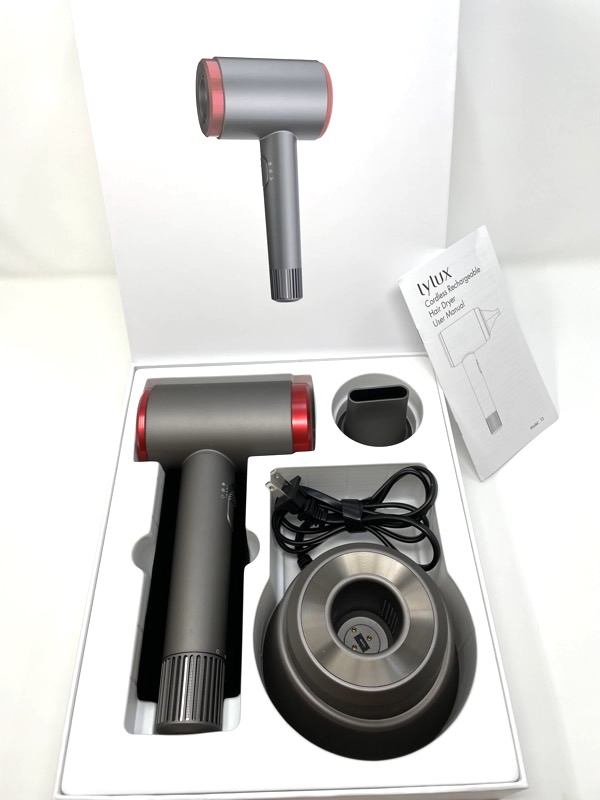 Hardware specs
I wasn't sure what a "Ternary" battery was, but it's a lithium-ion battery variant (uses slightly different internal chemistry). I also weighed and measured the hair dryer by itself (no charger, no attachment).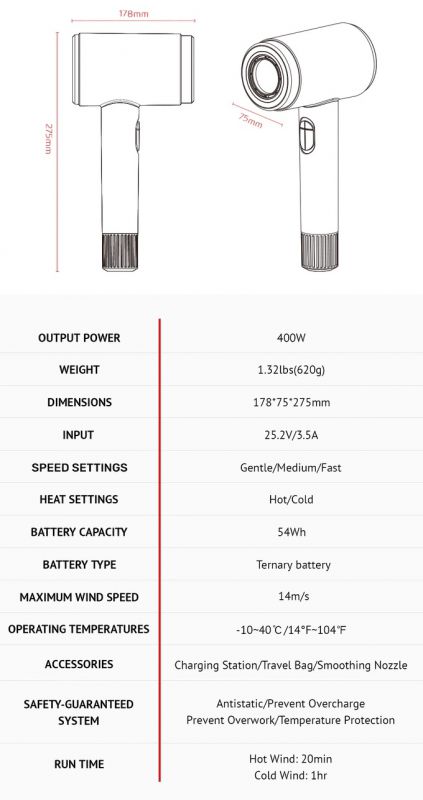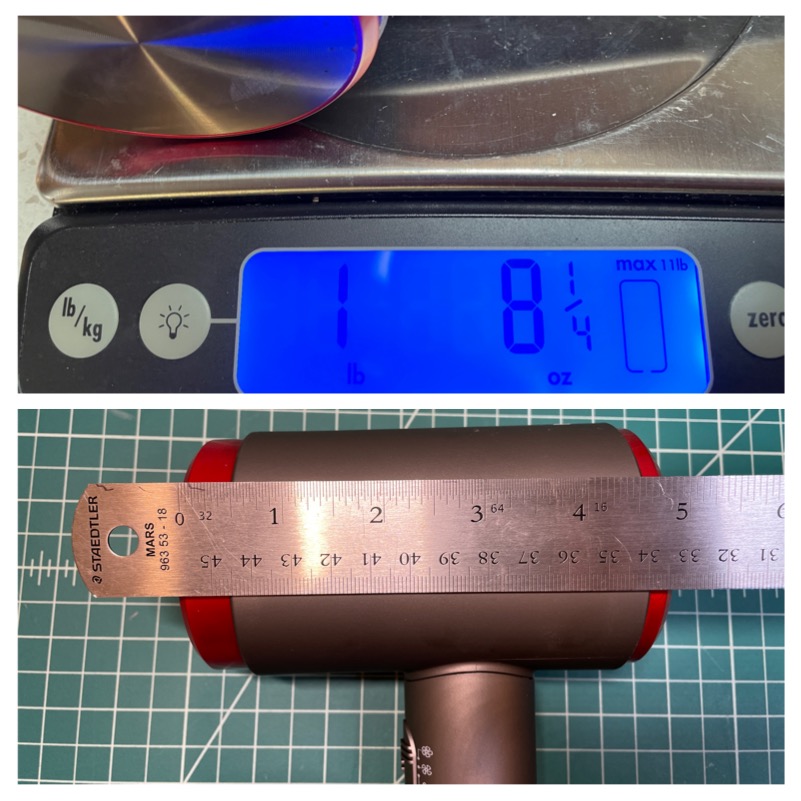 The "head" is pretty compact at 5″ long. Reminds me of some of those travel-size hair dryers.
Design and features
The Lylux looks pretty slick. To charge, it just rests in the dock. It pulls out without effort or friction.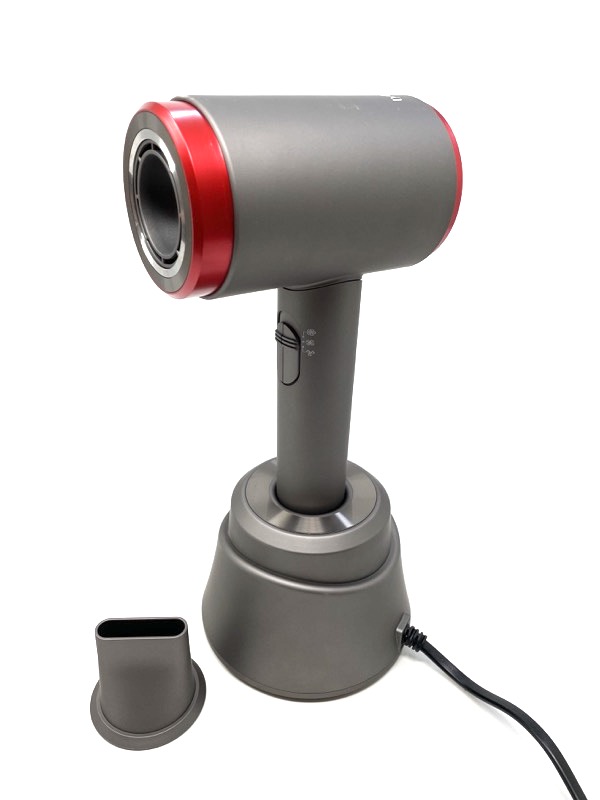 Here's a peek down the charger. Nothing but contact points.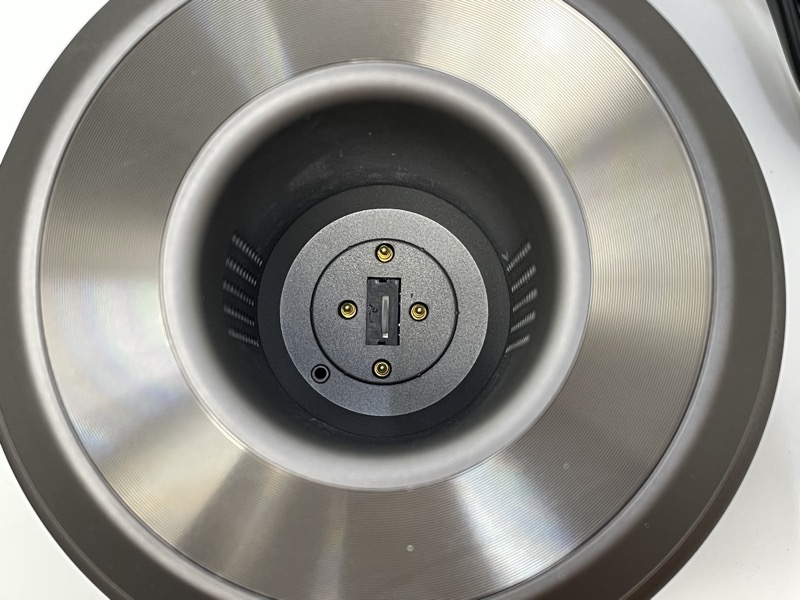 There's one pair of controls: The left side has two temperature settings (cold, hot) and the right selects the three speeds.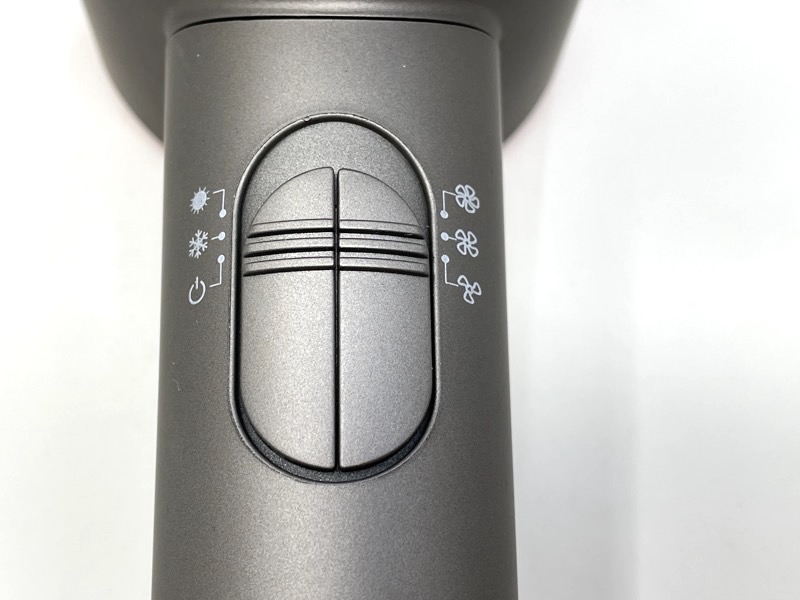 The bottom of the handle serves as an air intake, so don't cover this up as you're holding it.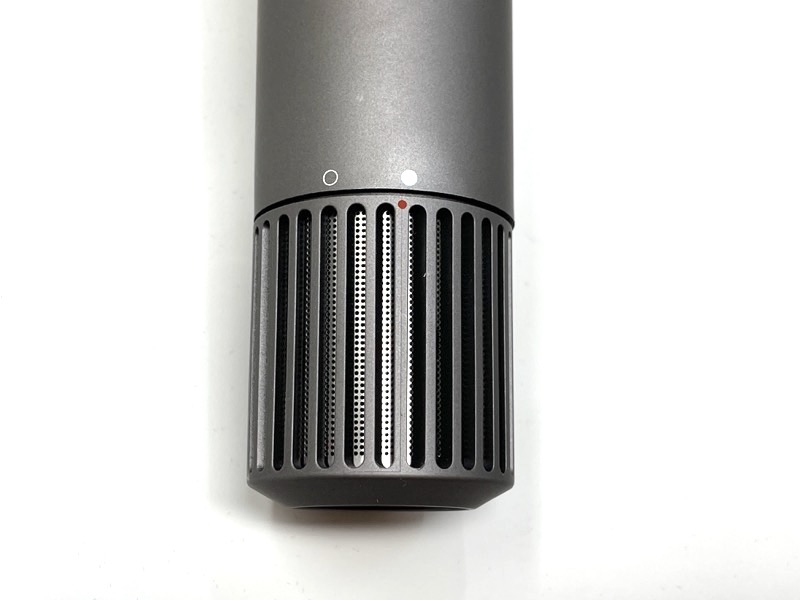 Unscrew the end and you'll find a removable mesh filter. Watch the wires as you reassemble the end.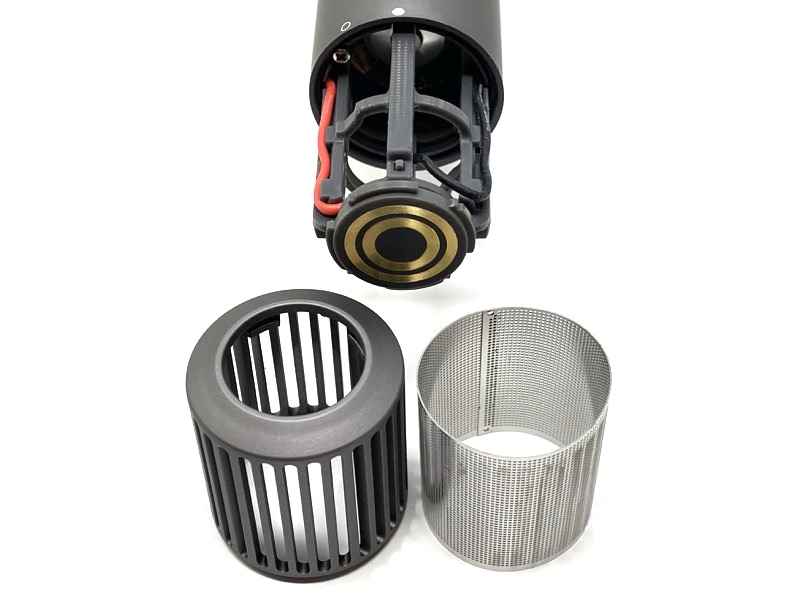 The business end of the Lylux doesn't reveal any secrets to what's going on inside, unlike a traditional hair dryer. It's mostly covered up.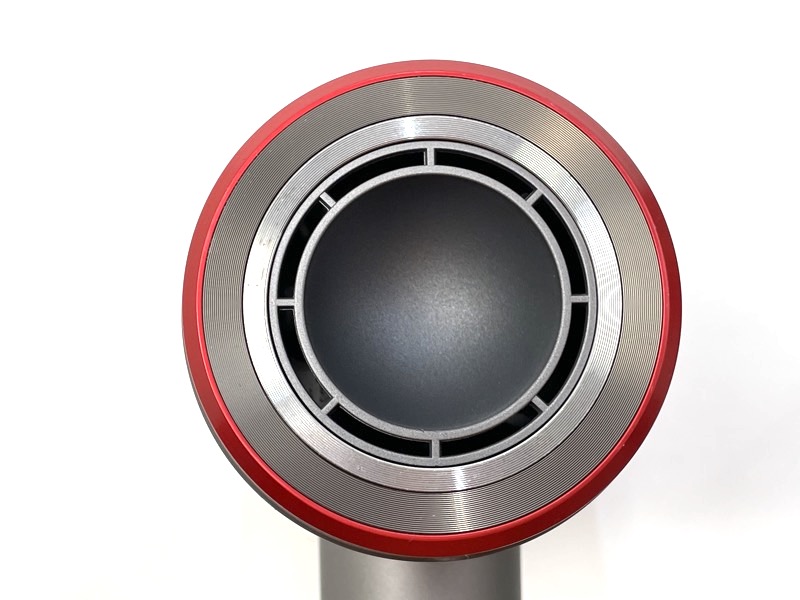 The back end has three tiny white LEDs that show charging state. In this photo, it's charging up.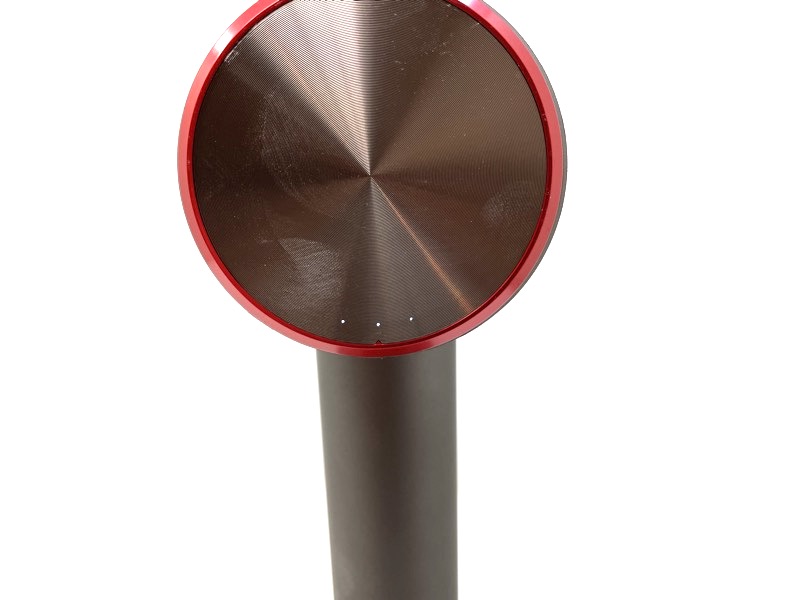 Here's the Lylux next to a "normal" hair dryer for size comparison.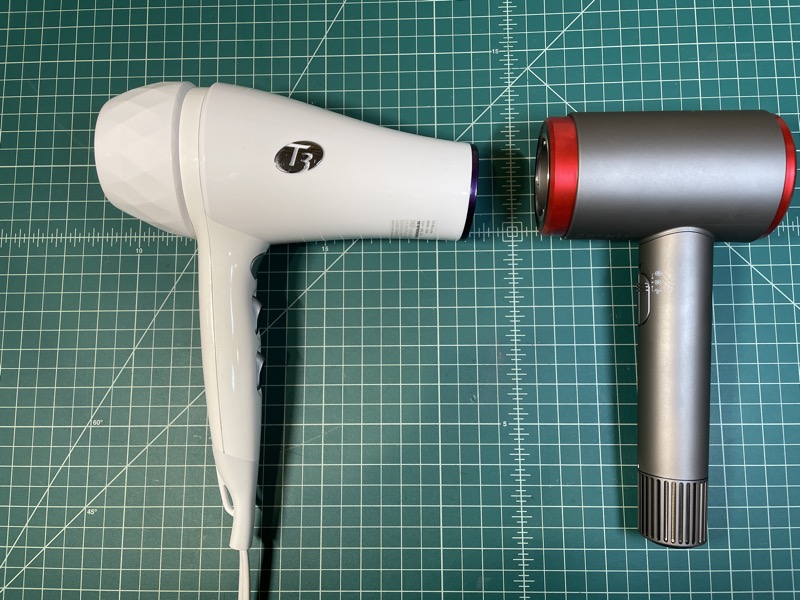 Setup
Specs say the Lylux charges in an hour or 85% in 45 minutes. The nozzle snaps on with magnets, and you can rotate it to whatever angle you want.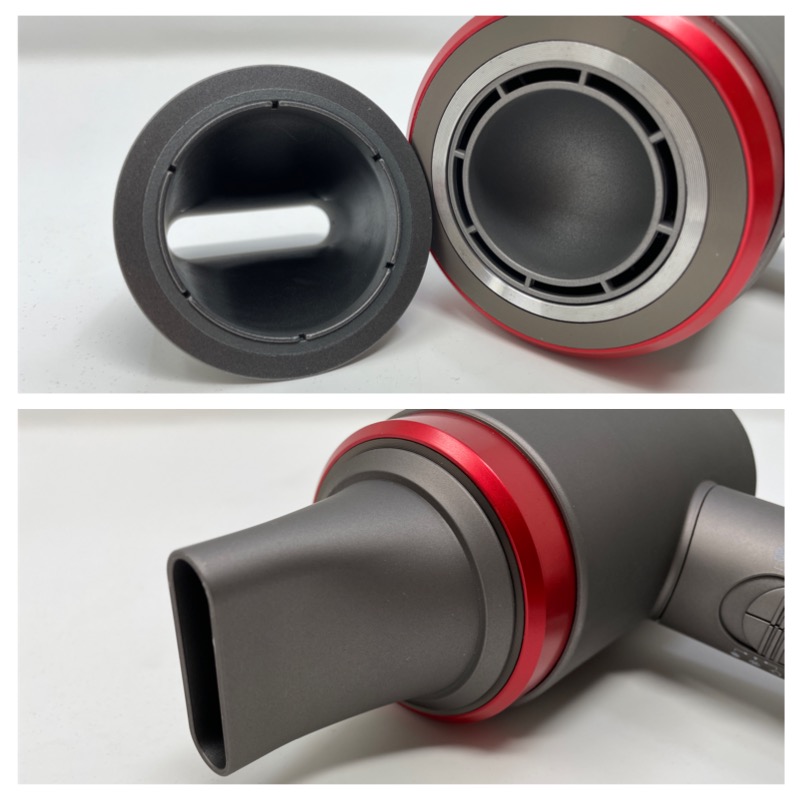 Performance
I'm no hair stylist, so I ran some mechanical tests instead.
Noise
The first thing that struck me was how different this sounded. The Lylux is called a "bladeless" hair dryer. It must use some kind of motor and fan mechanism, but it sure sounds different. Take a listen to this clip.
Heat
I found the Lylux pushed out a surprising volume of air. For something cordless and this small, color me impressed. However, when it comes to heat, the Lylux conserves energy by keeping things mild. The specs say it maintains a 104F temperature, so I ran a little test.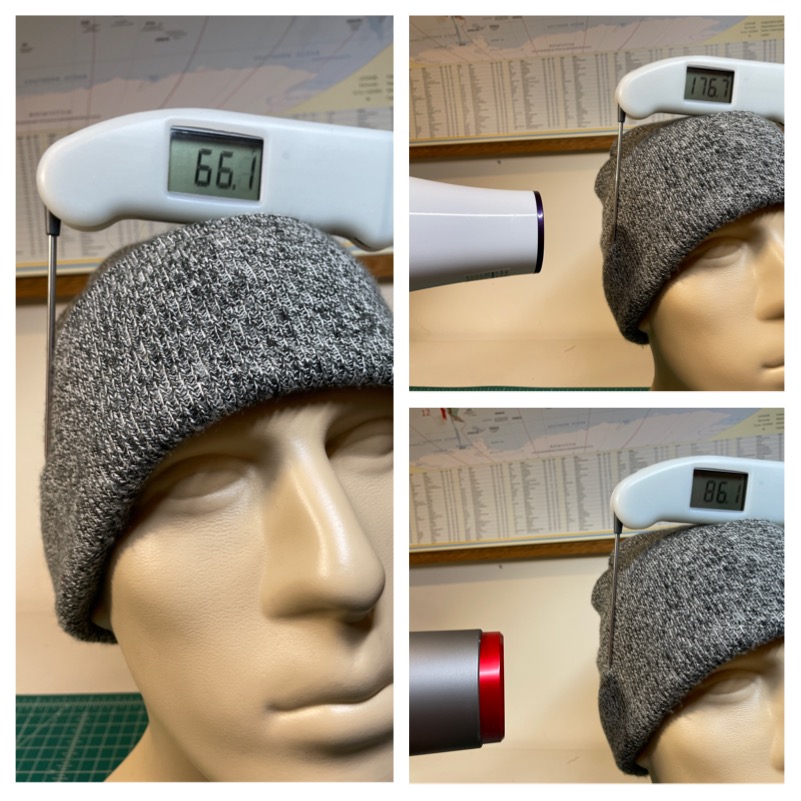 I set up a dummy head with a cap, and blew the Lylux and a regular hair dryer at the highest settings. With an ambient room temperature of 66F, the corded hair dryer blew out air at 176F, and the Lylux at a moderate 86F. Not too surprising. Most corded hair dryers are 1000W or more. The Lylux is rated at 400W.
I know nothing about hair care, but in practice, the powerful flow of air from the cordless Lylux was enough for me.
Runtime
The specs call out 20 min runtime on hot, and 1 hour on cold. It didn't say at what speed setting, so I ran some tests on my own:
Hot Wind, High Speed: 15 minutes, 40 seconds
Cold Wind, High Speed: 32 minutes, 12 seconds
Cold Wind, Slowest Speed: 1 HOUR, 57 minutes
What I like
Totally cordless operation
Compact
Pushes out a lot of air fairly quietly
Runs nearly two hours on the lowest settings
What I'd change
Replaceable battery option
Final thoughts
I was under the impression that all hair dryers ought to churn out heat to dry hair, but the Lylux does just fine on my short man-hair with time to spare. Then I realized all the times I could have used a hair dryer, but didn't have one: Going to a gym, a day at the pool, or even power outages. If I still had a dog, bath times might be less stressful with a lower-noise hair dryer that's not tethered to an outlet. I even thought about camping trips, but as an Eagle Scout, I've learned to make do without! But if I had to, now I can.
Price: Starts at $189 ("KS Special")
Where to buy: Kickstarter
Source: The sample of this product was provided by Lylux.