We use affiliate links. If you buy something through the links on this page, we may earn a commission at no cost to you. Learn more.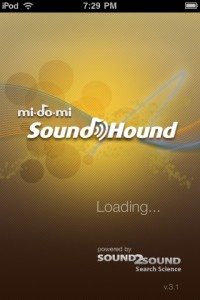 Some time ago, I saw an iTunes commercial where they demonstrated an app that could "listen" to a song and tell you what it is and who performs it.   This app was just what I needed.  No longer would I hear something on the radio that I liked but had no idea what it was or who performed it.  To use this app, of course, your device has to have a microphone.  I have a second generation iPod touch, so I didn't have a built-in microphone.  When Julie recently gave me the Arctic Cooling E361-WM earphones with built-in microphone to review, I realized I now had the tools I needed to finally find out what I've been missing!  I went straight to iTunes and bought the SoundHound app from Melodis Corporation.  (This app used to be called MiDoMi or MiDoMi SoundHound, as I recall.)   So how does SoundHound work?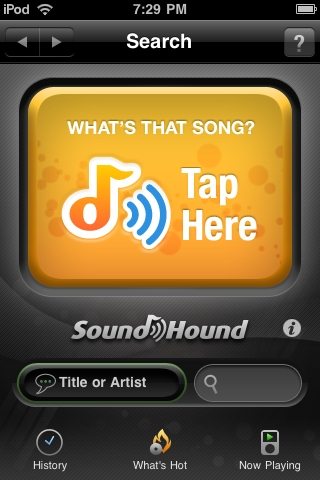 I added SoundHound to my iPod touch and spent about an hour playing around with it the first night.  I scanned from radio station to station, stopping to let SoundHound listen to every song I found.  To identify a song, you simply tap the orange "Tap Here" button, and hold the microphone close to the source for best results.  In all, I used about 60-65 songs on the radio to test SoundHound.  It found matches to almost every song, usually in 10 seconds or less.  It found matches to a wide variety of genres – orchestral, classic rock, modern pop and hip-hop, country, and most things in between.  There were three songs it didn't identify – one religious song, and two easy-listening instrumentals.
If you have an iPod touch like me, you won't always have an internet connection when you want to identify a song.  That's no problem with SoundHound.  I turned off my wifi connection, and let SoundHound "hear" a song.  The information was saved in memory until I had internet connectivity again, then SoundHound immediately identified the song.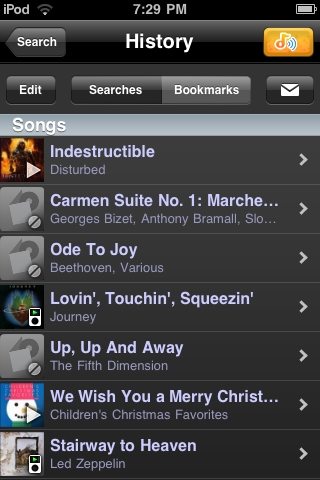 Once a song is identified, you can save information about it to a history listing for later use, or you can click to buy it immediately from iTunes.  There's even an icon to notify you that you already have it on your device to prevent you from buying it again.  If lyrics are available, you can see them as well.
SoundHound also can identify songs you sing or hum into the microphone.  It was able to identify several songs I sang, including Christmas songs, Journey, and Beethoven's Ode to Joy.  It didn't get Bach's Brandenburg Concerto when I hummed part of it.  Guess I wasn't orchestral enough to make it identifiable!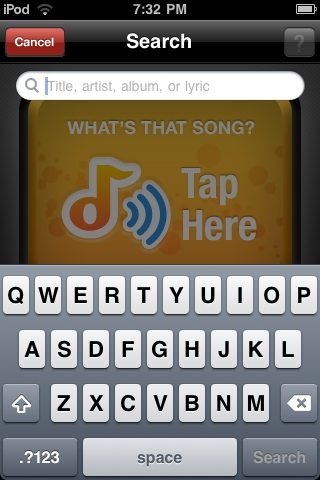 If you don't want to hum, you can type in some lyrics, or you can say the name of the artist or the name of the song to get more information.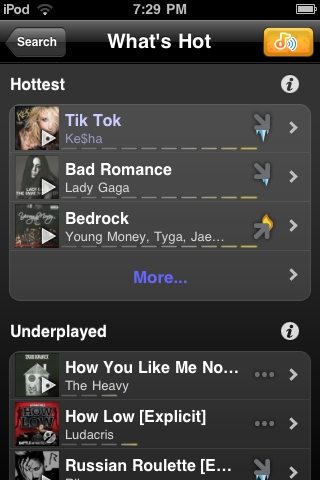 You can review the history of saved songs at any time, and you can see information about songs others are buying – what's hot, what's underplayed, and songs recently bought by others.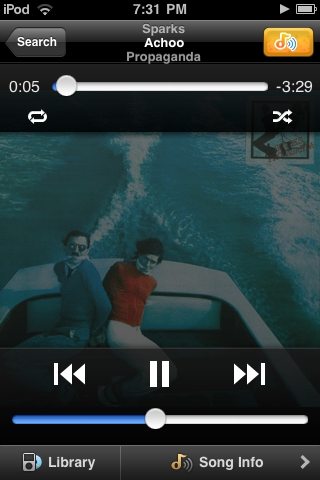 If you are listening to music on your device, SoundHound will show you album art for that song.  You can see the lyrics, if available, or you can watch YouTube videos for the song.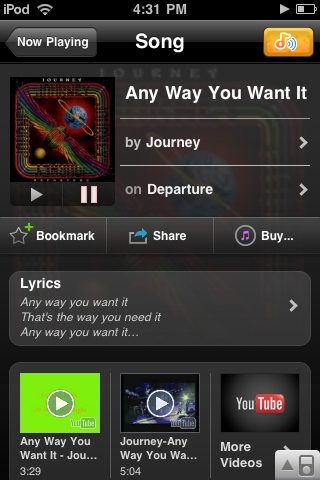 SoundHound by Melodis is exactly what I've been looking for.  No longer will I have to hope the DJ will say who performed that song I loved, nor will I have to drive myself crazy trying to remember a snippet of lyrics until I can get home to Google it.  Apple should pay for SoundHound to be one of the standard apps shipped on the iPhone, iPad, and touch.  I think it would pay for itself in no time in increased song sales from iTunes.
Note:  When I reviewed this app, the iPad had not been released.  There is now an iPad-specific app, but this review was done using the iPhone/iPod touch version.
Product Information
Price:
$4.99
Manufacturer:
Melodis Corporation
Pros:

Quickly identified songs
Allowed you to save information about the song or quickly buy it
Doesn't require a connection to work

Cons:

You'll need an external microphone for iPod touch