We use affiliate links. If you buy something through the links on this page, we may earn a commission at no cost to you. Learn more.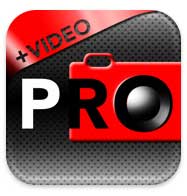 It's not going to replace my Canon G11 anytime soon, but I think the iPhone 3GS's built in camera does a pretty good job for quick snapshots. When I say pretty good, I'm talking image quality and not camera features. Let's face it, the only features of the camera app are the shutter and video toggle buttons. Today I want to tell you about ProCamera which replaces the built in camera app and provides quite a few handy features.
The interface is easy to use and has tools located at the bottom of the display. The – and + buttons will zoom in and out on the image. You can also swipe your finger Left to Right anywhere on the screen to zoom in or Right to Left to zoom back out.  Holding your finger down on the image will focus in on that specific location.
As you can see from the images above, you can also choose from several different viewfinder types that include grids and levelers.
The best feature of ProCamera in my opinion is that you can tap anywhere on the viewfinder area of the screen to snap a picture. You can also tap the little camera button in the center of the tool bar and it will wait till the image is completely steady before snapping the picture. ProCamera also has a timer feature.
Once you have snapped an image, you can save it or delete it. Saving takes 5-7 seconds and you must wait for it to finish or the image will be gone. Not sure why saving takes so long when the built in camera app saves immediately. This is the most annoying issue with this app.
The user customizable settings allow you to turn zooming on and off as well as  change other settings.
You can also do some basic image manipulation. Brightness and contrast can be changed as well as converting the image to B/W or sepia. The only issue with using ProCamera to edit images is that you won't see the outcome of a change in real time. Meaning that if you slide the brightness slider up or down, you will see the final change when you stop moving the slider, not as you move it. Other image editing apps show a live view, which I prefer.
The best thing about ProCamera is that you can tap anywhere on the screen to snap a pic. I would pay $99 just to have this feature all by itself. If ProCamera can fix the image saving speed issue and add a live view to their manipulation tools, I think this app would be worth $2.99 price tag. But as is, I will probably continue to use the built in camera app for the time being.
Product Information
Price:
$2.99
Manufacturer:
daemgen.net
Pros:

Tap anywhere to snap a pic
Different viewfinder styles
Timer

Cons:

Takes 5-7 seconds to save an image
Manipulation tools don't have a live view