We use affiliate links. If you buy something through the links on this page, we may earn a commission at no cost to you. Learn more.

First off, I REALLY love Saddleback Leather Company's motto of 'They'll fight over it when you're dead'. That is saying something in today's disposable society; where electronics are engineered to last a few years before their battery dies, motherboard fries, or they simply self destruct. Saddleback believes their products are so well made they guarantee them for 100 years.
I have had the opportunity to tryout many laptop bags over the years here at the-gadgeteer.com, most very nice but none of them perfect enough to make me switch permanently (aka I roll through them pretty regularly). I have read most of the Saddleback reviews Julie has done over the years and always wanted to see/try one for myself. Well, I have finally been given the chance to try one out. I will be looking at Saddleback's Briefcase Thin a thinner, lighter version of their standard briefcase Julie reviewed a couple of  years ago.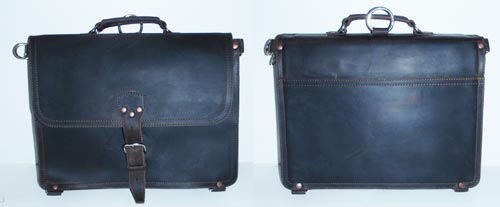 The first thought that ran through my mind when I first saw the Saddleback Thin Briefcase was that it reminds me of the Old West. A bag not made by a machine in a factory in China but one hand-made by an artisan, constructed to last a lifetime….truly a world of difference.
The main flap is secured in place by a belt type of latch. Both sides of the closure are stitched and riveted to survive being latched and unlatched countless times over a lifetime. It has taken me some time to get use to the added time and (for lack of a better word) complexity needed to open and close/secure the flap. A minor thing that I am sure will become easier as the leather of the belt closure breaks in.
The back of the briefcase has a slim slipper pocket ideally sized to hold paperwork or a magazine. Definitely quicker access than the main compartment.

All seams are stitched with a thick industrial marine grade polyester thread. All points of stress have rivets to further ensure they will not fail. The top of the thin briefcase has a very strong, well engineered handle for carrying the briefcase.
As I said, the chrome tanned leather is as Old West as it can get. It is 2-2.2 mm thick and extremely rigid. It will take years to fully break in and soften up.

According to Saddleback, the thick vertical leather seams absorb the shock from an impact or a fall. I must concur, the 5mm thick vertical seams not only act as a shock absorber but holds the briefcase vertically when you set it down.

The three seams on the bottom of the case also help to enable it to stand upright by itself. Although I doubt it will be able to stand on it own when the bag fully breaks in and has aged a bit.
All of the corners of the briefcase have D-rings to clip things/items/stuff to the bag like a water bottle, flashlight or set of keys.

The interior is lined with a tough pigskin leather. The inside is relatively spacious and easily holds all my tech-stuff.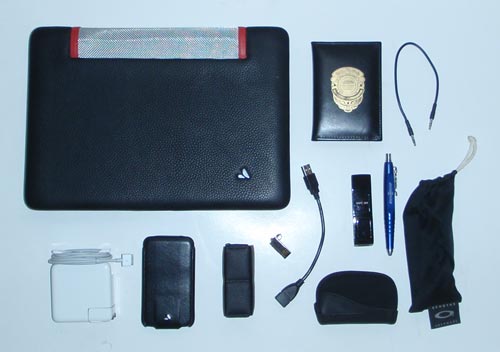 These are the items I travel with both daily and on trips:
Saddleback's thin briefcase is available in two sizes:
15″ Medium – 15″ x 11 ½" x 4 ¼" (38.1cm x 29.21cm x 10.795cm). Weighs approx. – 4 ¼" lbs
17″ Large – 17″ x 12 ½" x 4 ¼" (43.18cm x 31.75cm x 10.795cm). Weighs approx – 5 lbs.

And four colors:
Chestnut
Carbon black
Dark coffee
Dark tobacco

The front and rear compartments are both 2 1/4" deep and as I said….spacious. But my two complaints are the lack of interior pockets and padding on the bottom of the back compartment. Saddleback has included a single pocket and two pen slots in the front compartment. I would have preferred 2-3 mid-sized pockets. I do not like my equipment flopping around, willy-nilly. Plus it would be nice to have the option to order the briefcase with additional padding on the bottom of rear compartment, as added drop protection for laptops.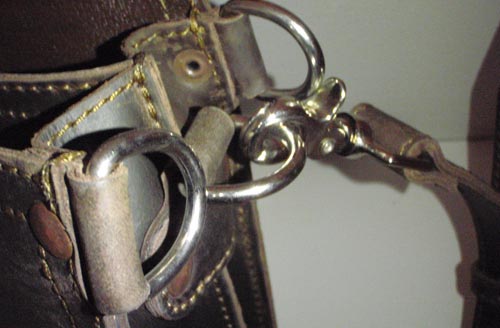 There are a total of 10 D-rings (5 on each side) plus one O-ring on the thin briefcase. All designed to either carry the briefcase or to hang/carry items on the bag.

The O-ring allows you wear the bag as a backpack. I do not know if I will actually wear this bag as a backpack but I am surprised just how comfortable it is in this mode.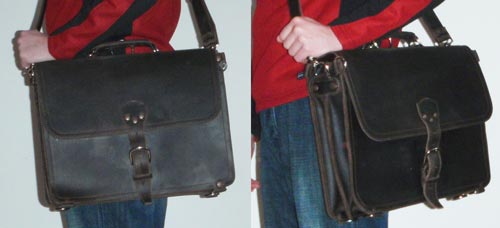 As Julie has mentioned in a majority of her reviews, Saddleback bags are extremely heavy. The Thin Briefcase is no different, at 5 lbs it starts out heavy and only gets heavier as I added my tech-stuff. Total weight is over 13 lbs; that is a fair amount of weight to lug around.

To suspend the weight, Saddleback includes an equally well made shoulder strap that is engineered to carry the briefcase around for a 100 years. Like the bag itself, the ends of the strap are riveted and stitched. The shoulder pad is comfortable and the clips are nicely made as well.
Weight aside, this case sure looks good, feels good, smells good….you get the picture. I have received many comments on how nice the briefcase looks and one friend ask if they could have it if I decided I did not want it (doubt that will be the case). Overall I really like Saddleback's Thin Briefcase, (definitely) enough to keep it around for a while. Like many other Saddleback bags, their Thin Briefcase is not cheap. At over $400, this is a relatively expensive item. But if you breakdown the cost (based on the 100 warranty), its just $4/year, $0.34/month, or about $0.01/day; a pretty darn good bang for the buck for a rugged, Indiana Jones fashion statement that is made to last several lifetimes.
Note: The links to Saddleback Leather Company on this page are affiliate links. If you use one of these links to make a purchase, we will earn a small percentage of the sale, so we appreciate it if you click through.
Product Information
Price:
- Medium: $411- Large: $423
Manufacturer:
Saddleback Leather Company
Pros:

Old West styling
Excellent materials and craftsmanship
Can convert into a backpack
No breakable parts
100 year warranty

Cons:

Very heavy
Should have option for additional padding
Should have option for additional pockets
Expensive