We use affiliate links. If you buy something through the links on this page, we may earn a commission at no cost to you. Learn more.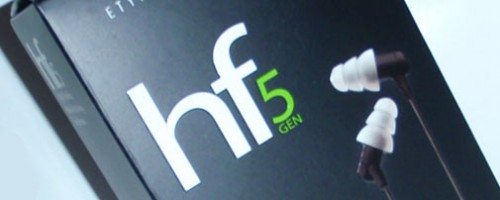 My favorite earphones of all time have been the ER6i by Etymotic. Historically, these are the ones I have pointed all those asking 'which noise-isolation earbuds are the best bang for the buck' to. While the list of earphones I have had the opportunity to tryout grows, I continue to revert back to my old ER6i's, until now. Etymotic offered to send me a pair of their recently released high-fidelity, noise-isolation earbuds, the hf5's. Of course I accepted, hoping that they would be a worthy successor to my old favorites.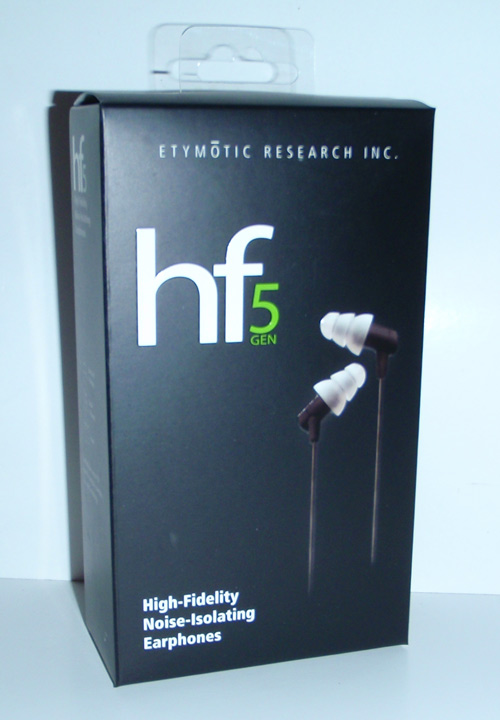 Package Contents
hf5 earphones
Assorted eartips
Filter tool
2 replacement filters
Carrying pouch
Hardware Specifications
| | |
| --- | --- |
| Frequencies | 20 Hz – 15,000 Hz |
| Accuracy | 85% |
| Impedance | 16 ohm |
| Sensitivity | 105 dB |
| Noise Isolation | 35-42 dB |
| Cable | 4ft |
| Connector Type | standard 3.5mm |
| Weight | less than 0.5oz |
| Warranty | Two year |

With the hf2's and hf5's, Etymotic has redesigned the earbud's body style for easier insertion and better comfort. They are extremely well made and durable as well.

As you can see in this comparative shot, Etymotic has raised the bar from the ER6i's to the hf5's in terms of casing materials and durability. The casing of the ER6i's always seemed a bit fragle (easily cracked/crushed/torn apart) to me.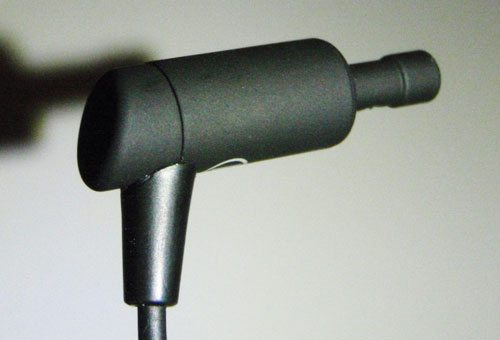 While the hf5's are still made of plastic, they are coated with a finish called "soft touch" that is spray painted on and feels very nice.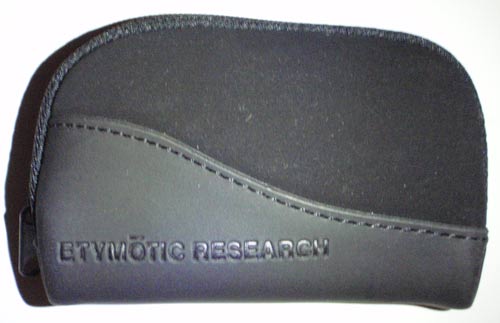 I really like the case that Etymotic includes with the hf5's, it is nicely made and sized well enough, not too big but large enough to hold the earbuds, cleaner, extra filters and filter tool.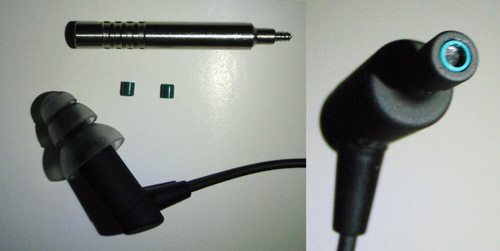 The hf5's filters are the tiniest earbud filters I have ever seen….definitely looseable. With my ER6i's I typically went through a couple filter sets per year. Extra filters can be ordered from Etymotic for 6/$15.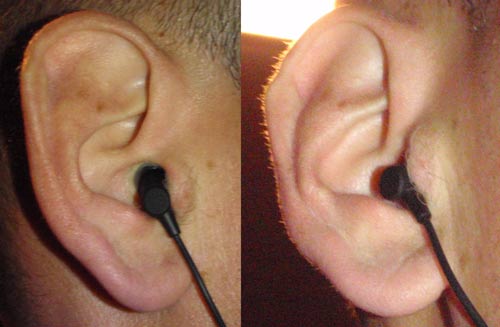 As with a majority of the noise-isolation earbuds, the hf5's are designed to be inserted into the ear canal like a pair of earplugs, which blocks out most of the ambient noise. The hf5 earbuds are the most comfortable in-the-ear earphones I have tried. Etymotic has narrowed the earbuds themselves making them easier to insert and remove from your ear canal. This in combination with the variety of tips they include, make them very easy to tailor the fit to your liking.

The hf5's include foam, large and medium (rubber) flang tips. Along with these standard tips (included in the package), Etyomic was kind enough to send me a pair of their new style of eartips, the Etymotic Gliders (far right). While they are a bit ugly they do add a different method of use and feel to the hf5's. Instead of going deep into the ear canal, the Etymotic Gliders sit just inside the ear canal; much less intrusive. They are comfortable but do not blockout as much sound as the flang or foam tips do. Personally, I will stick with the smaller of the flang tips. However, for those of you who do not like shoving things deep in you ear you might want to give these a try.
The sound quality of the Etymotic's hf5 high-fidelity earphones is superb. As I have stated in earlier reviews, I am not a true audiophile but definitely enjoy listening to music and movies on a good pair of earphones that not only blockout the world but sound great as well. The hf5's definitely accomplish this for me by providing an excellent, well-rounded listening experience. The sound is very clear and detailed throughout a majority of the range. The only negative comment I could say about these earphones is that the bass is a hair understated. The exact opposite of the atrio m5's and ZAGG Z.buds which have greater bass. Which is fine for music but occasionally got in the way during action movies. This really is not an issue for me, but might be for those of you who enjoy a thumping bass.
I have been using these Etymotic earbuds exclusively for almost a month now and like them better than all the contenders I have tried. I have truly put them through their paces, several airplane rides, my daily commute on the bus, walking around in downtown Seattle, listening to all types of music and watching many movies along the way. Overall, the hf5's are most definitely keepers. I know I have said this before and have always gone back to my old steadies, but I really will be retiring my ER6i for Etymotics new hf5's. These earbuds fall into a good bang for your buck sweet-spot; at $150. The hf5's provide you a great listening experience, stylish look, good engineering for a fraction of the price of comparable earbuds.