We use affiliate links. If you buy something through the links on this page, we may earn a commission at no cost to you. Learn more.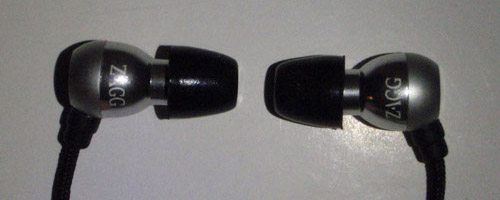 ZAGG has been creating screen protectors for electronic devices for years now. They make invisibleSHIELDs for PDA's, digital cameras, laptops, watches and everything in between. This past year, ZAGG has expanded into the audio market with ZAGGaudio. They currently sell three items in their audio department; Z.buds, ZAGG PHONES, and USB Laptop Speakers. I will be reviewing the Z.buds earphones for the iPhone and seeing how they compare to some of the other 'noise-isolation' earbuds I have reviewed/tried over the past six months.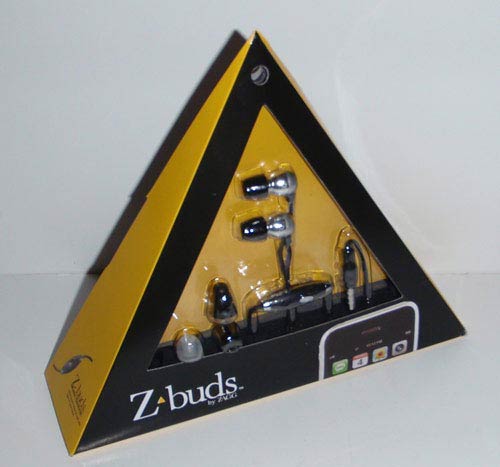 ZAGGaudio have engineered the Z.buds to compete with Apple's In-Ear Headphones with Remote and Mic in all categories; multi-function remote, in-line microphone, volume control, and price point. While the Z.buds are equal in capabilities; my initial impression was that they were one step down in quality. I realize that statement is very subjective but truthful none-the-less.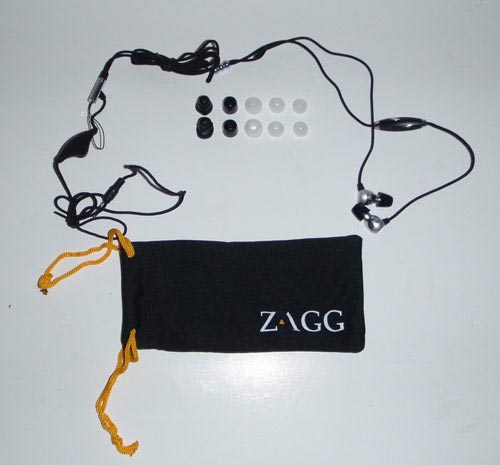 Package Contents
ZAGGaudio in-the-ear Z.buds

Drawstring carrying bag
Three sets of silicone ear tips (small, medium, large)
Two sets of foam ear tips
One set of flange ear tips
Specifications
Earbuds
Speaker diameter:
10mm
Frequency response:
20hz to 20Khz
Impedance:
32 Ohms
Max input power:
10mW
Cable length:
1.37 meters/54 inches
Plug type:
3.5mm
Sensitivity:
94dB +/- 3dB SPL/mW
Microphone: Noise Canceling Condenser
Frequency response:
30hz to 16Khz
Impedance:
10 Ohms
Sensitivity:
42dB +/- 3dB
Features
Integrated in-line remote control and microphone
In-line volume control wheel
"Hangin' tight" wearable cable management system (w/multiple sliders)
Tangle-free cord
3.5mm jack compatible with first gen iPhone
45-day money-back guarantee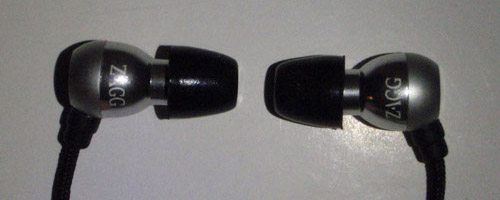 The earbuds' casing appears to be constructed from some type of metal, most likely aluminum.  The cables are sheathed in 'hard to tangle' nylon cabling and have hardened connection points between the components.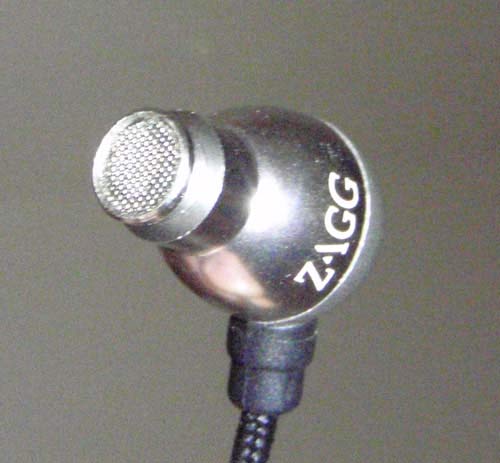 Each earbud has an integrated metal filter/mesh that protects the electronics within. One negative is that the filter is permanently attached to the casing. Many of the higher end in-the-ear earbuds have removable filters that can be either swapped out or replaced with new ones. Earwax could build up in the filter and over time de-grade the sound produced.

ZAGGaudio integrated the microphone and remote button/functions into a single controller. The microphone/remote are located high on the right earbud and take a bit to get used to in their location. Also, when you wear the Z.buds as ZAGGaudio designed (lanyard style) the microphone's placement along the cable puts it along the side of your head (aka not in front of your mouth). I tested it with my wife's second generation iPhone and those I talked to said they could hear me perfectly fine. (BTW: the remote does not work with Apple's 3rd generation Shuffle)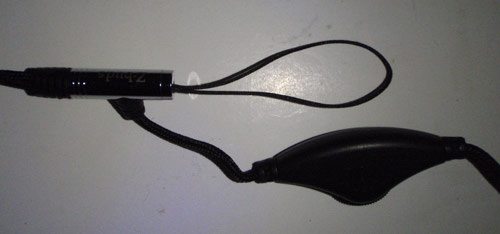 The volume controls are analog versus digital and do not directly control the iPod's volume which is a nice feature and should work regardless of the device you use these earbuds with. The volume remote is convenient and a definite plus for tweaking the volume without having to remove your music device from your pocket/purse/bag. The button loop is designed to connect to your clothing for better cable management and to quickly find the volume control.
The microphone and volume controllers are the components of the Z.buds I find to be a bit too 'plastically' and are the reason for my 'initial impression' comment above.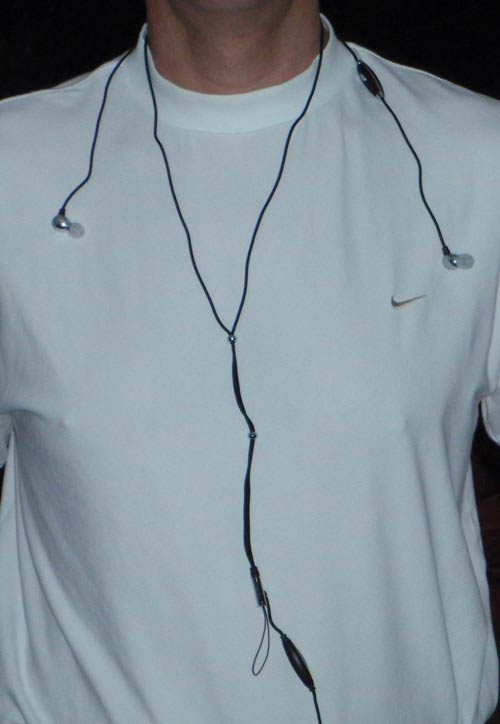 ZAGG's engineered the Z.buds to be worn lanyard style. That in combination with their cable management system is surprisingly effective. The rigid nylon cabling helps keep the earbuds from getting nearly as tangled as many of your more typical headphones.
Warranty/Trade-In Program
Typically, I just mention how long a product's warranty goes, however, ZAGGaudio's warranty/trade-in program is worth special note. To begin, you have 45 days to return any ZAGGaudio product for a full refund (shipping costs are non-refundable). After the initial 45 warranty period, ZAGGaudio has a very bold 'Lifetime Trade-In Guarantee' on all their audio products as well. Their trade-in program is very simple, for a $20 'deductible', ZAGGaudio will repair or replace the product for almost any reason (other than loss).
Comfort
The Z.buds are comfortable and still well in my ear using all three types of ear tips that are included. Although my ears did start hurting a bit (using the medium silicone tips) by the end of my three hour flight (but that happens on a majority of the in-the-ear headphones I have tested).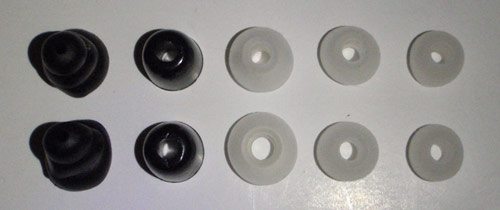 Sound Experience
The Z.buds create great sound; deep bass while not losing or muddling the mids and highs. They have a good combination of sounds, especially if you like a little extra bass throughout the music you listen to. The rich sound quality they produce is very similar to the larger and more expensive Future Sonics' atrio m5 Professional Earphones I reviewed a few months ago.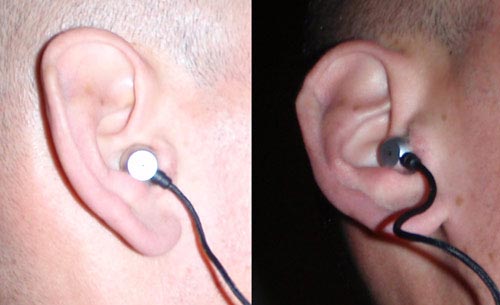 Overall, I am very pleased with the Z.buds Earphones for the iPhone and would definitely choose them over Apple's In-Ear Headphones with Remote and Mic for sound quality and comfort (hands down, walking away). ZAGGaudio's tangle-resistant, cable management system is a big plus as well, reducing the typical hassle with headphone cables. While my first impression of the Z.buds was not the best, they have since made up for it from the practical point of view….sound quality, comfort, and lack of cable hassle. For their price point versus capabilities, the Z.buds are a good choice as an upgrade to the stock set of iPod/iPhone earbuds (especially if you like a little extra base).
Product Information
Price:
$79.99
Manufacturer:
ZAGGaudio
Pros:

Solid construction/materials (earbuds and cable)
Great bass/sound quality
Comfortable fit
Analog in-line volume control works w/all devices
Very effective cable management system
45-day money-back guarantee
$20 Trade-In program

Cons:

Filter is permanently attached to the casing
Mic/remote and volume control are a bit too 'plastically'