We use affiliate links. If you buy something through the links on this page, we may earn a commission at no cost to you. Learn more.
Once again Vaja's
style and craftsmanship shines through with the i-volution
Top Holster for the iPod Touch. Vaja has the unique ability of creating
cases that not only protect our precious tech-toys but turn heads as well. Many
of Vaja cases are so nice (and sometimes extravagant), they themselves
should be protected from day-to-day use and hazards.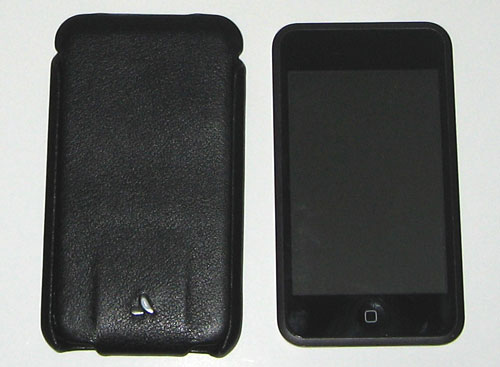 The i-volution Top Holster is very form fitting and adds little bulk to the
sleek and slim iPod Touch. The Caterina leather is like a second skin. The leather
and the workmanship are of the highest quality and second to none…..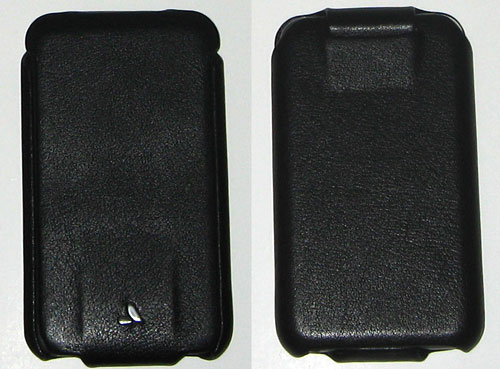 The best way to describe this case is simplistic elegance. I chose black to accentuate the coloring of the Touch (and I am glad I did). The i-volution Top Holster only comes in single color combinations (i.e., case and flip cover are the same color). You can choose from thirty-six available colors. Although, if this case is not right for you, Vaja has a large selection of other cases for the Touch from the i-volution Crystal 2 to a simple slipper case.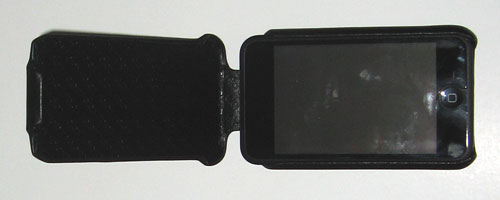 The Touch slips into the case from the top and is snugly held in place by the protective side walls. Compared
to a slipper or open-faced case, the front flip cover of the i-volution Top Holster
provides a great deal of added protection to the Touch screen. To keep the case
as slim as they could, Vaja did not use a magnetic closure system. Instead the
case uses a stiff, leather-covered clasp that slips over the edge of the
device to hold the cover securely in place.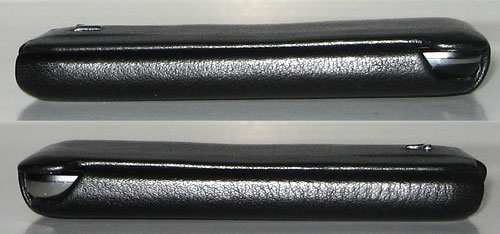 When closed, the case covers approximately 95% of the Touch. The only parts
of the Touch exposed to the outside world are the back-upper two corners and
a third of the bottom.

You can get a better view of the clasp holding the front cover in place from the image above.
Vaja engineered access to the earphone jack and power button while the case
is closed.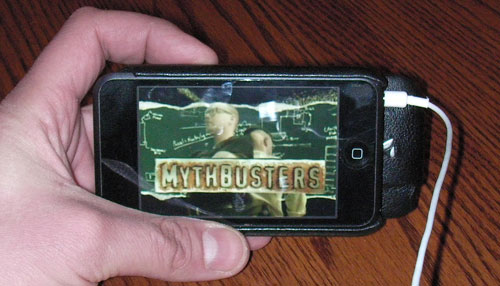 I have been using a Beyza slipper case for months, thus watching movies with
no protection (I did drop it several times while taking it out of the slipper case, thankfully onto carpeting). It did
take a while to get accustom to the flip cover. Thankfully the case is engineered
to allow the the cover to flip around to the back to more comfortably watch
shows/movies.
The i-volution Top Holster is price at $70, costing more than others but is well worth the difference. If
you like your iPod Touch as sleek and slim as possible while having a decent
amount of protection and a great deal of style, I do recommend you consider this case.