We use affiliate links. If you buy something through the links on this page, we may earn a commission at no cost to you. Learn more.
(This is an article that was sent to me by the company that is offering an iPod repair service. Consider it an unpaid advertisement…)
Do you replace or repair your broken iPod?

By Glen Kashgegian
Unlike any other consumer product introduced in the last ten years, the Apple iPod has taken America by storm. In April 2007, Apple announced that it has sold its 100 millionth iPod. Approximately 60 million of these were sold in the United States. How many of these lay broken in drawers and closets? More important, do your replace or repair your broken iPod?
Given that many of these iPods are owned by adolescents and teenagers, many are broken due to rough handling, resulting in cracked screens and crashed hard drives. Every parent of teenagers knows that teens can give a thousand reasons why they should get a new iPod Nano, iPod Mini, iPod Video, or iPod Shuffle to replace the broken one. Since everyone wants to get the cost bang-for-the-buck, the question is whether you can extend the life of the iPod to justify the cost of the repair. Given that greater than 90% of the failures occur due to problems with the iPod hard drive, battery or screen, unless you are looking for added features, such as the ability to store photos or watch a movie, it is often more economical to repair your broken iPod.
We see a lot of iPods that require repair and can classify the top problems and reasons why consumers would repair vs. replace their iPods.
The top 10 reasons to repair your iPod are:
1) Battery does not hold a charge
2) Sad face icon
3) Damaged thumbwheel
4) Cracked Video screens
5) iPod freezes
6) No audio or loose audio jacks
7) Hard drive damage including clicking noises
8) Boots up and then shuts down
9) Excessive heat when charging
10) Stays on all the time – cannot turn off
The chart below, lists the introduction date and price for the different iPod models.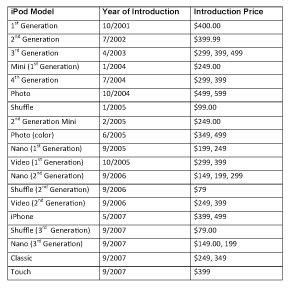 Let's assume that you own a 3rd Generation iPod and you paid $499.00 for it. It has worked beautifully for you and is in mint condition with the exception of a cracked screen. You have downloaded approximately 3,000 songs on this iPod and have room for another 1,000. Now comes the dilemma, is it wise to spend $129.00 to repair your four year old iPod or spend $349.00 and buy a new one? The new one may come with more features, but do I really need these new features?
If you can confidently assume that iPod repairs will prolong its life for a sufficient time period, then clearly making the repairs can be an appropriate action. However, if you do the iPod repair now, will there be additional repairs needed within a short amount of time? Rest easy, by replacing a defective battery, hard drive or screen, your used iPod will be brought back to near factory new condition.
Our company experience is consumers who has bought iPod models costing $249 and above tend to make repairs vs. replacing their iPod. Consumers who have purchased Shuffles and Nano's are more likely to replace them when they need repair.
So now that you have decided to repair your iPod, where do you send it?
A quick search of the Internet will yield different options ranging from regional to national, etail and retail. My company, Blue Raven Technology, also offers nation-wide Mail-In Service and Repair Kits™ (patent pending) for iPod® MP3 players and iPhone® multimedia phones. The Mail-in Service and Repair Kits provide one flat rate price regardless of the repair required so that consumers know the cost up front and can address all of the "Top 10 Reasons iPod Require Repair" listed above.
For more information on our Mail-In Service and Repair Kitsâ"¢ visit the Blue Raven website, at www.blueraven.com.
Glen Kashgegian is the President and CEO for Blue Raven Technology. He holds a BS degree from Northeastern University, an MBA degree from Boston University.