We use affiliate links. If you buy something through the links on this page, we may earn a commission at no cost to you. Learn more.
WiFi access points seem to be easier and easier to come by these days. Heck, even McDonald's and Dairy Queen allow you to get your net fix while you're chowing down on a burger and shake. But what do you do during the times when you need net access from your laptop and there's no WiFi at your location? If you have Verizon Wireless cellular coverage, you could use the USB727 Modem.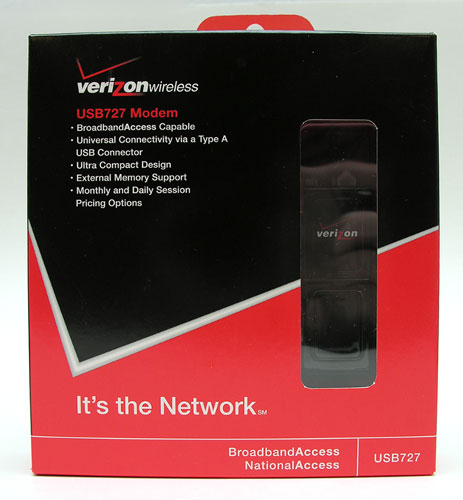 Hardware Specifications
BroadbandAccess and NationalAccess Compatible
2–in–1 USB Device: BroadbandAccess and Memory storage (4GB+ capacity–sold separately)
Rev. A Capable: Typical download speeds of 600–1400 kbps and upload speeds of 500–800 kbps*
Compatible with all devices supporting the Type A USB interface including desktops, notebooks, tablet PCs and PDAs
High performance, flip–up antenna
External Antenna Port/Connector (external antenna sold separately)
3–color service state LED
2–way Text Messaging capable (via VZAccess Manager)
NDIS driver support
VPN compatible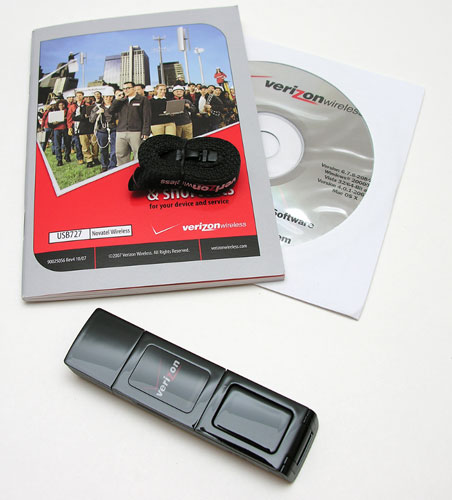 Package Contents
USB727 modem
Neck strap
User guide
Driver / application CD for Windows and OS X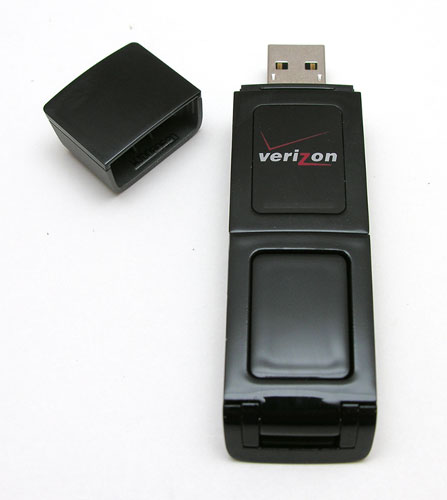 The USB727 modem looks a bit like an oversized USB flash drive. At 2.76 x 0.98 x 0.47 inches and 1.13 ounces, it will fit into pretty much any pocket or gear bag with ease.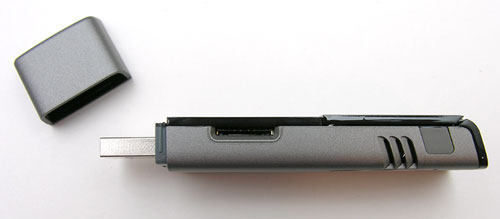 Speaking of it looking like a flash drive, this modem has a MicroSD slot in the side that will allow you to do just that. There's also an external antenna connector hidden behind a rubber plug.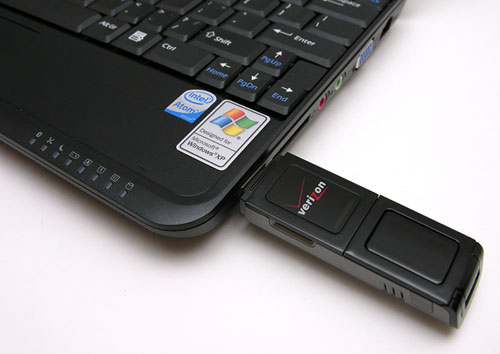 To begin using the USB727, you first have to install the VZAccess Manager application that is included on a CD, or can be downloaded from the Verizon Wireless website. There's a version for both Windows and OS X. I tested the USB727 exclusively on my MSI Wind netbook running Windows XP. After the software is installed, you can then plug in the modem.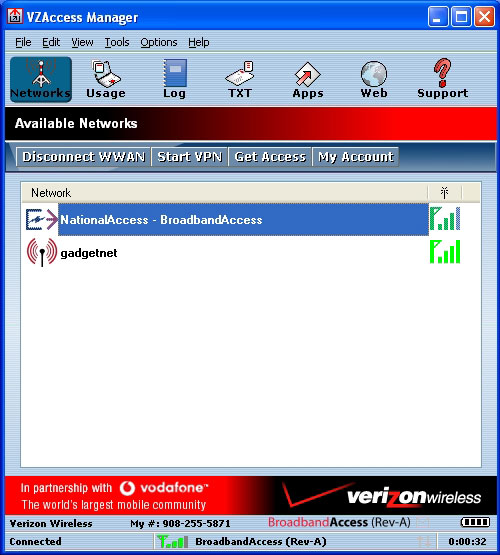 VZAccess Manager will allow you to control both the cellular USB727 modem, and your WiFi connections. As you will notice in the screen shot above, it sees the USB727 modem (listed as NationalAccess – Broadband Access) and my gadgetnet WiFi access point. From that screen, you can double click one to initiate a connection. When the connection is established, you can surf like you would with any other broadband access.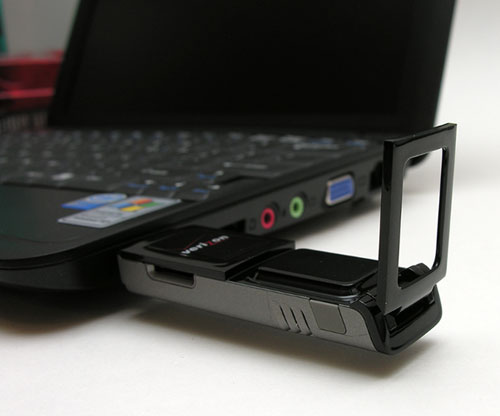 I live very close to a Verizon tower, with EV-DO access. I was able to easily connect in various areas of my home, including the basement. The USB727 modem has a small flip up antenna, but I didn't really notice any real difference with it in the up or down position.
This modem will work with EV-DO rev A. It seems that Verizon is currently calling their two wireless network technologies NationalAccess and BroadbandAccess respectively. The USB727 should give you average speeds of 60-80 kbps and bursts up to 144 kbps on NationalAccess (non-EV-DO). For BroadbandAccess (EV-DO), typical download speeds of 600 Kbps – 1.4 Mbps and upload speeds of 500-800 Kbps can be expected. Here are some tests that I did using speedtest.net.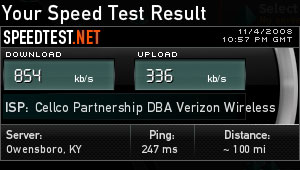 Tested in my home, upstairs at around 5pm or so EST.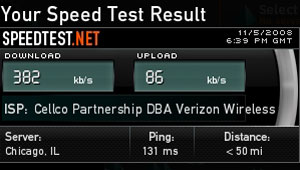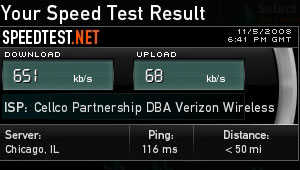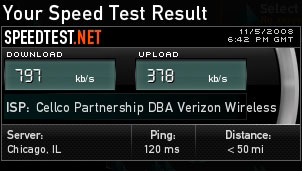 These last three tests were captured at my day job around 2pm EST. I did three consecutive tests and as you can see, the results were quite different.
Despite the varied speed results, surfing, watching YouTube videos, downloading files, etc, felt quite snappy with this modem. I didn't notice any lagging during the times I was using it.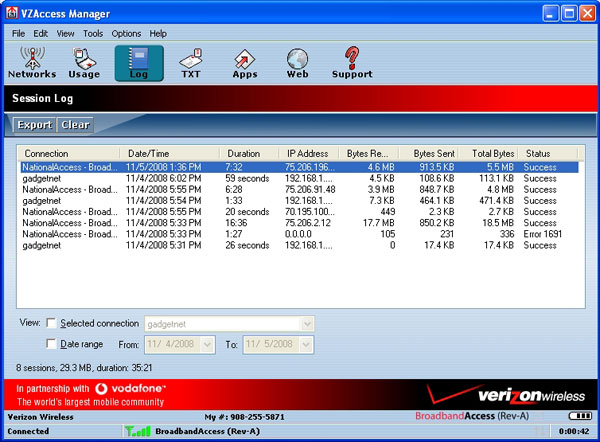 In addition to managing connections with the USB272 modem and your WiFi card, the VZAccess Manager can show you an access log of those connections.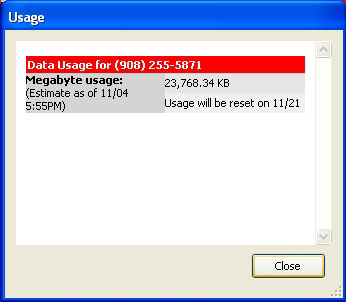 It can also show you the total data you've used for the month, and when it will reset.
You can even send and receive SMS text messages from the VZAccess Manager application. When a message is received, your laptop will make an annoying buzz type noise to let you know you have a message. There are no graphical indications though, so if you miss the audio alert, you'll not know you have a new message unless you click the TXT icon in the manager app.
The modem itself is pretty cheap at $80. The only problem is that you have to commit to a 2yr plan and pay a monthly data usage fee. Right now, there are just 2 plans to choose from:
5 GB of data for $59.99/mo. ($0.25 for additional megabyte)
50 MB of data for $39.99/mo. ($0.25 for additional megabyte)
I don't know about you, but I would go through 50 megabytes in a wink of the eye… An additional $40 or $60 a month over and beyond a regular cellphone plan probably makes this device prohibitive for most folks. But for those that can afford it, I found the Verizon Wireless USB727 modem to be an extremely easy to use and capable device. If you don't want to rely on WiFi access points, free or for pay, this might be just the device to keep you connected on the road.
Product Information
Price:
79.99
Manufacturer:
Verizon
Requirements:

Supports Windows 2000, XP, Vista and Mac OS X 10.3.9 or higher

Pros:

Easy to use
MicroSD card slot

Cons:

Requires a monthly data plan