We use affiliate links. If you buy something through the links on this page, we may earn a commission at no cost to you. Learn more.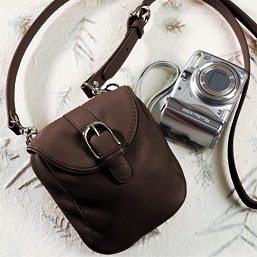 Guys have it easier when they want to carry around their gear.  Their clothing tends to have more – and more useable – pockets.  They most always wear belts, and they can wear cases clipped to the belt for their phones, iPods, and other small gear.  Women don't always have belts, nor do most women want to wear things clipped to them.
Enter the Levenger Soho Leather Electronics Pouch.  This little bag is 4.75 X 1.5 X 5.6 inches and weighs 0.4 pounds.  It's available in black, red, and chocolate full-grain glove leather with nickel hardware.  It comes with a short (3.25 inch drop length) strap that can be attached around your bag handle, belt, or belt loop.  There is also a long, adjustable strap (drop length of 25.4 – 26.25 inches) that allows you to wear the bag cross-body.  Finally, there is a sewn-on belt loop, if you prefer wearing it that way.  There is an elastic mesh divider inside, but no outside pockets or pouches.  The decorative buckle on the front flap conceals a magnetic snap closure.
It's big enough that I can carry my Canon Powershot A470 camera in it, or I can fit both my iPod Touch and my LG enV 3 phone in there.  It's small enough that I can put it inside a larger bag for daily use.  I wear it cross-body when I want to have my cell phone with me.  I could replace the iPod with a small wallet or just my license and a couple of cards and some cash in the mesh divider, throw my phone in there, and use it as a "going out for lunch" bag.
It's $84.00 in leather.  Levenger also sells a microfiber version in black only for $58.00.  And guys can use this case, too.