The Gadgeteer is supported by readers like you! If you buy something through links on our site, we may earn an affiliate commission. Thank you! Learn more.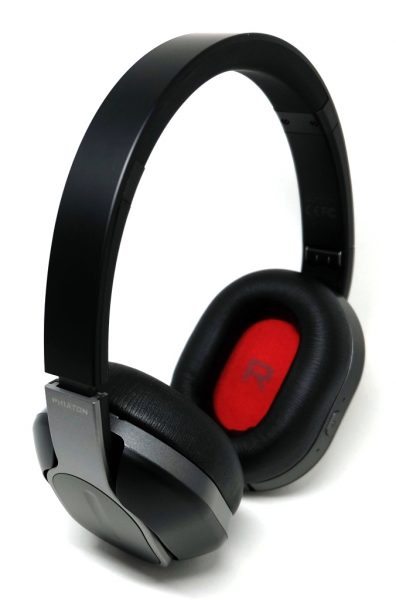 When listening to music or watching a movie on a device, I crave great sound and comfort out of my headphones. Since these two criteria are often quite subjective, it would seem that what works for one person, may not for another which seems to be the challenge of producing headphones that are within a price range most of us would buy. The Phiaton BT 460 headphones were offered to the Gadgeteer to review and I eagerly accepted to see if these would work for me. I found that I enjoyed the audio quality, the wonderfully innovative touch controls, the Smart Play/Pause feature, and the fact that these are Bluetooth headphones with over 20 hours of playback time; I had only a small but tolerable problem with the fit in which the headband hurt the top of my head after wearing the headphones for a little while (the cushioning was too firm for my head).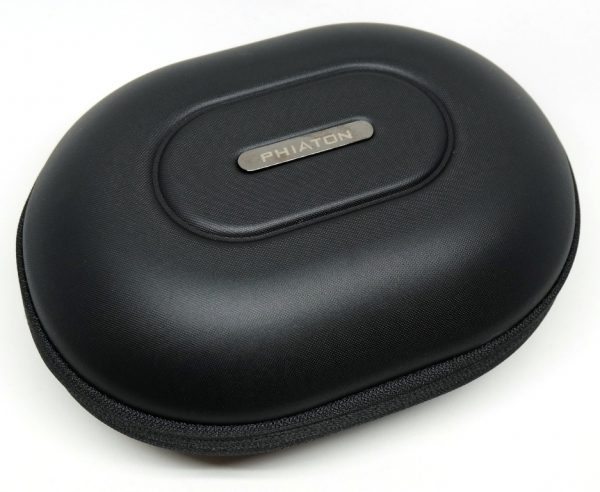 One of the nice things about the Phiaton BT 460 headphones is that it comes with a semi-rigid, zippered case that provides protection for the headphones when storing or transporting them. It is, however, somewhat bulky being 7 3/4″ long x 5 3/4″ wide x 3 1/2″ tall.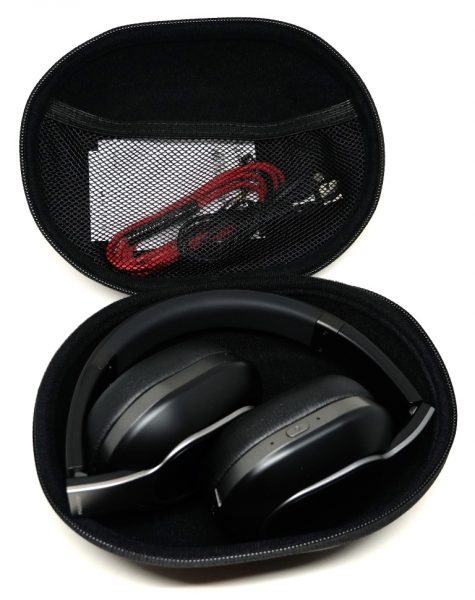 The above photo illustrates how nicely the headphones fold up and fit inside the case. The case also has a convenient mesh enclosure on the opposite side to carry your charging cable, audio cable, and the Phiaton BT 460 manuals around with you.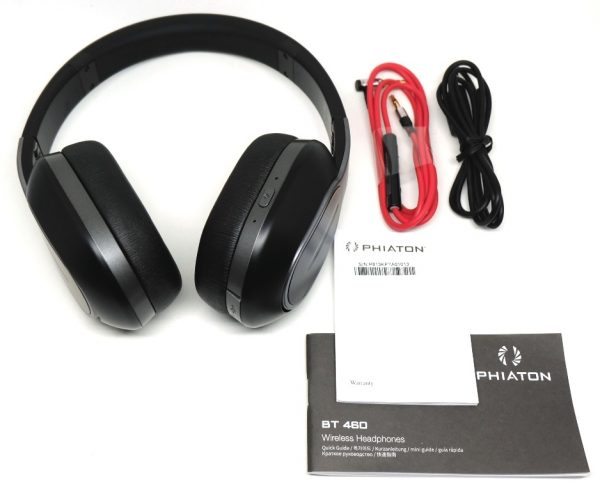 Package Contents:
Phiaton BT 460 over-ear headphones
Semi-rigid carrying case
3.5 mm microphone audio cable with manual sliding volume controls  (1.0 m, 3.5mm to 3.5 mm plug)
Micro-USB charging cable
Warranty
Quick Guide
Technical Specifications:
Type: 40 mm Driver Unit
Frequency Range: 10 Hz ~ 27 kHz
Impedance: 32 Ohm
THD: Less than 5% up to 1kHz
Sensitivity: 99 dB at 1 kHz
Max. Input Power: 1,000 mW
Weight: 0.44 lb / 240 g (Without cord)
Communication Network: Bluetooth 4.0
Operating Range: Within 10 m / 33 ft.
Call Time: 20 hrs
Music Play Time: 20 hrs
Standby Time: 110 hrs
Full Charge Time: 3 hrs
Bluetoot Profile Support: HFP v1.6 / HSP v1.2 / A2DP v1.3 / AVRCP v1.5
Audio Codec: SBC, aptX, AAC
Design & Build Quality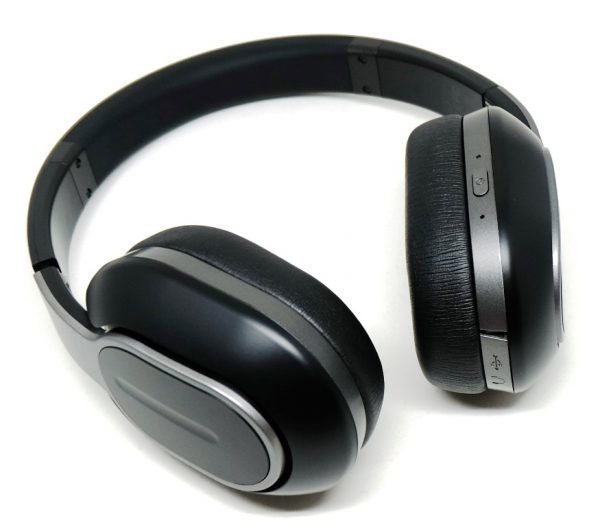 I really like the look of the Phiaton headphones. All parts of the headphones are made of plastic and the earphones are oval shaped and have nice soft foam padding for comfort. The outer flat part of the right earphone has a touch control panel which I found to be unique about these headphones. However, if you do not want to use the touch panel to control your music and call functions, you may also use the Power button located on the right earphone to play/pause music or answer/end a call.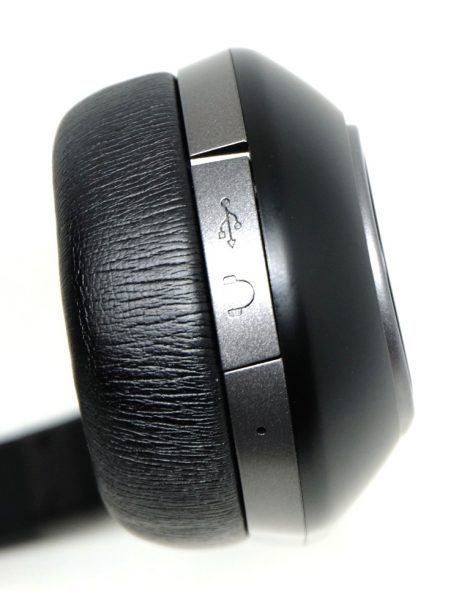 The headphone jack and micro-USB charging port are protected by a small plastic cover and are located on the right earphone.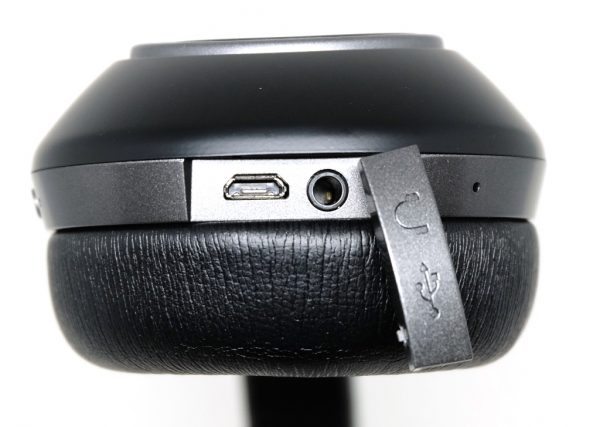 The cover pops out and rotates out of the way to allow access to these ports.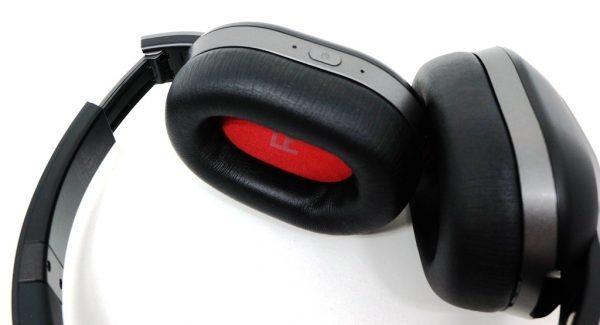 Each earpiece folds in to allow for easy transport.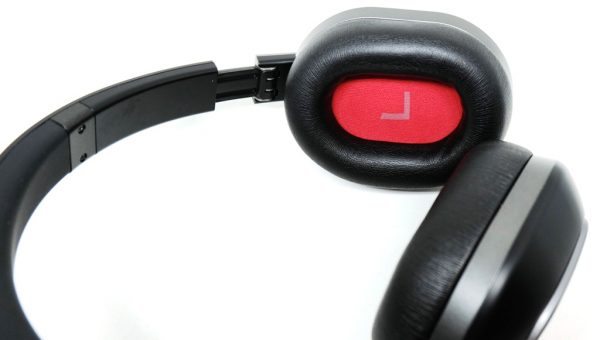 The headphones are adjustable and each earpiece is labeled left/right.
Use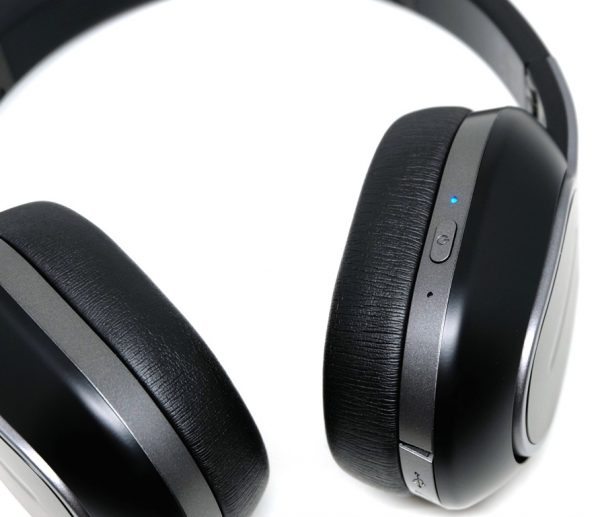 Pairing: To pair these headphones with my devices, I needed to start with the headphones turned off then press and hold the power button for five seconds, after which, I heard a voice prompt say "Pairing mode activated", the headphones vibrated once, and the LED then flashed red and blue alternately. I then went into my mobile devices' Bluetooth settings and found the Phiaton BT 460 headphones (identified as BT 460), tapped on them and successfully connected them (voice prompt says "Device connected") to my devices without problems. It paired easily with my Nexus 6 phone, iPod touch 6G, an iPad Mini and my Windows 10 Dell laptop.
Turning On/Off: After pairing the headphones, when I wanted to use them, I turned them on by pressing the Power button for two seconds, after which I saw the LED flash blue twice and the headphones also vibrated once. To turn the headphones off, I pressed the Power button for about two seconds, after which the LED flashes red five times and the headphones vibrated twice.
Fit: The earpieces have nice soft cushioning to help make these headphones comfortable; however, they did not use the same cushioning on the headband thus, after wearing them for about an hour, the top of my head became sore. The headphones were adjustable for length but I wish they would also pivot back and forth to provide additional adjustment and comfort (we had some headphones that had that type of adjustment (which seems to be unusual) but helps to truly make the fit a custom fit.
Bluetooth Connectivity: I had no problems with the Bluetooth connectivity dropping out on my Nexus 6 and my iPod Touch 6G at reasonable distances. I was able to go 45 feet (line-of-sight) using my Nexus 6 and 51 feet (line-of-sight) using my iPod touch; I could also maintain connectivity through two walls. One thing I noticed was that when connected to an iPad Mini, there was a noticeable lag time in the sound when watching videos on Netflix. I actually think this may be due to the iPad mini Bluetooth hardware because none of our other newer devices had such issues.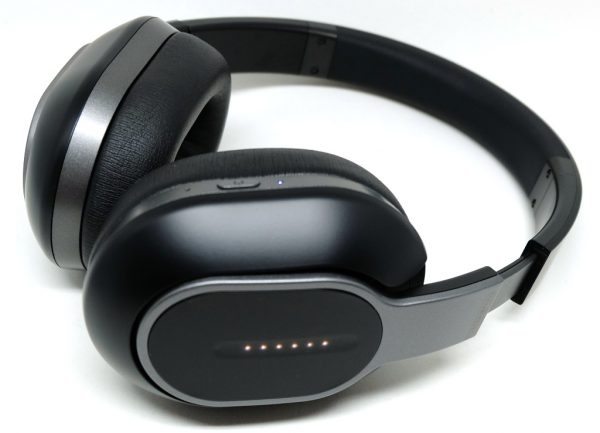 Touch Controls: I must say that I really liked the touch controls located on the right earphone. You simply touch the lower part of the control panel located on the right side earphone and slide your finger up to increase volume or slide your finger down to decrease it. A quick double tap anywhere on the control panel will pause/play your music and sliding your finger back-to-front skips tracks while sliding your finger front-to-back repeats tracks. These touch controls appear to be a unique feature of these headphones and I found that they worked well when listening to Pandora, Google Music, or Audible but worked sporadically when listening to my Amazon music playlist. I also found that the touch controls didn't work with Netflix and required me to manually pause/play the video.
If you find that you do not want to use the touch control panel for your music or call functions, you may use the Power button also located on the right earphone. You can play/pause music or answer/hang up a phone call by holding the Power button for one second. When testing this Power button function, I found that it worked well.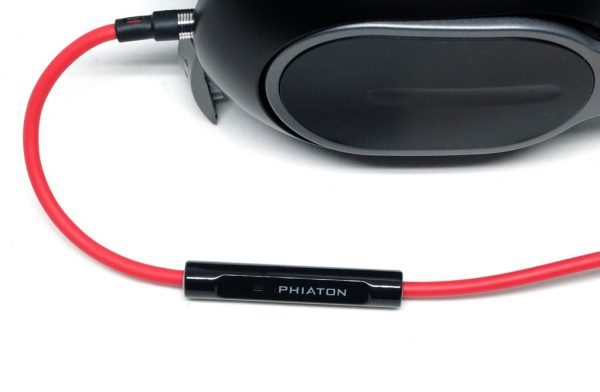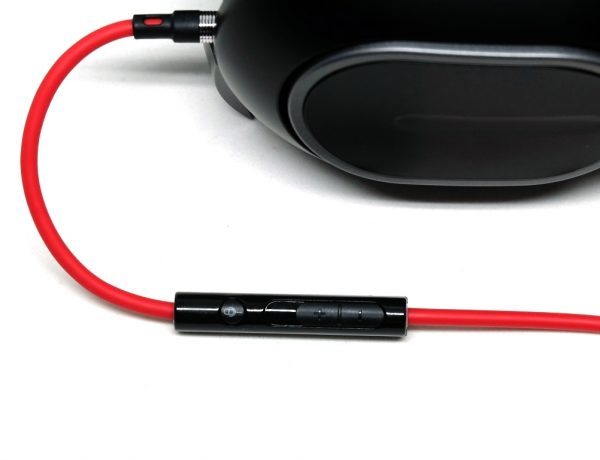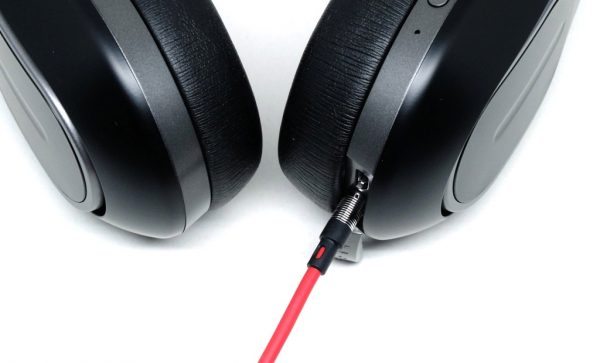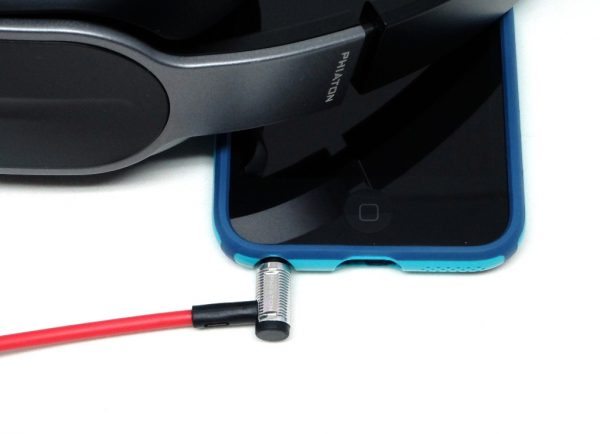 Manual Controls: If you wish to use the headphones as wired headphones, a microphone audio cable is provided to connect to your device. The cable provides a microphone and manual sliding volume controls as shown in the first two pictures above. The audio cable jack is located at the bottom of the right earphone – just pop out the plastic cover and rotate it to plug the cable in. I found that when trying to use the manual sliding volume controls when listening to music on my iPod, I would often slide it too much in one direction or the other, thus when plugged into a mobile device, I chose to use the mobile device's volume controls instead. It is also nice to have a microphone incorporated into the cable to handle any calls that might come in.
Special features: These headphones offer a couple of unique features. One is the "Smart Play/Pause" feature. This allows the user to put the headphones down or place them around your neck to attend to other things and the music/audio will pause automatically. When you put them back on, the music will then automatically play. When testing this feature, I noticed that when I place the headphones back on, the volume level slowly increased until it reached the level that it was set on before I removed them – very nice. The "Smart Play/Pause" feature worked well when testing the headphones with music apps like Pandora and video streaming apps like Amazon Video but did not work when testing them with Netflix (I had to manually pause or play the video). It also worked with Amazon's Audible but not with another audiobook app called Librivox.
Another interesting feature of these headphones is the "ShareMe" feature. This allows Phiaton BT 460 headphone owners to share their entertainment with one another. I do not have access to more than one pair of BT 460 headphones so I was unable to test this feature. If you are lucky enough to have family or friends that own this same pair of BT 460 headphones as you, then you can share your music by doing the following (according to the user manual):
How to set-up the ShareMe Feature:

First, pair H1 to your "Bluetooth Device."
Next, turn Power off on H1, then turn back on and put in "pairing mode" by holding the Power button for fice seconds. Press the Power button twice (blue light blinks quickly).
Next turn on H2 and put in "pairing mode" by holding the Power button for five seconds. Press the Power button twice (blue light blinks quickly) and then press the Power button twice again, (red light blinks quicky).
H1 and H2 will sync in five seconds.
At this time, H1 may have lost Bluetooth connection with your device. Wait one minute. H1 will automatically connect with the "Bluetooth device". If not, please select BT460 on your Bluetooth device to re-establish Bluetooth connection.
You will hear the voice command say "Device connected" in both H1 and H2 when connected.
NOTE: Music and video functions (Play/Pause/FF/REW) are only supported in H1 while in ShareMe mode. If H1 or H2 heaphones are powered off, the ShareMe feature will disconnect and you will need to reset up the ShareMe feature by following steps 1-6.
Playback Time: I loved the fact that I was able to get about 29 hours of playback time on one charge of these headphones when they were set on a moderate to moderately low volume level. I found that to be impressive.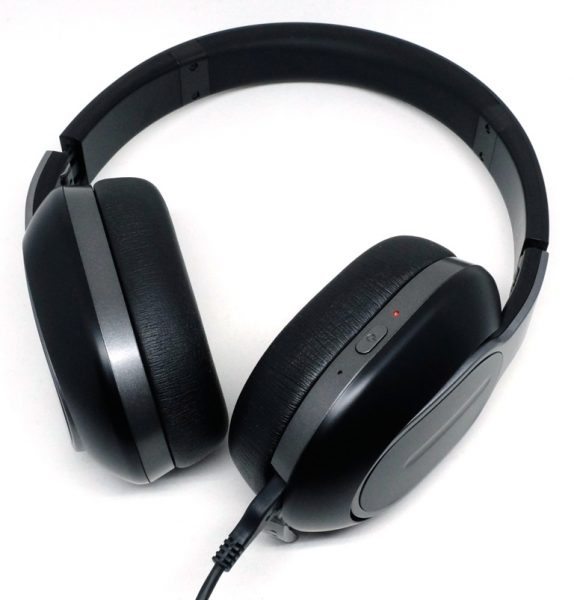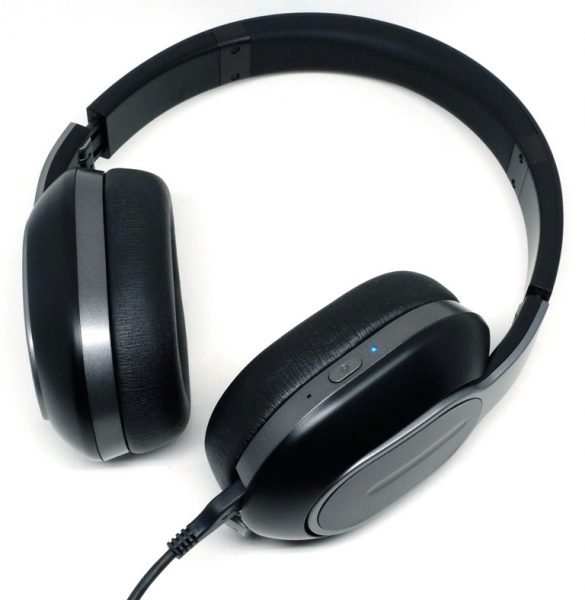 Charging: These headphones charge in 3.5 hours which seems to be fairly fast, however, the Phiaton website states these headphones should charge in three hours. When charging, the LED shines red and when fully charged will shine blue. When the battery is low, the LED will flash red and eventually a voice prompt will prompt you to "Please recharge." Well okay – since you said please! 😉
Calling Features: When the headphones are connected to my phone via Bluetooth, I was able to answer/end a call successfully by firmly double tapping on the touch control panel. I found that the voice clarity on both ends of the call was very nice and clear as well.
Frequency Response: These headphones have excellent clear upper-frequency response and frequencies as low as 40 Hz can be comfortably heard when the headphones are set at a moderate volume level according to the Audio Test Tone Generator Android app.
Audio Quality: I would say that the Phiaton BT 460 have a more balanced sound than our other over-ear and on-ear headphones but lack a stronger bass that I crave when listening to electronica type music. The upper and mid frequencies sound more crisp and clear when listening to pop music like "NY2LA" by Press Play than on the House of Marley Liberate XLBT Bluetooth headphones that I reviewed last year. The Liberate headphones have a strong bass response but muddier sounding upper and mid frequencies when contrasting the two. However, when listening to certain music like the pop song "Superhero" by Simon Curtis, I felt like the upper frequencies on the Phiaton headphones were a little too sharp for me as well as lacking the bass to make the song sound more complete.
Final Thoughts
The Phiaton BT 460 headphones are the nicest pair of over-ear/on-ear headphones I have. They have a well-balanced audio signature (in my non-audiophile opinion) which makes most music sound crisp and clear and complete (although I must admit that on some of my electronic music I wish it had stronger bass). The unique touch control panel works well with my Pandora, Google Music, and Audible apps, although apps like Netflix required me to manually pause/play video on my device. The Smart Play/Pause feature is quite nice and gives the headphones the ability to automatically pause/play music by taking the headphones off (pauses) or putting them back on again (plays). However, this feature doesn't work with Netflix and LibriVox apps. Another benefit of the Phiaton BT 460 headphones is that I was able to use them for 29 hours on a moderate to moderately low volume before I had to charge them. The only real drawback to these headphones is that the top of the headband has a firmer foam cushioning than that covering the earphones and thus the top of my head started hurting after wearing them for a little while. All in all, I think that the audio quality alone makes these headphones well worth the money.
Music used in this review:
NY2LA by Press Play
Superhero by Simon Curtis
Updates 10/10/17
After a year of use, I still think these headphones sound great. However, there are a few things that are worth mentioning. The touch control panel doesn't work consistently, (e.g. double tapping does not always work the first time and may require you to double tap a few more times to work) and if the touch control panel rubs against something, it will pause. The headphones also fold up for easier transportation, but some plastic pieces have broken off such that right earphone will no longer stay open (it flops around). The speaker of each earphone has a small plastic piece (a sensor?) that extends out slightly (under the cloth covering the speakers) such that it rubs against your ears making them hurt – in other words, the ear cushions should be made deeper to keep your ear from touching the speakers. There is also a slight audio delay while watching videos on an iOS device when connected via Bluetooth. And last, when you increase the volume level to the maximum, it emits a rather loud beep which can be startling.
Source: The sample used is this review was provided by Phiaton. Please visit their website or Amazon to order.
Support The Gadgeteer
:
The Gadgeteer is supported by readers like you! If you buy something through the links on our site, we may earn a small affiliate commission. Thank you! Learn more.
Product Information
Price:
$199.00
Manufacturer:
Phiaton
Retailer:
Amazon
Requirements:
Pros:

Great balanced audio quality
Touch panel controls are unique and work well (except with Netflix and Librivox)
I loved the Smart Play/Pause feature (putting the headphone on/off, the audio automatically pauses/plays)
Connects to two devices at the same time
Earpieces fold in for portability
Nice semi-rigid carrying case for the headphones and accessories

Cons:

Smart Play/Pause does not always work with apps like Netflix or LibriVox (audiobook app)
The headphones start making the top of my head sore after using them for a while
On some music, the high frequencies seemed too sharp/harsh
On some music, the bass is not quite as strong as I'd like