We use affiliate links. If you buy something through the links on this page, we may earn a commission at no cost to you. Learn more.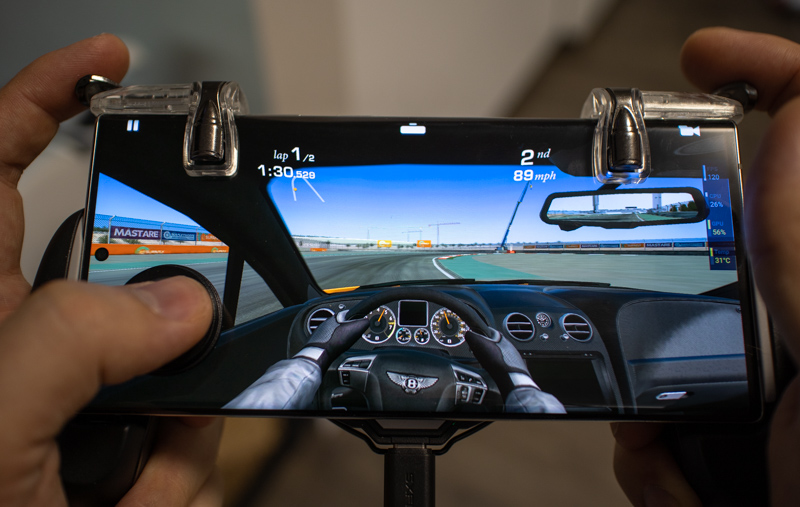 REVIEW – I play games on my phone nearly every day, and while I sometimes suffer from hand cramping after long gaming sessions, I've never thought "I wish I could cool my phone more to get higher framerates in this game", but here I am testing a device designed to do exactly that. Gamesir sent over their new F8 Pro Snowgon mobile cooling grip and a bevy of little attachments to try out as well. I put it through its paces, and it definitely does what it's designed to do: cool the mobile device and provide a more ergonomic grip.
What is it?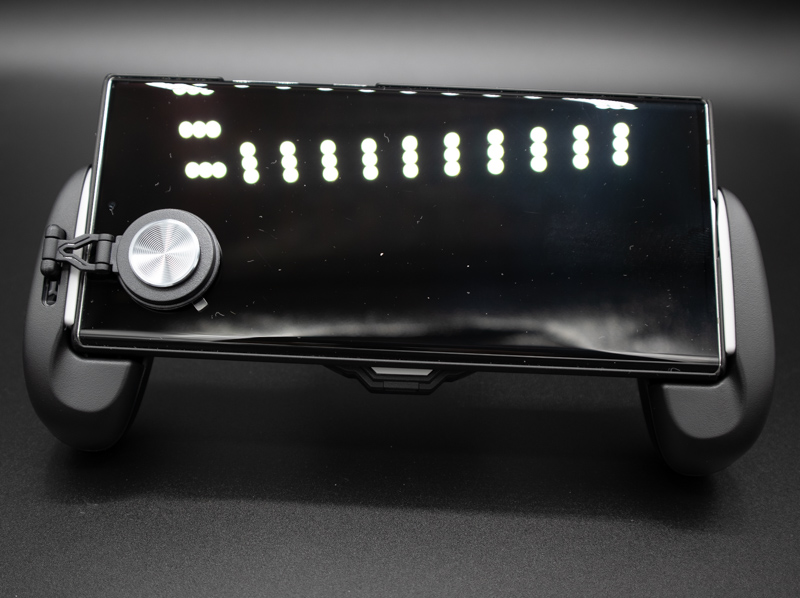 The Gamesir F8 Pro Snowgon mobile cooling grip is a grip for mobile phones that has a powered cooling pad on the back designed to cool the device while gaming in order to provide more performance.
What's in the box?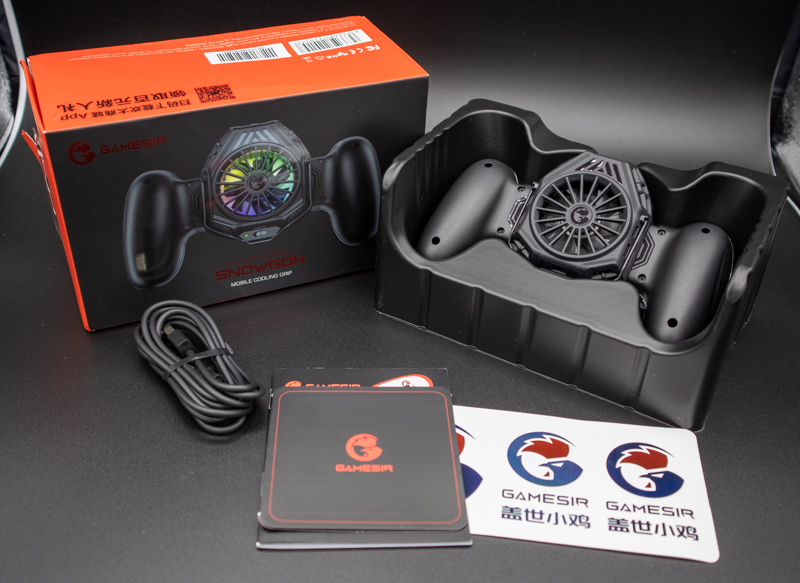 Gamesir F8 Pro Snowgon mobile cooling grip
USB-A to USB-C power cable
Manual
Stickers
Hardware specs
Mobile device compatibility: All devices 100-173 mm in length, and up to ~11 mm thick including case.
Power connection: USB-C
Power input: 5V/2A
Battery: no
Package size: 176 x 108 x 82 mm
Weight: 145g
Design and features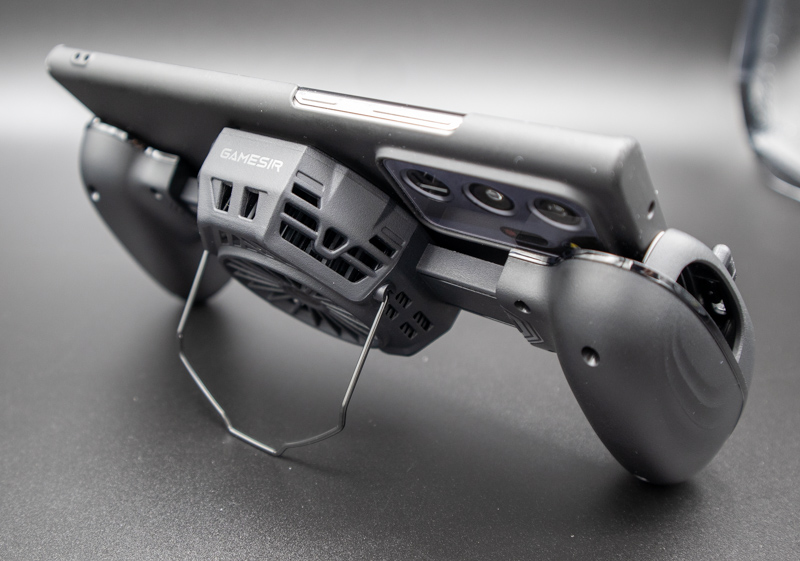 The Gamesir F8 Pro Snowgon mobile cooling grip looks similar to a modern gaming console controller, and expands to fit and grip the phone as shown above.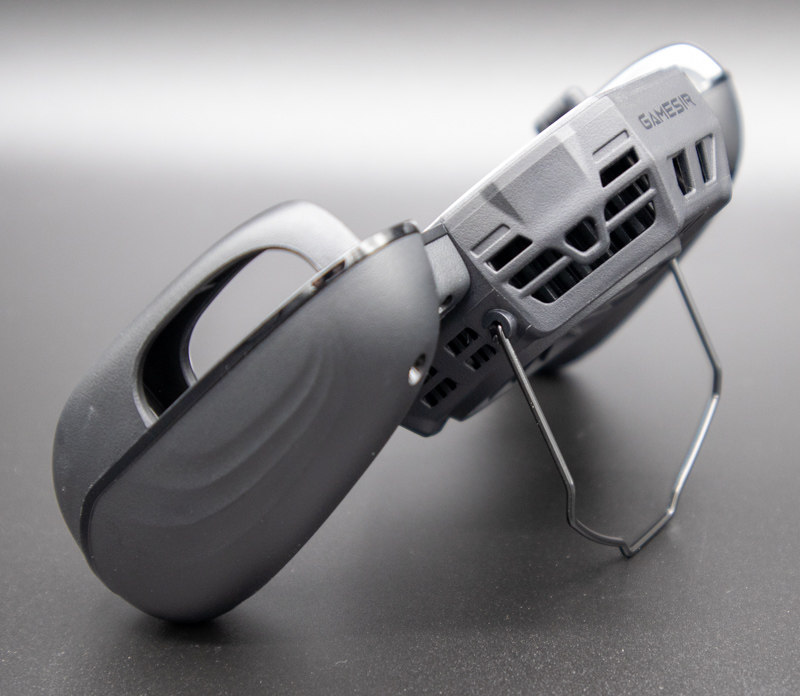 There's a handy included kickstand on the back. The device is mostly plastic but feels well built and has little flex and no creaking.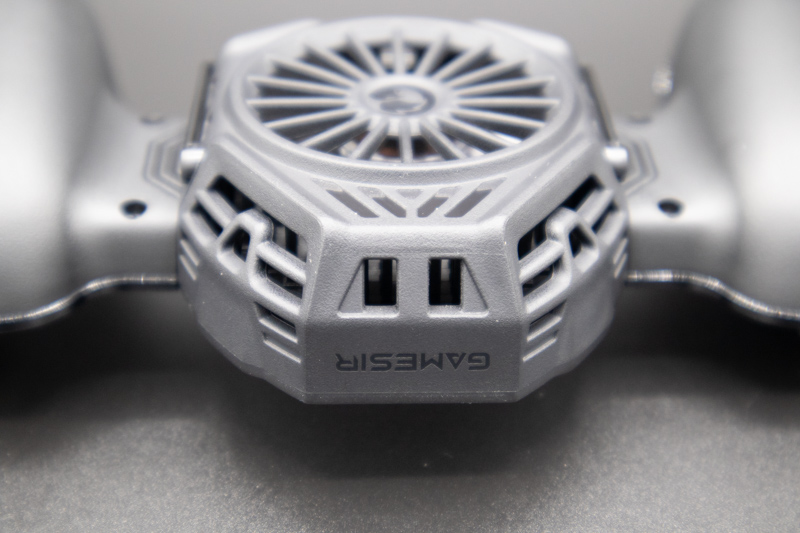 Ample ventilation holes assist the cooling unit with airflow.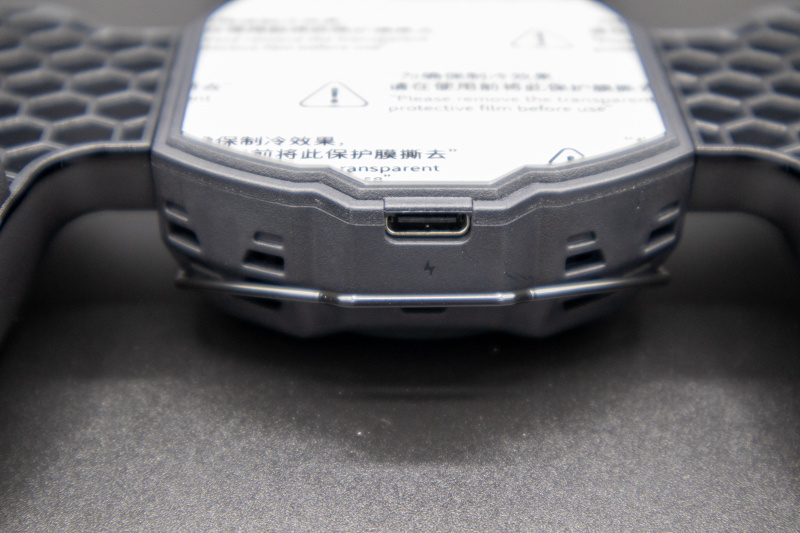 In the center bottom is the USB-C power port. The device can be used without power as an ergonomic grip assist, but when you plug it in the refrigeration unit kicks in and gets the center pad quite cold. Within a minute I'm reading 45° F / 7°C average across the pad, and it stays at that temp indefinitely as long as it's powered.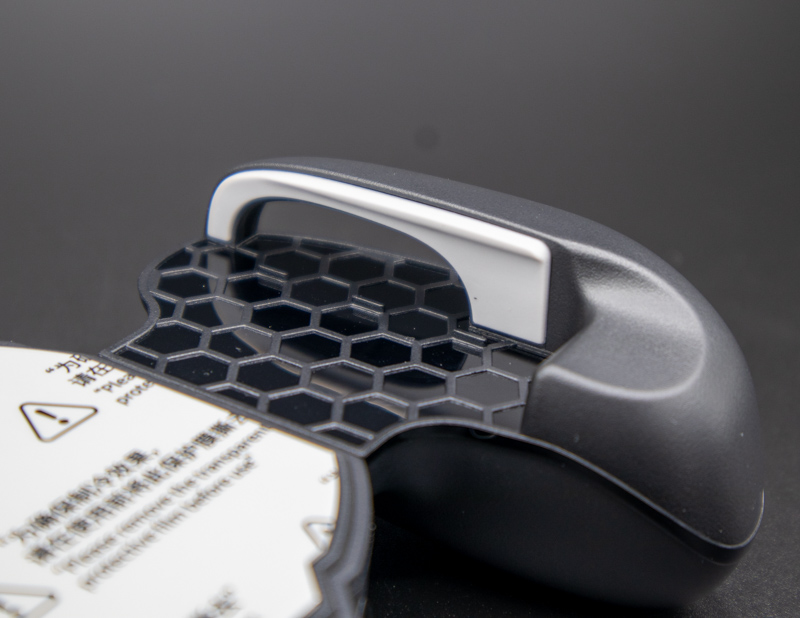 The grip can hold phones up to about 11 mm thick at the top and bottom including cases.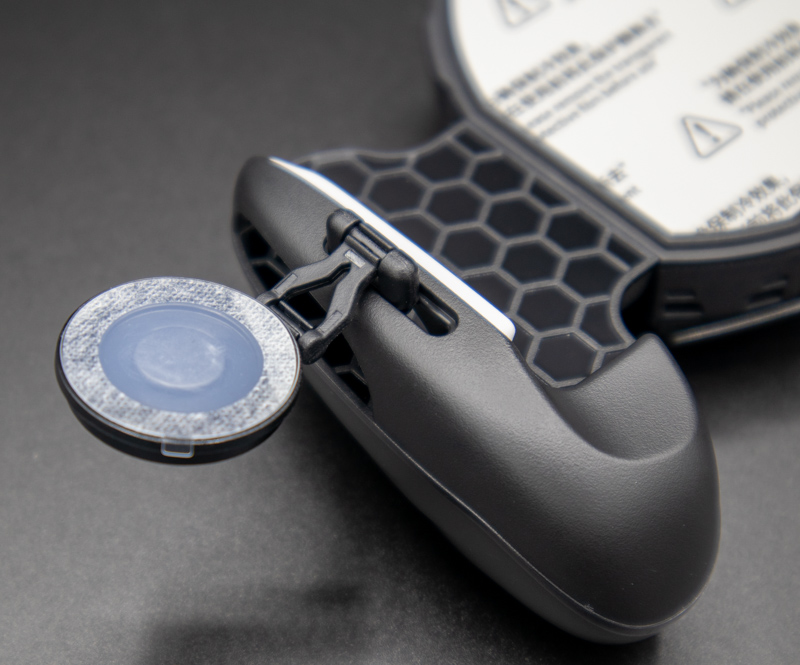 Out of the box is an attached capacitive "joystick", this thumbstick swivels over and grips to the screen with a clever hinge design that allows some flexibility to where it's placed on the screen.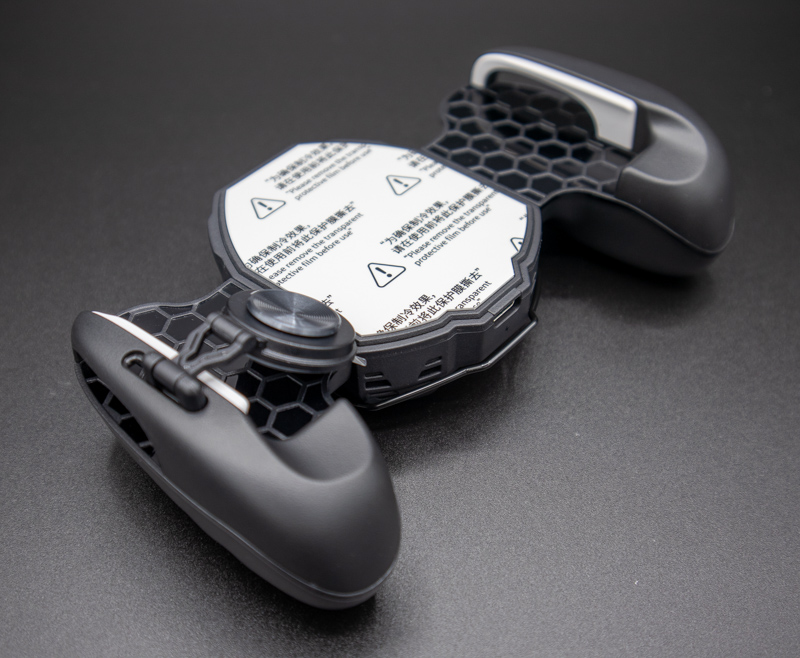 When a phone is not inserted, the Gamesir F8 Pro Snowgon mobile cooling grip is about as large as an Xbox or Playstation controller (maybe just a tad wider).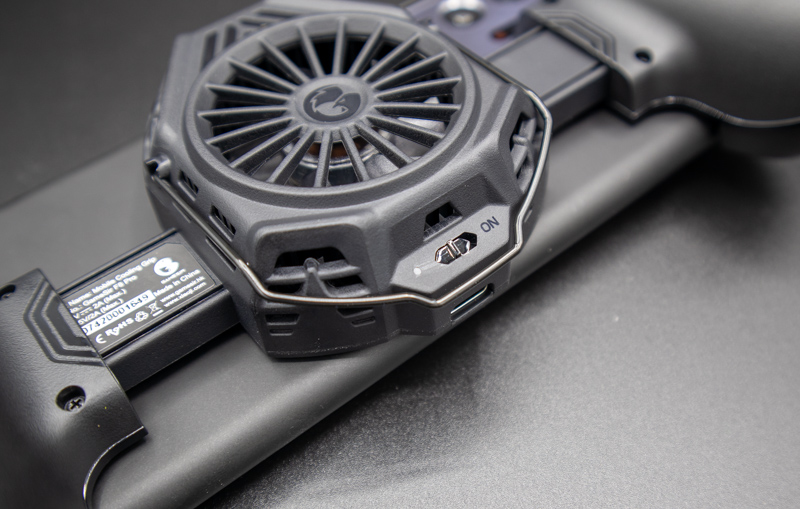 The On/Off switch shown here turns on the cooling unit and RGB light (you can't disable the light but use cooling or vice versa).
Performance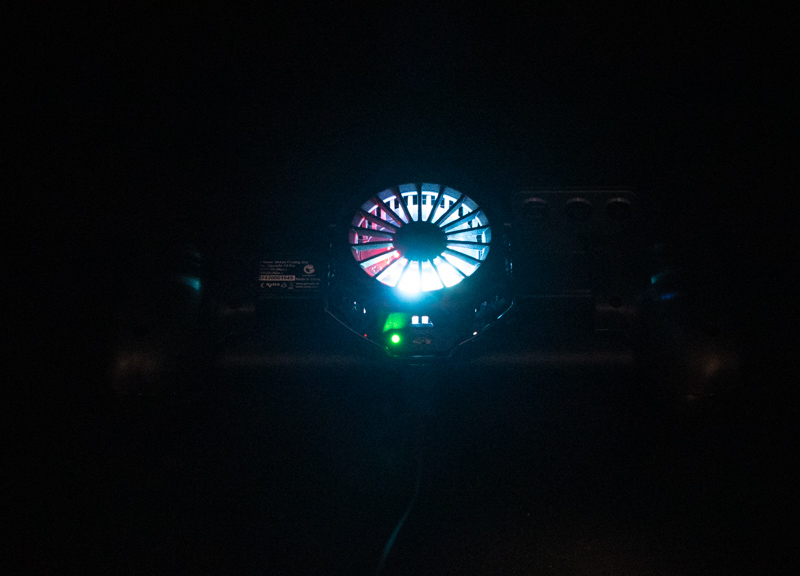 I tested the Gamesir F8 Pro Snowgon mobile cooling grip with my Samsung Galaxy Note 20 Ultra 5G, one of the largest mainstream phones on the market. It fit fairly well (more on that in a bit).  In a dark room, the light is pretty flashy and cycles between colors. There is no way to change the speed/pattern/color though.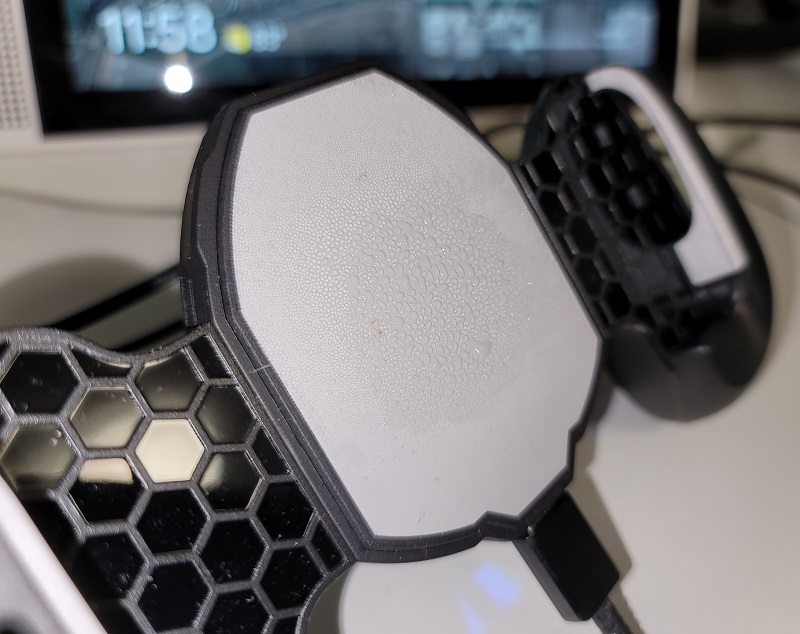 Upon powering up the device, I noticed that it immediately got very cold (around 45° F / 7°C within a minute). This isn't just a simple cooling fan, but rather a complex combination of a fan with multiple materials and a "refrigeration chip", here's a graphic from Gamesir showing the setup: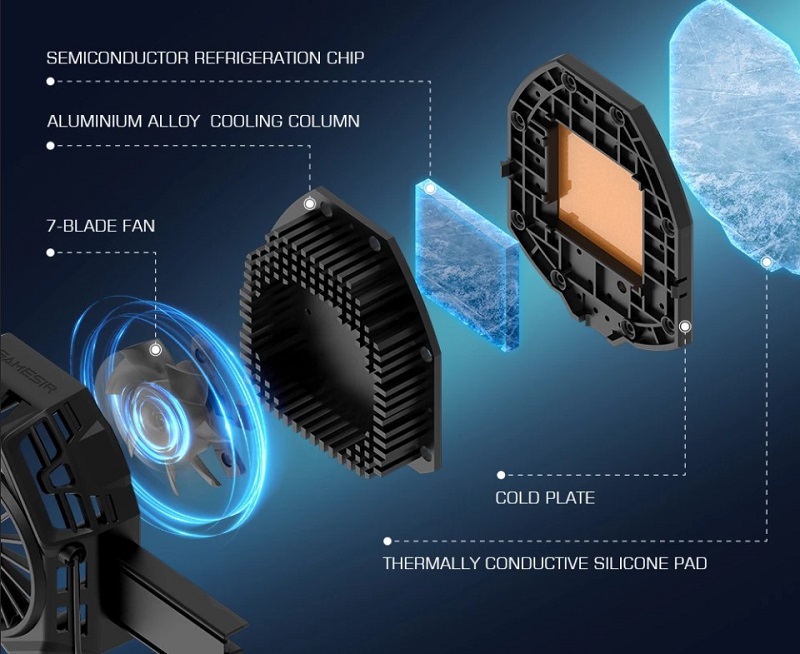 I'm not thermal expert, but however they've figured this system out is pretty neat.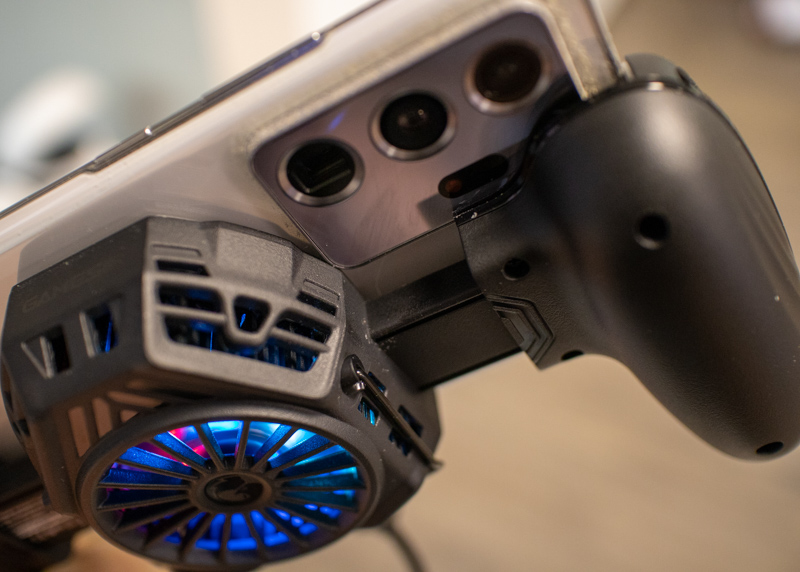 The one issue with my (big honking) device was the extra large camera hump, which caused the back of the phone to not rest entirely flush with the cooling pad. Even with that issue, I was seeing significant differences in thermal performance (so if it had sat flush like most other phones would, it should be even better).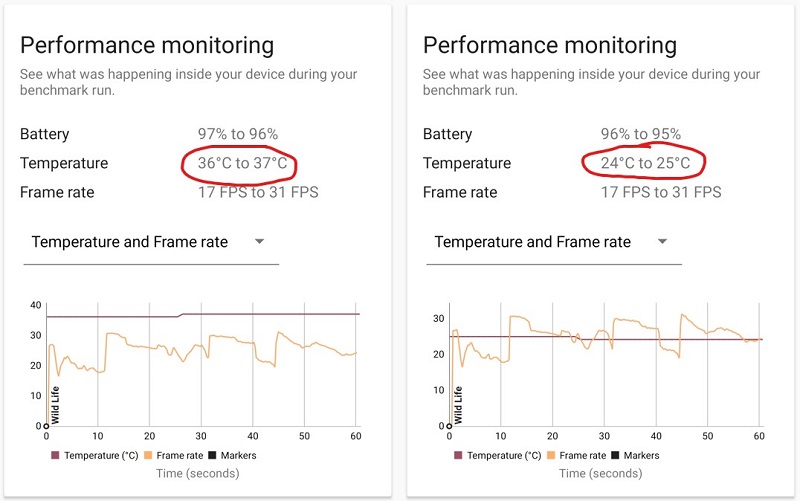 I ran a 3dMark benchmark with and without the Gamesir F8 Pro Snowgon mobile cooling grip on, and saw a ~33% reduction in temperature. This was consistent for short bursts of heat (common in mobile gaming), as well as with sustained stress tests. However, as you can see in the frame rates above, whether or not the game or application takes advantage of the cooling power is very hit and miss.  I found that most games on Android 11 were not affected – even though the phone was much cooler the frame rates stayed the same so there must have been some other limit besides heat that was throttling performance.
Next, I want to address actual use and ergonomics, as well as some extra attachments (separate purchases from Gamesir) that they included to review). First, I couldn't get the thumbstick to work well with any game that I tried, and I tried quite a few.  I'm not sure if it's the size of the phone I'm using, or something else, but I ended up popping it off (it's easily removable) and just using my thumb instead.
The ergonomics were good, even for my larger-than-average hands. I was much more comfortable holding the phone for longer gaming sessions, and didn't suffer from as much hand pain after gaming. I could see myself using this quite a lot just for a more comfortable grip, even without the powered cooling feature turned on.
Gamesir also included both their F2 Firestick and a pair of F5 Falcon mini controllers to use with my review. Both of these devices clamp around the phone to give you a physical shoulder button to tap on, which presses a capacitive lever onto the screen, simulating a finger press. Theoretically, this can let you quickly tap things on the top or side of the screen with more speed and accuracy, and I found them to be quite effective in any game that has supplemental control buttons on the top or sides of the screen.  The F2 Firestick also adds a rapid-fire macro mode that simulates you pressing a button many times repeatedly.  This can be customized, and the default 9-presses is "randomized" to prevent anti-cheat software from detecting that you're using it. I could see this being useful in a game like Player Unknown Battleground or something similar where you could use a single-fire weapon as an automatic weapon.  The big drawback for me on the F2 is that it requires USB-micro power to operate, I much preferred the F5 Falcon mini controllers as shoulder buttons since they're unpowered.  All of these devices clamped into place securely and didn't cover too much of the screen besides the button you wanted them to be hitting.
What I like
Comfortable grip
Effective cooling
What I'd change
Included joystick didn't work in any games – your mileage may vary with different phone models
Include a USB-C to C cable to power from phone
Final thoughts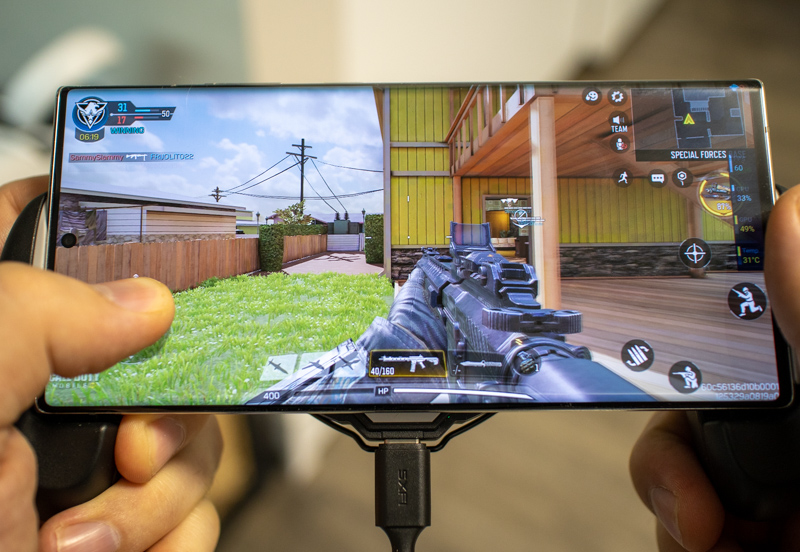 I'm not sure what I expected when I opened the box for the Gamesir F8 Pro Snowgon mobile cooling grip, but after many hours of use, it's earned a place in my daily mobile gaming regimen. If you need something that both provides a comfortable grip and also cools your device pretty significantly, then look no further. However, if you're just looking for a grip solution, I'm sure there are cheaper options out there without the fancy cooling and RGB lights (though this device is a lot cheaper than I'd expect for the tech packed into it).
Price: $39.99
Where to buy: Gamesir and Amazon
F2 Firestick L1/R1 Triggers: $9.99 @ Gamesir 
F5 Falcon Mini Mobile Gaming Controller: $19.99 @ Gamesir
Source: The sample for this review was provided by Gamesir