We use affiliate links. If you buy something through the links on this page, we may earn a commission at no cost to you. Learn more.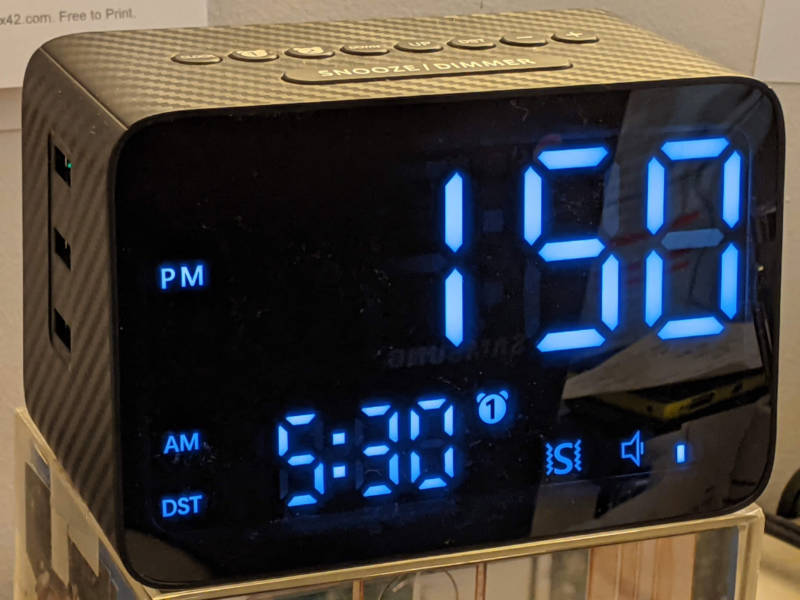 REVIEW: The Kungfuking Alarm Clock for Heavy Sleepers lives up to all of its claims. They should offer a discount on EMS resuscitation services should this clock not wake you up. The alert tone used for the alarm sound is distinct and appropriately unpleasant. I may have heard this tone from other clocks but not with selectable volume levels. And the vibration from the under-mattress module is un-missable. I cannot imagine anyone returning this device for the reason, "didn't work as advertised".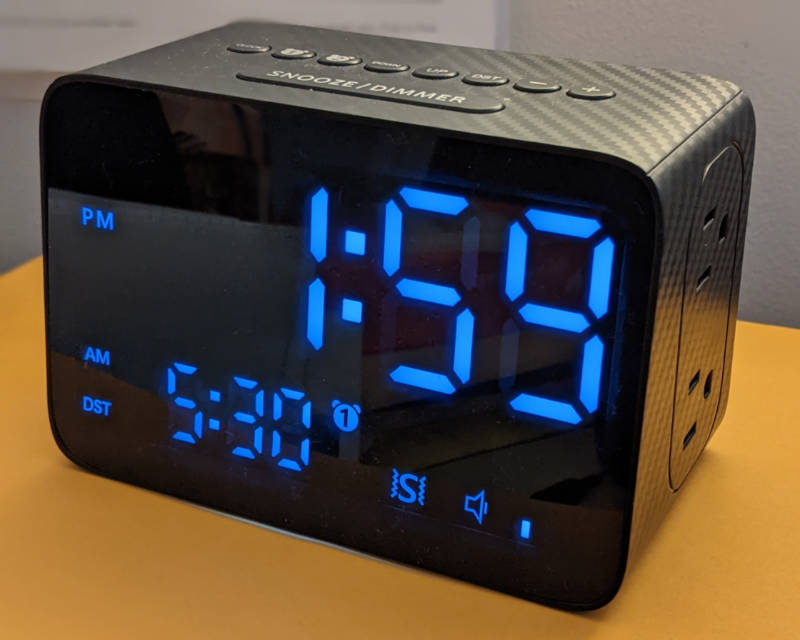 What is it
The Alarm Clock for Heavy Sleepers is an AC powered alarm clock with loud audible alarms and a palm-sized vibration module to vibrate from under a mattress for extra 'WAKE UP!' emphasis.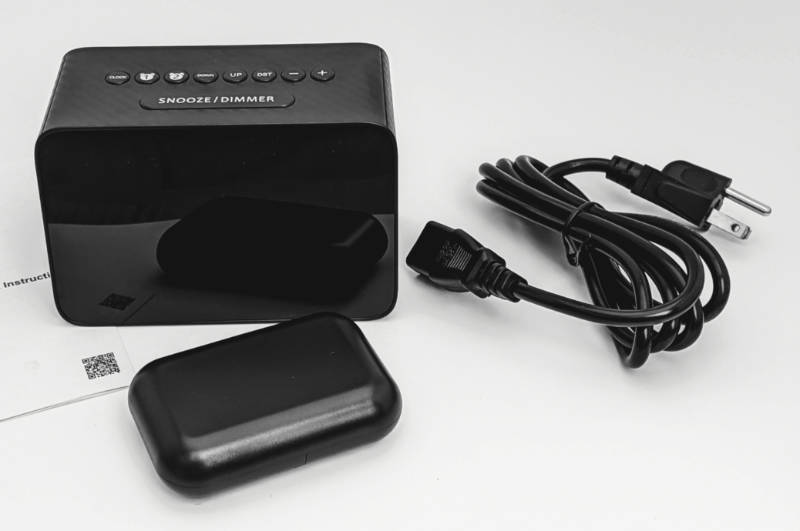 What's in the box
Alarm clock

Power cord

Vibration module

Instruction sheet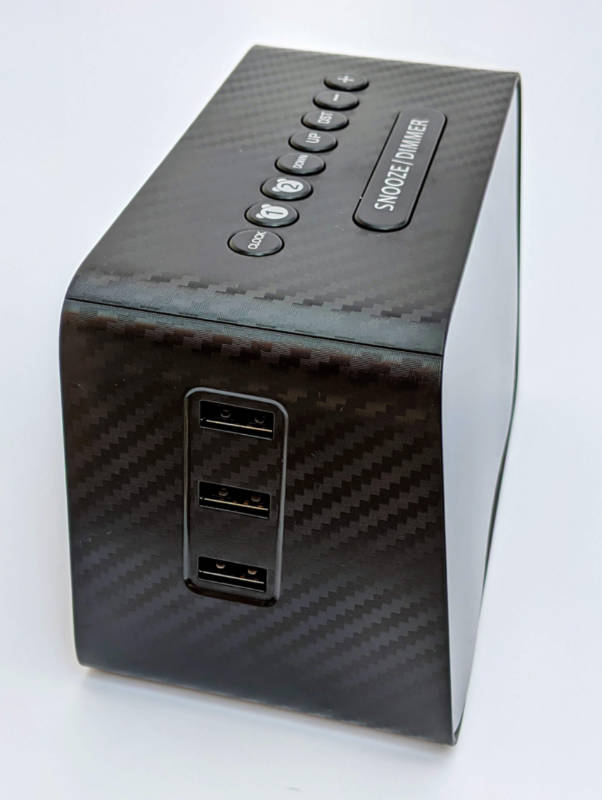 Hardware specs
White/blue-ish digital display characters

Screen:

5.3 x 3.3 inch

Display character measurements: Height 40mm x Width 20mm

3 alarm alerting modes:

wireless module vibration; alarm sound only, vibration + alarm sound

3 clock alarm volume levels

4 screen brightness options including display off

Snooze button

Daylight Saving Time mode

6' grounded AC power cord (100-240V)

2 AC outlets (100-240V/10A,1000-2400W)

3 USB Ports (16W, total 5V/3.4A output), Max 2.4A per port

Bed vibration module requires 3 AAA batteries (not included)

Vibration module dimensions: 3 and ⅝ inches length x 2.5 inches width x 1 inch thick

Clock memory backup. 2 AAA batteries required, not included.

Design and features
This 'heavy sleeper' alarm clock is loud and appropriately obnoxious. The time and alarm settings are not unlike other bedside clocks. If you've ever set a clock in a hotel you'll get this clock's settings in no time.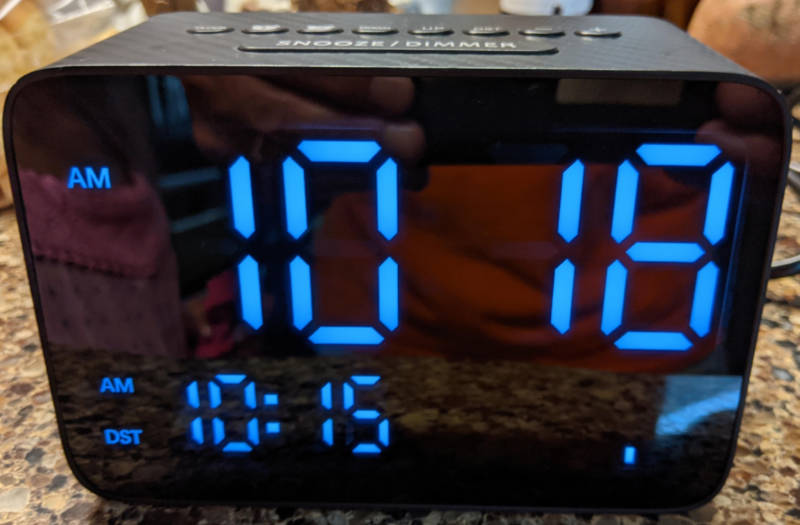 Never miss one of our posts again. Sent MON, WED, and FRI with the latest gadget reviews and news!
The digits are large and highly visible. The alarm tone is distinct and can be loud, but is adequate for me, at its lowest volume setting.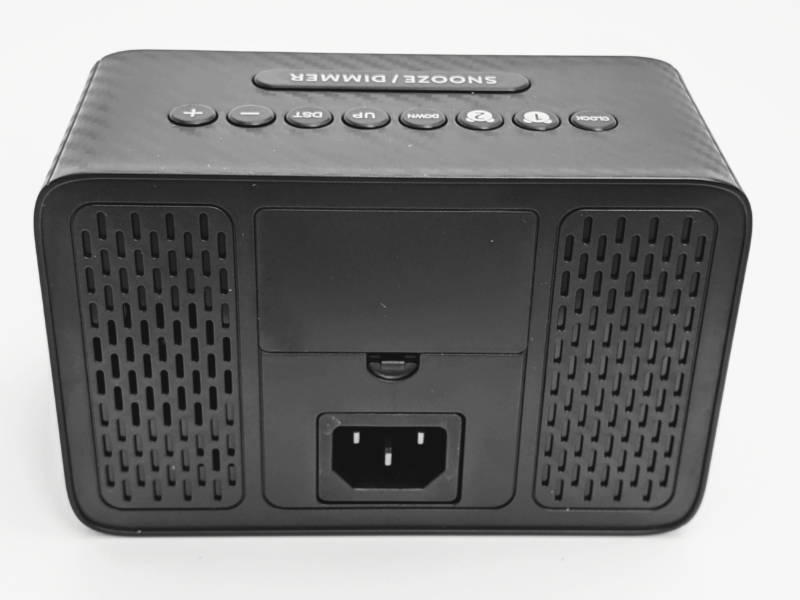 Installation and Setup
Plug in the detachable AC power cord to the back of the clock, plug the power cord into a grounded AC wall outlet, set the time and alarm(s), and stand by to be seriously awakened.
Testing and observations
If you sleep with socks on, this alarm clock will knock them off as it wakes you up. I was surprised the next door neighbor didn't hear this thing at 6am ! I learned quickly that a lower alarm volume worked just fine.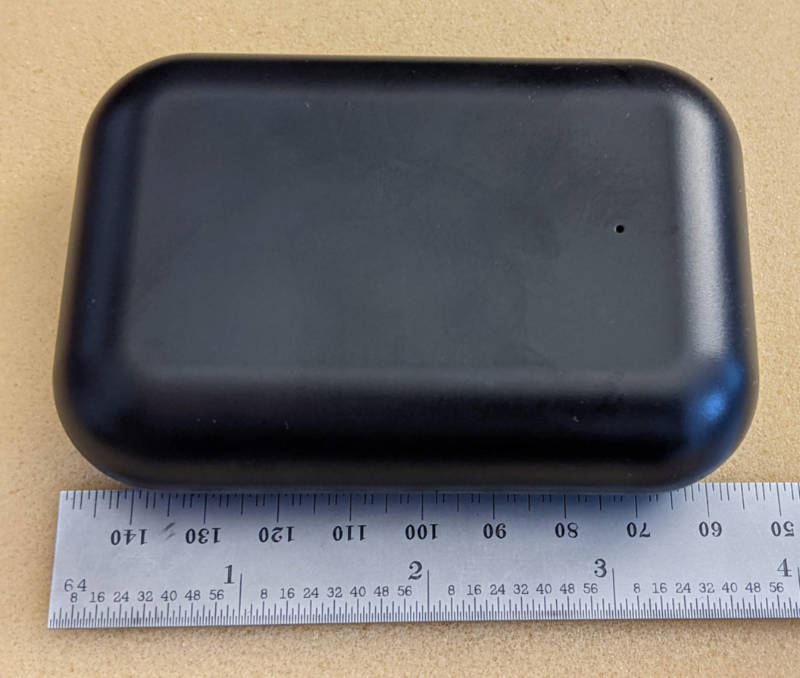 If I had used the bed vibration device to wake us up I'd be sleeping solo in the shed for a while. I did use the lowest of the audible alarm volume levels for several days and it woke me up at its first sounding. 
The sound the bed vibrator makes at the alarm time when under a mattress is difficult to demonstrate with video so I'm showing you how it sounds sitting on a desk. Under a mattress it's more muted, but impossible to miss when it's alerting. If someone misses this alarm and bed vibration, they should be defibrillated.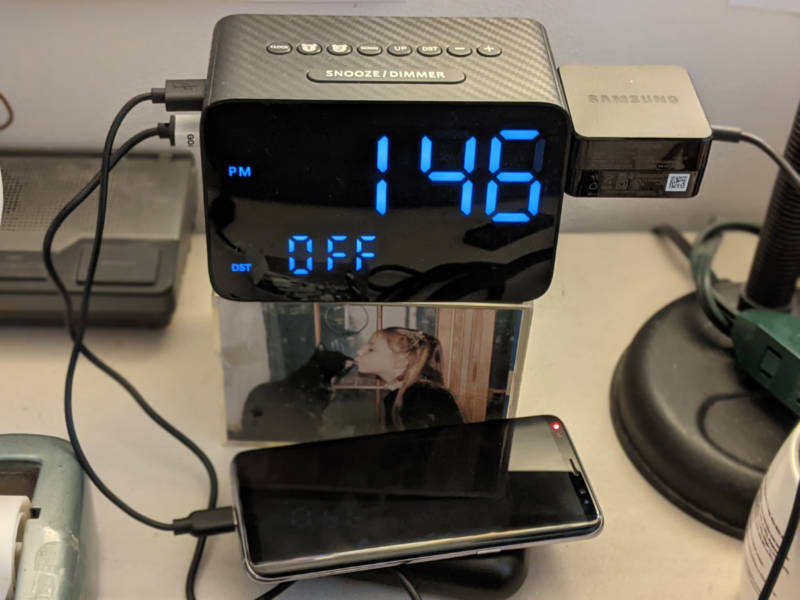 I like the design of the Alarm Clock for Heavy Sleepers but my wife didn't think it meshed with our bedroom style. She thought the large digits yielded a 'geriatric accessory' feel. I think it has a techie-device look, so, we differ. I yielded and the clock is now on my desk. The style really is a better match in my office and that is a more convenient location for the clock to be my device charging station.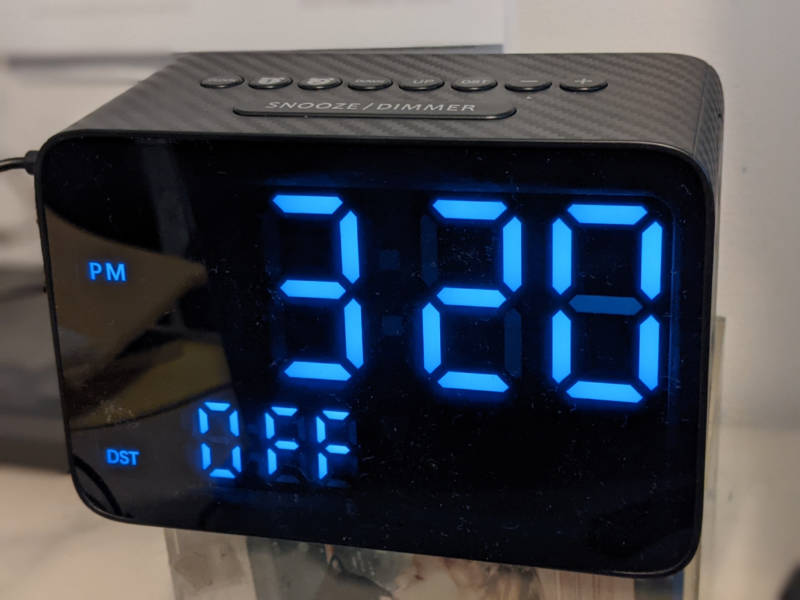 The color of the digits wants to photograph as blue but in real life it's what might be called 'electric white'. I admit it has a very light blue hue but it's 'electronic device white digit white'. There. Phrase coined.
What I like
I like the big digits and it has nothing to do with my age or visual acuity.  As far as you know.

3 is a good number of USB charging ports and the two AC outlets are useful.

Brightness level adjustment is a great feature. Dim is plenty visible without being too bright.

Very good audibility of the alarm even without the bed vibration module in use.

It is probably impossible to sleep through the bed vibration module doing its thing.
What I'd change
Spelling within the Amazon product information should be corrected.

Divide up the company name. I'd suggest 'Kung Fu King'. Please.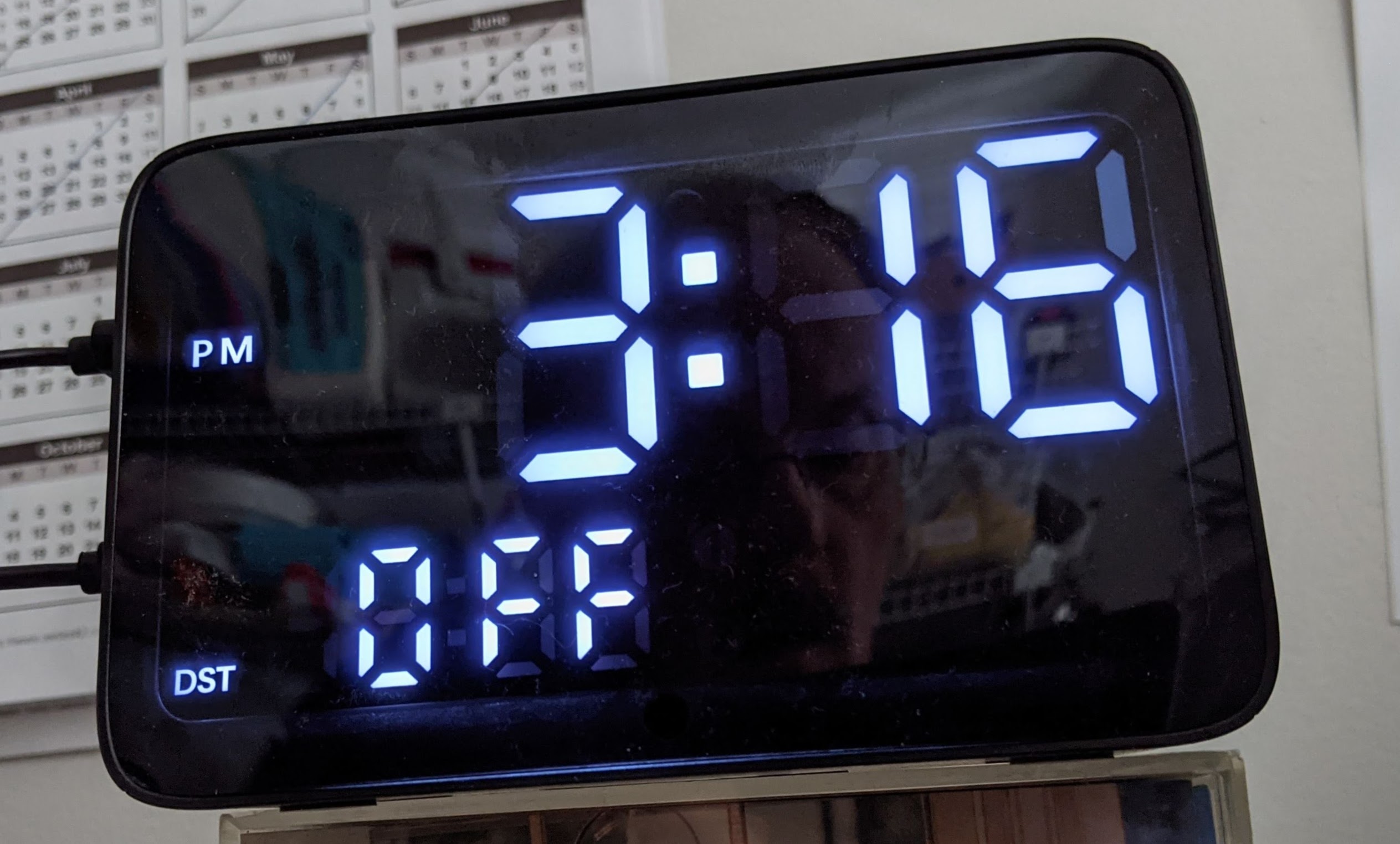 Finally, with lights off and using 'Night mode' the digits photograph in almost correct, real-life color. Pardon the author's reflection.
Final thoughts
This is a very visible and highly audible alarm clock. If the features and appearance match your needs, I think it's a great value.
Price: $28.99
Where to buy: Amazon
Source: The sample for this review was provided by Kungfuking