We use affiliate links. If you buy something through the links on this page, we may earn a commission at no cost to you. Learn more.

I originally did a review for eWallet for the Palm OS about a year ago. I liked the program then, and I like eWallet v.6.1.4 for Blackberry well enough that I am tempted to just post the old review and stamp it 'Ditto!"
The good news is that v.6.1.4 for Blackberry is so close to the Palm version that any migrating users will instantly be able to transfer everything over and get right to work. The bad news is that it is so close to the Palm version that the differences are hard to see.  Whatever you liked or did not like is probably still here. I reviewed the program with the desktop version at the same time.
eWallet is a security database for important numbers, passwords, etc. As the name suggests, it does this using a 'wallets' format, which are collections of what you might call 'eCards'. Each 'eCard' is an e-version of some sort of real or imagined card you might have in your real wallet. Every one of your credit cards, library cards, ID cards, photographs, etc. can be easily turned into an 'eCard', but you can also make them for things like log-in information, family information, or any other data you want to protect. (I apologize for the images- my Blackberry screenshot program is not working the way I want. You can see screenshots on the website, but the cards themselves look very much like the desktop versions do.)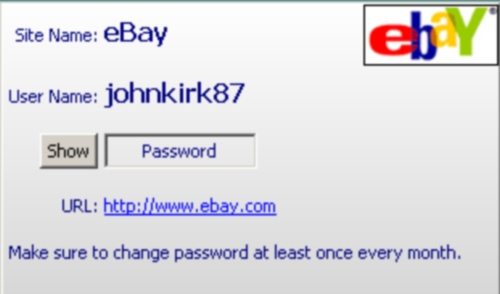 Since protection is the main thing, let's look at the security first. As the site says "Trust your important information to eWallet's strong 256-bit AES encryption – the same encryption method that US government agencies (FIPS*) require to protect their data". Your information is locked behind a single password for rapid but secure access. Besides the encryption, eWallet adds other useful security elements as well-
Password Generator lets you specify what sort of password you want- alphabet, numbers, symbols, capitals, length, etc. including whether you want it pronounceable or a mnemonic aid.
An 'auto-fill-in' tool is included in the desktop version so you can save keystrokes when entering websites, and feel safe knowing that no other information is being traded or looked at.
You can set the program to autolock at a set time, and/or to lock up after a set number of failed attempts.
You can scan sensitive images (like your actual cards) and save them under the same password.
eWallet can save over several computers- you can easily have multiple back-ups that can sync as you wish. Multiple backups have saved my neck a few times!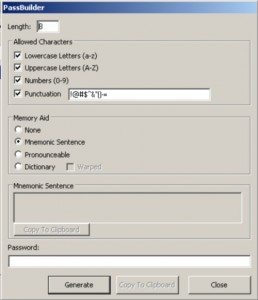 eWallet is basically a database, which means at some point you have to gather the pertinent data in one place and in one format. It includes an Import Wizard to simplify this task, and can handle Excel, CSV format, and data from CodeWallet, SPBWallet, SplashID, and TurboPasswords (Cloak). Whether you import or add everything new, you will probably want to tweak everything so it looks sharp!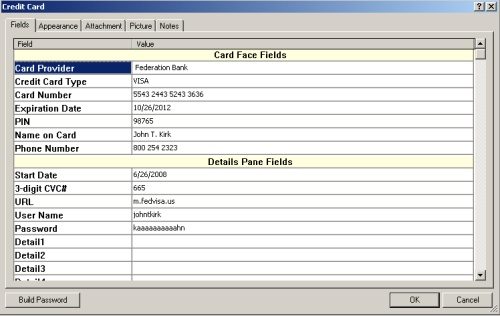 Newly imported information will be presented on plain white cards, which you then improve with built-in editing tools, free down-loadable icons and backgrounds, or your own images. While the tools rarely allow you to make eCards that are identical to the plastic version, you can still make them darn attractive. If you want 'look alikes', you can always scan the cards in and set them as backgrounds. The results will look almost identical on either the computer or the handheld.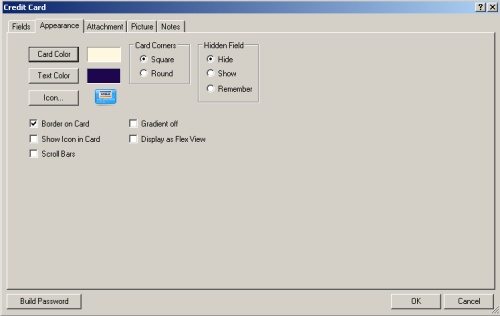 The desktop version that adds a lot of value. Not only does the desktop version make it easier to edit or create cards, it offers a secondary storage site and helps coordinates other back-ups. It also offers the aforementioned fill-in tool. The sync works nicely and nearly invisibly.  My only beef here is that the Blackberry version syncs through the Blackberry Desktop Manager, which is not high on my favorite programs list.
I admit to not being a big fan of security products like this. Even with wizards, there seems to be a lot of work getting everything set up, and on my Palm, I preferred the simplicity of a password-protected notepad replacement program, then I just kept all of my important stuff there. However, I do like eWallet- it works nicely without getting in my way too much and with a little effort you can make the cards very attractive and interesting.  I certainly like it better than the clunky 'Password Manager' bundled with my Blackberry!
Product Information
Price:
$19.99 for Blackberry or desktop, $29.95 for both (see site for more pricing details.)
Manufacturer:
Illium Software
Pros:

Good security
Flexible, can save lots of kinds of data
Easy to use

Cons: