We use affiliate links. If you buy something through the links on this page, we may earn a commission at no cost to you. Learn more.
I have thought of myself as a Palm Power User since the days of my old Handspring Visor Deluxe (Ice), back when cell phones were big bricks and Windows was an unstable annoying platform. Now, I am using a Palm Centro Smartphone, cell phones are in danger of vanishing as they get smaller, and Windows…
Part of the reason I think of myself as a Power User is that my entire life is in my Palm- a diary, useful numbers, codes, passwords, etc. I often worry about security- especially as I get more absent-minded- but I generally just rely on the internal security features… unless I turn them off for being annoying or causing glitches with other programs (they seem to dislike software with alarms.)
I have tried various third-party software for this- 'wallets', secure memo programs, etc. in the past, and found most of them rather tedious. I mean, the info is already on my Palm, where I want it to be. Most of these want me to re-input everything in their specific locations. I've got vital games of Spider Solitaire to play, I don't have time to re-input everything!
Enter Ilium Software and eWallet. They asked for a review and provided a key. After bad experiences with wallets, I was less than enthusiastic but the program won me over.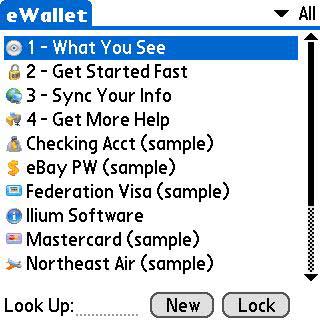 [Getting started screen]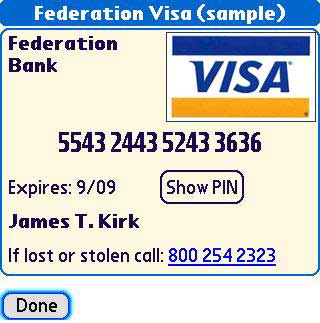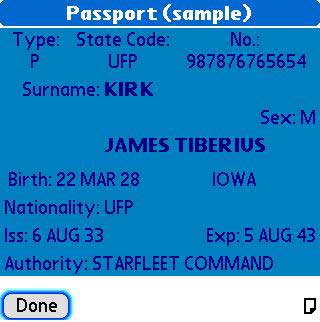 [Sample Cards- 'credit card' and 'passport']
First, they offer a desktop version that syncs with the Palm, and can also store info on-line for you. Being able to do everything on my laptop made the process much less annoying. Next, they actually do the wallet idea right- the info is stored on cards that you can format to look just like the cards you might carry in a wallet. They give you sample cards, icons, free icon and background packs, a small design program, and more to let you design the card the way you want it. The card can show or hide vital information for another level of security.
This ability is a blessing and a curse. It is great to create a series of virtual credit cards, calling cards, etc., but you still have to make each one. The program can inport data from other similar programs, but not from various locations across your Palm. Now, not only do I have to imput the data, I get sucked into playing with the look of each card! (And you know that I HAVE to tweak each and every one until it is juuust riiiight!) Besides the front of the card, eWallet also allows you to store a ton of other data as if on the 'back' of the card- additional phone numbers, useful info, etc. I use it for payment due dates, interest rates, etc.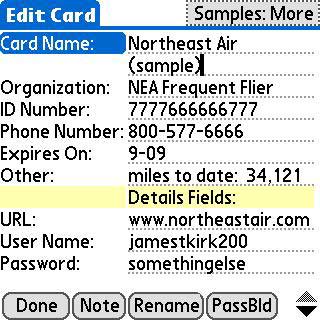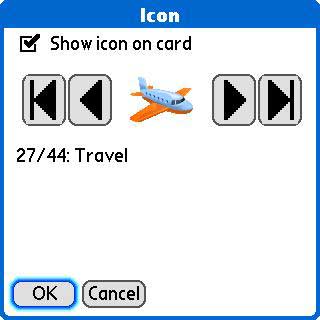 [Making Your Card- database and part of the customization process]
So… how secure is all of this? eWallet uses a 'strong 256 Bit AES encryption', which is apparently a very good system. It uses a simple password you choose to get into, and after a certain number of failed attempts, it locks up. It automatically saves changes, syncs to the desktop and web (if you want), and can even be used as a 'auto-fill-in' tool on websites if you wish. (Personally, I love this feature. Other auto-fill-in programs make me nervous wondering who is tracking the info.)
There are things that make or break programs for me. The looks, 'clunkiness', features, little details that show careful thought, and the overall 'gestalt'. eWallet offers a lot of features either built-in or as free downloads- a password generator, a decent interface, a relatively small footprint that seems very stable, a decent website, icon pack, background editor, and more.
As I use eWallet more and more, especially on my laptop, I am more and more impressed with it. I like the way I can use it to generate a strong, secure password to use on the Internet, then use the fill-in feature to access the sites. (I generally rely on a few rather weak but easy to remember passwords which I know is a terribly unsecure method.)
The thing I like about eWallet for my PDA is that I can create categories for my cards, then quickly and easily select a card with a simple PIN number. It takes a little getting used to storing my stuff this way instead of the more 'organic', but less structured way I am used to, but it is happening.
About the only thing I can think of that would make the program better would be if it paid your credit card for you!
eWallet is $19.95 for one version (PC, Palm, or Windows Mobile), and two versions (PC and either Palm or WinMobile) for $29.95.
Product Information
Price:
29.95
Manufacturer:
Ilium Software
Pros:

Several helpful programs and features
Easy to use
Seems very secure
Desktop version very helpful

Cons:

Have to re-input a lot of stuff
Initial set-up can be tedious