We use affiliate links. If you buy something through the links on this page, we may earn a commission at no cost to you. Learn more.
Mice come in all shapes and sizes these days. They are available in corded and non-corded varieties, using Bluetooth and other wireless protocols. Some run on batteries, some don't. But all mice share a couple of important features… They have Left and Right buttons (ok, some Mac mice have just 1…), and they move the cursor around on your display. Today I'm going to tell you about the Slim Mouse. This mouse has those important features mentioned above, all bundled into an extremely thin package. Power Positioning (2P) actually claims that this mouse is the world's thinnest. Is that a good thing? Let's find out.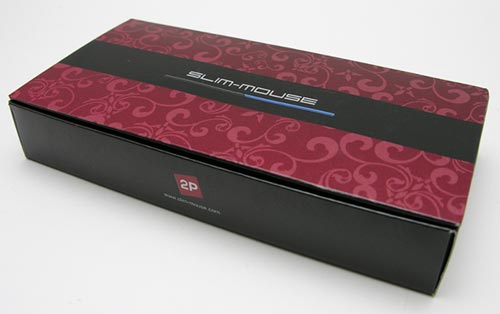 The Slim Mouse comes packaged in a slim box. Who knew?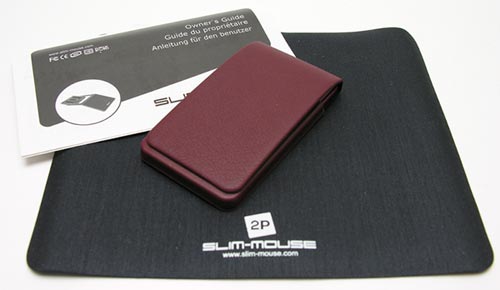 The mouse is housed in a pleather case and comes packaged with a thin mouse pad and owner's guide.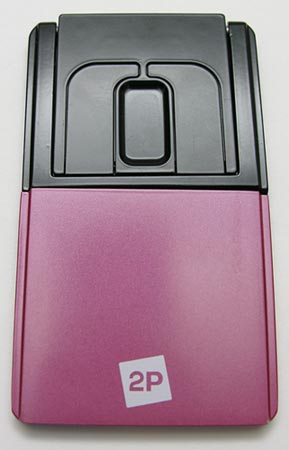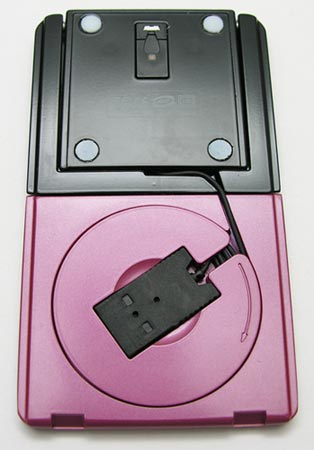 Upon taking the Slim Mouse out of the case, you are immediately struck by the fact that it looks like a PC Card. It's made of metal and plastic, with a footprint of 94mm x 53mm x 5mm. I was sent the Cherry version, but it's also available in Blue, Ivory and Silver. You notice the outline of the Left and Right mouse buttons and then a flat surface between them. This is the scroll 'wheel'. Not a wheel though, it's a touch sensitive pad. It's just like a touch pad on your laptop. The Left and Right buttons are actually buttons though. They click when you press them.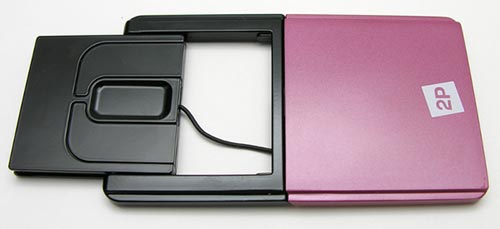 The Slim Mouse is not wireless. So in order to connect it to your PC or Mac, you have to unwind the USB cable that is housed inside the mouse. To do this, you first pull the section with the Left / Right buttons and scroll pad out an inch or so.
Never miss one of our posts again. Sent MON, WED, and FRI with the latest gadget reviews and news!

Then you pull the thin cable so that it unwinds from the spool inside the mouse.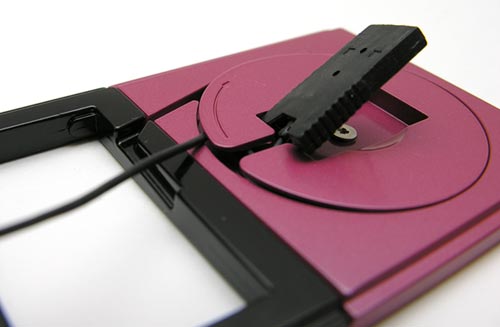 Even though the cable is short (26 inches), it's a slow process of unwinding the cable. This is because if you go too fast, the cable will jump out of groove and get wedged under the top of the spool.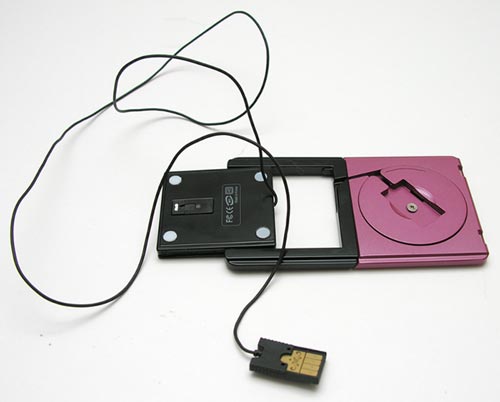 Once the cable is loose, you still need to convert the flat mouse into a useable mouse by twisting the two halves.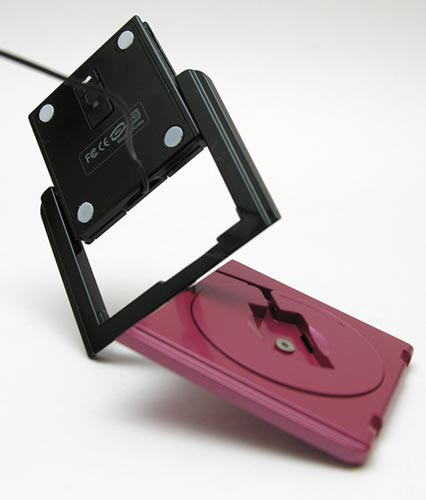 Oooh, transformers!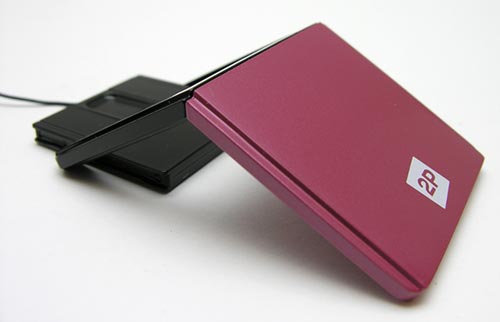 A little slight of hand magic and voila, we have a mouse.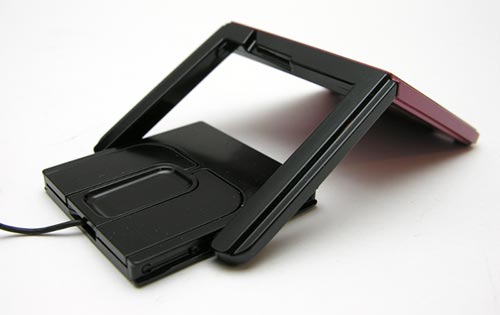 Now, you can plug the end into a free USB connector on your PC / Mac. Even though this cable looks strange, it's really a USB cable, so don't be afraid ;o) Once it is plugged in, you're ready to go. No drivers are necessary as the Slim Mouse works just like every other plug & play mouse you've used before.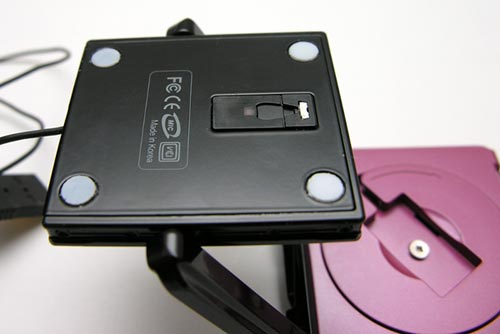 Flip it over and you'll see the optical eye. The Slim Mouse is an 800 dpi mouse that should work on all surfaces except for glass. The folks at Power Positioning (2P) might want to add wood grained desks to the list of surfaces that the Slim Mouse doesn't like. At least it wouldn't work for me at my day job. I had to employ the included mouse pad or a sheet of paper in order for it to work. The desk was not overly shiny… I have been able to successfully use the Slim Mouse on other surfaces like counter tops, etc, with no issues.
Using the Slim Mouse does feel a bit awkward initially. At least it did for me. There just isn't enough solid mass to it, to make it feel really comfortable in my hand. Although the buttons, scrolling etc, work like every other mouse I've used in my life, it just feels a bit foreign in my hand when I try to use it.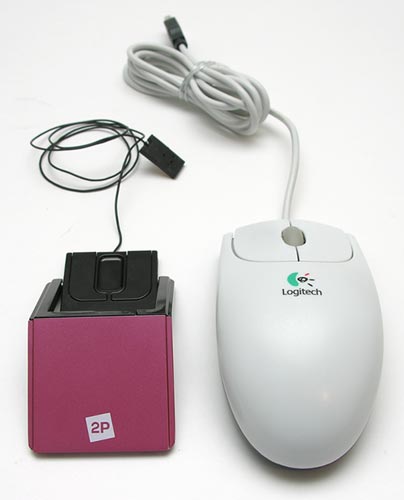 Here's a size comparison between the Slim Mouse and a regular old 2 button Logitech scroll mouse.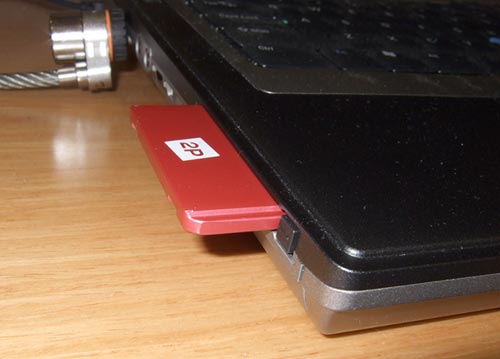 A couple different places on the Slim Mouse website states that you can store the Slim Mouse in a PC Card slot when your not using it, or for travel. Well, as you can see from the image above, it doesn't quite fit completely into the slot. It's probably a better plan to just put it in the carrying case and throw it in your gear bag.
The Slim Mouse has an interesting design, but for me, it just seemed to be too much of a hassle to use it. It also feels a bit fragile since the cord is quite thin. For me, I'll just stick with a small travel wireless mouse such as the Kensington Ci75m Wireless Notebook Mouse. It's less expensive and easier to use.