We use affiliate links. If you buy something through the links on this page, we may earn a commission at no cost to you. Learn more.
Product Requirements:
A collection of SD, MMC, Smart Media,
Memory Stick, Compact Flash and even PCMCIA cards that need organizing
If you have a digital camera, a PDA, an MP3 player, and/or a laptop, then
chances are that you have a collection of digital media cards that need
organizing. If you should ever need to take these cards with you while
traveling, then you need protective organization – which is exactly what
RoadWired offers
in their new
FlashFolio.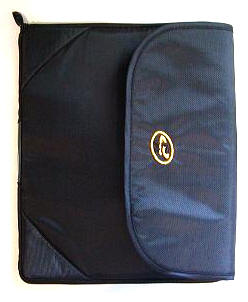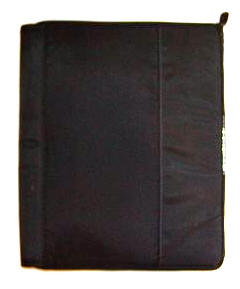 The FlashFolio is a book style case that measures 10" tall x 8.5" wide.
Composed of water repellant-treated nylon, lined with Corrosion Intercept®
environmental barrier material, the exterior FlashFolio is rugged enough to
withstand harsh daily use while still looking good. For protection from
crushing, beneath the folio's outer shell is "a sandwich of padding and rigid
support panels that provide impact protection and body to the case. The interior
is fully lined with

Corrosion Intercept®, a patented aerospace material (developed and licensed
by Lucent Technologies Bell Labs) that defends against moisture, vapor,
pollutants and other environmental hazards."
To keep dust and drops of water out, the case zips closed with a Velcroed
flap holding everything in for good measure.. For times when you are more
interested in easy access, you can just close the folio with the Velcroed flap.
It is when the FlashFolio is opened that you see a wonder of organization.
Inside, there are 18 Compact Flash card sized mesh pockets that each close
securely with a tab of Velcro. A nylon ribbon attached to the top of each pocket
makes opening effortless.
Just because these pockets are CF sized doesn't mean that is all you can
store in them. These pockets will also hold SD, MMC, Smart Media and Memory
Stick cards. Here you can see that I have every kind of media loaded into my
FlashFolio…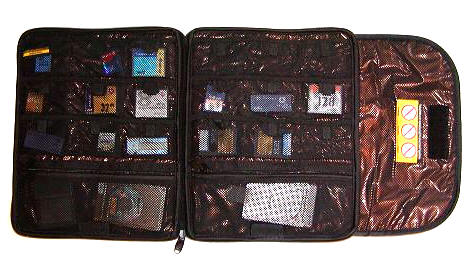 Along the bottom of each side are two long zippered mesh pockets, which are
perfect for holding PCMCIA cards or CF->PCMCIA card adapters. You can even store
smaller cables or other miscellaneous small items in these pockets.
In the center of the folio is a removable nylon framed Index sheet that
attaches with Velcro. This Index allows you to keep a tally of what is stored on
each card. In all honestly, this isn't something I would ever use, so I am happy
that it is so easily removed.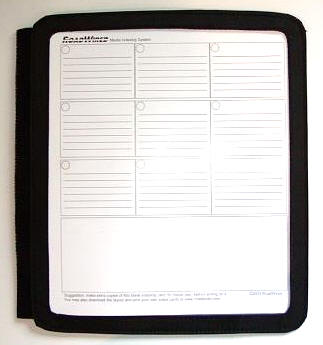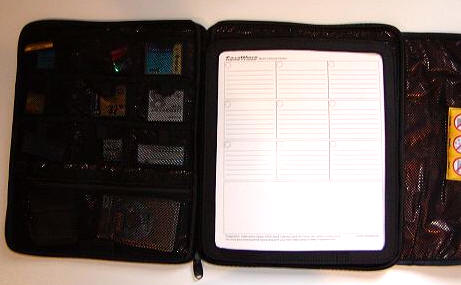 There is even a clear plastic slot on the spine of the FlashFolio for those
of you that will use more than one and would need a way to differentiate folios.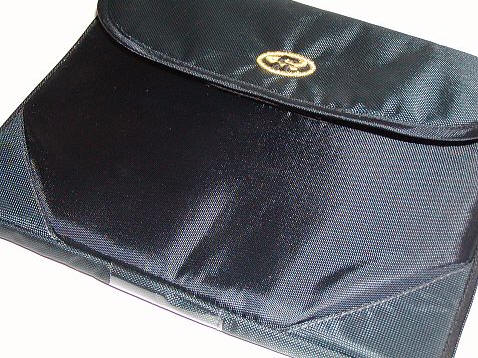 If nylon is not your thing, then you can even get the same case in "exquisite,
butter-soft, black Nappa leather."
The FlashFolio is a protective and extremely well made organizational system
for those that have multiple cards for multiple gadgets. If you need a way to
keep all of your cards organized, protected, and ready to travel, then this is
the solution for you.
You can buy the
FlashFolio
directly from Roadwired.
Price: $29.95 available in black, grey, yellow and
red
Their warranty is pretty simple:
If you buy a RoadWired case and don't love it, return it.*
If your RoadWired bag or case fails due to manufacturing or material
defects, we'll fix or replace it.*
*complete
warranty details
Pros:
Protective organization for your fragile Flash cards
Extremely well made and implemented design
Cons:
None
Product Information
Price:
29.95
Manufacturer:
RoadWired
Pros:

Protective organization for your fragile Flash cards
Extremely well made and implemented design

Cons: