We use affiliate links. If you buy something through the links on this page, we may earn a commission at no cost to you. Learn more.
Product Requirements:
Device:
Palm Tungsten | C
I have used an Innopocket aluminum
hardcase on my last four PDAs. I like being able to slide my handheld into my
back pocket and not worry about it. They create attractive, form-fitting, protective
aluminum PDA cases which have never failed me yet. And true to form, they have
achieved this once again with their Al hardcase for the
Palm
Tungsten | C (which is nice to have metal surrounding the plastic
exterior of the T|C).
This very well made case is book-style with a light silver, satin finish. The
exterior is a perfect example of elegant simplicity…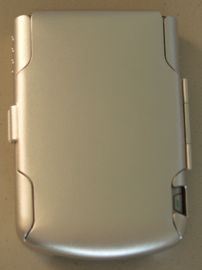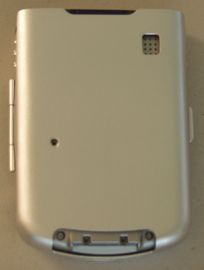 The flip-cover is held in place with a friction clasp, which is very secure
and should not open unintentionally.

There are cutouts for the power button, speaker, reset button, sync/charging
area, and top of the PDA.

When the flip-cover is closed, there is access to the SD card slot, stylus,
IR port, and headphone jack.

The cover opens to the right, like a book. The hinge is sturdy and all edges
are machined and smooth. Neoprene covers almost every surface of the Tungsten
armor. This not only cushions your T|C
from a fall, but also protects it from scratches.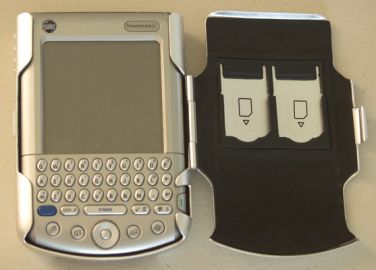 There are 2 SD card slots in the case cover. SD cards
slide in easily, but are oriented 'face' down leaving the card connectors exposed.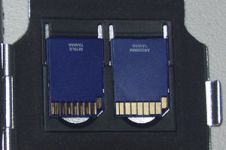 You insert the T|C by sliding it into
the 'holster' portion of the case. The aluminum wraps around the top & bottom
of the PDA and helps to hold it in securely. There are the two aluminum clips
on the inside rear of the case. These fit into the two clips on the back of
the T|C adding additional security.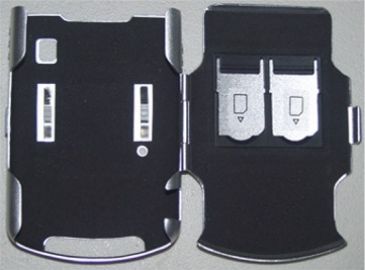 One negative comment I have is that the front cover inhibits
right-hand use of the thumb board. I had my T|C
awhile now and was used to holding and typing in a certain way. I had to adjust
how I hold/type when the PDA while in the case.
A second issue that will be a con for some users is that you can't sync the
T|C with the cradle while it is in the
case. However, you can use the travel charger/sync cable while in the case.
When the T|C is inside this case there
is no doubt that it will protect the reasonably fragile exterior of the PDA.
If you are looking for a protective, sleek, professional case, this is the one.
Price: $34.90
Pros:
Great protection
Sleek, professional form-factor
Price is very reasonable

Cons:
Case cover gets in the way while typing on keyboard
Cannot use cradle to hot-sync/charge the T|C
while it is in case
Product Information
Price:
34.9
Manufacturer:
Innopocket
Pros:

Great protection
Sleek, professional form-factor
Price is very reasonable

Cons:

Case cover gets in the way while typing on keyboard
Cannot use cradle to hot-sync/charge the T|C
while it is in case