We use affiliate links. If you buy something through the links on this page, we may earn a commission at no cost to you. Learn more.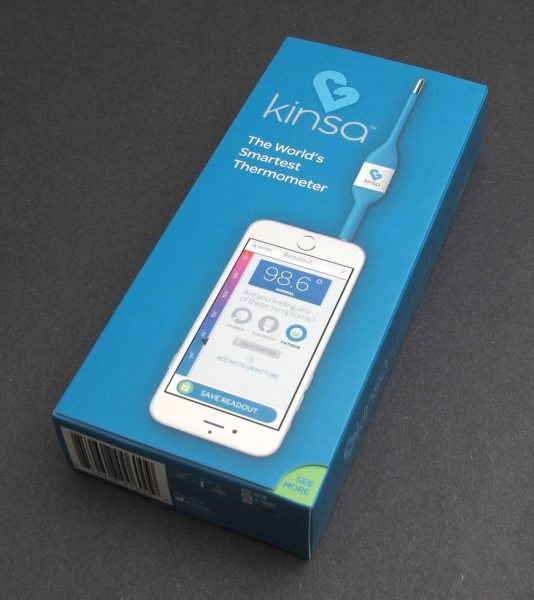 Getting sick is obviously no fun, but having an easy way to track your fevers can be just a little more fun when you use the Kinsa Smart Thermometer. You might be thinking, why should I spend money on a digital thermometer when my old style glass thermometer or existing digital thermometer works just fine. Well, the Kinsa Smart Thermometer has a few features that those other unconnected thermometers lack. The Kinsa will keep a log of your temps and symptoms, and will also let you check schools in your area to see if there's an illness is going around. Helpful? Let's find out.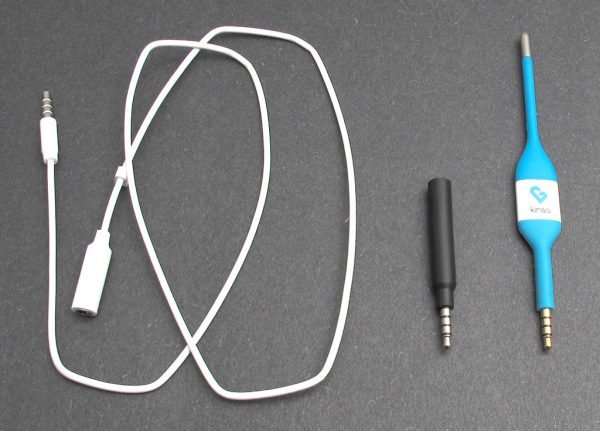 What's in the box?
Kinsa Smart Thermometer
Setup Adapter
Extension Cord
Storage case
Quick Start Guide
Set of Instructions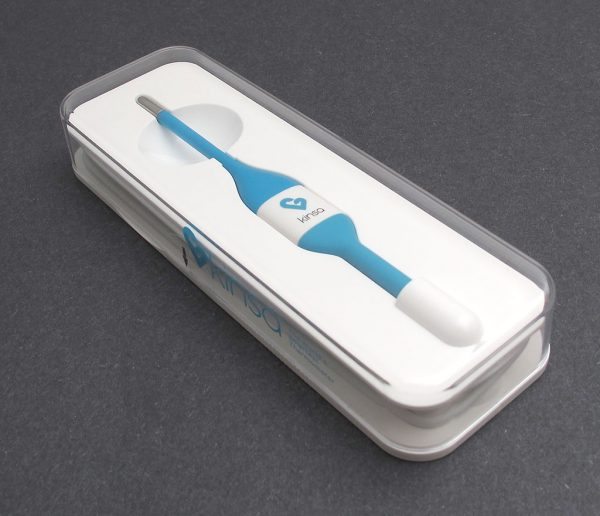 The Kinsa comes in a nice storage case that houses the thermometer when it's not being used, along with the extension cable and the setup cable.
The thermometer is a one piece device with a 3.5 mm jack on one end and the probe on the other end of the flexible "stem".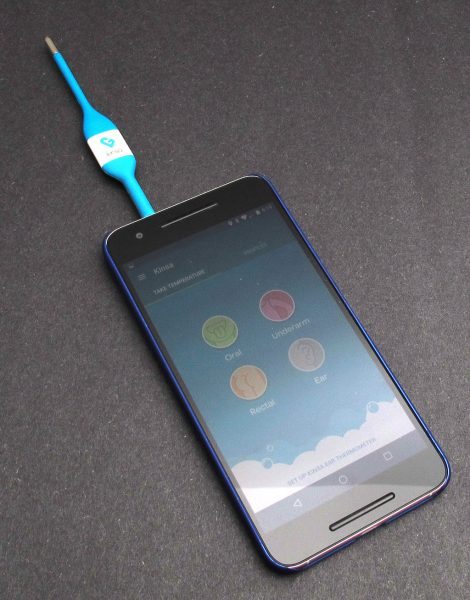 To use the Kinsa you have to install the Kinsa app on your iPhone or Android phone and follow the extremely easy step by step video clip instructions. Be aware that some Android phones are not yet compatible with the Kinsa. I ran into this problem when I started my testing of this smart thermometer with a LG G5 and it would not connect no matter what I tried. I thought my Kinsa sample was defective, but when I tried it with my Nexus 6p it worked just fine. For a list of compatible devices, check this page on Kinsa's site.
Note that the Kinsa does not have batteries that you have to keep charged. It draws the power it needs from your phone's 3.5mm headphone jack.
After you've successfully performed the setup procedure, you can start recording your temperature readings. This is done by launching the app and choosing the method you want to use to take the temp. I tested by mouth and armpit. Sorry guys, there's no way I was going to test the rectal method 😉
When you tap the temperature recording method, you'll see quick animation of how to place the Kinsa and then it will immediately start taking the temperature. As it's taking the temp, bubbles appear on the display. I was surprised by how quickly it was able to read my temperature. It took between 10 and 20 seconds, which is more than 50% faster than my two battery powered digital thermometers.
After the temperature is read, it will be displayed on the screen and will tell you if you have a fever or not. You have the option of selecting symptoms, adding notes, photo and a diagnosis of your issue.
Another feature of the Kinsa Smart Thermometer is the ability to join a group that is based on your area schools. Through the app you can search for schools near on your location. If your school is listed, that doesn't mean there's really an active group though. I tried to join one of the main high schools in my area and it said that there needed to be at least 5 people to create a group. I checked all the schools listed for my area and none of them had more than 0 members. Note that this feature is still in beta testing…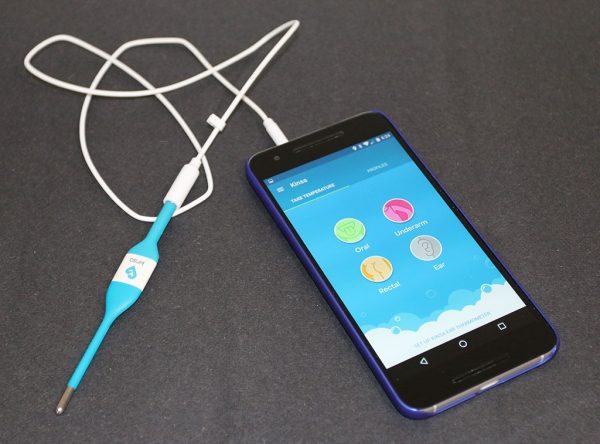 I tested the Kinsa against two other battery powered digital thermometers that I had in my house. I couldn't find an old fashioned glass thermometer to try. I found that the Kinsa's temperature readings matched my newer digital thermometers readings exactly and was .2 degrees lower than my older digital thermometer when taking the temps orally. I also tested under my arm for all three thermometers and the readings were all over the place. According to Kinsa's site, this thermometer exceeds both ASTM and ISO standards for professional accuracy.
So why would you need this thermometer when the one in your medicine cabinet does the exact same thing? I like the Kinsa because it's faster, doesn't require a battery and keeps an archive of my temperature readings. Sure, I could write down my readings by hand if I wanted to keep a log, but from personal experience, I know that can sometimes be harder than you think. Five years ago when I was fighting cancer and going through chemo, I had problems with fevers that my doctors couldn't figure out. I kept a notebook where I would write down the dates, times and readings so I could take with me to my doctor appointments. The problem was that I had "chemo brain" which means my attention span and memory sucked during that time. From the time it took me to take the thermometer out of my mouth to grab a pen and my notebook, I would often forget the reading. The Kinsa would have been perfect for me back then!
The only feature that is missing from the Kinsa other than a useful groups feature, is a way to export the temperature readings. It would be nice to be able to export to an email, dropbox, Evernote, Google drive, etc. But at $19.97 through Amazon, I think this is a great alternative to "dumb" thermometers and is another Internet of Things gadget that is actually useful.
Source: The sample for this review was provided by Kinsa. Please visit their site for more info and Amazon to check prices and order.