We use affiliate links. If you buy something through the links on this page, we may earn a commission at no cost to you. Learn more.
Product Requirements:
Device:
Toshiba e740, e750, e755 Pocket PCs
 
PDA cases are such personal items that true techno-geeks will search
endlessly for the perfect one that matches their lifestyle and personality. We
never seem to find the absolute perfect case and keep searching and searching.
To truly understand what a reviewer feels about a case you must know at least a
little about how they use their PDA.
I carry my Pocket PC everywhere. I mean, everywhere. It is always with me as
I am what you might call a heavy user. There, I've said it. I am addicted to my
Pocket PC. The only place you will see me without it is in a swimming pool. It
will be with me AT the swimming pool but I draw the line at taking it IN the
pool with me. I may be addicted to it but I'm not crazy.
I work out of a mobile office and go from client office to client office all day
long. The Pocket PC is an integral part of my workday and I use it for
everything. PIM functions, time and expense billing, email, web surfing.
Everything. This means the PDA must be easily accessible and well protected at
the same time. To accomplish this for the past few years I have been using a
holster case with a belt clip which literally keeps the PDA ready to whip out
and, well COMPUTE at a moment's notice. But since I am a complete techno-geek
and I search endlessly for the "perfect" case for my Toshiba e755 I jumped at
the chance to get my hands on the InnoPocket hard case for this review.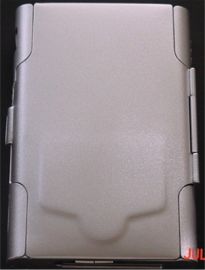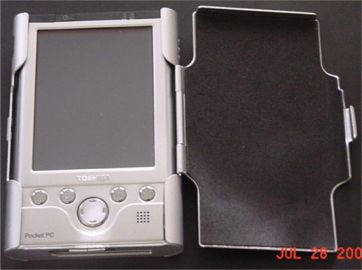 Anodized aircraft grade aluminum. Just think about that phrase for a minute.
There could never be a geekier term used for any PDA case. Extra points for
that. The shipping container the InnoPocket arrives in is clear plastic
packaging which lets you see the sleek beauty of this case even before opening
it. Extra points for that, too. The case is a very well machined work of art. I
mean, it's frankly beautiful with such clean lines and every thing fits together
without a single flaw. The case is well tooled and all the slots and cutouts fit
the e755 just perfectly. The aluminum case fits the Toshiba like a metal glove
and everything lines up just right and the lid opens just right. When closed the
InnoPocket lid fits perfectly with every seam just right.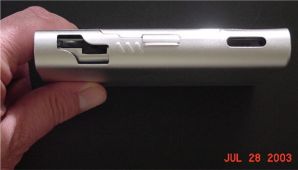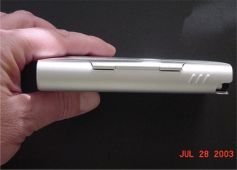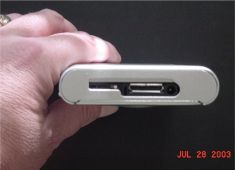 The brushed metal the case is made from is simply gorgeous. What's not to like
about this case? Read on and I'll tell you. The case is lined on the inside with
neoprene which not only provides cushioning to help survive mild shocks but also
makes the PDA fit very snugly inside. The Toshiba slides in with just the right
amount of difficulty to give you a feeling of confidence that the case will
probably never wear down to the point the PDA will slip out unintentionally.
Therein lies the first rub. The PDA is almost impossible to take out. The first
few times I removed the Toshiba from the InnoPocket I almost ripped the plastic
top off the PDA. That's not good at all. I quickly devised a system of pushing
the bottom of the Toshiba up with a stick or something and then carefully
wedging it out of the case. While the InnoPocket has cutouts for a sync cable,
the IR port, scroller wheel, WiFi switch, and the entire top of the Toshiba, I
still use the cradle for charging at night. So the difficulty of removing the
PDA from the case is one I face daily.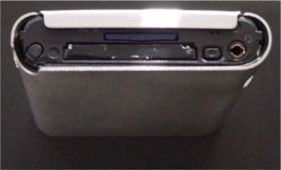 I've pointed out that I normally use a belt clip. Not everyone likes belt clips
nor would find one important but it's very important to me. The InnoPocket
doesn't come with a belt clip and they don't offer one as an option, either.
This is a deal killer for me as I'm not about to risk a $500 Pocket PC on a user
glued belt clip. The Toshiba is heavy enough on its own but once you put it in
the heavy metal case it weighs so much you'll never want to carry it in a shirt
pocket. There'd be a permanent list to port if you did. So, the lack of a belt
clip was the first big strike against the InnoPocket for me.
Not having a belt clip means you will carry the PDA around in your briefcase or
bag. The InnoPocket is so sturdy you can do just that without any fear
whatsoever your investment will get damaged. It's probably the strongest case
I've ever seen for any PDA. So if a belt clip is not important to you the
InnoPocket might be the most beautiful and sturdiest case you could ever want,
right?
There's one trait that anodized aircraft grade aluminum possesses that I never
realized until I had my hands on the InnoPocket. It's slippery. Very, very
slippery. InnoPocket didn't put any rubber grippy things anywhere on the metal
case. I guess they felt it would mar the simple beauty of the case. This case is
so slippery it's downright dangerous. If you did keep it in your shirt pocket I
can almost guarantee it would slip out. I have never dropped a PDA in years of
heavy use but I almost dropped the InnoPocket twice in the first week. This is
ironic because the InnoPocket is designed to protect the PDA from shocks but
would likely cause the user to drop it at some point. Maybe I'm just being
paranoid but I found this case to be dangerous.
Price: $29.90 available at
Innopocket
Pros: 

Gorgeous- real attention-getter
Strong- no better protection for any PDA
Perfectly form fitting
Cutouts allow easy access to almost all PDA functions
Cons: 
Slippery- you WILL eventually drop this case
Difficult to remove Pocket PC from the case
No belt clip
Product Information
Price:
29.9
Manufacturer:
Innopocket
Pros:

Gorgeous- real attention-getter
Strong- no better protection for any PDA
Perfectly form fitting
Cutouts allow easy access to almost all PDA functions

Cons:

Slippery- you WILL eventually drop this case
Difficult to remove Pocket PC from the case
No belt clip