We use affiliate links. If you buy something through the links on this page, we may earn a commission at no cost to you. Learn more.
Product Requirements:
Device:
Palm V/Vx, m500, m505, m515
StylusCentral is the end all and be all site
that people go to when shopping for a
PDA stylus. Lately they have expanded their offerings to include all types of PDA cases such as
Vaja, Lodis, Swiss Army and Piel Frama to name just a few. Not to be left out,
they have come out with their very own case for Palm V/Vx, m500, m515 series
devices.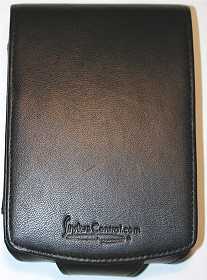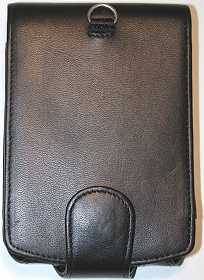 Made from black Napa Leather, the StylusCentral case is a play through slipper
style case. It doesn't come in fancy colors like Vaja or cost as much as a Filofax case.
But what it is, is a nice case with some good features that will protect your
PDA from everyday abuse.
Like all slipper style cases, the PDA slides into a holster and is held there
with friction. This case is no different in that respect. It is held securely
without the need of Velcro, and will not fall out. I tried both my Palm V and
m505 in this case and both fit just fine, although the m505 had a slightly
better (snug) fit.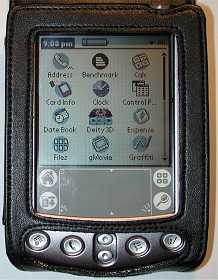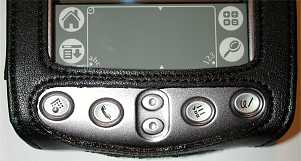 There is one large square cutout for the screen and one oval cutout for the
scroll and application buttons. Both cutouts line up correctly and allow for
unrestricted access to the screen and buttons. While in the case, there is also
access to the stylus, IR and power button. I did find it a little hard to press
the power button while in this case. Although there is a shallow cutout for the
power button, the thickness of the leather makes pressing the button a little
awkward.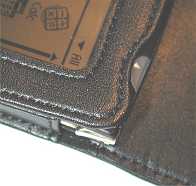 A cutout on the bottom of the case allows you to use a cable for syncing and
charging. Sorry, if you want to use your cradle, you'll need to remove the PDA
from the case.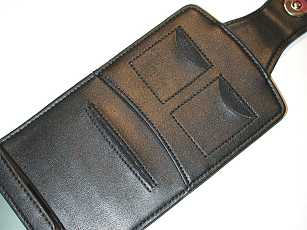 The screen cover has two SD card slots, one business card sized slot and one
larger slot behind them. A wide tab with a magnetic button is used to hold the
cover closed. I really like this type of magnetic closure method and don't worry
about the cover coming open accidentally. The cover also has been reinforced with
an insert to protect the screen from damage incase of knocks and bumps while
closed. An understated StylusCentral.com logo adorns the front of the screen
cover.
The back of the case has a small metal D ring sewn into the top. I guess you
could attach a lanyard to it if you desired.
As far as materials and construction go, I really couldn't find anything to
complain about. I found no blemishes in the leather and no imperfections in the
stitching.
The StylusCentral Palm V/Vx, m500, m515 series case is a nice case that does
everything it was designed to do while keeping a low price tag…especially
while it is on sale!
 
Price: $29.99
Pros:
Magnetic closure
Lots of storage
Cons:
Have to remove to charge or sync
Only comes in black
Product Information
Price:
29.99
Manufacturer:
Stylus Central
Pros:

Magnetic closure
Lots of storage

Cons:

Have to remove to charge or sync
Only comes in black