We use affiliate links. If you buy something through the links on this page, we may earn a commission at no cost to you. Learn more.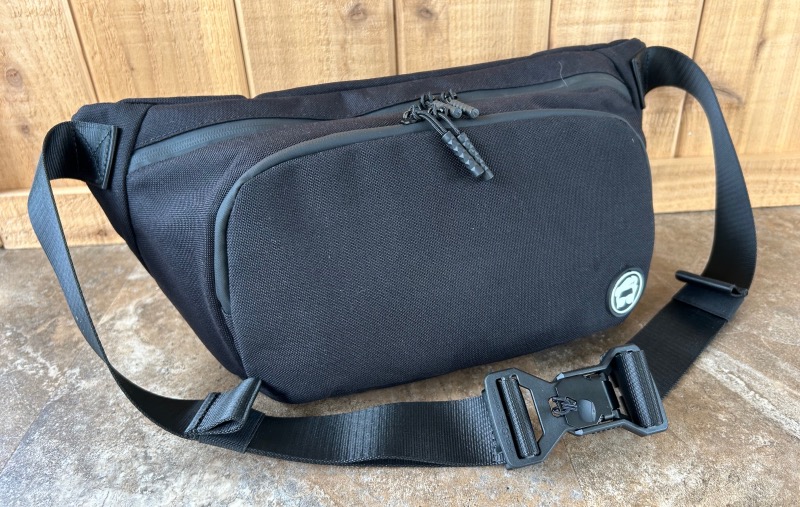 REVIEW – Sling bags are all the rage these days, and it seems like every company that offers soft goods is producing a sling bag or three. Some of these products are small and simple, others are large and multi-featured. The Man Bag Co. recently released their The City Sling V2 "for guys who carry more." Let's check it out.
What is it?
The City Sling V2 by the Man Bag Co. is a weather-resistant, medium/large-sized sling bag with multiple organizational features.
What's in the box?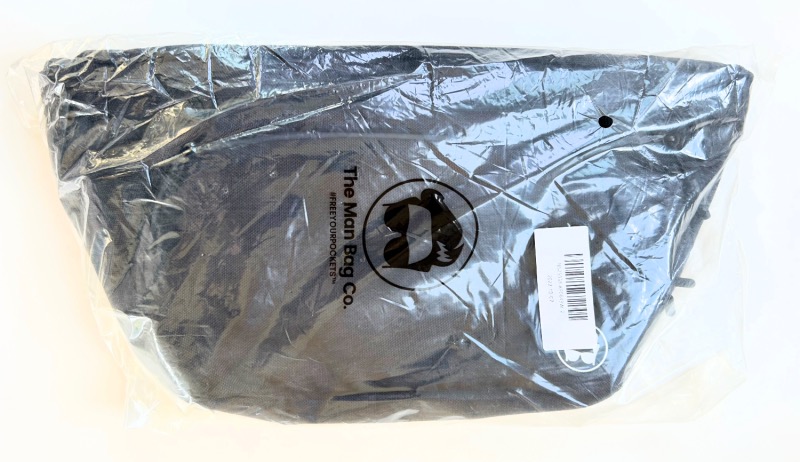 The City Sling V2 arrived inside a cardboard box, with the product itself inside a plastic bag.  I really appreciate this type of packaging. This is simplicity at its finest, with almost no waste–both the cardboard box and plastic bag can either be reused or recycled.
Hardware specs
Capacity: 7.2L
Exterior: Water-repellant 1000D Cordura

®

Fabric
Interior: Bright orange 420D Ripstop Nylon
Zippers: Waterproof dual zippers on exterior pockets
Strap: Adjustable strap up to 1 meter in length (3.3 feet)
Strap Buckle: FIDLOCK

®

Patented Stainless Steel V-Buckle Magnetic Clasp
Dimensions: 44cm across x 20cm high x 9.5cm wide base (17.3 x 7.8 x 3.7 inches)
Design and features
The Man Bag Co. is a Singapore-based company that produces "Daily Sling Bags for Guys." It offers a range of sling bags in various sizes to suit a range of needs and desires.  While the name of the company and its website indicate that its products are "for guys," I think you'll see from this review of The City Sling V2 that The Man Bag Co.'s products are not just for men—both guys and gals can benefit from its range of well-designed, durably-built products.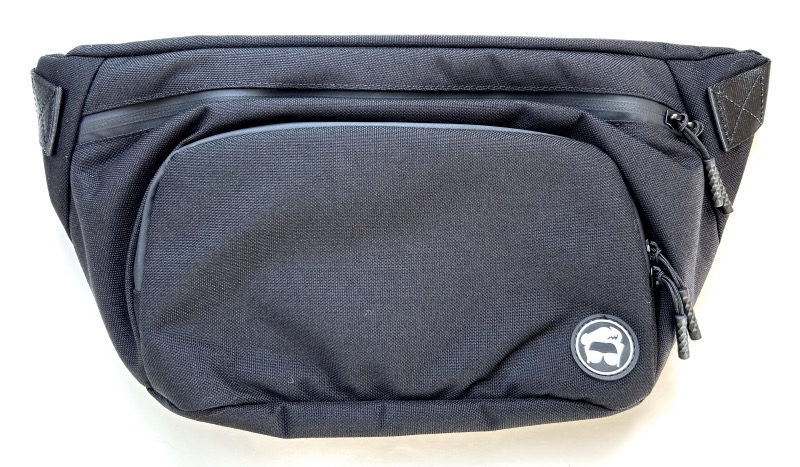 Out-of-the-box initial assessment: Point #1 is that The City Sling V2 looks and feels high quality.  It has a trapezoidal shape and its exterior is made from 1000D Cordura® Fabric, a textile that is typically used for bags in higher-demand applications, such as military-grade packs.  This is due to 1000D Cordura Fabric's high levels of both water and abrasion resistance. The 1000D Cordura feels fairly smooth but dense and solid.  It has a very tough appearance and feel.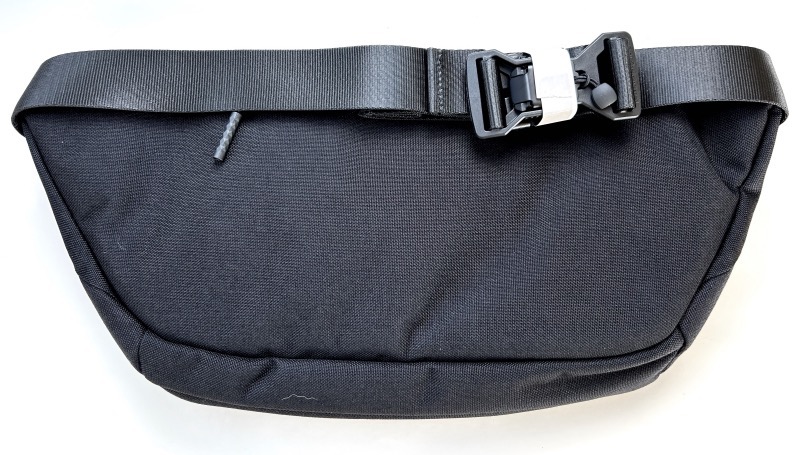 Point #2 is that The City Sling V2 has been designed with a very simple, sleek, minimalist exterior. I appreciate this design choice because my personal preference is for bags and packs that don't scream "tactical," with an obnoxious amount of webbing and Velcro fields, and also don't have an eye-searingly obnoxious color scheme.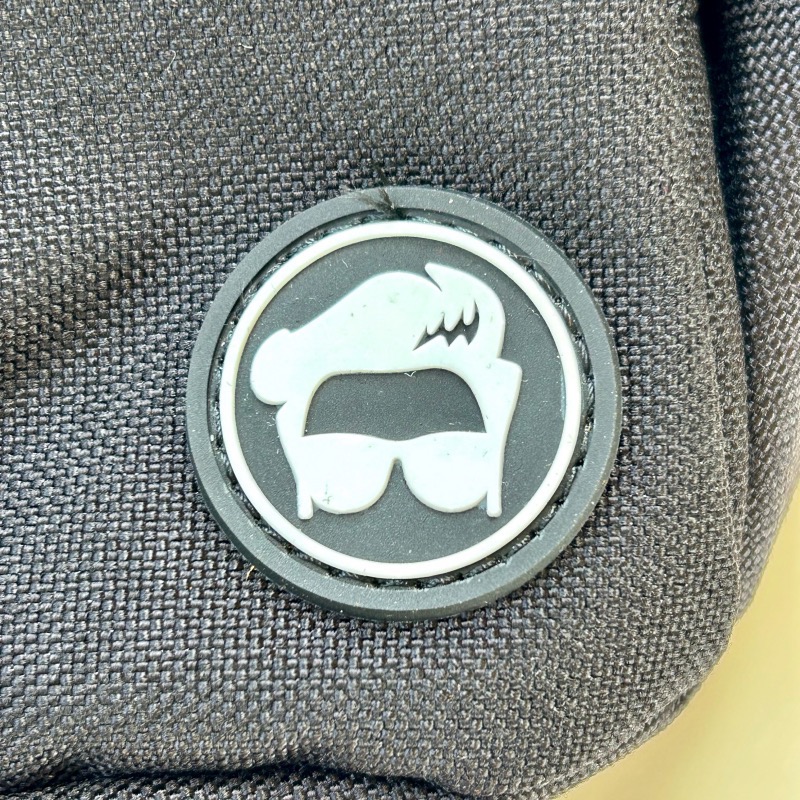 One little exterior feature that caught my eye is The Man Bag Co.'s logo patch.  It's a small PVC patch about an inch in diameter that, in keeping with The City Sling V2's minimalist aesthetic, gives the sling a bit of low-key branding without being obnoxious.  Plus, the little "cool dude" guy on the patch, with his slicked-up hair and shades is kinda fun—as if The Man Bag Co. doesn't take itself too seriously, which is often a good quality in a consumer goods company.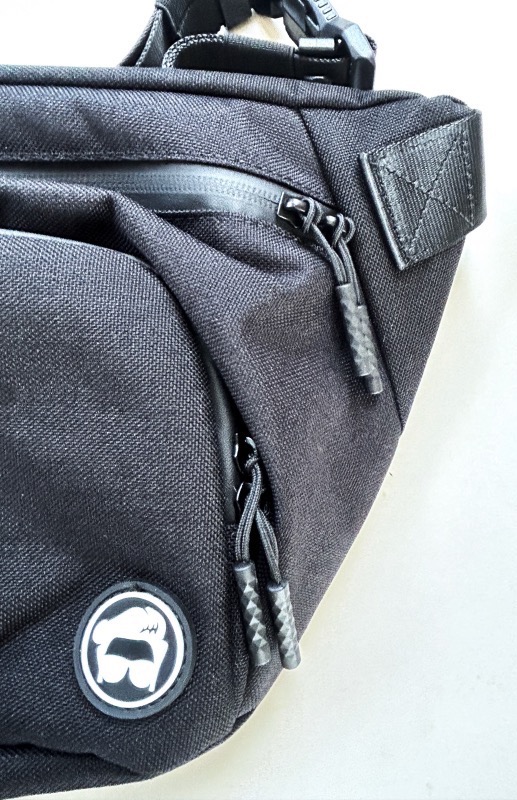 Another feature that drew my eye was The City Bag V2's external zippers and zipper pulls.  The external zippers are dual-style and feature water-resistant teeth to help prevent rain from penetrating into the sling and damaging its contents.  The zipper pulls are long plastic cylinders with a diamond knurled pattern molded into them.  The length of the zipper pulls and their diamond knurl makes it easier to grab and pull them, even if your hands are cold and/or wet.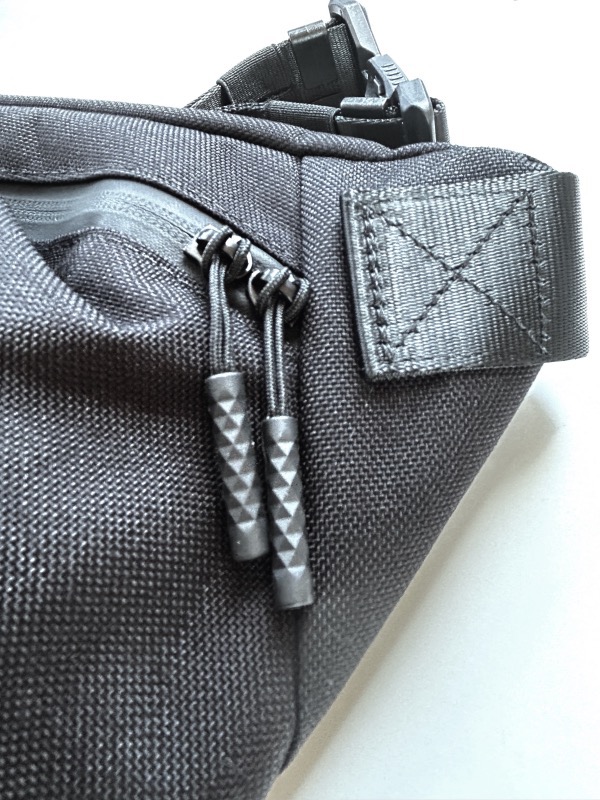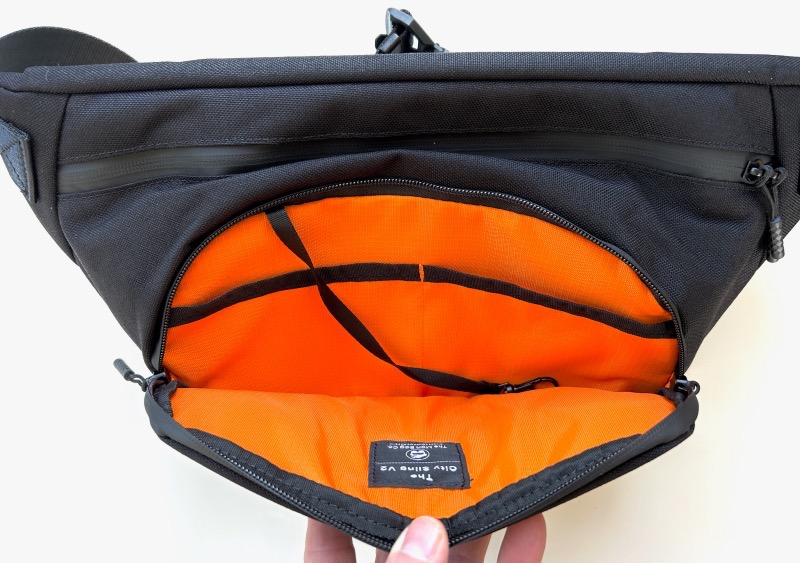 The Man Bag Co. gets the interior of The City Sling V2 right as well.  First, let's check out the sling's outer compartment. The opening is protected by a dual water-resistant zipper.  Nearly the entire interior of The City Sling V2 is made from bright orange 420D Ripstop Nylon fabric.  Kudos to The Man Bag Co. for including a hi-vis interior, which makes it much easier to see and locate items inside the sling when in dim lighting.
The outer compartment has two flat, open pockets along the back, as well as a 20cm key leash with a spring hook.  The black fabric stitched to the open of these smaller pockets helps visualize where the pockets begin, which in turn helps you see where to aim when you place objects inside the pockets.
The size of this outer compartment allows it to hold several small EDC items that you might want to access quickly, like your wallet, phone, keys, a small flashlight, knife or multitool, and so on.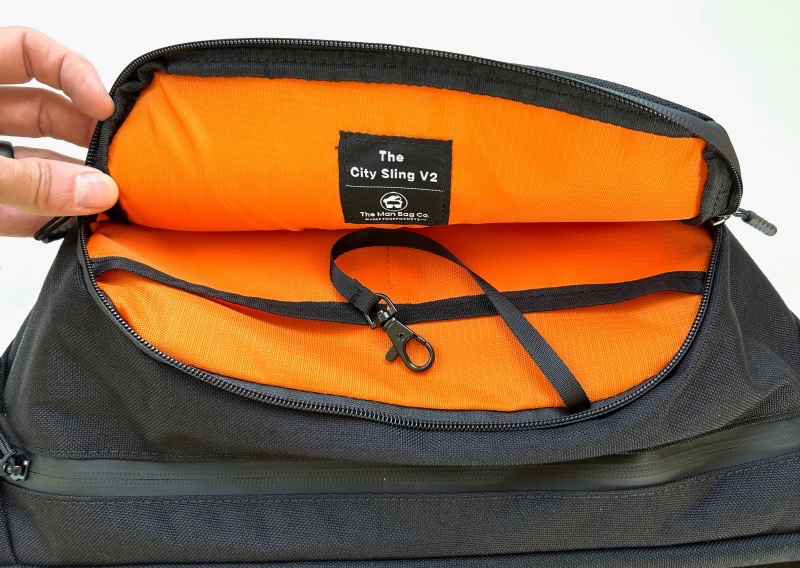 I appreciate that The Man Bag Co. has continued its simple yet functional design language inside.  By providing just a couple of smaller pockets and leaving the rest of this outer compartment open, you are free to organize the items you place inside it however works best for you.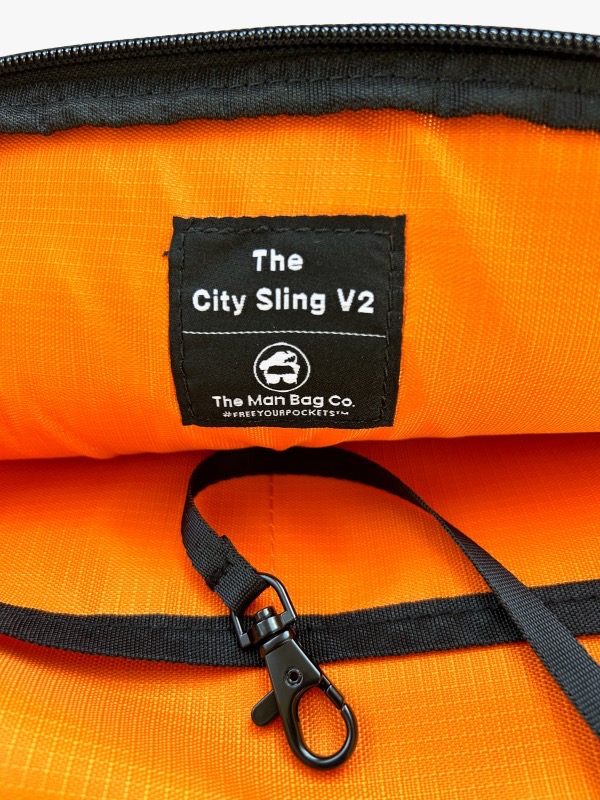 Here's another feature that I appreciate in The City Sling V2.  The Man Bag Co. chose to include a relatively small product info patch inside the sling, rather than outside.  This patch shows the name of the product, The Man Bag Co. logo, and the social media hashtag "#FREEYOURPOCKETS."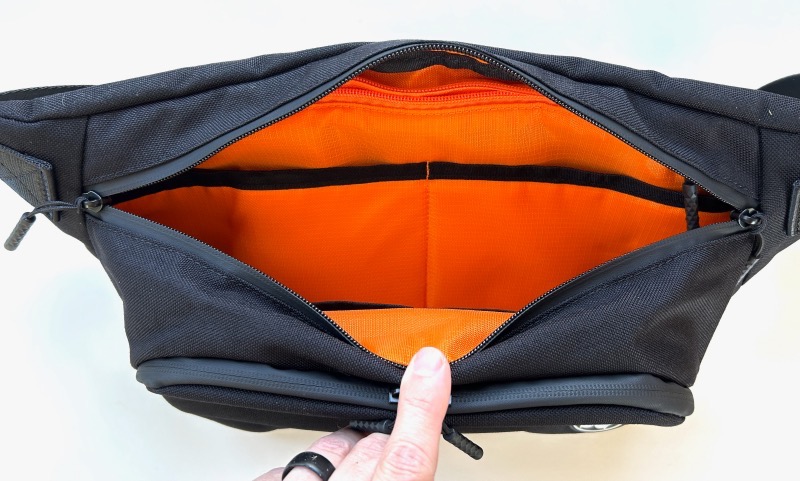 As expected, The Man Bag Co. has carried its design language into the main compartment of The City Sling V2. I'm not sure what percentage of The City Sling V2's 7.4L capacity is taken up by this main compartment, but it's fairly cavernous for a mediumish-sized sling bag. Inside are a total of seven different pockets to help organize your gear.  First are two flat, open pockets along the back of the compartment, similar in design to the two pockets along the back of the outside compartment.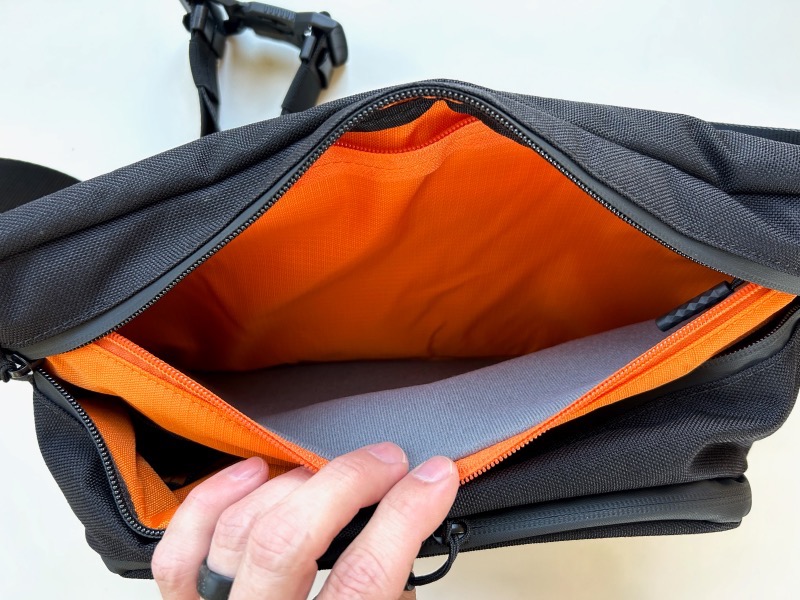 Next is an interior zipper pocket that runs the length and height of the back of the interior compartment.  This pocket has the standard The City Sling V2 zipper pull but without the water-repellent zipper.  The pocket features a soft fleece lining so it can be used to hold items that you don't want to be scratched. It's also perfect for long, flat items, like airline tickets or other travel documents.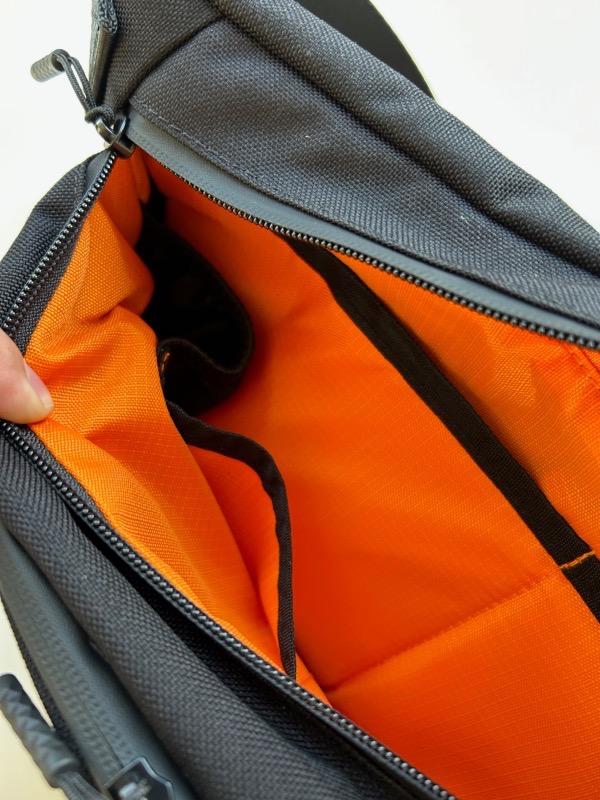 Next are two small stretchy pockets, one on either end of the main compartment.  Shown above is one of these interior stretch pockets.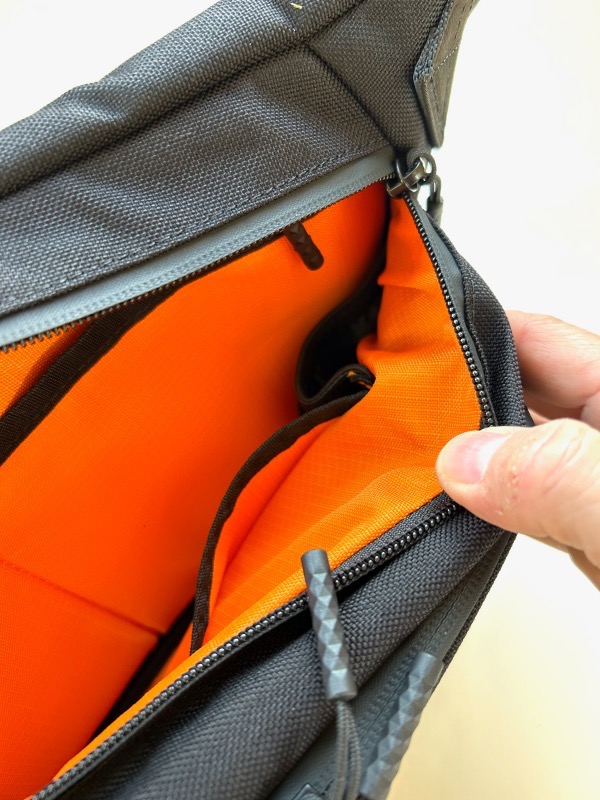 Above is a pic of the other stretch pocket in the main compartment.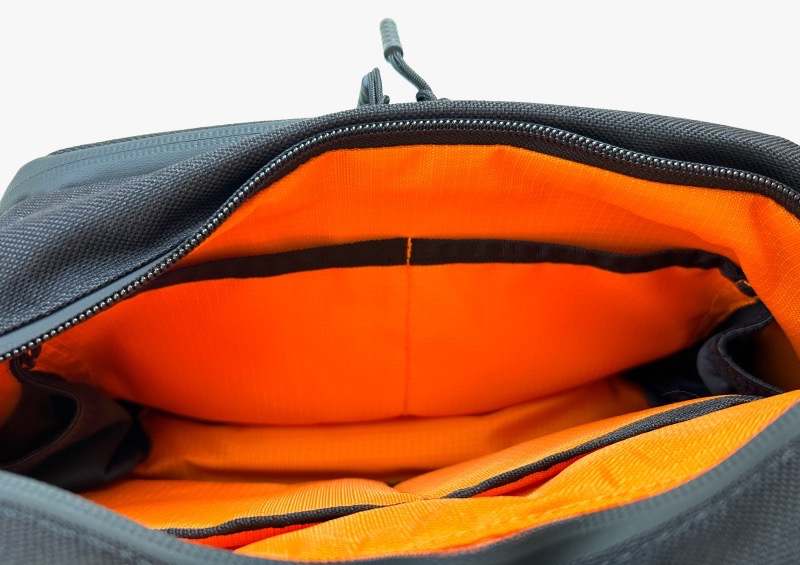 Finally, there are two open pockets on the front of the main compartment that mirror the two on the back.  This brings the total number of pockets inside the main compartment to a whopping seven pockets.  However, all of these pockets are situated such that they are accessible without getting in the way.  They allow you to organize small items and keep them stowed without obstructing the rest of the main compartment, giving you the freedom to decide how to best utilize the main compartment's generous volume.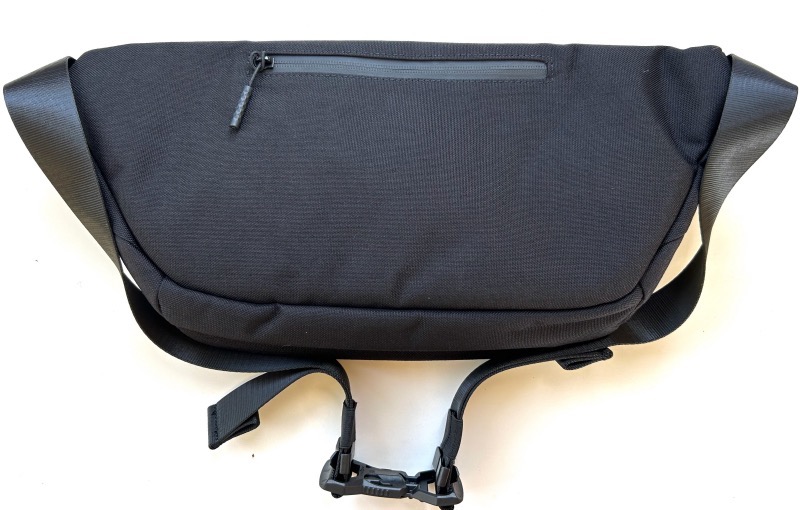 The City Sling V2 has a final organizational pocket, a small one that is somewhat hidden, located on the rear of the sling's main body.  Like the outer and inner compartments, this small pocket has a water-resistant zipper opening with one of the diamond knurl plastic zipper pulls.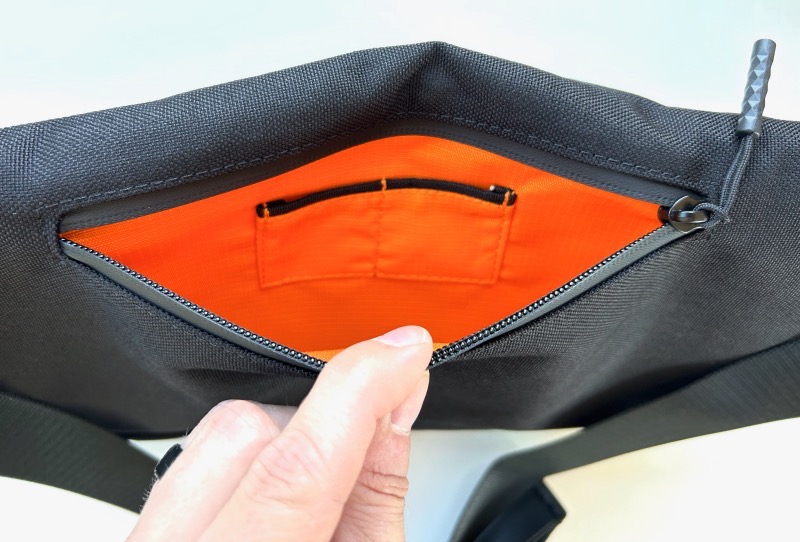 The back pocket is 20cm x 13.5cm, which is large enough to hold a wallet, keys, or a phone (maybe two of those together, but probably not all three at once).  This back pocket also has two small pockets inside, which are intended to hold two SIMM or SD cards.  These small pockets seem a bit oddly specific given that not many folks are using SIMM or SD cards these days, but maybe pockets like these would get more usage than I think.  Perhaps if you used The City Sling V2 as a DSLR camera bag, these SD card pockets may be handy.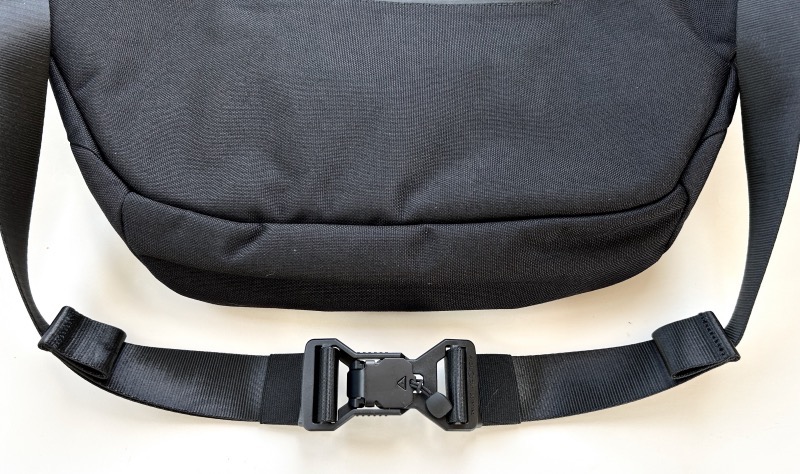 Next, let's check out The City Sling V2's strap.  It's made from a type of webbing that reminds me of seat belts, but slightly wider, thicker, and just a bit stiffer.  However, this additional stiffness compared to standard seat belt still allows the strap to be quite flexible, and has a slick feel, both of which help make the strap easier to use and more comfortable to wear.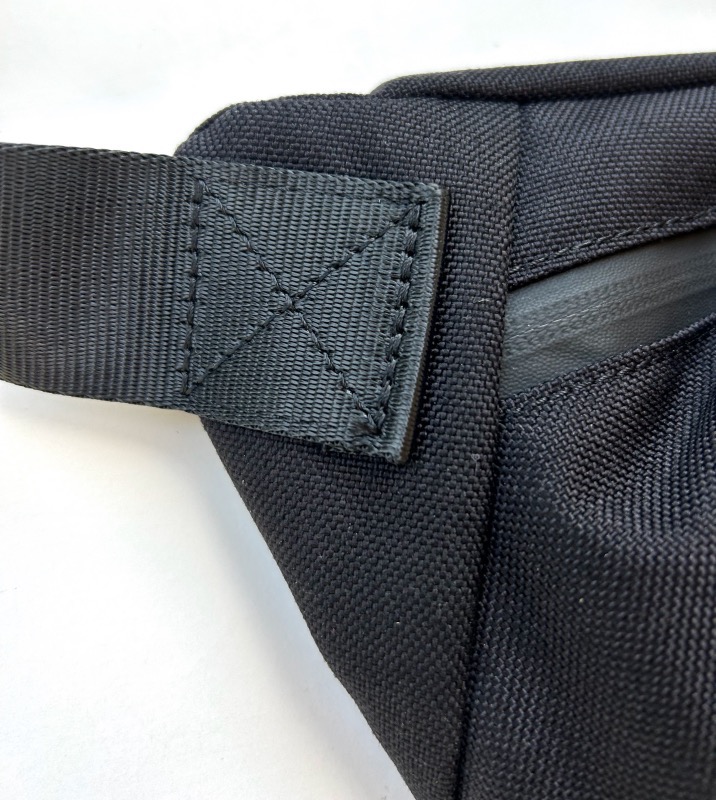 A feature that speaks to the quality that The Man Bag Co. includes in The City Sling V2 is the heavy-duty stitching of the sling's strap to the sling's main body.  It's a solid connection that might even outlast the rest of the sling (except for the FIDLOCK V-Buckle, but more on this below).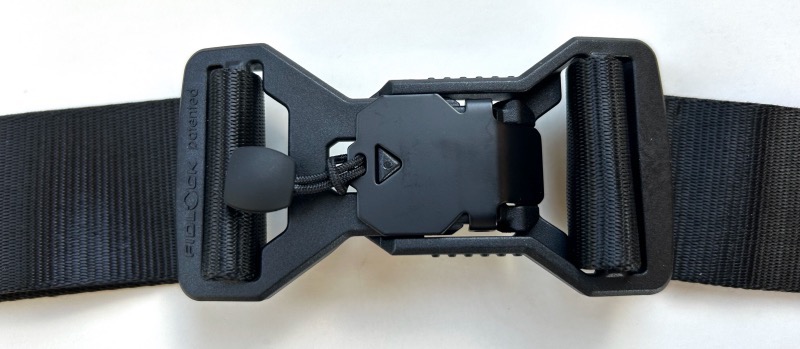 The City Sling V2 feature that I'd been most wanting to test out is its FIDLOCK V-buckle magnetic clasp.  I'd been reading about these FIDLOCK magnetic buckles on products in the past few years, and I was eager to see what all the fuss was about.
The FIDLOCK V-buckle is made of high-quality molded plastic with a stainless steel latch component.  The V-buckle utilizes magnets (I'm a sucker for magnets) to accomplish quick and easy locking and unlock of the buckle.  Per the FIDLOCK site: "FIDLOCK fasteners guide the fastening components into the correct position with magnetic force and snap securely shut due to a mechanical lock."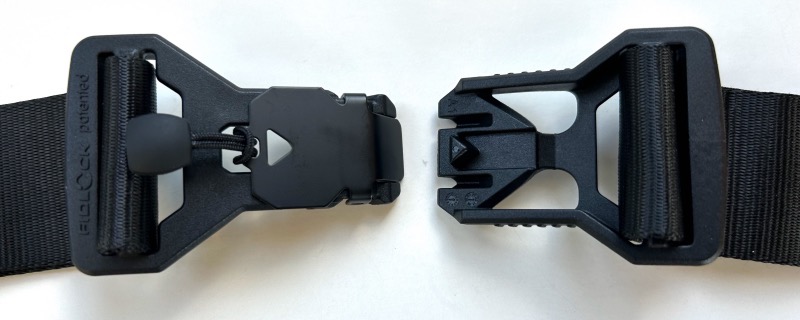 To unlock the FIDLOCK V-Buckle, lift on the small pull tab attached to the stainless steel latch (shown on the left side of the buckle in the image above).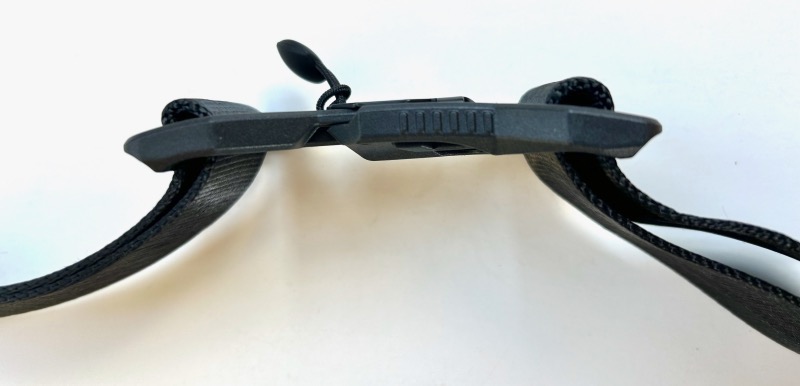 To lock the FIDLOCK V-Buckle, slide the left side of the buckle over the right side, and the magnets will engage, automatically aligning the two halves of the buckle and locking them together.  It's a very slick design, quick and easy to lock and unlock.  Now, at long last, I understand the interest in FIDLOCK buckles, and I'm a believer.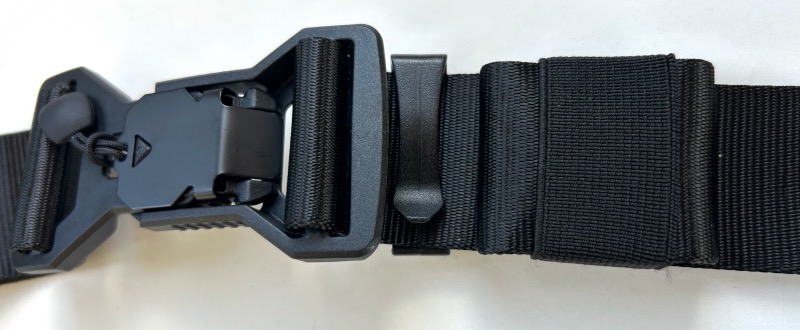 The City Sling V2's strap has a couple of additional features that aid in strap management.  The first is a pair of strap keepers, or short elastic loops, with one located on each side of the FIDLOCK V-buckle (an example of which is shown on the far right in the image above).  Once you have the strap length adjusted to your liking, roll up the excess strap and slip it into the elastic loop.  This keeps the excess strap from flapping about while you wear the sling.  The other strap management feature that goes hand-in-hand with the elastic loop is a pair of plastic clips that can be cinched up near the FIDLOCK V-buckle to further prevent the buckle from sliding around on the strap. The combination of FIDLOCK V-buckle, elastic strap keepers, and plastic clips result in a very sophisticated and functional sling strap.
However, as good as The City Sling V2's strap system is, I'd like to see some type of grab/carry handle added to the top or top rear of the main body of the bag. A grab/carry handle of this type helps with picking up and maneuvering a sling bag of this size.  The Man Bag Co.'s Sling V3 and Urban Pack V2 both have grab/carry handles like this, so this feature seems like a feasible addition.
Performance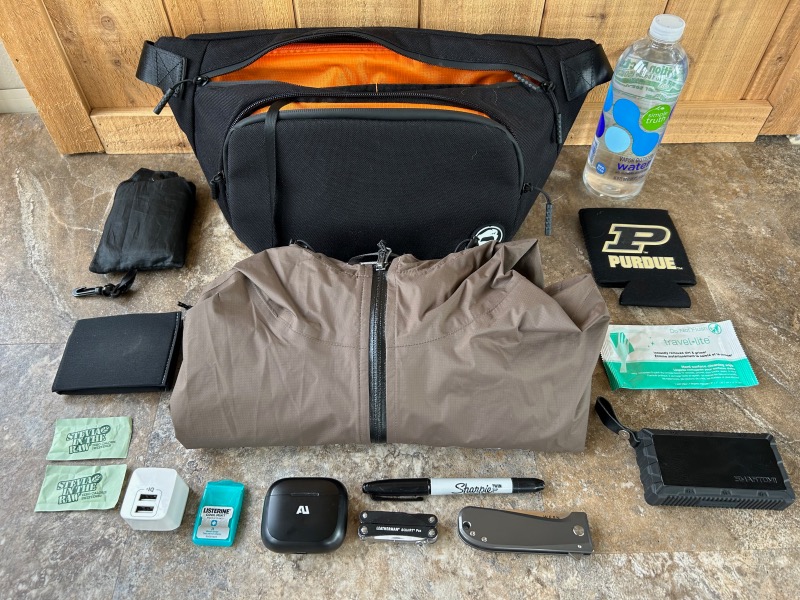 Next, I gathered some typical gear that I might haul for various situations, like walking around a city on vacation, as an airline or train carry-on, or even EDC.  With a 7.2L capacity, The City Sling V2 can hold quite a bit of cargo, almost as much as a smallish backpack.  For reference, here's a list of the above items that I packed into the The City Sling V2 starting from the top left and moving to the right:
Packable tote bag for overflow carry
Standard-sized bottle of water
Purdue Boilermakers drink koozie
Lightweight rain shell
Disinfectant wipe packet
2x sweetener packets
USB charging block
Breath strips
Sharpie pen
Not shown: My iPhone 14 Plus in Otterbox Defender Pro XT case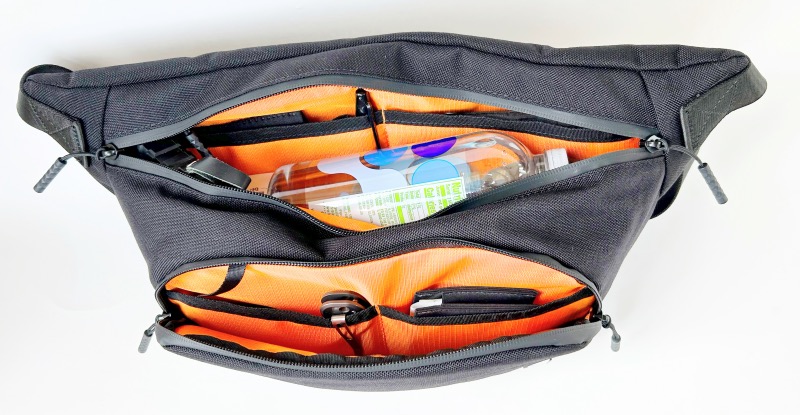 Here's what The City Sling V2 looks like when it's loaded with all the gear listed above, and there is still plenty of space for more.  Here's where I noticed that the main compartment would potentially benefit from a couple of pen pockets.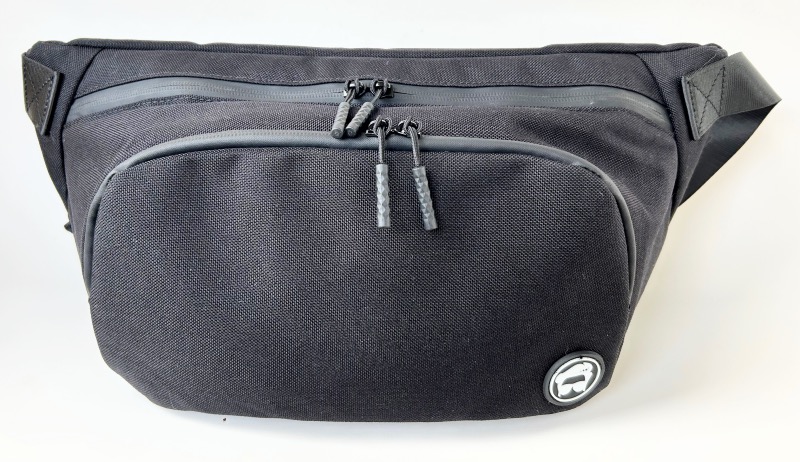 Here's a front view of loaded The City Sling V2.  It retains its sleek, minimalist appearance even when fairly fully loaded with gear.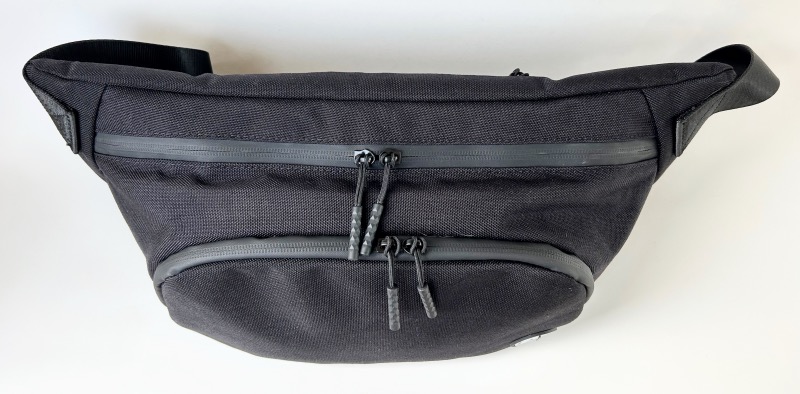 Top view of the loaded The City Sling V2.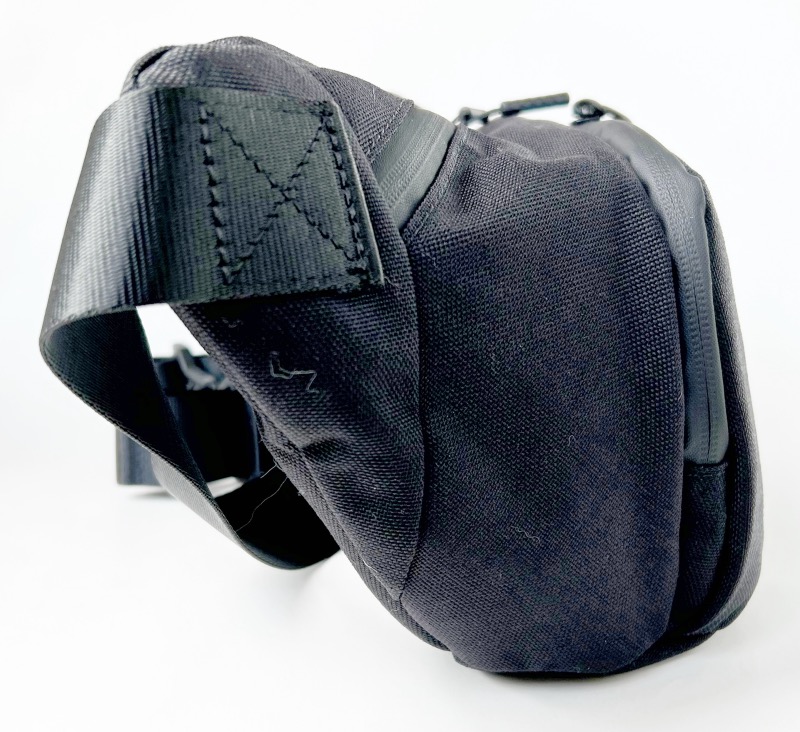 Side view of the loaded The City Sling V2.  Here you can see its somewhat trapezoidal cross-sectional profile, which helps it conform to your body when wearing it across your back.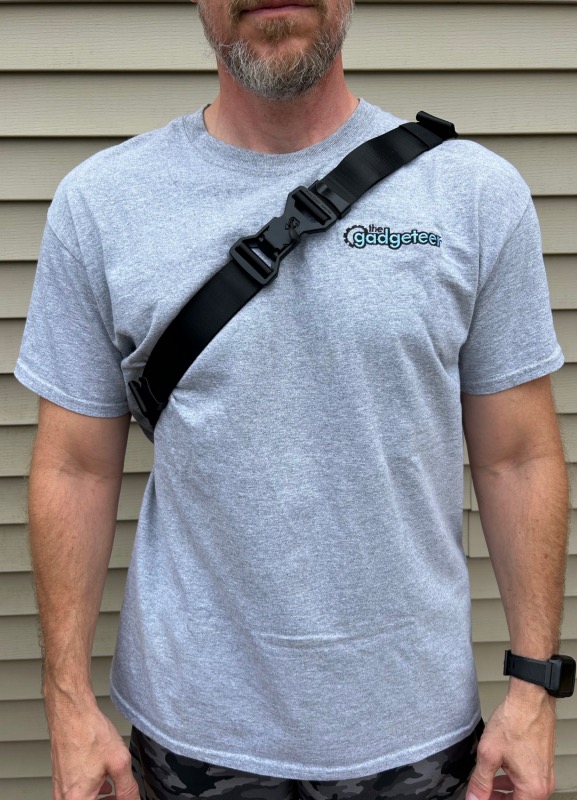 The City Sling V2 is fairly comfortable when worn cross-body, considering that its strap does not have a strap pad.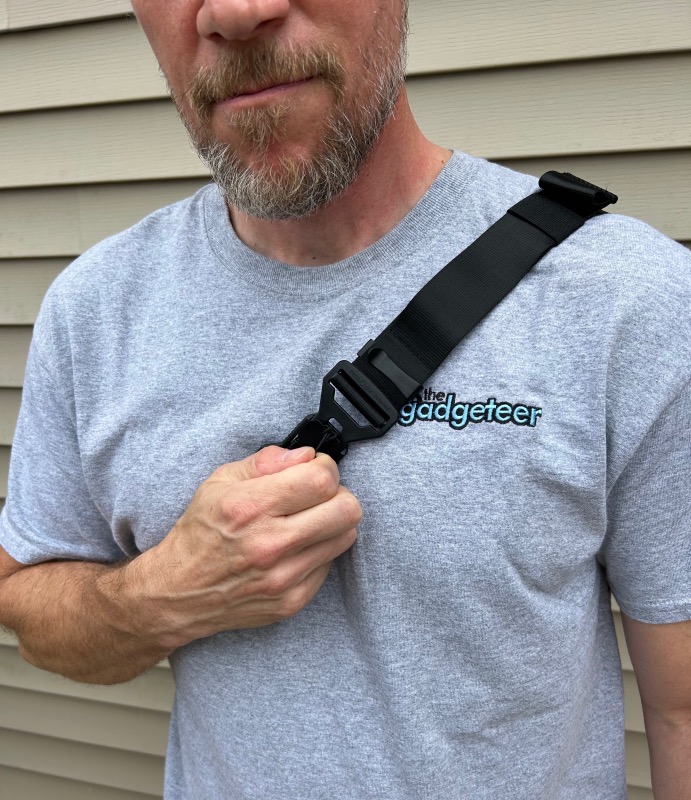 The FIDLOCK V-Buckle makes it easy to quickly unlock the buckle and remove the sling.  However, the FIDLOCK V-Buckle is also quite secure; it's unlikely you'll accidentally unlock it while wearing it.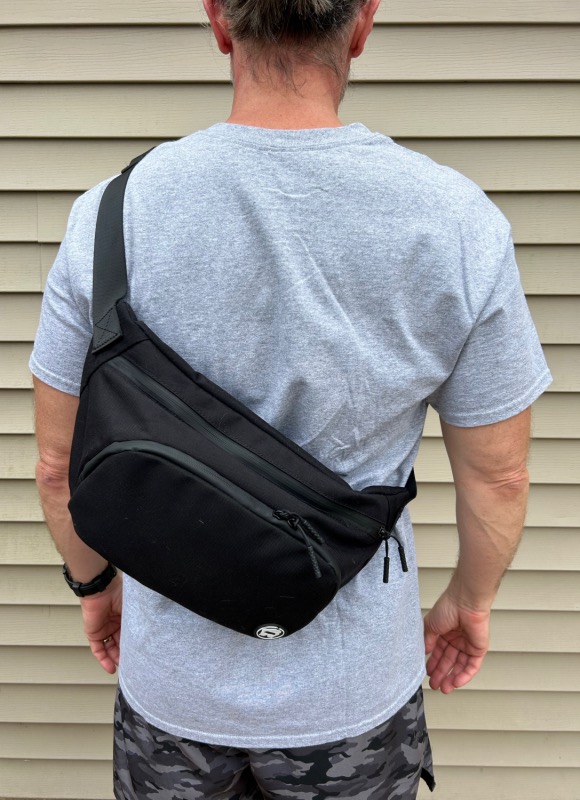 I like to wear slings with the strap fairly tight, but not so tight that it makes the strap cut into my shoulder and torso.  The setup shown here worked reasonably well for me.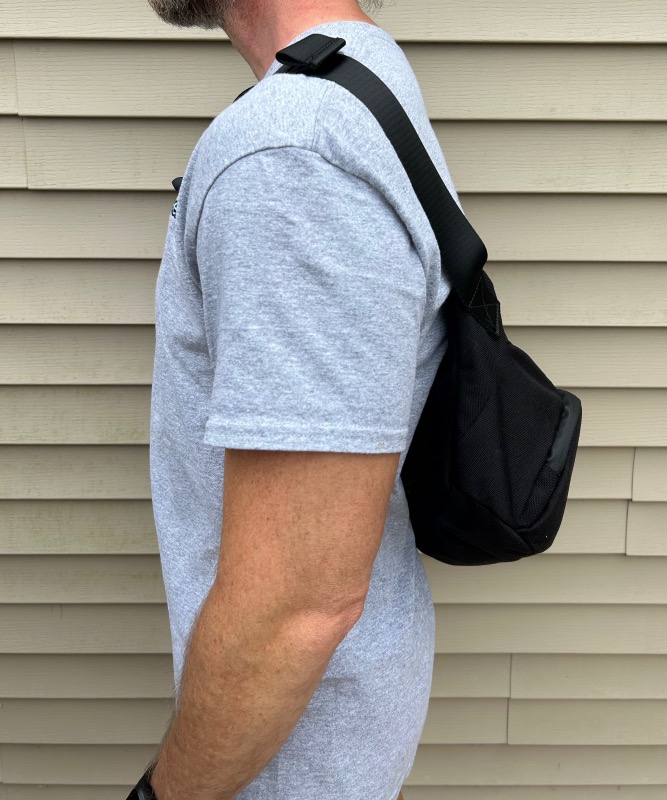 The City Sling V2 sits a bit low in this configuration, with its main body next to my lower back, but it was fairly comfortable in this position.  As you can see, it does protrude from your body a bit, almost like a small backpack, which is something to keep in mind as you move through a crowd or tight space.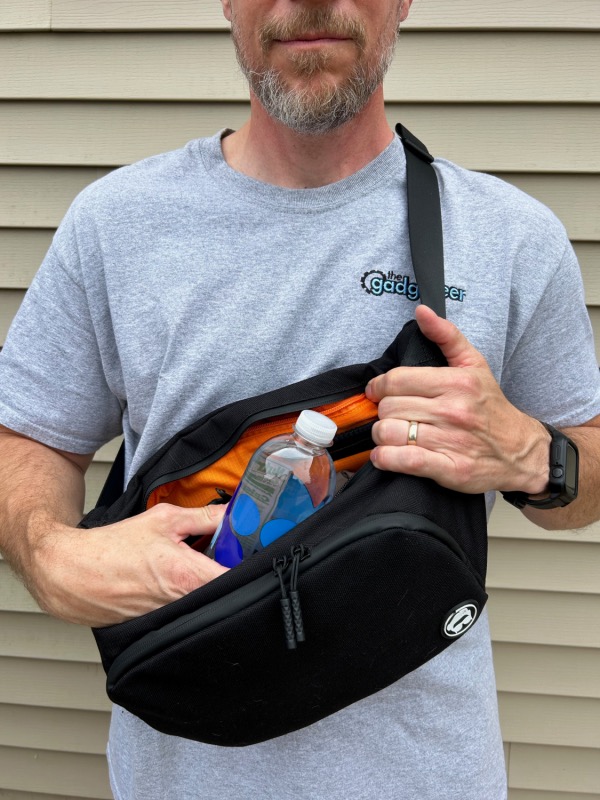 It's easy to swing The City Sling V2 around to the front of your body, which allows you to quickly and easily access its contents, then swing it back around.
What I like
Holds a lot without being overlay large and bulky
Lots of handy but unobtrusive organization features
High-quality, durable materials
FIDLOCK V-Buckle + strap keeper features
Simple, minimalist, sleek design
What I'd change
Add a grab/carry handle
Add a couple of pen pockets
Final thoughts
The City Sling V2 from The Mag Bag Co. is a thoughtfully designed, well-built medium-sized sling bag.  With a 7.4L capacity, it can carry a substantial amount of gear and also includes several features such as pockets of various sizes that help organize and protect small items.  Its FIDLOCK V-Buckle, along with its various strap keeper features, results in a very useful and elegant strap system.  If you have been considering a medium-sized sling bag to transport your EDC gear or as a small travel bag, give The City Sling V2 a serious look.  It's a very solid sling bag for its $73.00 price tag.
Price: $72.00
Where to buy: themanbagco.com
Source: The sample of this product was provided by The Man Bag Co.