We use affiliate links. If you buy something through the links on this page, we may earn a commission at no cost to you. Learn more.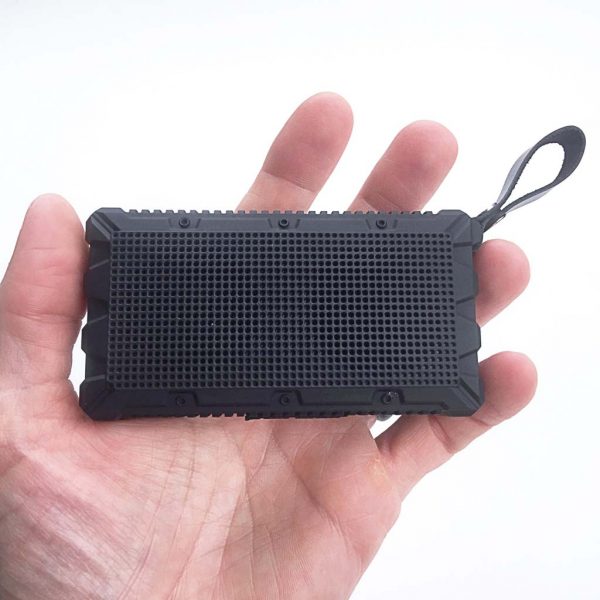 Sometimes one portable audio is a bit more portable than other portable audio. What the heck am I talking about? I'm talking about little speakers, people. Really little. I've reviewed a few other portable speakers here at The Gadgeteer, and I'd had varying degrees of satisfaction with them, so I hadn't really been looking to review another one. But when the SmartOmi ANT Bluetooth Wireless Portable Speaker arrived at my door, in its itty-bitty little box, I became much more interested. Let's check it out. Gadget on!
Specs
Per the SmartOmi site and the included User Guide booklet:
Inputs

Bluetooth 4.1
3.5mm Auxiliary port input

Battery:

800 mAh battery for up to 12-hour play time on 1.5 hour charge time
Charge voltage: 5V DC
Charge time: 1.5 hours
Playback time: 12 hours
Standby time: 310 hours

5-Watt speaker power
Frequency Range: 100Hz-20KHz
Operating Distance: 33 ft
IPX7 Waterproofing & 1.5m drop resistant
Built-in microphone
Options
Black (reviewed here)
Red, which it turns out is virtually identical to Black, but with a red port cover
Packaging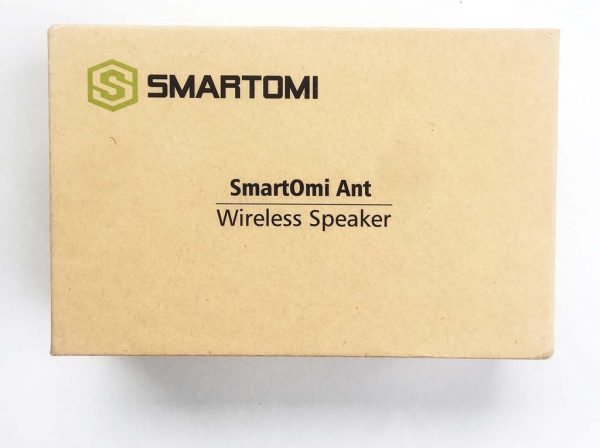 The SmartOmi ANT arrived in a very sturdy, stout cardboard box with a top lid/bottom tray configuration.  Internally, there was a foam block with a cutout to hold the SmartOmi ANT.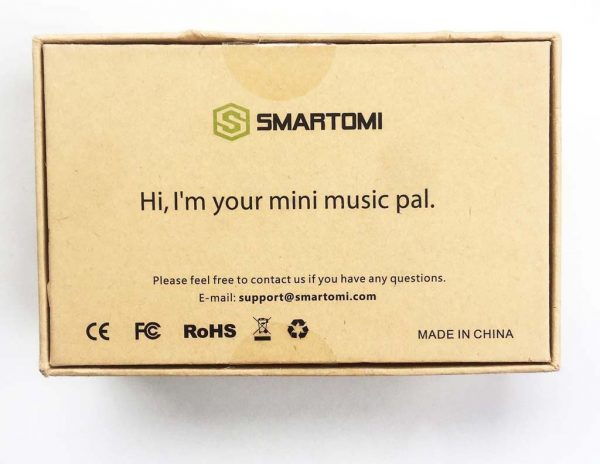 The only complaint I had about the packaging would be that the lib and base were very conforming, meaning they fit very tightly together.  To the point where I had to actually use a couple of screwdrivers to pry them apart.  Though this was probably user error, I doubt it.  Maybe a couple of small ribbon loops or tabs attached to the bottom of the package would have assisted with this.
Contents
SmartOmi Ant speaker
Micro USB charging cable
3.5mm Auxiliary input cable
User Guide booklet
Promotional booklet
Features, Functions and Performance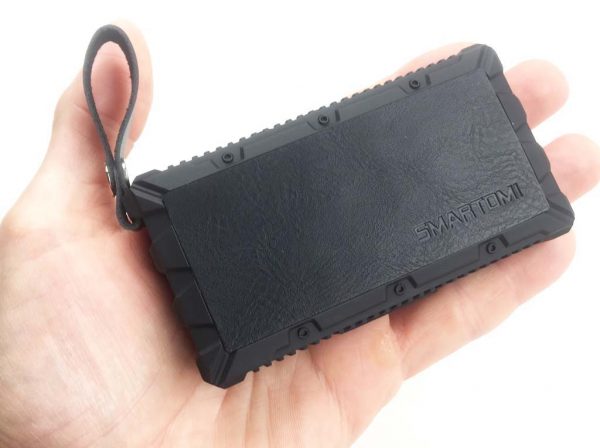 First impressions: This little dude looks cool and is way small.  It has almost a tactical ("tacti-cool"?) look and feel to it.  I liked its appearance right out of the box.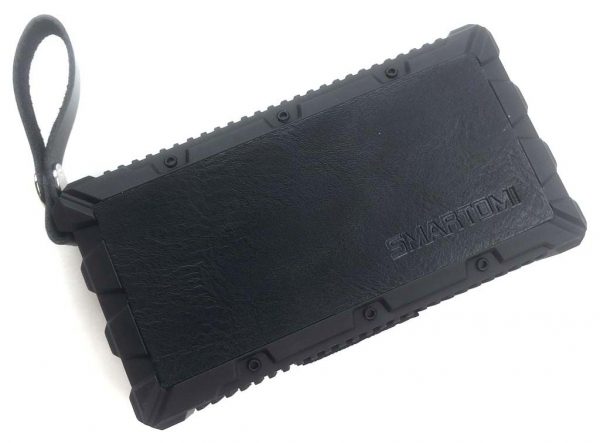 With its all matte black color and its faux leather texture on one side it also seemed somewhat industrial looking.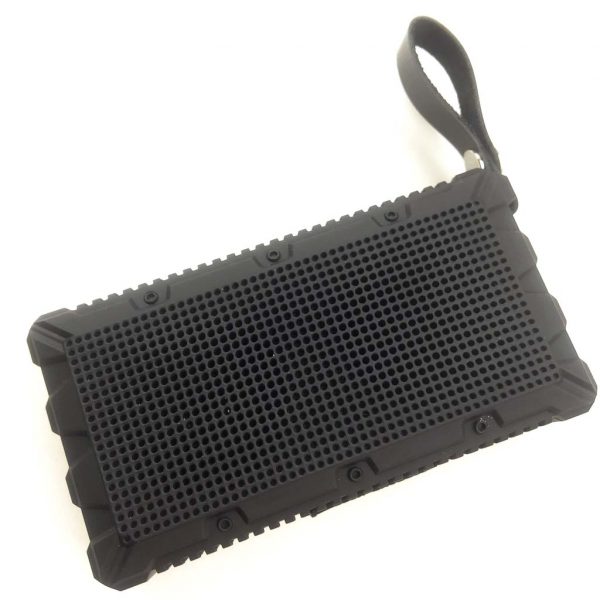 The faux screws around the perimeter of both sides were a nice touch that added to the overall aesthetic as well.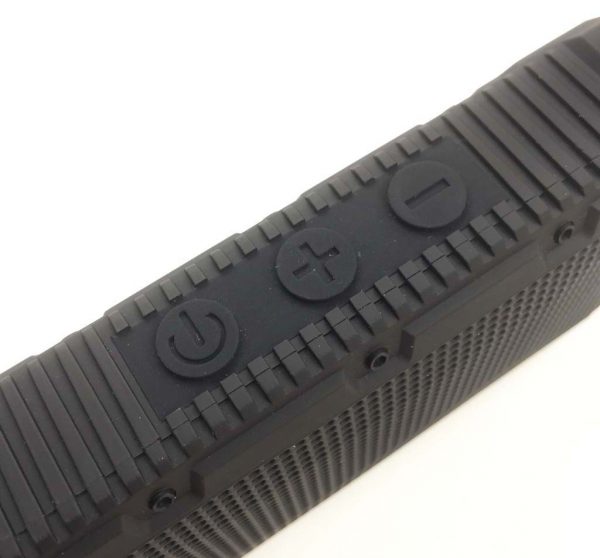 There are three buttons on the top of the ANT: from left to right they are the power/play/pause, volume up/next track and volume down/previous track buttons.  All of these buttons are covered by a single silicone strip which protects them from bumps as well as contributing to the speaker's IPX7 water-resistance rating. The body of the ANT is also made from ABS plastic, which contributes to its shock-resistance, which Smartomi reports as having been tested to a 3-meter drop height.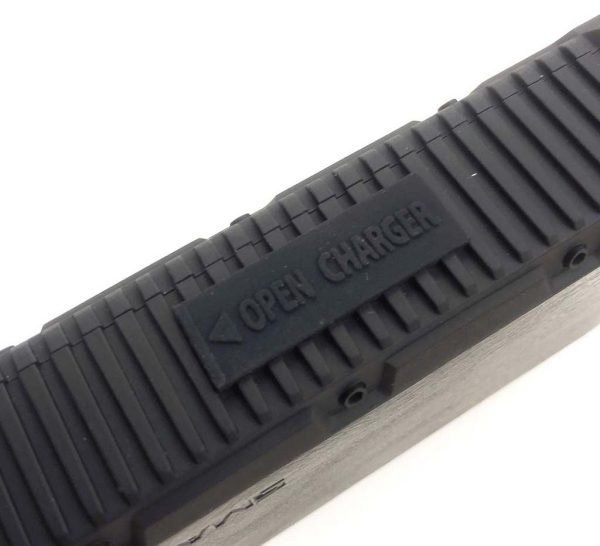 On the bottom of the ANT, on the side opposed the control buttons, is another silicone strip with the words "OPEN CHARGER" and an arrow on it.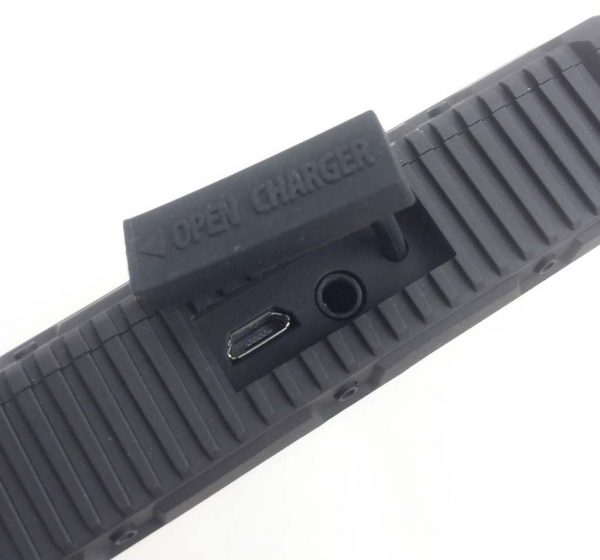 This silicone strip covers the micro USB charging port as well as the 3.5mm audio in auxiliary port.  The silicone cover helps seal these ports against moisture and there is a tether to keep it from falling out and getting lost.  The cover's thickness helps it stays seated down into the body of the ANT, but it is fairly easy to remove it by gently prying it up with a fingernail.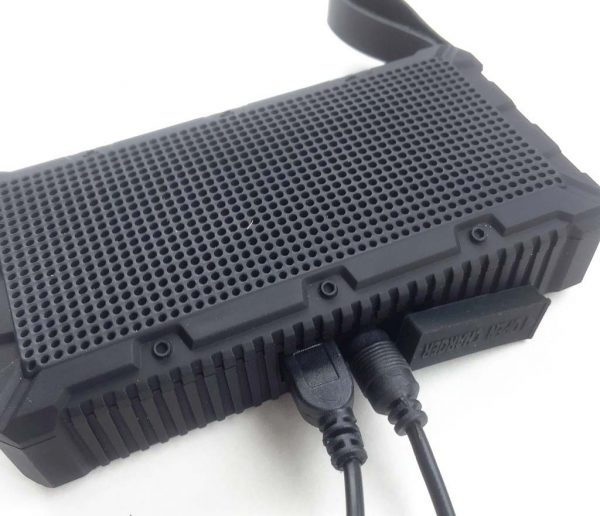 In the above photo, I've plugged in both of the cables included with the ANT, the micro USB charging cable (left) and the 3.5mm audio in auxiliary cable (right).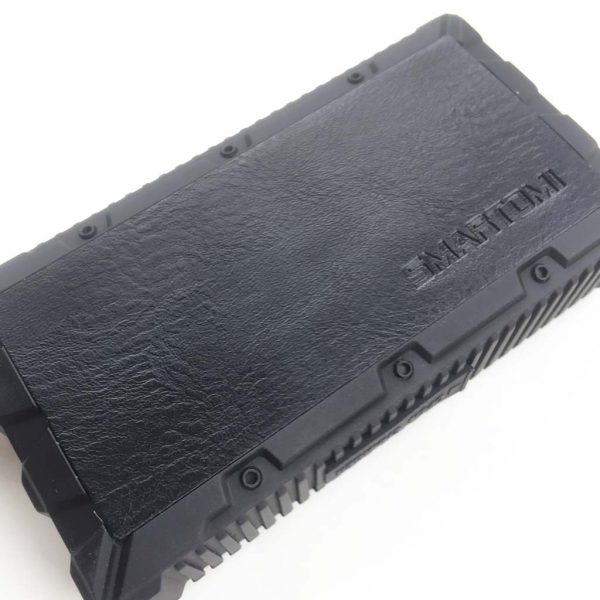 As mentioned above, one side of the ANT features a faux leather texture that is actually molded into the body, along with the SMARTOMI logo.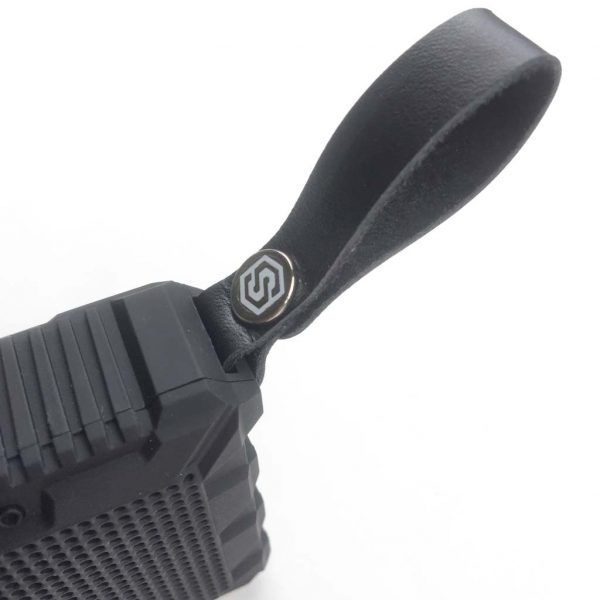 Another useful feature of the ANT is a leather strap that can be used to attach the speaker to a bag or even hung up in the shower other places with a carabiner, or to help give you a better grip it when holding it.  Note that although it appears that is secured with a snap, it is actually a rivet that cannot be removed.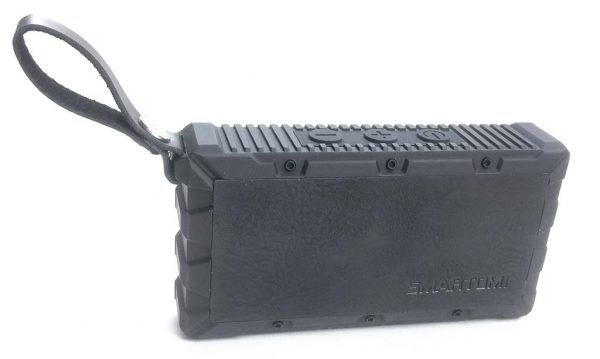 For a speaker of its compact size and shape, it puts out some decent sound.  Good enough for my teenage daughter to have commandeered the ANT within a day of it arriving at my house and using it constantly.  My daughter reported that she had the ANT paired with her iPhone in just a few seconds, and she was rocking and rolling (literally, since I've managed to get my children into some classic rock—parenting win!).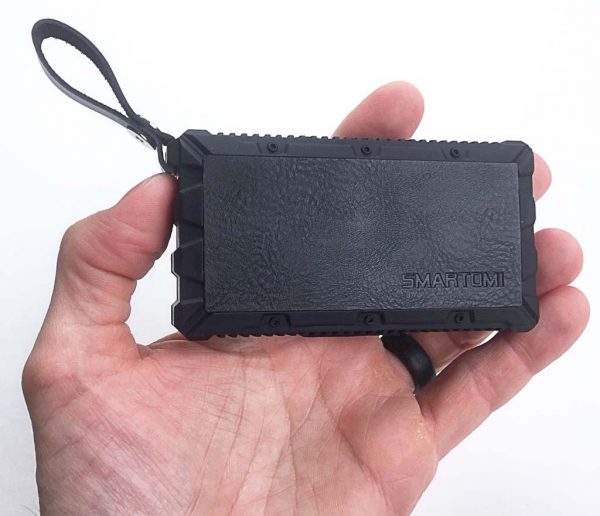 As mentioned above, the ANT is very small and compact.  Like, it could easily fit into a purse or backpack small (or possibly even in a pants pocket).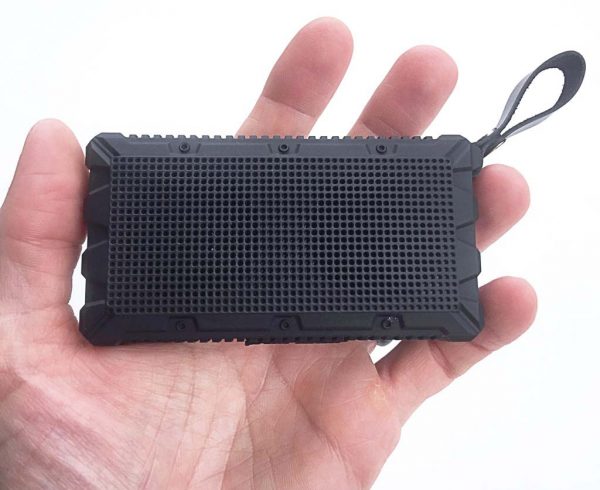 The ANT also has a tiny microphone hole on the side which enables it be used for hands-free phone calls.
Conclusion
I really like the Smartomi ANT speaker.  It is very small and compact, puts out good sound for its size, and looks cool. To me it seems to live up to its namesake, an ant: tiny, black and strong for its size (in sound, anyway).  It's definitely my favorite portable, water-resistant speaker that I've tried thus far.  Now if I can just get my daughter to let me use it once in a while…
Update 5/13/20
Although I still think its price is a bit steep, I do think it's a great speaker for its size. It's small and light enough that I keep it in my EDC bag and occasionally grab it when I'd like to listen to some tunes aloud rather than via earbuds.
Source: The sample for this review was provided by SmartOmi. Please visit their site for more info and Amazon to order.