We use affiliate links. If you buy something through the links on this page, we may earn a commission at no cost to you. Learn more.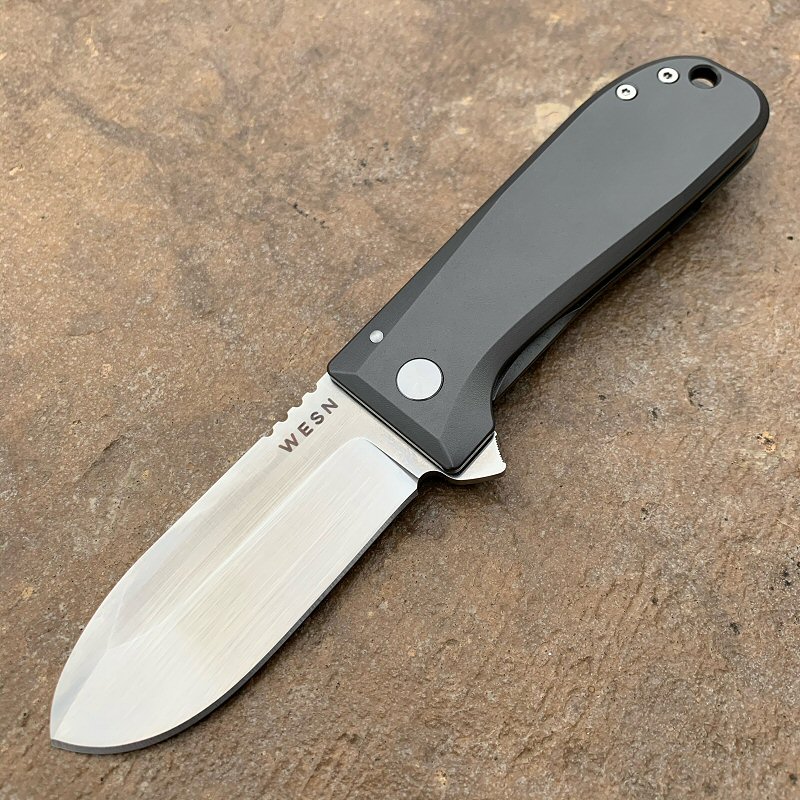 REVIEW – Having a good knife handy is considered essential to the EDC (or Everyday Carry) items of most folks, and knives certainly qualify as gadgets, so we frequently take an interest in them here.  Our latest example is the WESN Allman knife.  With its slim profile, pocket clip, and wide blade, it packs a lot into a small space.  Having originated as a successfully crowdsourced Kickstarter project, it is now available via the WESN site. Let's check it out!  Gadget on!
What is it?
The WESN Allman is slim a folding knife with a frame-locking, drop-point shaped, "flipper"-style deployment blade, Titanium frame/handles and pocket clip.
Hardware specs
S35vn steel blade
Ball-bearing pivot
Titanium-coated machine milled pocket clip
Flipper for fast deployment
Ergonomically-contoured grip
Keychain/lanyard hole
Titanium frame lock
Weight = 3.65 oz
Length closed = 3.8 in
Overall length open = 6.65 in
Blade length = 2.8 in
Width = 0.93 in (23.5 mm)a
What's in the box?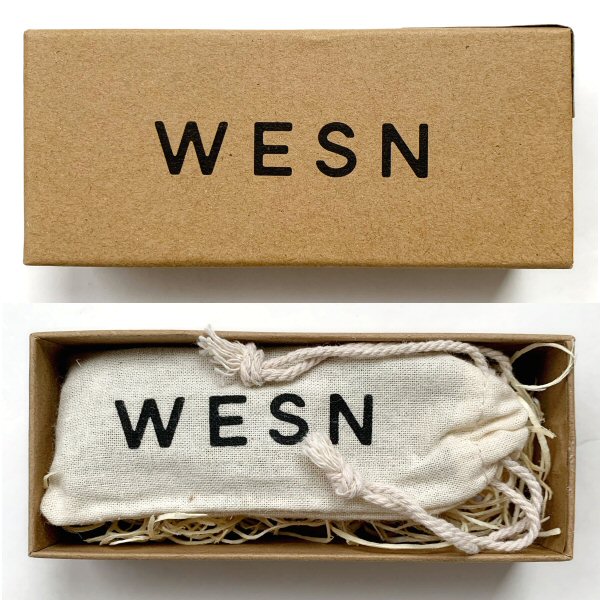 Let's start with the packaging itself, seen in the two images above.  It's a WESN-branded cardboard box with top and bottom halves and some type of wood shavings as its packing material.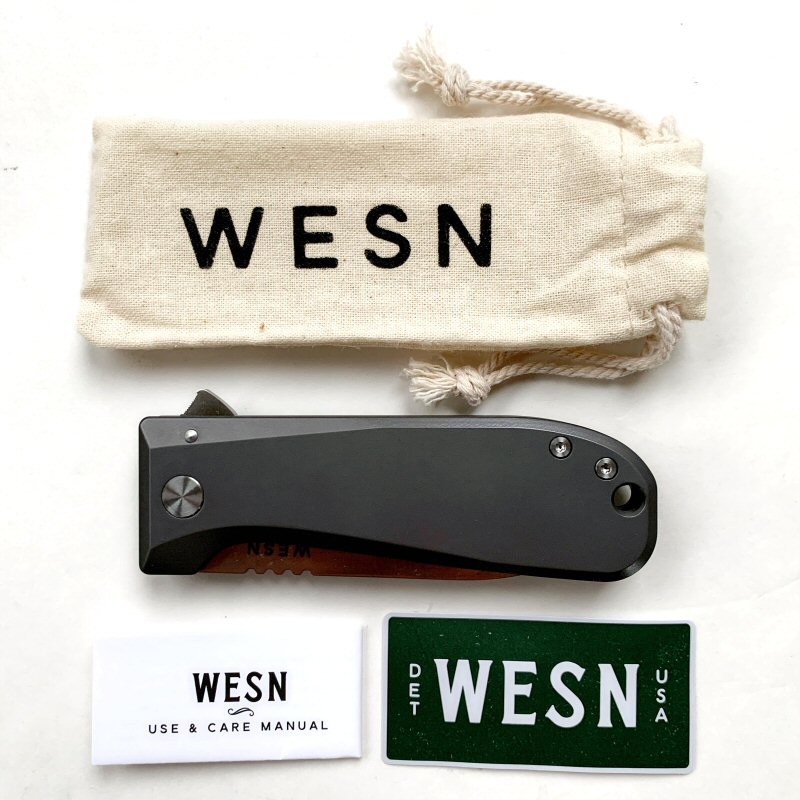 Inside the box were the items shown above and listed below:
WESN Allman knife
Cloth drawstring pouch
Use & Care Manual
WESN logo decal
Design and features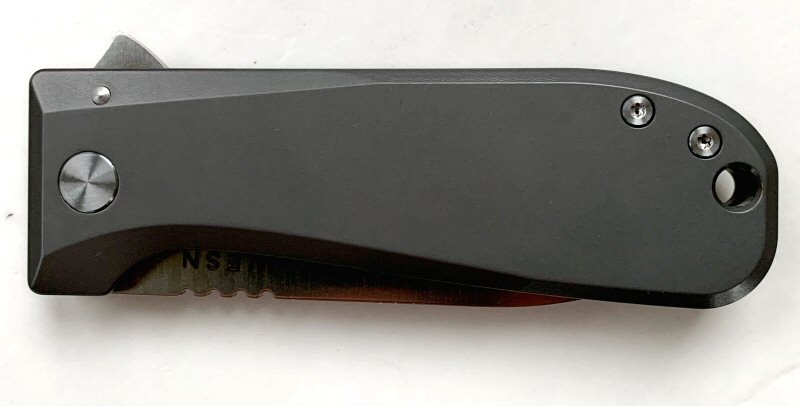 The Allman was one of those products that immediately felt and looked high-quality right out of its box.  Its Titanium handles make it feel very solid and compact, plus the Titanium alloy's grey color looks robust and slick.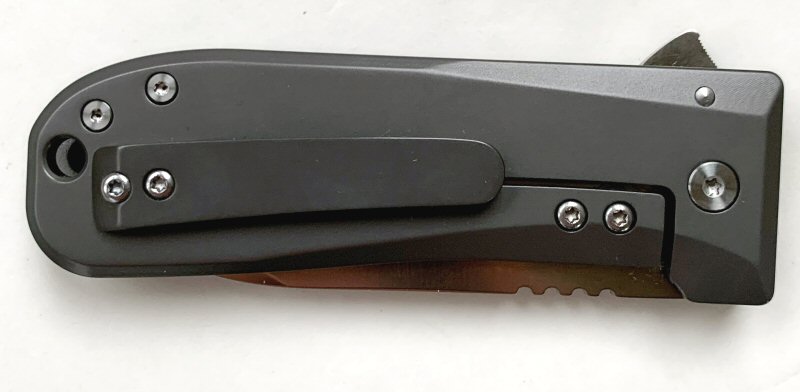 The WESN Allman features a Titanium machine milled pocket clip which is stout but low profile.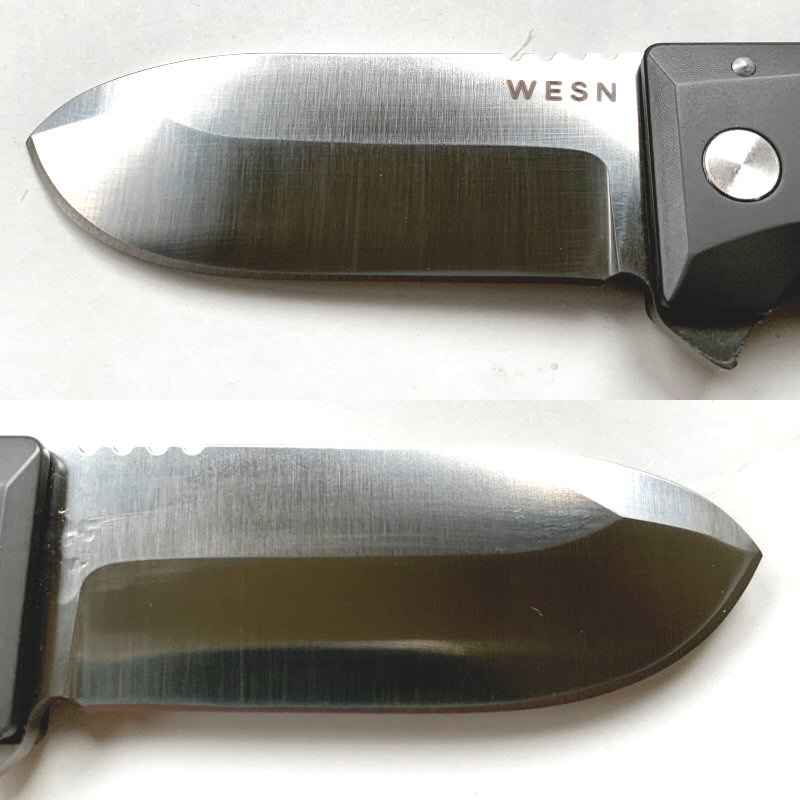 The Allman's blade is 2.75 inches long and its tip is wide with a serious curvature, with a shape that I can only describe as a short, wide, drop-point style tip.  It was very sharp right out of the box.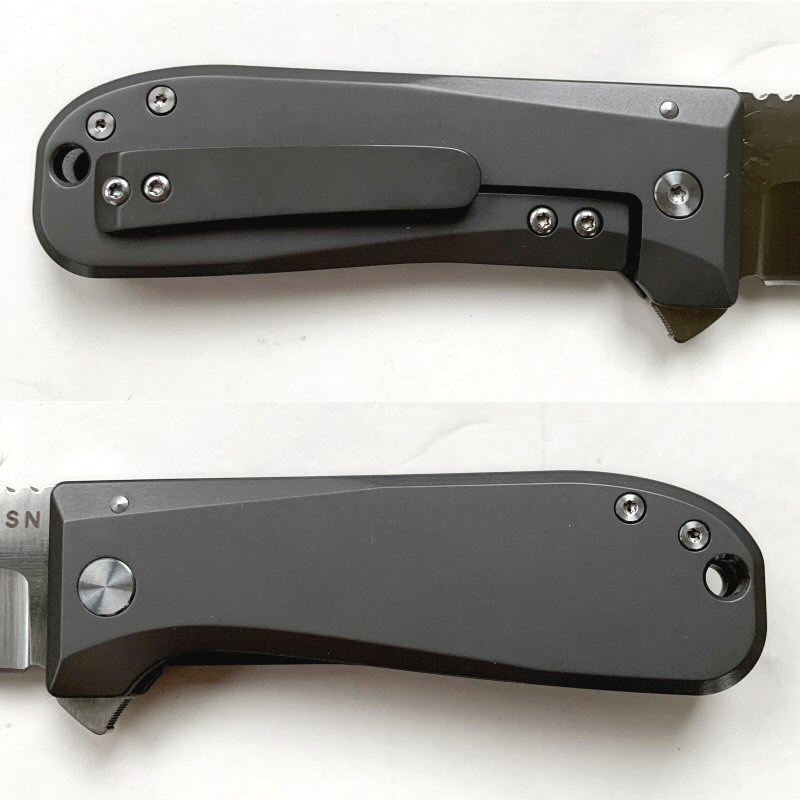 The Allman's handle is 3.5 inches long.  I was excited to try the Allman and immediately began playing around with it.  I was impressed with its solidly-designed pocket clip, a feature that I appreciate because I like to keep my EDC knife at the ready in my right front pants pocket.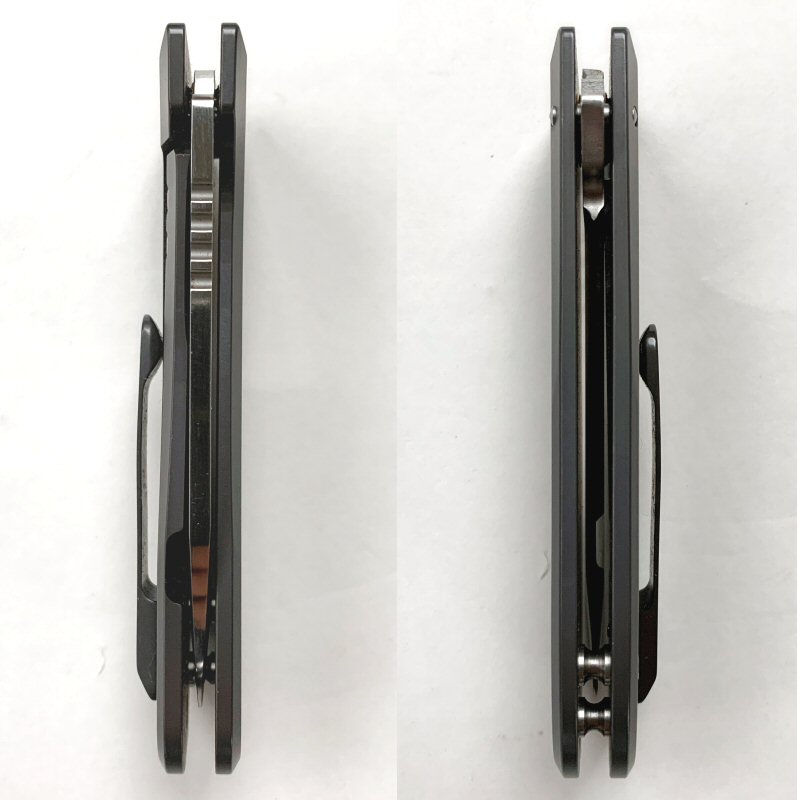 The Allman is not only small in footprint (length and width sense), it is also quite slim (in a thickness sense) owing largely to its Titanium handles, which is a material that is very strong and lightweight.  I especially liked this as it cuts down on the knife's bulkiness, which helps make this a much more effective EDC knife for me because it doesn't feel like it takes up as much space in my pocket although it is still a fairly large knife.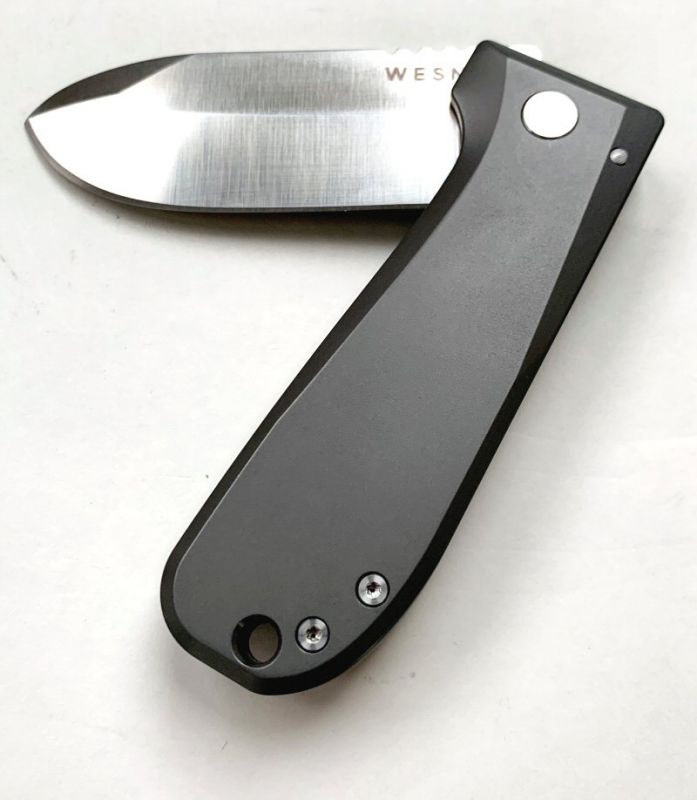 The Allman utilizes tiny stainless steel Torx head screws to secure its frame together, as seen above.  While Torx drivers are not exactly easy to find, they are available, and I suppose if you had to disassemble the Allman, it could be done, although the WESN folks don't recommend that you attempt to disassemble the Allman on your own, but rather let them take care of repairs.  Additionally, the Allman includes a through-hole in its frame that can be used to attach it to a keyring, a length of 550 paracord or other items that can be used to attach and secure it.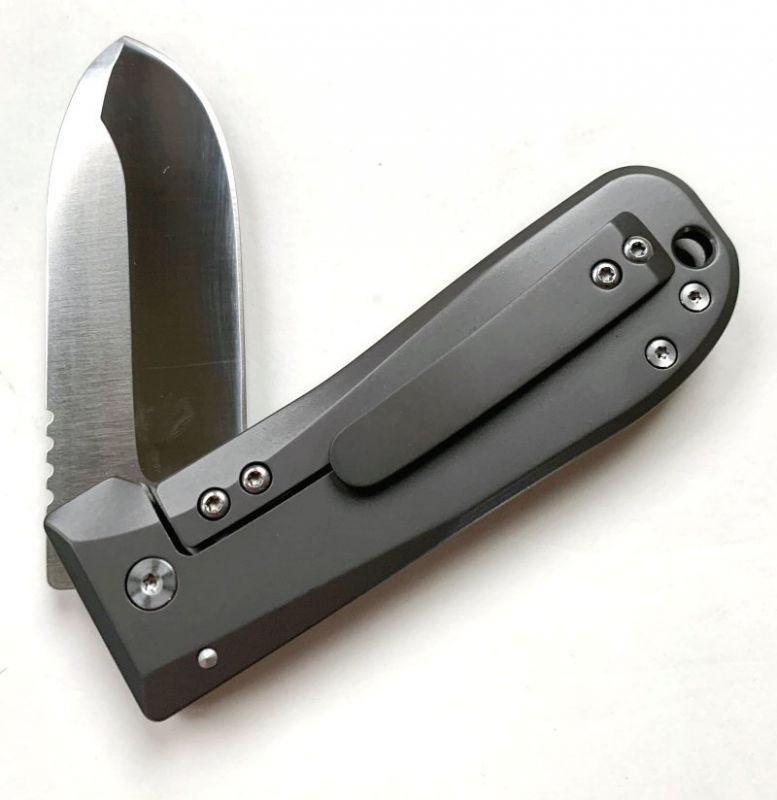 As mentioned further above, Allman has a very solid and functional pocket clip.  Like the frame handles, the clip is secured with small Torx screws, so the clip could be removed if desired, though the clip is such a low-profile shape and size that I can't see a reason to do so.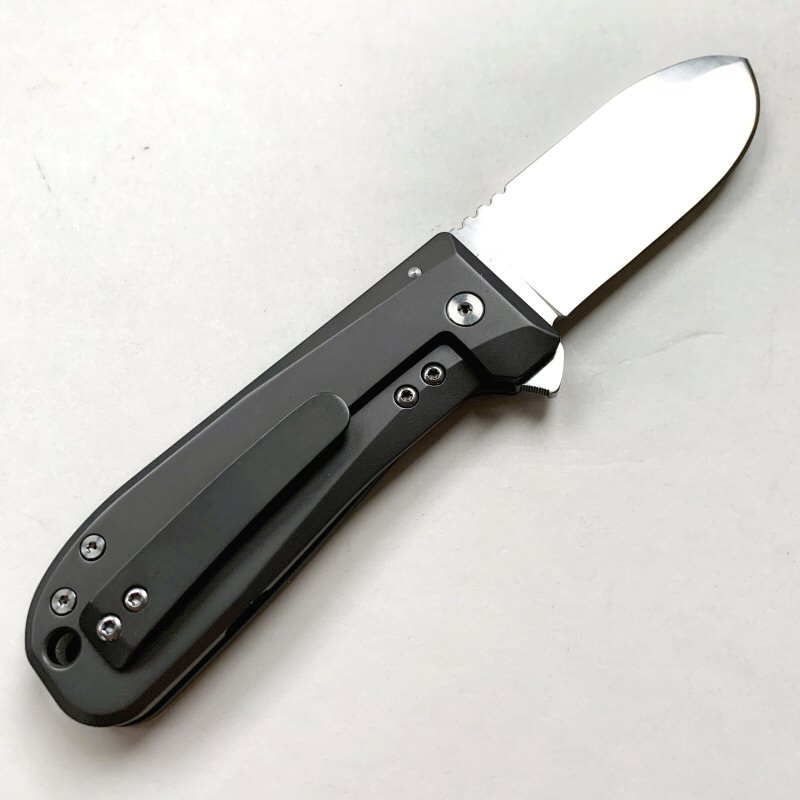 I'm including several images of the Allman from various angles and positions to showcase its styling, but the images don't really do it justice.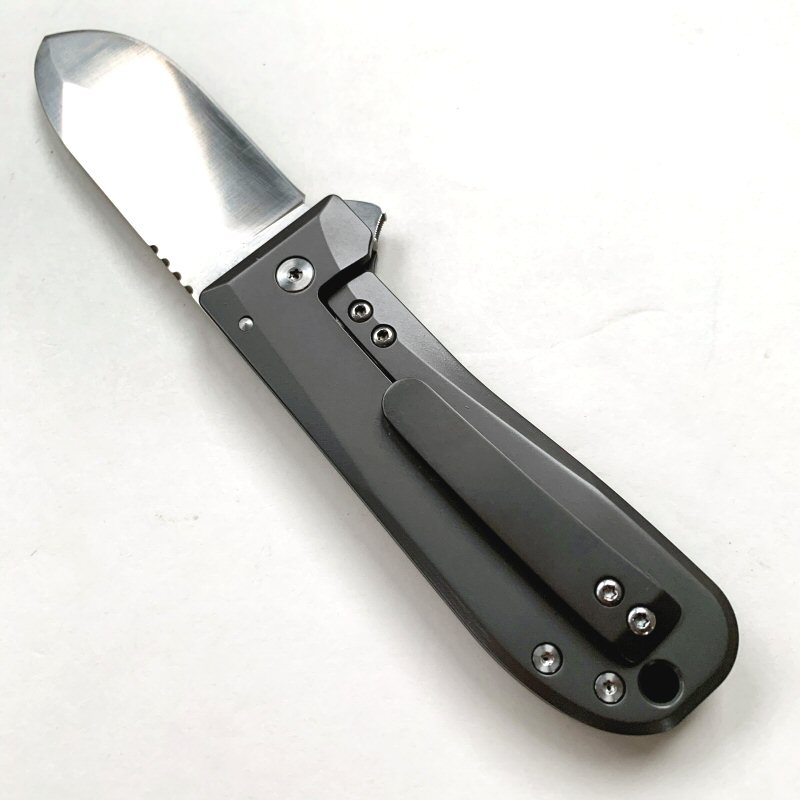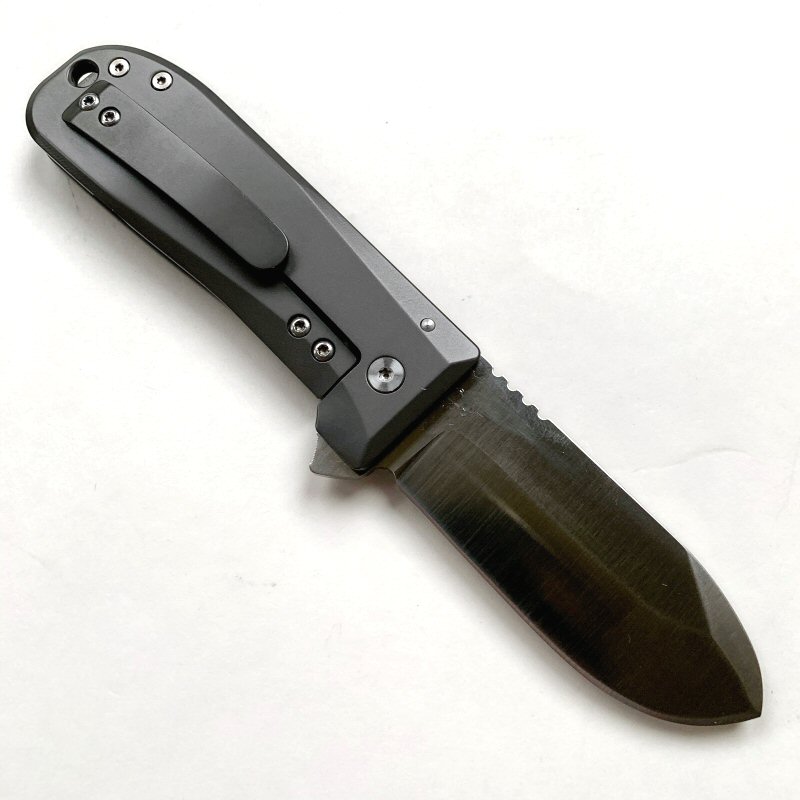 In the image above the Allman's frame lock mechanism can be seen in its locked position.  Like most folding knives today, the frame lock is a feature that "locks out" the blade into a fixed position, thereby effectively turning it into a fixed blade knife and preventing the blad from closing accidentally.  The frame lock is disengaged by pressing it slightly outward, allowing the blade to be folded back into the frame.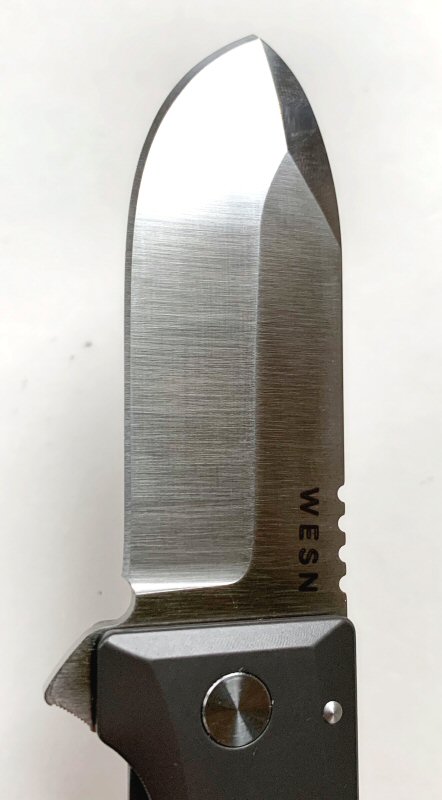 Allman's blade is quite complex in its feature set.  For starters, it is made from S35vn steel.  Along the back of the blade is Harpoon Style Blade Spine that can act as a spot for the thumb or forefinger, giving more precise control when cutting.    I found the Allman's blade to cut quite well for most everyday applications, such as opening boxes or letters, cutting loose threads and slicing fruit or other food at my desk at work.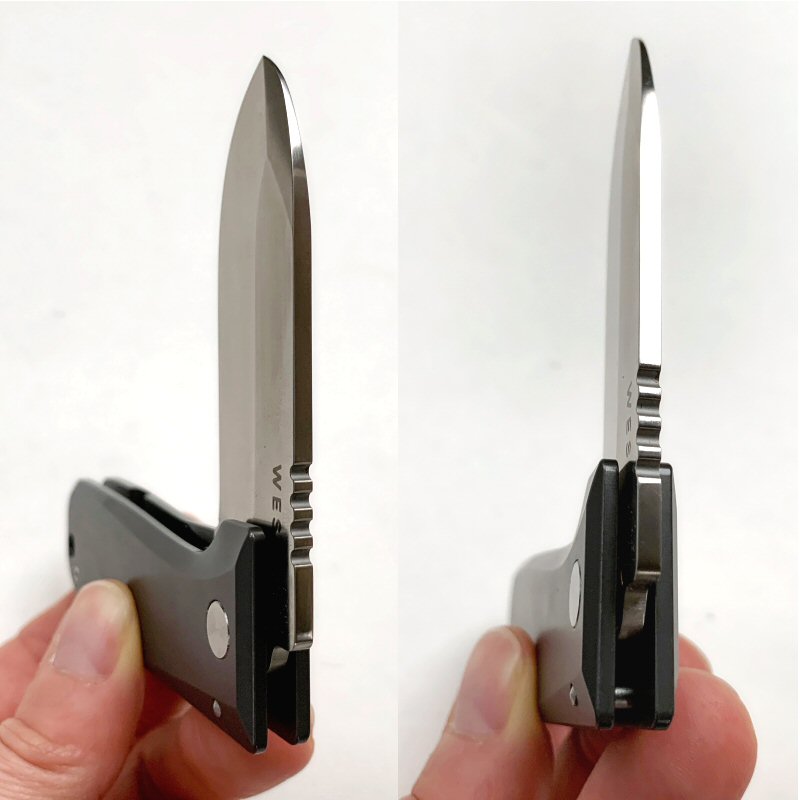 Additionally, the back of the Allman's blade includes three spine jimping grooves, as seen above, which are a spot that the thumb or forefinger can further utilize to improve grip and control when cutting.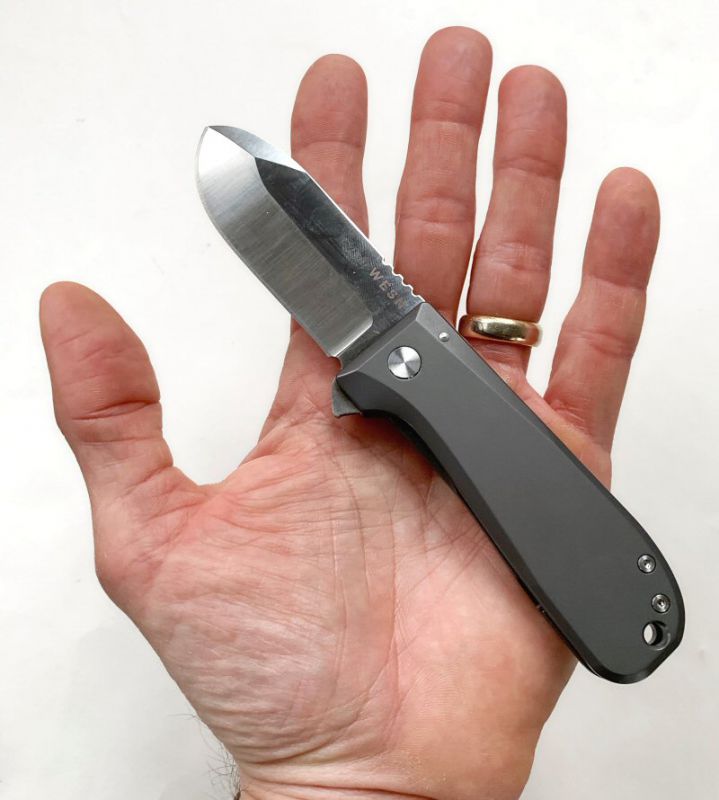 Before we get into functionality, let's check out the Allman's size.  As seen in these photos, I would consider it a medium-sized folding knife; its handle has just enough length to fit well in my palm to fully wrap my hand around its grip, while not being so long that it takes up too much space in my pocket.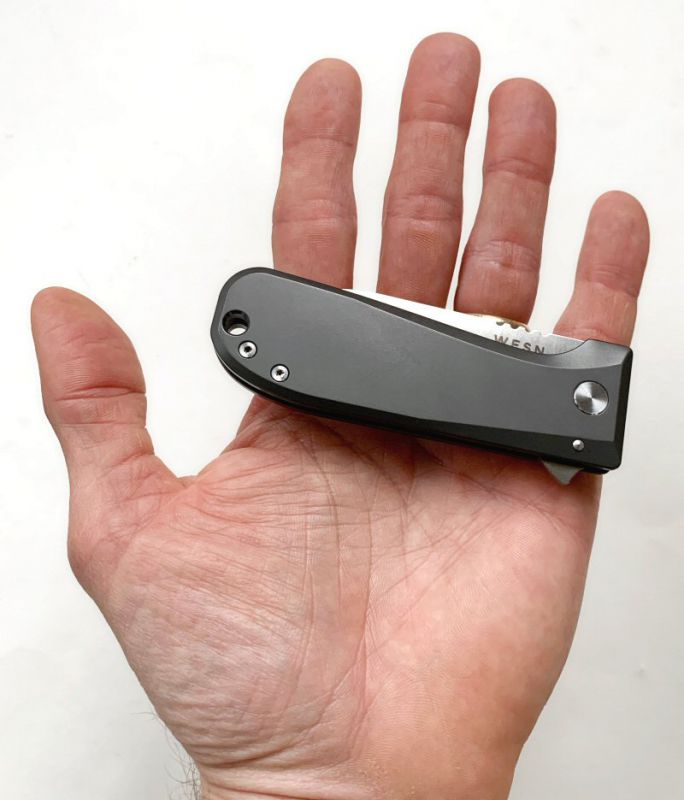 The Allman's size allows me to carry a knife that is a bit larger than most of the "mini"-sized knives I've previously reviewed.  While smaller knives are great for when size is a premium consideration, for many folks, carrying a larger knife may be a necessity.  If this sounds like your situation, the Allman may be a good size for you.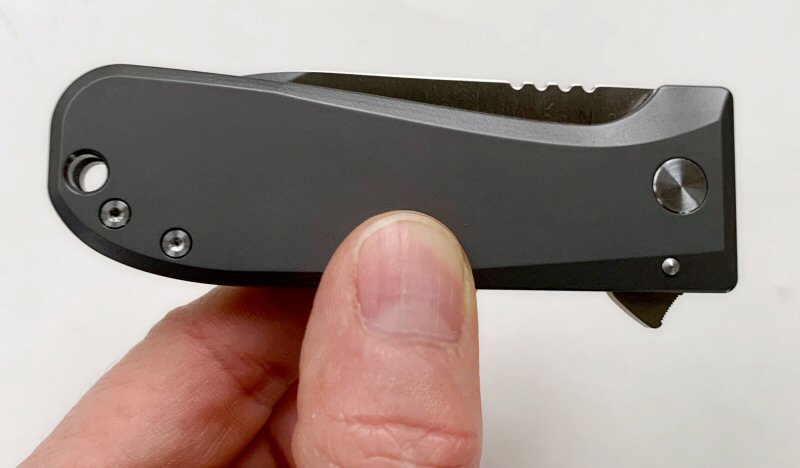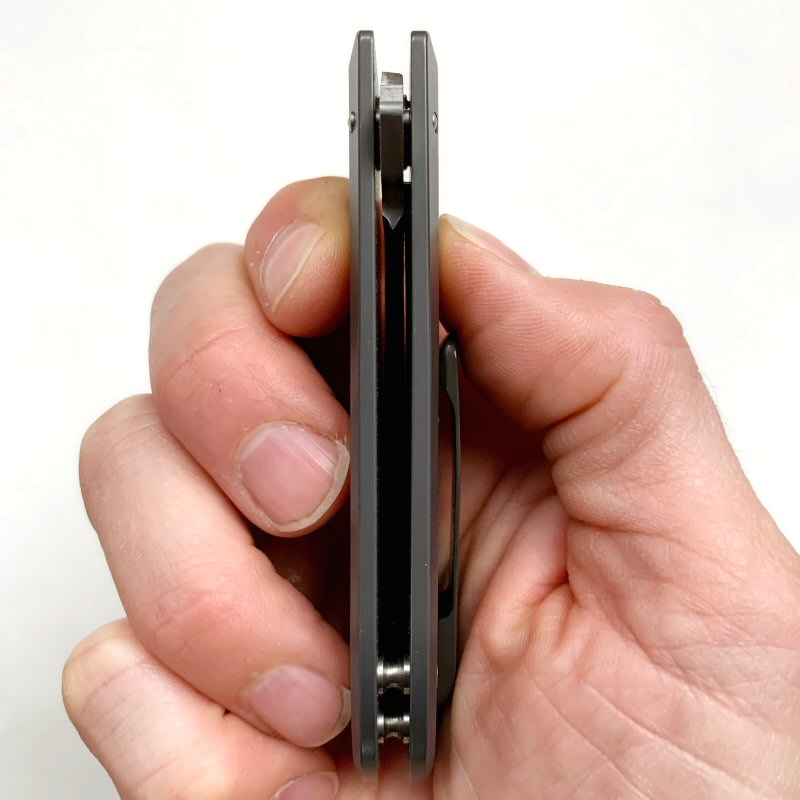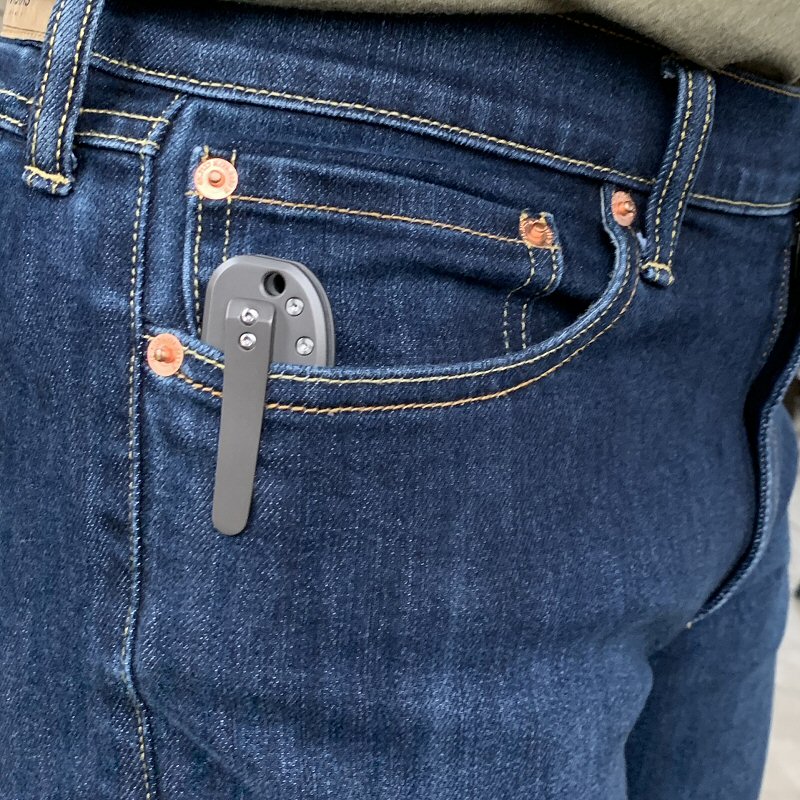 The Allman, however, is darn near perfect for me because of its small size.  If I want to toss it into the bottom of my pants pocket, no probs.  If I want to clip it to the edge of my pocket, this works too, but because of the location and design of its clip, it does tend to stick up out of my pocket a bit.  (For anyone curious, these are the Bluffworks Departure Travel Jeans that we previously reviewed.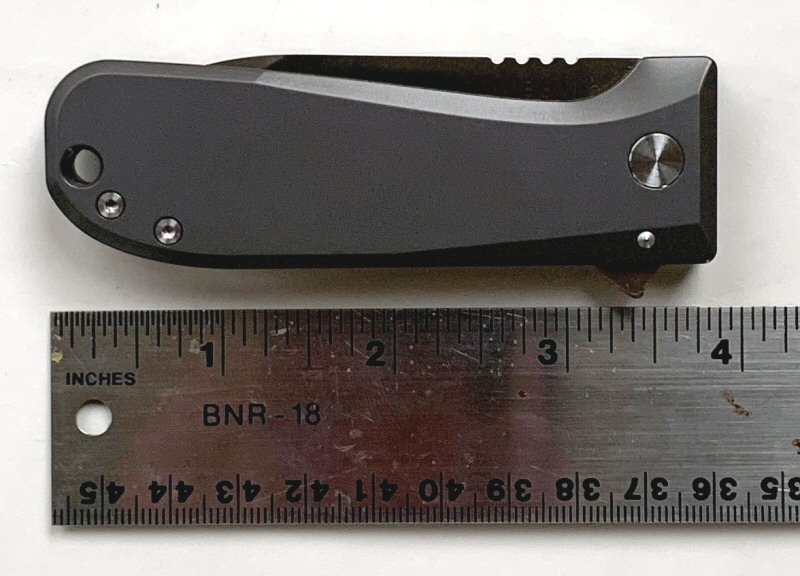 I measured the Allman to be just shy of 4 inches in length while closed.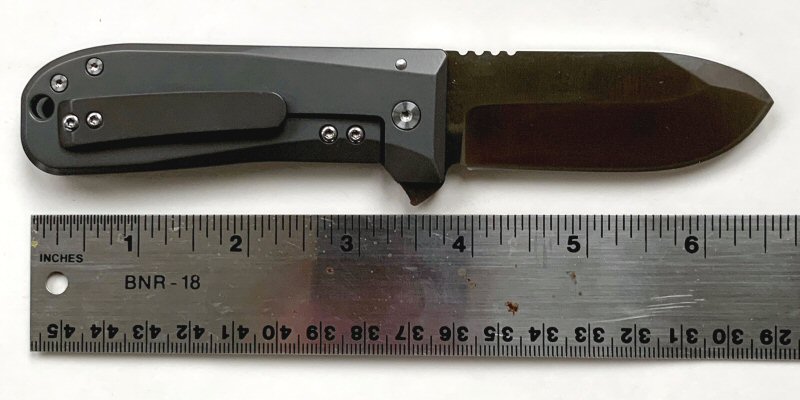 I measured the total, fully-opened length of the Allman to be just over 6.5 inches in length.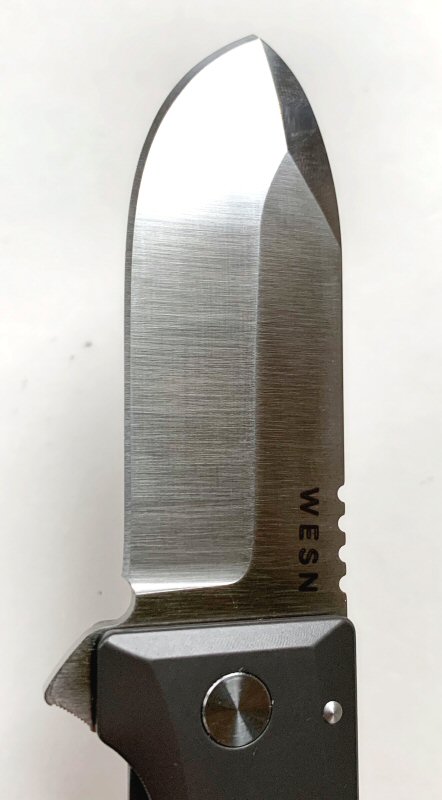 Another photo of the Allman's impressive blade.  Not long after I began trying out the Allman, I was at the shooting range with my son when a round got lodged in the chamber of one of the pistols we were firing.  It was jammed in pretty tightly, and my son asked for my knife and was able to carefully dislodge the jammed round by using the Allman's blade as leverage.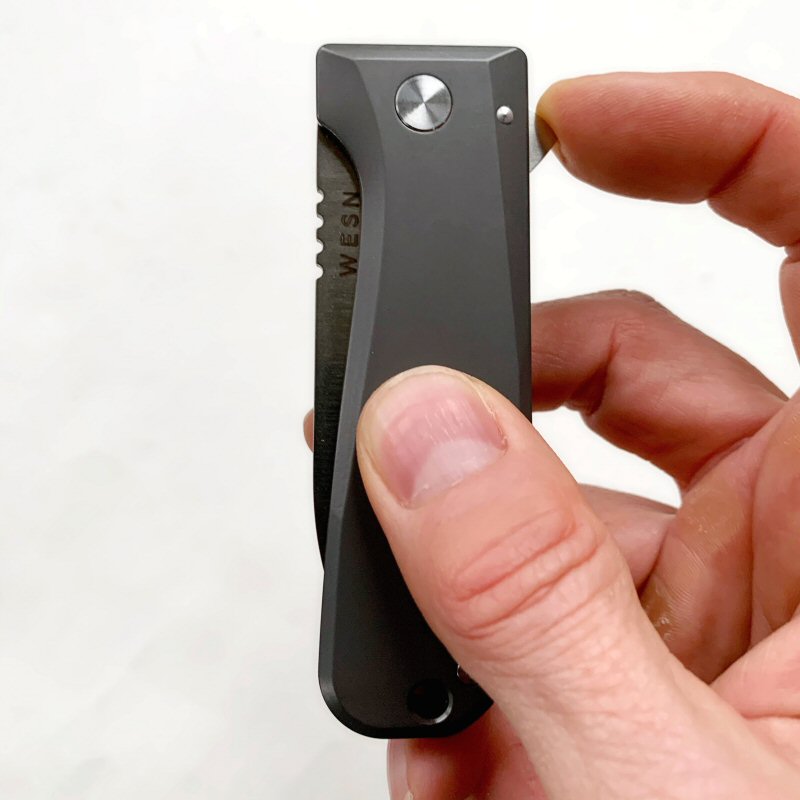 Next, let's check out the flipper-style deployment mechanism of the Allman.  Like many folding knives today, the Allman includes a one-handed, rapid deployment feature, in this case, a "flipper"-style blade deployment. The Allman's flipper utilizes a small tab attached to the backside of the blade that protrudes through the back of the frame when the blade is closed.  The user places their finger, typically the index finger, on this nub and rapidly flicks the nub downward into the frame, which deploys the blade rapidly in a flipping motion.  That's it—no spring, no assist, and not an automatic blade, so it is a manual and generally much safer deployment operation than other knives.  The image above and the next two below demonstrate this from starting to a fully deployed position.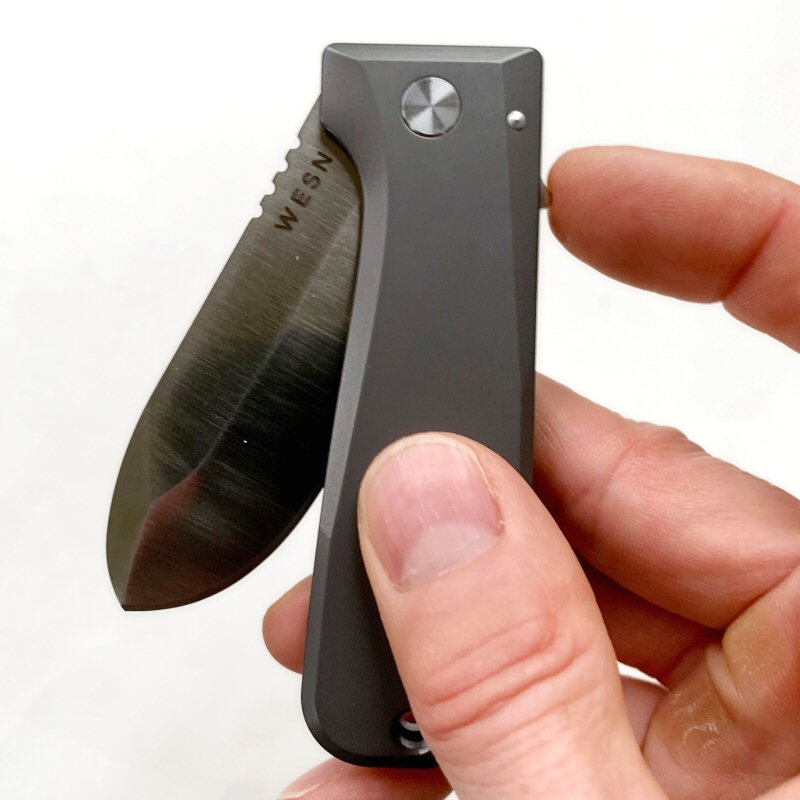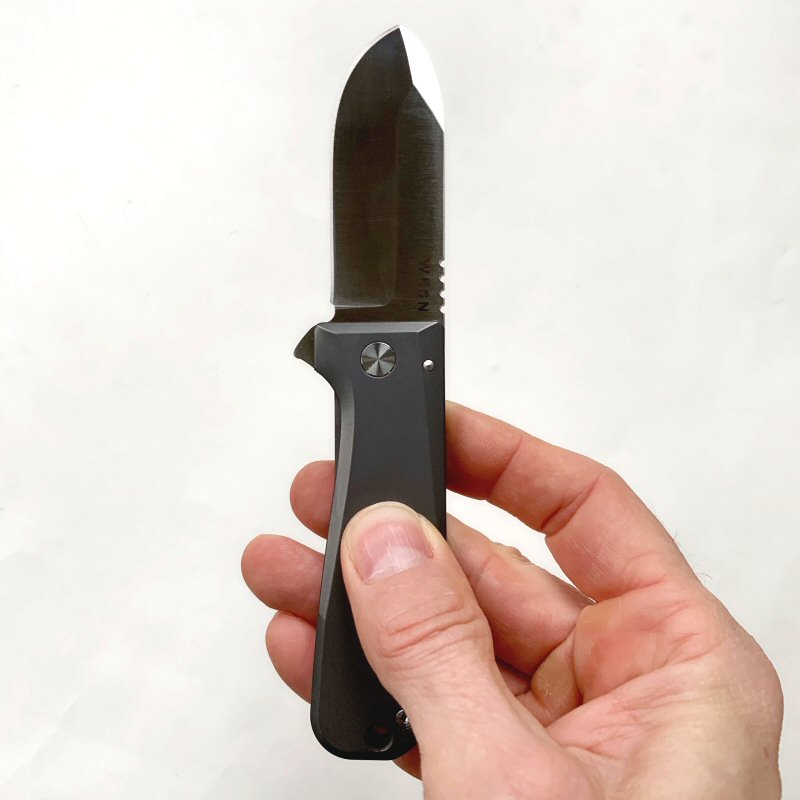 The flipping deployment mechanism didn't take me long to get the hang of at all, due to Allman's solid yet smooth ball-bearing pivot.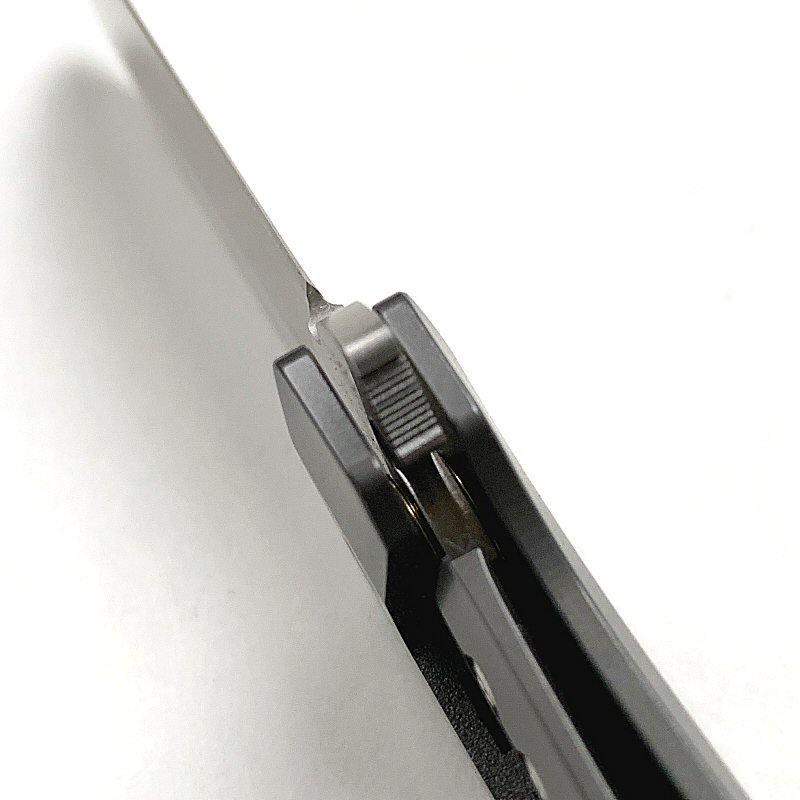 The Allman's blade has two features that help with grip.  One is a series of grooves positioned under the spot where the index finger snugs up under the handle.  This helps reduce the chance of your hand slipping off the knife.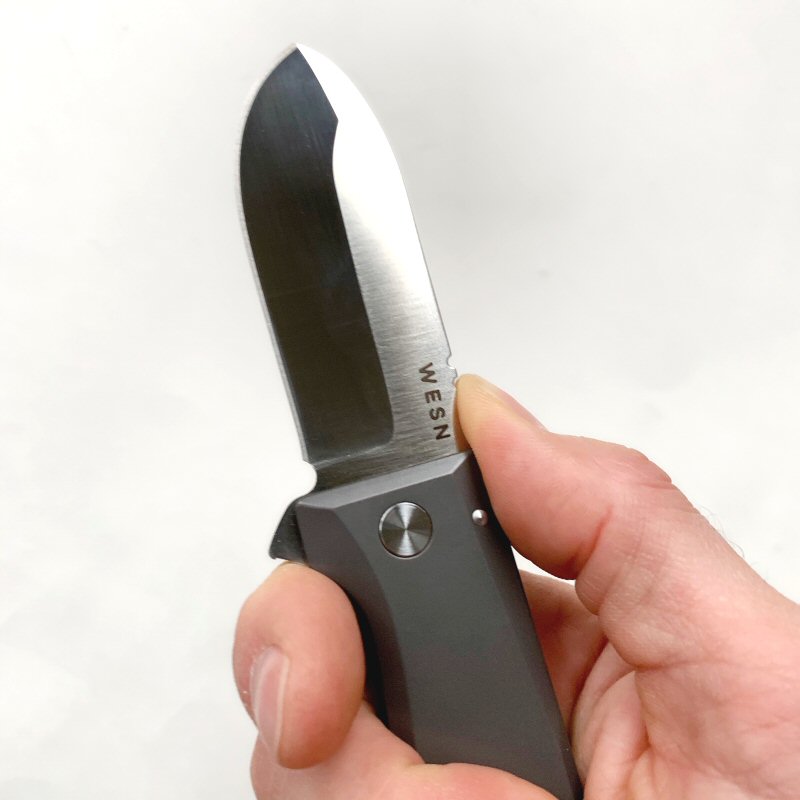 Additionally, the back side of the Allman's blade has several teeth or spine jimping notches that are a spot for the user's thumb to be placed while in use, again, to provide a better grip while cutting.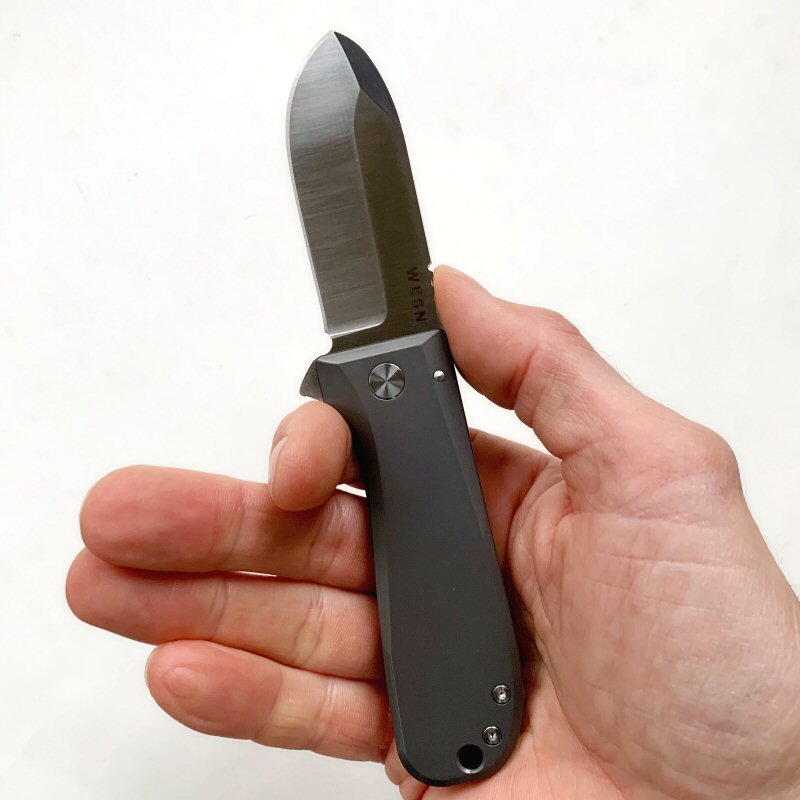 Once the blade has been fully deployed and frame locked, Allman can be held quite securely and comfortably due to its contoured grip which includes a choil or indentation, for the index finger, and your next three fingers fit along the grip's contour securely.  The flipper nub becomes a finger guard for your index finger.  And finally, the three spine jimping notches provide a perfect spot for your thumb to sit and give it extra grip and control.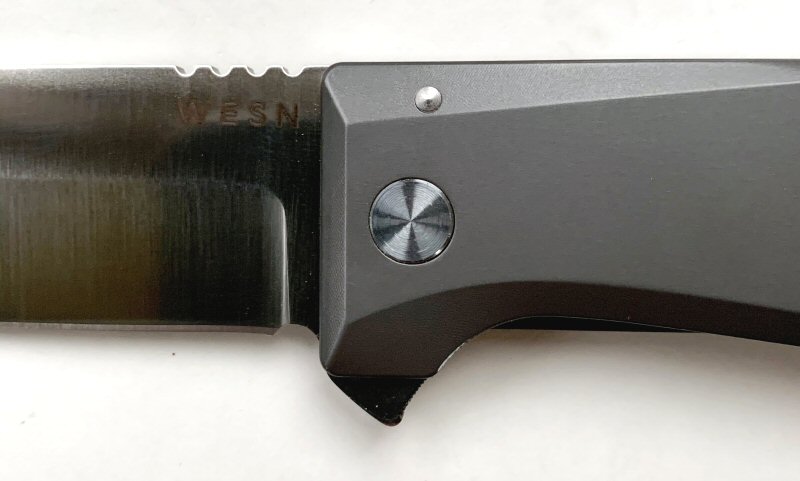 The Allman utilizes a ball-bearing for a smooth motion that aids in quick "flipper" deployment of the blade.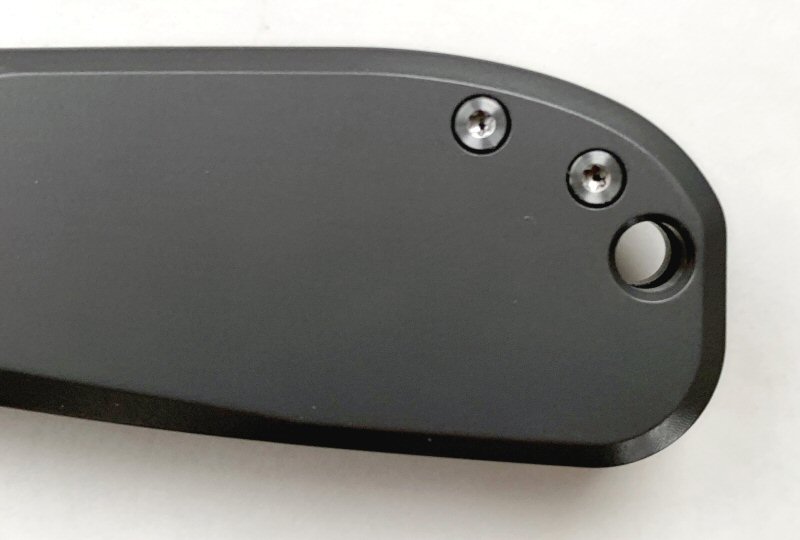 A through-hold in the frame/handles allows for a lanyard or other item to be attached to the Allman.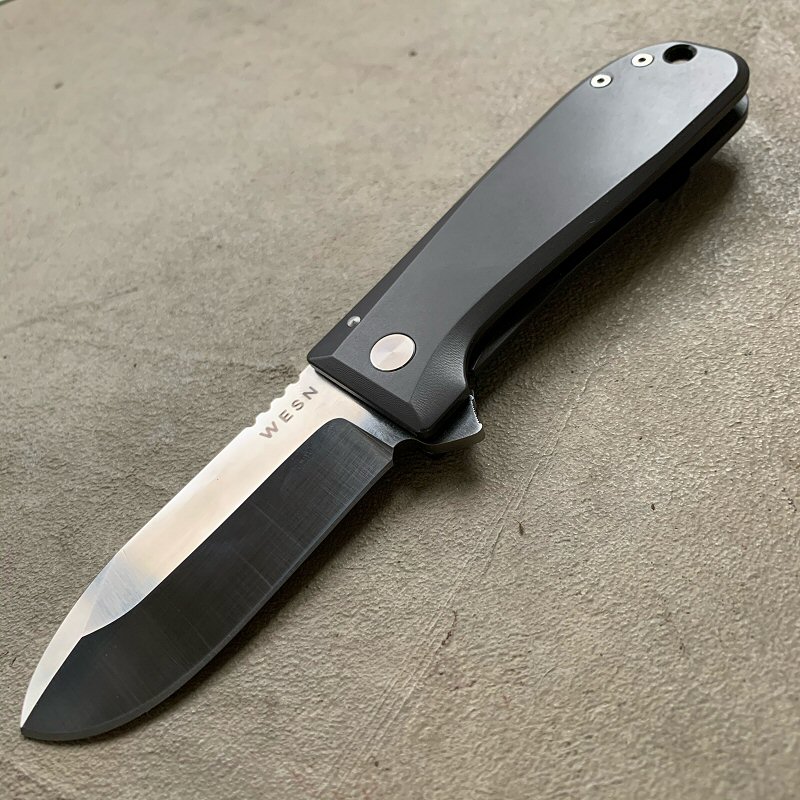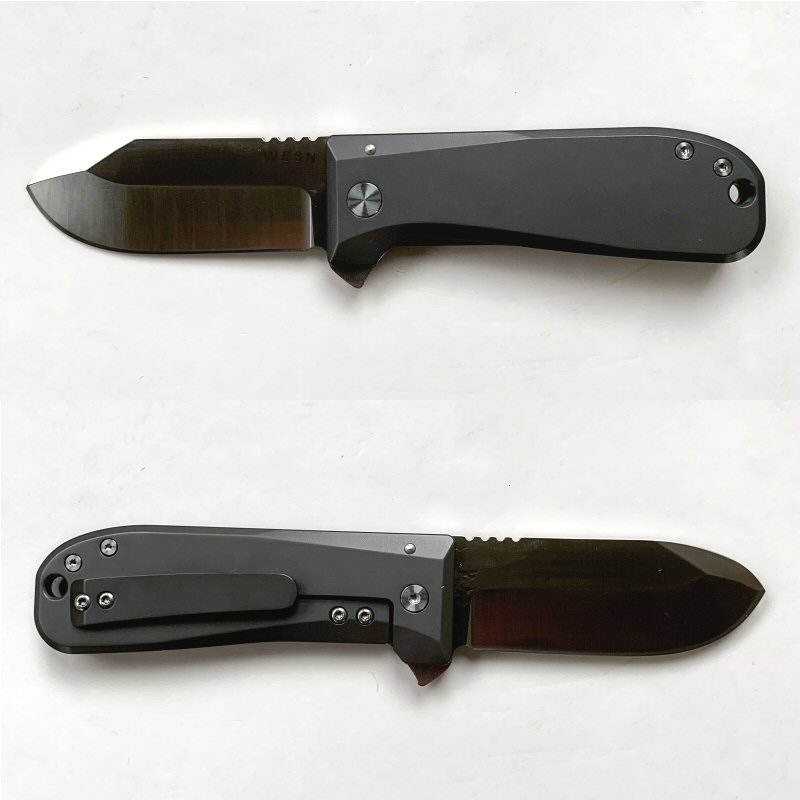 What I like
High quality of materials and construction
Very well thought-through design incorporates many features of larger knives into a compact, medium-sized package
Perfect size for those of us who can't practically or effectively EDC a larger knife
The entire knife feels very solid and the flip-deploy action is quite satisfying
What needs to be improved
Pocket clip location and design makes it ride up out of my pocket a bit higher than I'd like
Final thoughts
The WESN Allman is a great knife.  High-quality materials like S35vn steel and Titanium give it a solid look and feel, while its design and styling give it a unique look that also incorporates function into its grip and shape.  It incorporates many features of larger knives in a fairly modest size, and because of this is perfect for folks like me who can't practically carry a much larger knife in their EDC kit.  I really like its flip-deploying action and pocket clip, and it fit great in the hand, which is an important factor as well.  I can envision the WESN Allman being part of my EDC for the foreseeable future.
Price: $165
Where to buy:  WESNgoods.com
Source: The sample of this product was provided by WESN.